Tea enthusiasts all over the world know Ceylon tea for its rich flavor and fragrant aroma.
Studies even suggest that Ceylon teas can boost your metabolism and decrease the risk of disease. But however true that is, one thing is for sure, pure and 100% natural tea is good for your health.
This is what Island Tea Co. offers you, freshly harvested premium quality Ceylon loose leaf teas.
They are not not prepared from packs nor made with artificial flavors.
It is a combination of either black tea leaves or green tea. This perfect blend of tea leaves could only give birth to the authentic Ceylon tea that we all love.
Proudly boosting that their teas are brewed everyday, Island Tea Co. makes sure that they serve only fresh tea which makes it more satisfying and hearty.
"All our drinks are not pre prepared and will be prepared freshly during an order."
They also brew it in hot water which eliminates the threat of any disease or virus to spread.
New Cream Cheese Milk Tea
Never had a milk tea been creamy and oh so naturally good at the same time. This Milk Tea comes with flavors like mango, wildberry, banana, oreo and ofcourse the signature perfect ceylon.
They have a wide range of tea collection from fruit teas, healthy teas, milk teas, hot teas, iced teas, and their new cream cheese.
Menu: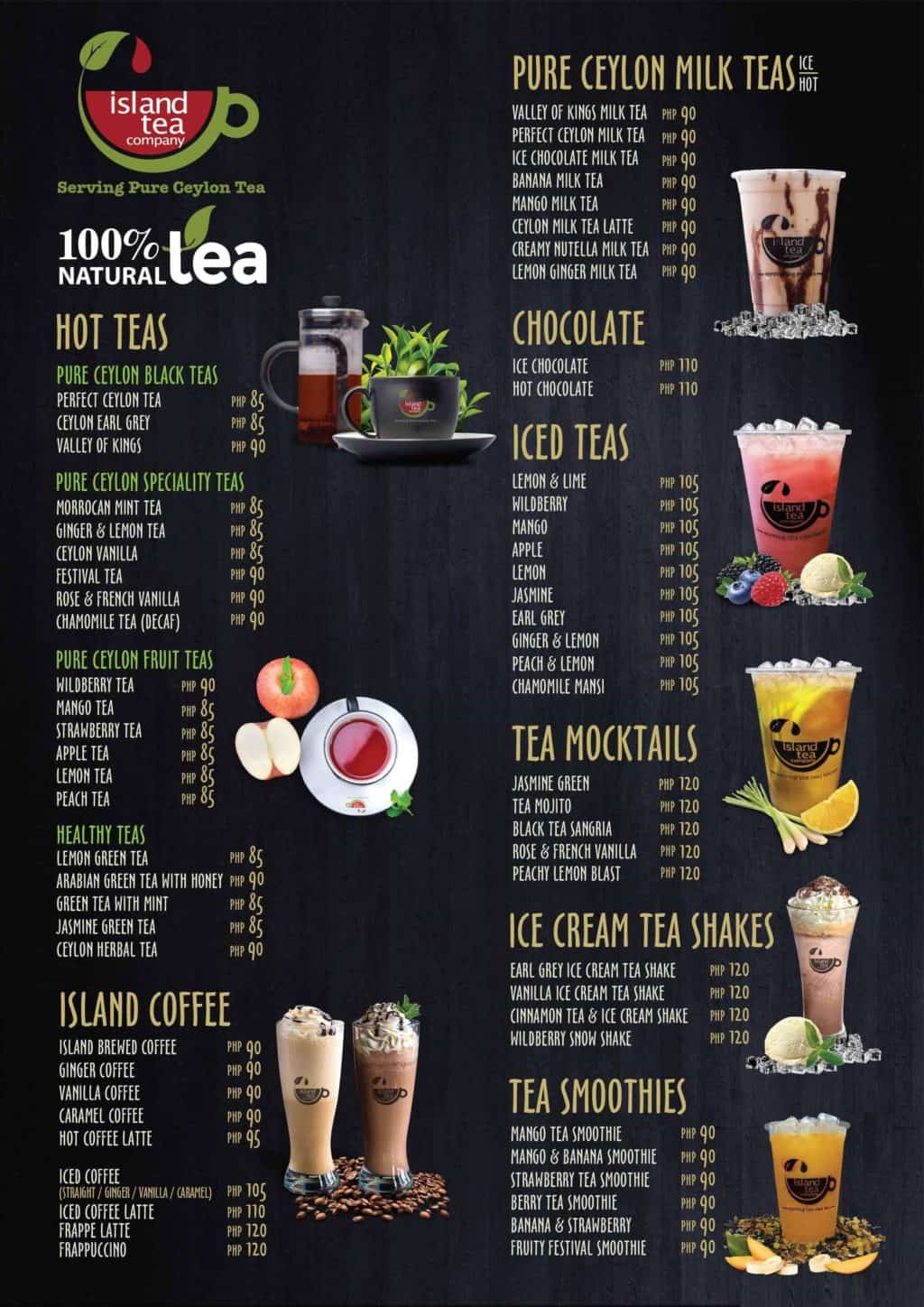 You can never go wrong with all these drinks for their base would always be that healthy dose of Ceylon tea, the world famous Sri Lankan tea.
So what are you waiting for? Drink healthy at Island Tea Co.
UNLIMITED PROMO ALERT
From February 23 to 25, 2020, head on to your nearest Island Tea Co. branch because they are offering UNLIMITED Milk Tea/ Fruit Teas/ Coffee for just 149 PESOS! 
Check out this Facebook post for more details:
Now Open at these Mall:
• SM North Edsa Manila
• Ayala Feliz Marikina,
• Ayala Market ! Market! BGC, Taguig
• Outlets at Lipa, Batangas
• SM City Cebu,
• SM Seaside City Cebu,
• Parkmall Cebu,
• ICM Mall, Tagbilaran, Bohol,
• J Center Mall, Mandaue, Cebu,
• SM Uptown, Cagayan de Oro,
• South Town Centre, Talisay, Cebu,
• Shopwise, Batangas,
• H Mall, Mactan,
• Pacific Mall, Madaue, Cebu,
• SM Masinag, Manila,
• SM Supermarket, Consolacion, Cebu,
• Gaisano Savers Mart, Mactan
• Sundance Residences, Cebu City,
• Fooda Consolacion, Cebu,
• One Central Mall, Cebu,
• JY Square, Lahug, Cebu,
• Ayala Abreeza, Davao,
• Citimart, Batangas,
• One Central Mall, Cebu,
• SM Hypermarket Lapu-Lapu,
• Fooda Guadalupe.
• Ayala Center, Cebu City,
• Festival Walk Mall, Iloilo,
• Robinson's Pavia, Iloilo,
Opening Soon:
• Ayala Central Bloc – IT Park, Cebu,
• Savemore, Peublo Verde,
• Tanay – Rizal, Manila,
• Robinson's Dasmariñas,
• Robinson's North, Tacloban
• San Mateo, Manila