A sleepy town situated off the southwestern coast of Cebu, Alegria also has its fair share of tourist spots that will make you want to check the town out.
Here are the five (5) must-visit attractions in Alegria, southern Cebu.
1. MT. LANAYA
Up for a challenging hike? Try Alegria's Mt. Lanaya which is 700 meters above sea level.
The trek is made challenging due to the very steep slope, but the view at its peak is breathtaking and will surely be worth it. You will have a perfect view of the sea and the Negros Province right across.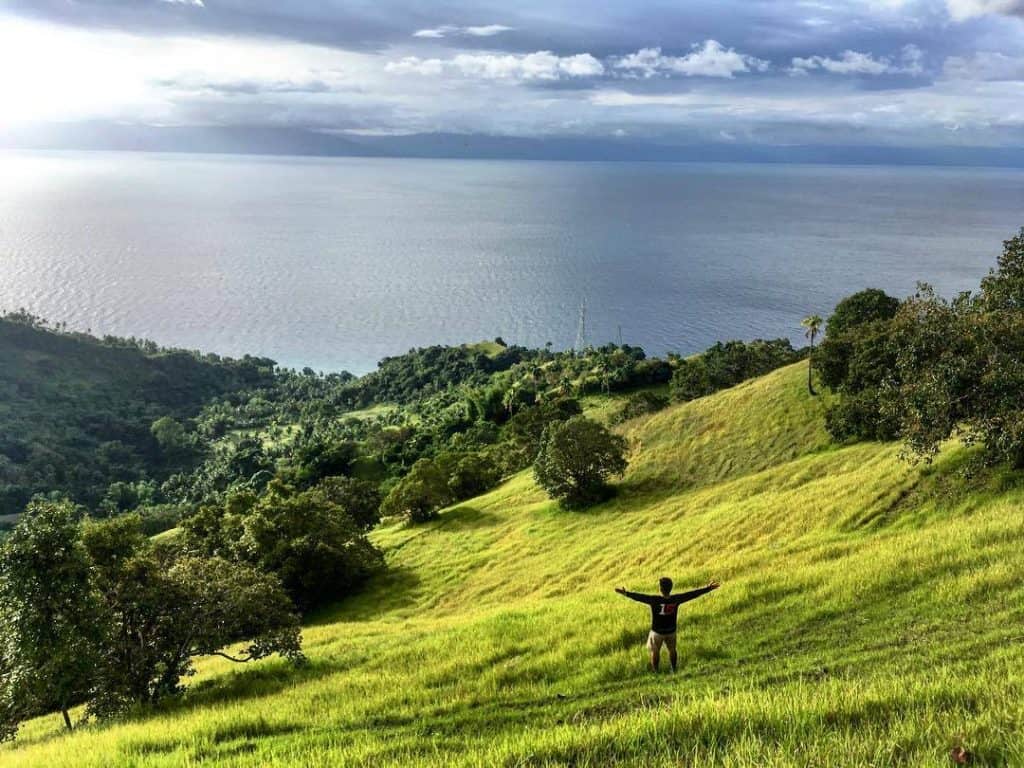 If you go for the Legaspi trail, it will take approximately 3-4 hours to get to the peak (5-6 hours for beginners). Exit route is the Lumpan trail. From Barangay Lumpan, you can hire a habal-habal to go back to the town proper (P25-P30). For a more memorable experience, you can camp overnight to witness the sunset and sunrise.
Entrance fee: P50 (to be paid at the barangay hall)
Guide fee: P500 per group (max of 4 persons)
Exact Location: Barangay Legaspi, Alegria, Cebu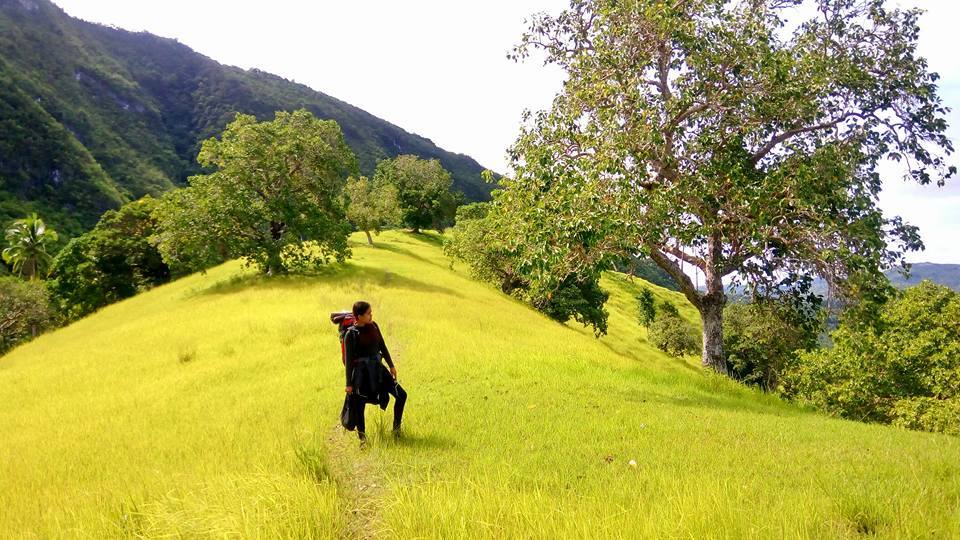 2. MONTPELLIER FALLS
Looking for a less traveled spot? Montpellier Falls is for you.
Known to locals because of the easy trek, Montpellier Falls is very tall but with thin water flowing from a limestone cliff. The water drops into a large boulder surrounded by aqua-blue fresh water.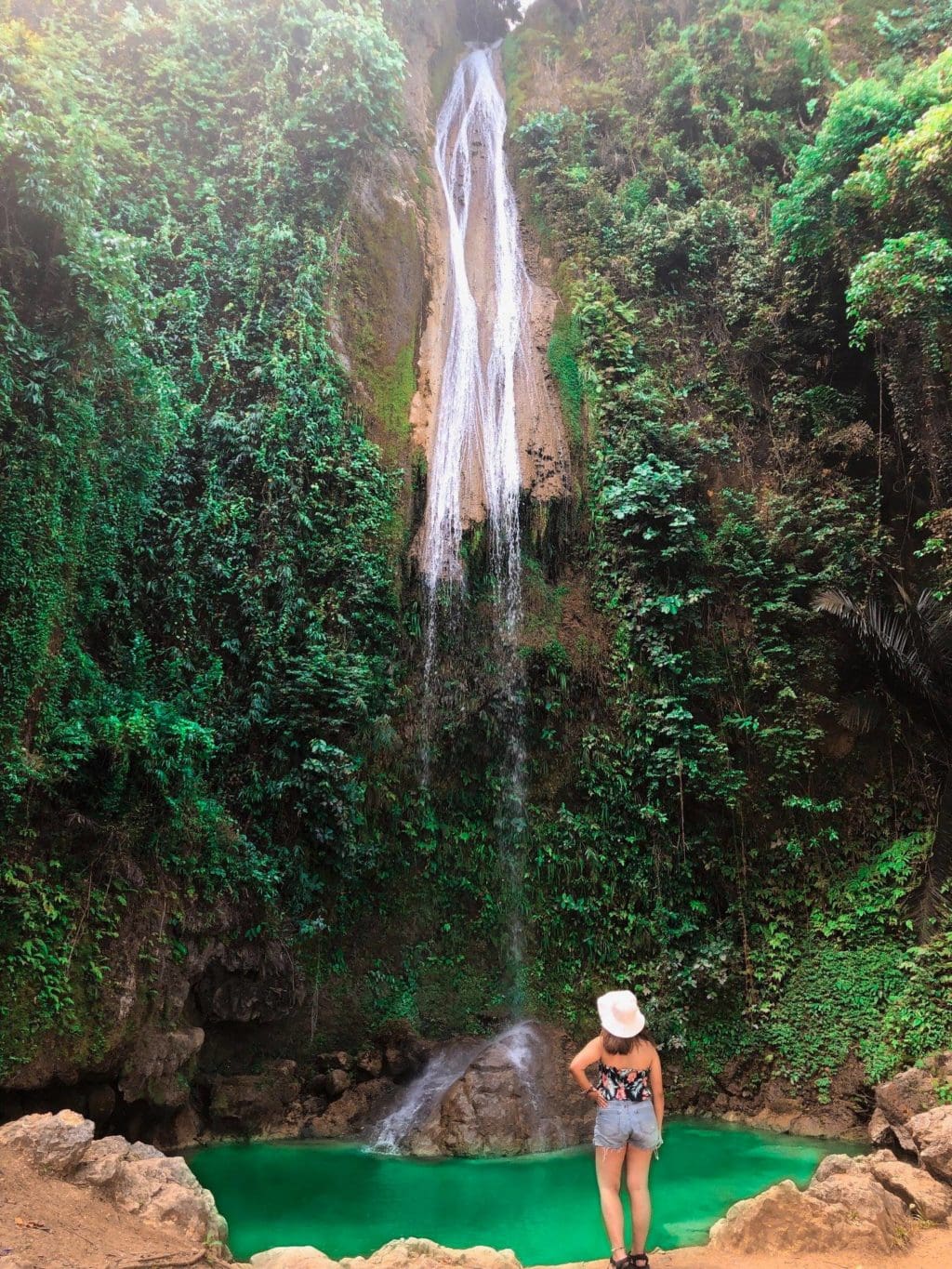 This is a perfect spot to drop by after a hike to Osmena Peak. Montpellier Falls is surrounded by palm tress and dense green foliage, giving you that jungle vibes. There are no facilities within the area so it's a pure nature trip.
Entrance fee: None
Guide fee: None (you can just ask the locals to point you to the starting trail)
Other information:

Bring your own water and food if planning to stay for long cause there are no stores nearby.

Exact Location: Barangay Guadalupe, Alegria,Cebu
3. CANCALANOG FALLS
Cancalanog falls is quite small. But what makes it popular is not really the waterfall itself, but the very clear, blue waters in the natural pool.
The natural pool is surrounded by 3 boulders, making it look like some private pool. The bluish water is so clear that you get to see the large rocks in the pool's floor.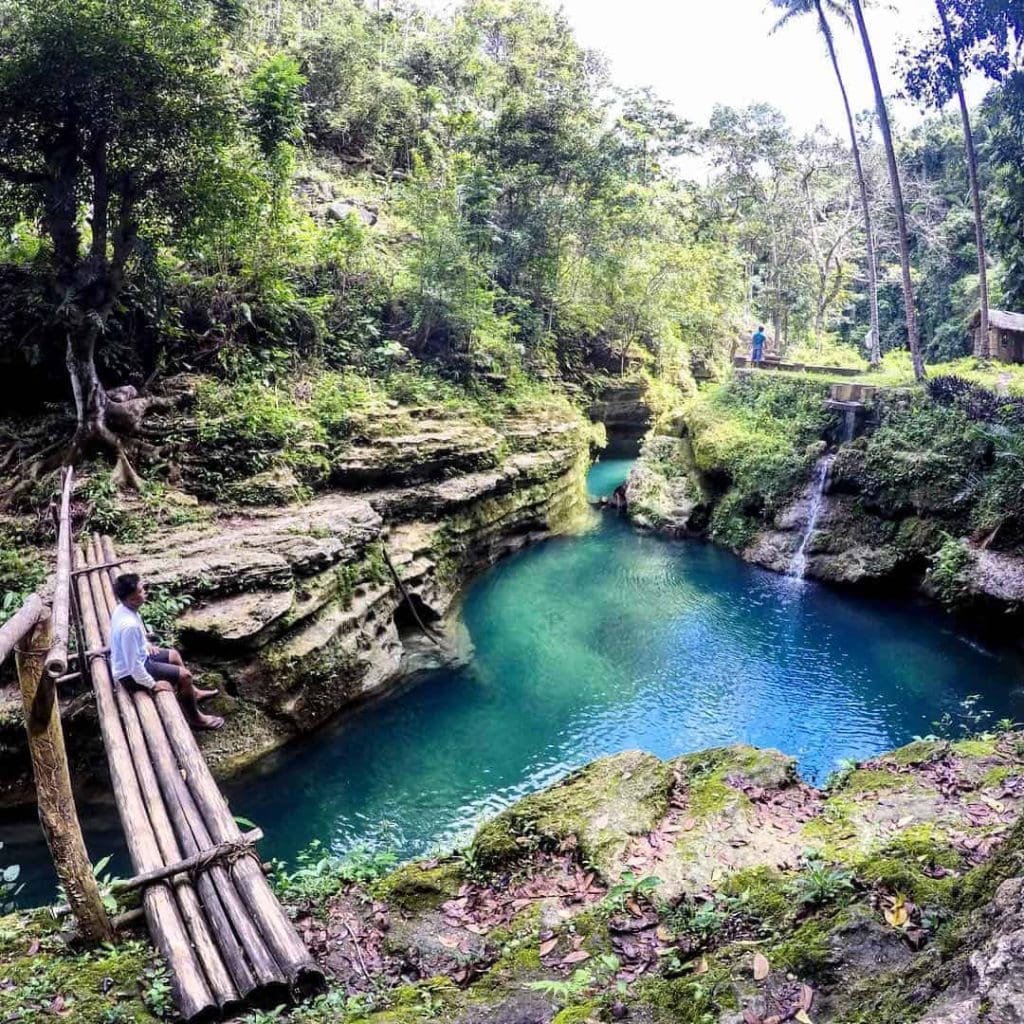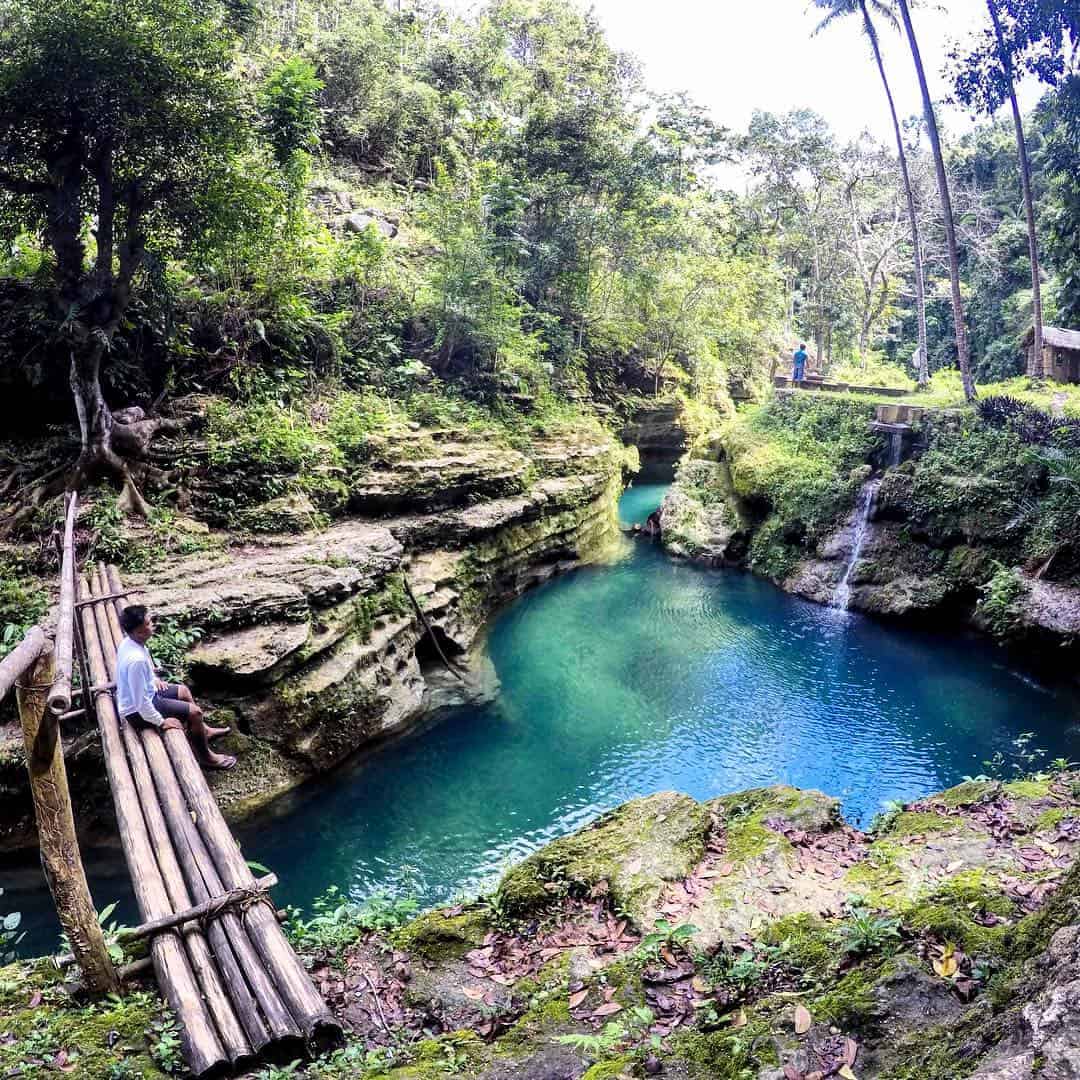 There is also a 2-storey hut and a bamboo bridge that will take you from one cliff to another. Travel tip? Bring a snorkel. Although you won't see corals or numerous fishes here, but the clear blue waters will still make your snorkel experience magical.
Entrance fee: P50
Motorbike fee: P80-P90 (one-way only)
Other information:

Cambais Falls and Montepellier Falls are located relatively nearby. So it's best to target these 3 spots in one day.

Exact location: Barangay Guadalupe, Alegria, Cebu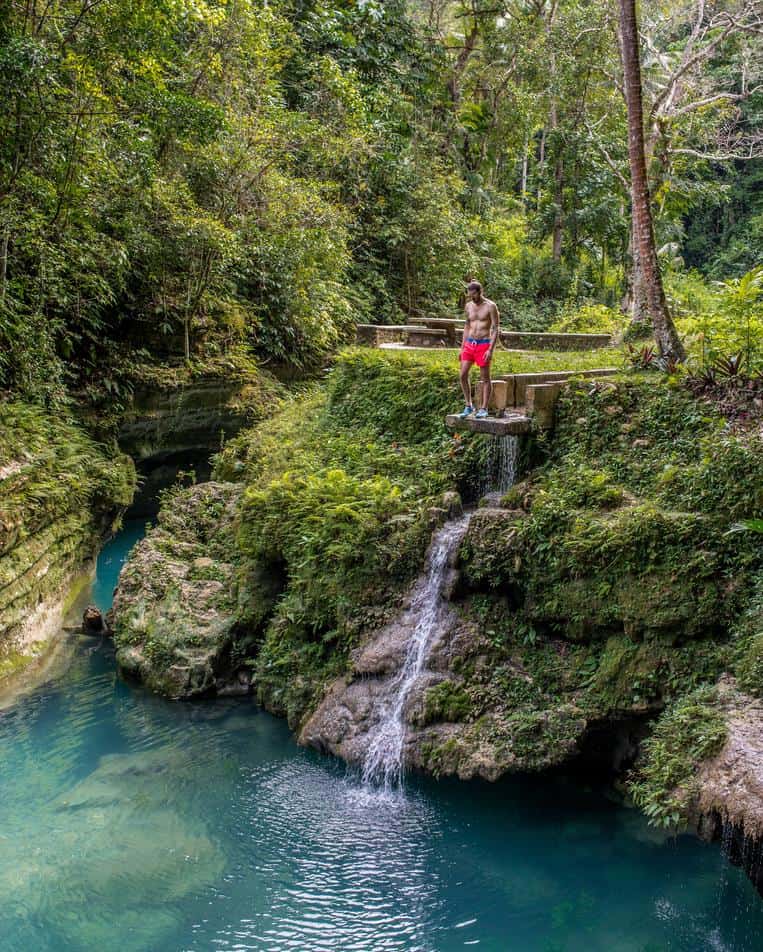 4. LEPANTO
The Libo Hills in Barangay Lepanto is an upland area which gives visitors a beautiful panoramic view of the nearby island province of Negros and the Tanon strait.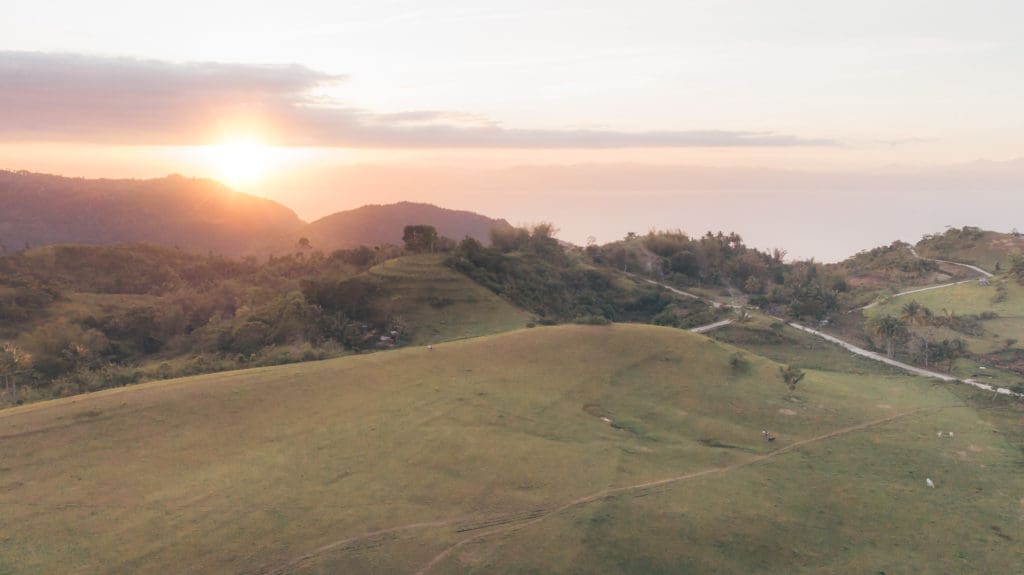 With its cold climate, visitors often tag this place as "Alegria's Little Baguio". This place is perfect for some morning biking or picnic with family and friends.
Entrance fee: None
Other information:

Visit Lepanto on an early morning or afternoon because it tends to be very hot around midday with little shade to provide tourists or bikers.

Exact Location: Barangay Lepanto, Alegria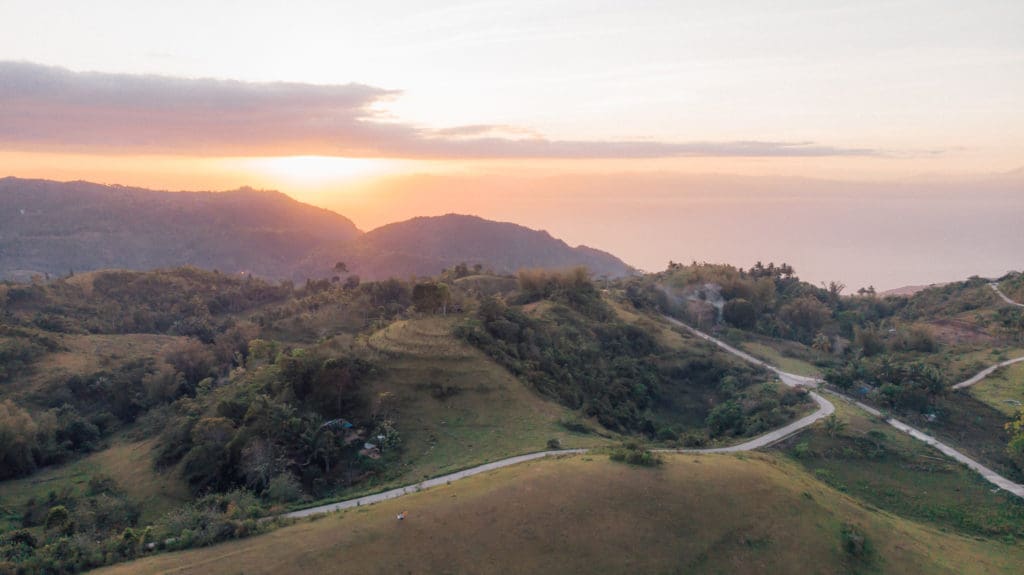 5. CAMBAIS FALLS
Cebu province seems to be blessed with too many beautiful waterfalls, right? Well, here's another one. Cambais falls is a 2-level waterfalls with bluish water. Its water drops off a a giant limestone and you can enjoy cliff jumping or swimming in the natural pool.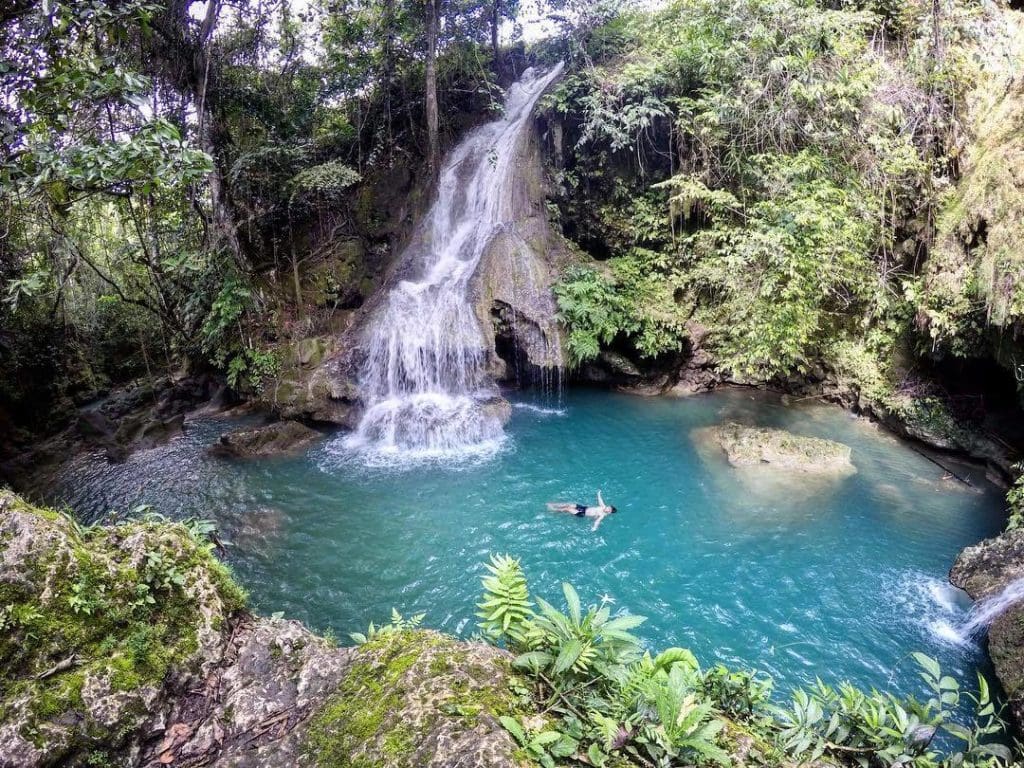 You can get to the second level by climbing up a bamboo ladder. This spot is best paired with your sunrise hike at Osmena Peak because it's quite near (approximately 30 minutes motor ride).
Entrance fee: P50 per person
Guide fee: No fixed rate