The need to boost a local economy through tourism must always be balanced with the protection of our natural ecosystems. There are several declared marine sanctuaries all throughout the province of Cebu.
These are teeming with colorful corals and fishes, hence, attracting tourists both local and foreign. In this article, we will run down some of the most popular marine sanctuaries in the province of Cebu.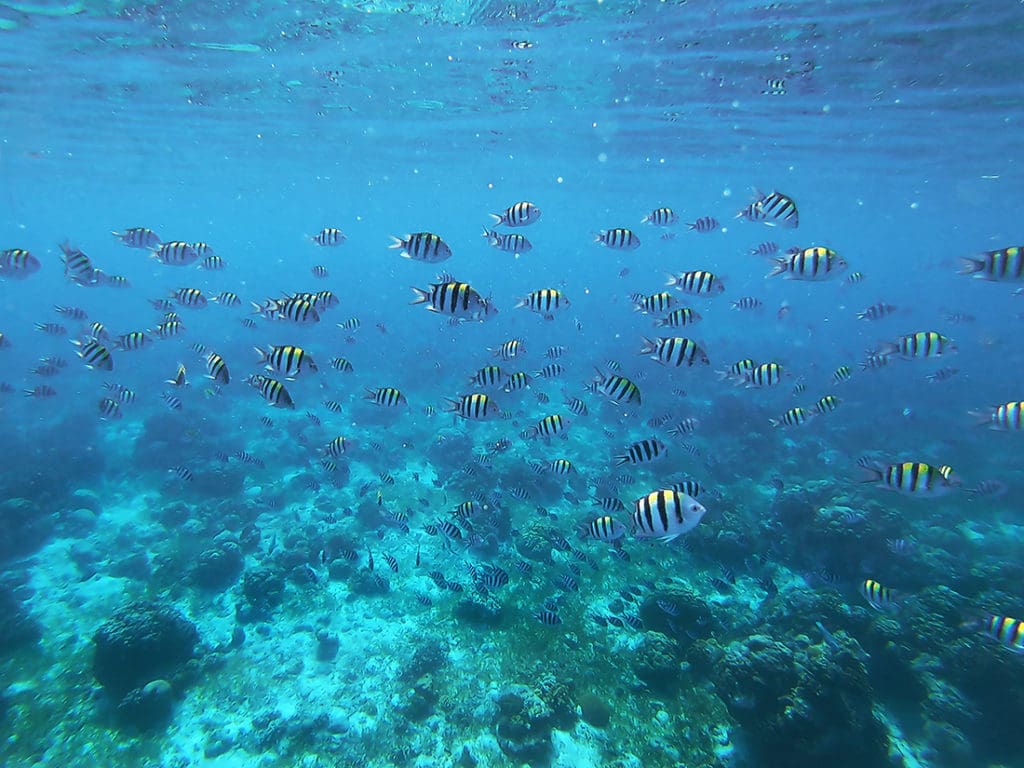 1. NALUSUAN ISLAND MARINE SANCTUARY
About 17 kilometers away from Mactan, Cebu, Nalusuan Island is a marine sanctuary that is frequently visited by divers, both beginners and experts. This island boasts of amazing coral formations as well as reef fishes.
It also has white sand beaches but are not really suitable for swimming and snorkelling because of the shallow water levels. Soft and hard colorful corals can be seen at a depth of 25-40 meters.
Entrance fee:
Entrance fee – ₱200 per head
Banana Boat (5pax-1hr) – ₱6,500
Ocean Kayak (2pax-1hr) – ₱250
Paddle Boat (3-4pax-1hr) – ₱200
Snorkeling (snorkeling set w/ life jacket) – ₱300
Jet Ski rental (2pax-1hr) – ₱4,500
Parasailing (15min) – ₱2,500
Scuba Diving – ₱2,000 w/ license; ₱2,500 w/o license
BOAT TRANSFER (Roundtrip)
• 1-10 pax – ₱2,500
• 11-25 pax – ₱4,000
• 26-50 pax – ₱8,000
Boat ride is approx. 45 minutes and starts at Ocean Pearl Port in Cordova, Cebu.
CONTACT DETAILS
For inquiries and bookings:
• Tel #: (032) 516 – 6432, 505 – 4595
• Mobile #: 09173221033 / 09255565610 / 09224022828
• Email: [email protected] / [email protected]
• Website: www.nalusuanislandresort.com
• ONLINE BOOKING: Agoda.com / TravelBook
GENERAL REMINDERS:
– Make sure to book at least 1 week in advance. They accept walk-ins, but the resort is fully booked at times.
– Electricity (Genset) starts at 6:00 pm and ends at 8:00 am.
– Bringing of foods and beverages are not allowed.
Exact location: Olango Reef, Cordova, Cebu
2. HILUTUNGAN ISLAND
Considered as the oldest protected marine life in Cebu, Hilutungan island is perfect for diving, snorkelling and fish feeding. A lot of fishes will swarm around you if you start feeding them with bread.
Small fishes can already be reached at just 5 meters depth and larger fishes can be encountered already at 10-15 meters (unlike in Nalusuan where you have to go way deeper). The western and northern parts of the island have white sand and is perfect for swimming.
Entrance fee:
Snorkelling: P100
Scuba diving: P300
Exact location: Olango Reef, Cordova, Cebu
3. CAOHAGAN ISLAND
Unlike other marine sanctuaries that are teeming with divers and tourists, Caohagan Island is a less popular destination because it does not have a port. Make sure to visit only on high tides so you can approach the island easily (water level is very shallow on low tides). The eastern part of the island is perfect for snorkeling.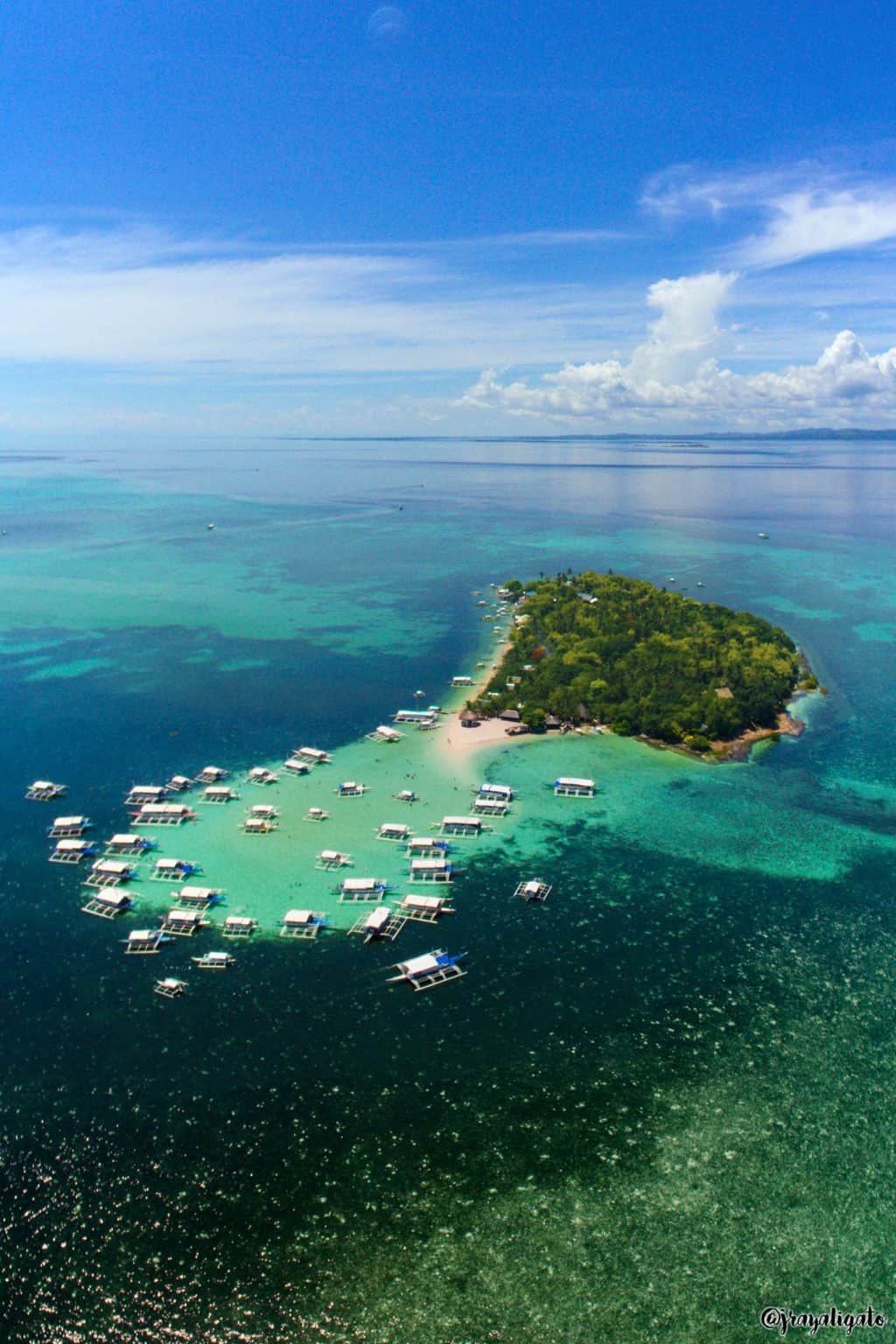 How to get there?
Exact location: Lapu-Lapu City, Cebu — near Nalusuan Island in Olango.
You can hire a boat from any tourism providers, especially those located on Maribago, Mactan Island. Or, you can also rent a 'pumpboat' that can drop you off the island.
Pumpboats are available at Angasil port, beside Mactan New Town. Boat fee starts at ₱100 per head, but make sure to agree first on the fare before proceeding.
4. TALIMA MARINE SANCTUARY
Very popular to both scuba and free divers, Talima has a coral slope that is inhabited by various colorful corals and fishes. The most famous spot here is a wreck of a wooden boat which is now home to several colorful marine life. This is one of the sanctuaries that are heavily monitored by authorities to assure that it is indeed protected and preserved. The place is also popular due to the bird sanctuaries and mangrove jungles around the island.
Reef fee: P100 per head
Diving operators: See at the end of the article
How to get there?
Exact location: Brgy. Talima, Lapu-Lapu City, Cebu — 1-2 hours away from the city.
Olango Island is only about 20 min boat ride from Mactan Island. There are 2 piers to catch boats, one is located in Angasil Port (beside Mövenpick Resort in Punta Engano) and the other is in Portofino resort. Boat fare is only ₱15 /head (one-way).
– From SM City, ride a 01K jeep (across APM Mall or near Sun Gold) going to Parkmall. Or ride 01K jeep from Emall.
– From Parkmall, ride a jeep heading to Punta Engaño and drop off at Angasil port beside Movenpick Resort. Boat fare is ₱20 per person (one-way).
– Once you have arrived at the port, look for the boat going to Olango Island.
– From there, ride a motorcycle and inform the driver to drop you off at Talima Beach Villas and Resort. Motorcycle fare is ₱30 per person (one-way). Or you may opt for a tricycle — fare is ₱150 good for 4-6 persons.
5. CAPITANCILLO MARINE SANCTUARY
This islet is not only popular for its lighthouse and crystal clear waters, it is also a top destination for divers. It has 3 dive sites: Ormoc Shoal, Nunez Shoal, and the southwestern part of the islet. This is a perfect side-trip if you are exploring around Bogo City, which is only a 20-minute boat ride away.
• Tricycle: Bogo Proper to Brgy. Siocon Bantay Dagat outpost= ₱25 per head
• Other fees: ₱300 docking area (per group); ₱200 cottage (per group)
• Pumpboat: Brgy. Siocon Bantay Dagat outpost to Capitancillo Islet (via boat)
– Option 1: ₱3,000 good for 12 pax (roundtrip) with FREE cottage for day use
– Option 2: ₱5,000 good for 15 pax (roundtrip) with FREE cottage for day use
How to book?
For booking and more information, you may contact the Bogo Tourism Department as you dial (211) 260-5183 or 260-5310.
How to get there?
Capitancillo Islet is located at the northeastern coast of Cebu province just about 116 kilometers from Cebu City.
You may just ride a bus or vhire going to Bogo City at the North Bus Terminal that would last for approximately 3hrs. and be sure to drop-off at Bogo Proper. Upon reaching the place, you have to ride a pedicab going to Brgy. Siocon Bantay Dagat outpost for less than 30mins. Then, from this drop-off point, your journey to Capitancillo starts and will last for more or less 45 mins. by boat.
Diving Operators in Cebu
These spots are commonly visited by divers, both advanced and beginners. We recommend that for easier transactions and processing of fees and transportation, you coordinate with your chosen diving agencies. Here are some which offers diving experience and tours in the aforementioned sites:
You can coordinate with these diving agencies so they can assist you with the directions and the transport to and from these marine sanctuaries.