GMR-Megawide Cebu Airport Corporation (GMCAC) is ramping up preparations for the "New Normal" travel experience at the Mactan-Cebu International Airport (MCIA) in adherence to the guidelines of the Inter-Agency Task Force for the Management of Emerging Infectious Diseases (IATF-EID) and the Department of Transportation (DOTr).
The guidelines issued by both agencies are intended to protect the well-being of the public against the continuing threat of COVID-19.  
"GMCAC and the Mactan-Cebu International Airport Authority (MCIAA) are implementing stringent preventive health and safety measures at MCIA. This is in preparation for the lifting of travel restrictions and the resumption of flight services in line with airline schedules," 

– GMCAC Chief Executive Advisor Andrew Acquaah-Harrison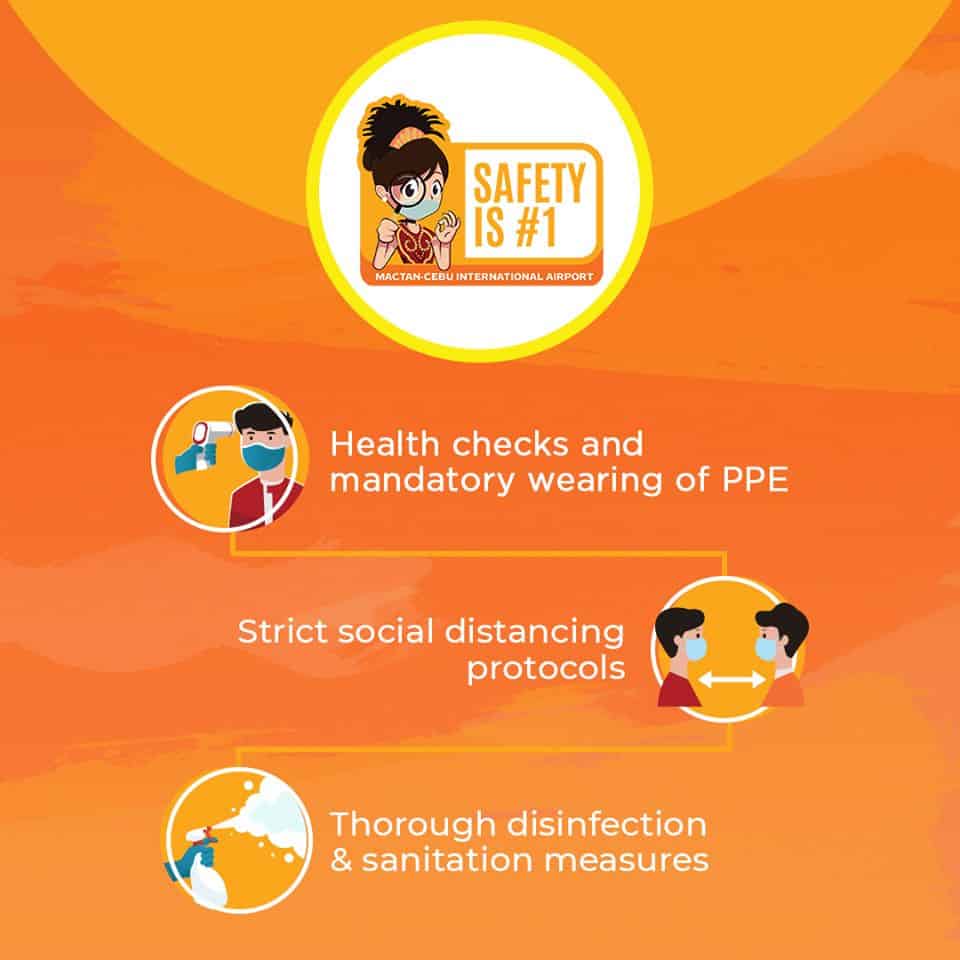 Stringent Safety Measures
Harrison asked for the public's cooperation in the implementation of these measures at the airport. In particular, he requested for the public's support in limiting the number of well-wishers for departing passengers to one companion per passenger. "This will go a long way in helping us avoid close proximity crowding anywhere on the airport premises," he said.
Among the other safety measures to be implemented at MCIA are the following:
1. Compulsory use of face masks for all passengers and airport employees within the vicinity of Terminal 1, Terminal 2 and adjacent areas
All passengers and airport employees are required to always wear face masks and other Personal Protective Equipment (PPE) inside the airport premises.
2. Mandatory body temperature checks   
All passengers and airport employees must undertake a body temperature scan by the airport security staff using handheld thermal devices at all airport entry points.  
The Bureau of Quarantine will continuously monitor the body temperature of arriving passengers through thermal imaging systems. 
3. Hand sanitizing and shoe disinfection for all passengers and employees prior to terminal entry   
Passengers and airport staff must sanitize their hands and disinfect their shoes before entering the airport terminals. Hand sanitizers and footbaths are provided at all entry points.
4. Social distancing protocols will be strictly enforced in all terminal areas
Required social distancing of three (3) to six (6) feet in queuing points and a one-seat-apart policy in waiting areas will be implemented. There will be visible floor markings to guide the passengers while queueing at high traffic areas such as entry gates, ticketing booths, check-in counters, F&B and retail stores, boarding gates, escalators and stairs. Moreover, the use of the elevators will be regulated to conform to social distancing protocols.
Airport procedures such as security checks and check-in will be modified to adopt "no-touch measures" to reduce any means of contact.
Passengers will be asked to follow gradual aircraft boarding and disembarkation procedures to avoid any queue formation and congestion. All passengers and employees are reminded to always keep right when traversing walkways and lanes.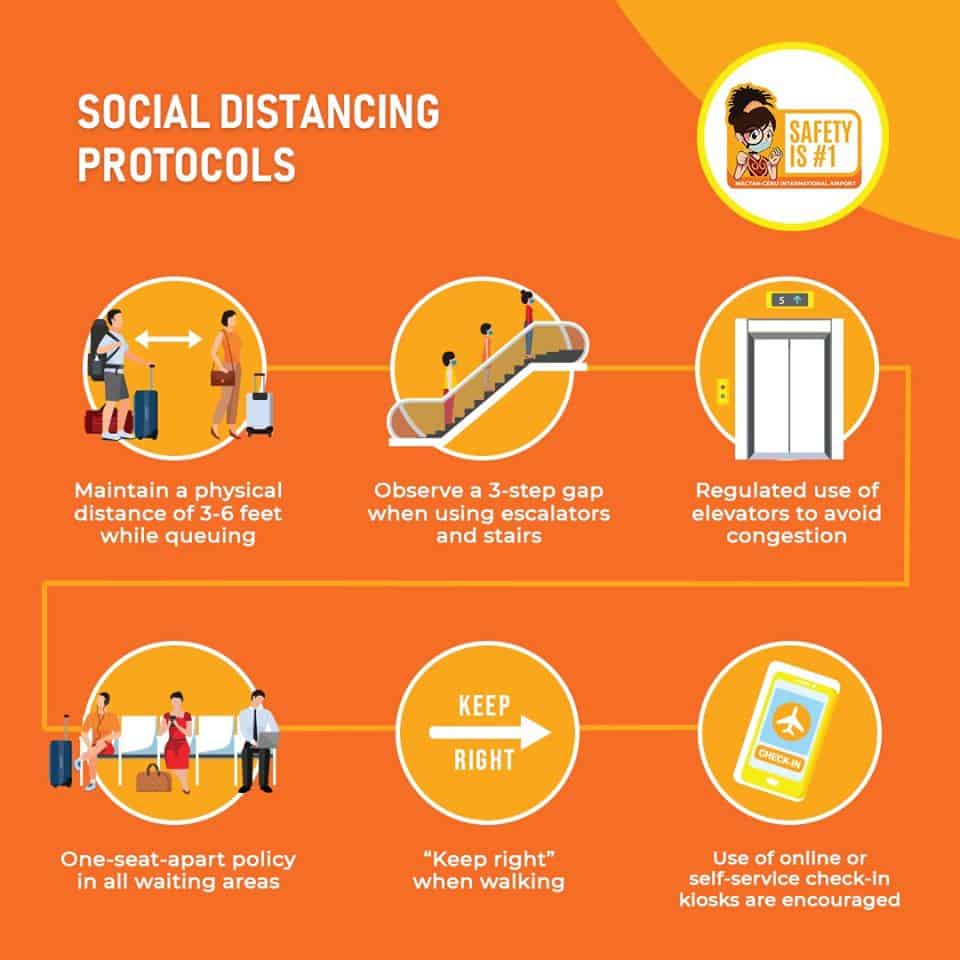 5. Regular disinfection of passenger areas and terminal facilities   
High-touch surfaces on escalators, in elevators, stairways, passenger boarding bridges, restrooms, and items that are physically handled by passengers such as baggage trolleys and security trays at the security screening points will be regularly sanitized.
Passenger areas such as departure boarding gates, arrival reclaim halls, and immigration passport control area will be disinfected at regular intervals.
Additional alcohol-based hand sanitizers will be installed in public areas of the terminals for the use of passengers and airport employees. Moreover, liquid hand soap in all restrooms will be replaced with medical-grade handwashing soap for thorough disinfection.
6. A protective clear shield will be fitted and installed in all check-in counters to serve as a protective barrier between the passenger and the check-in agent. 
7. Medical Isolation Room
The isolated holding areas that have been in place since the onset of the COVID-19 outbreak will continue to be used as a medical isolation room where personnel from the Bureau of Quarantine can conduct quarantine assessment.
8. Posting of health information materials and safety reminders in strategic locations 
Health advisories based on guidance materials from the IATF-EID, Department of Health, and the World Health Organization will be displayed in strategic locations to provide passengers with ample information on COVID-19.
Health announcements and reminders on social distancing will be made every 30 minutes inside the airport terminals. Information, education, and communication campaigns will be continuously conducted for airport employees to build a culture of safety against COVID-19.
GMCAC is in close coordination with the MCIAA and relevant government authorities, airlines, and other MCIA community stakeholders for the organized implementation of the "new normal" measures. Harrison also requested airport stakeholders to review and modify their policies and procedures to adhere to the IATF and DOTR guidelines.
With these measures in place, GMCAC and the entire MCIA community look forward to welcoming passengers and tourists as they travel again to and from Cebu.