UPDATE (as of March 11, 2020): Promo is cancelled as a proactive measure of ensuring the safety of everyone from the COVID-19.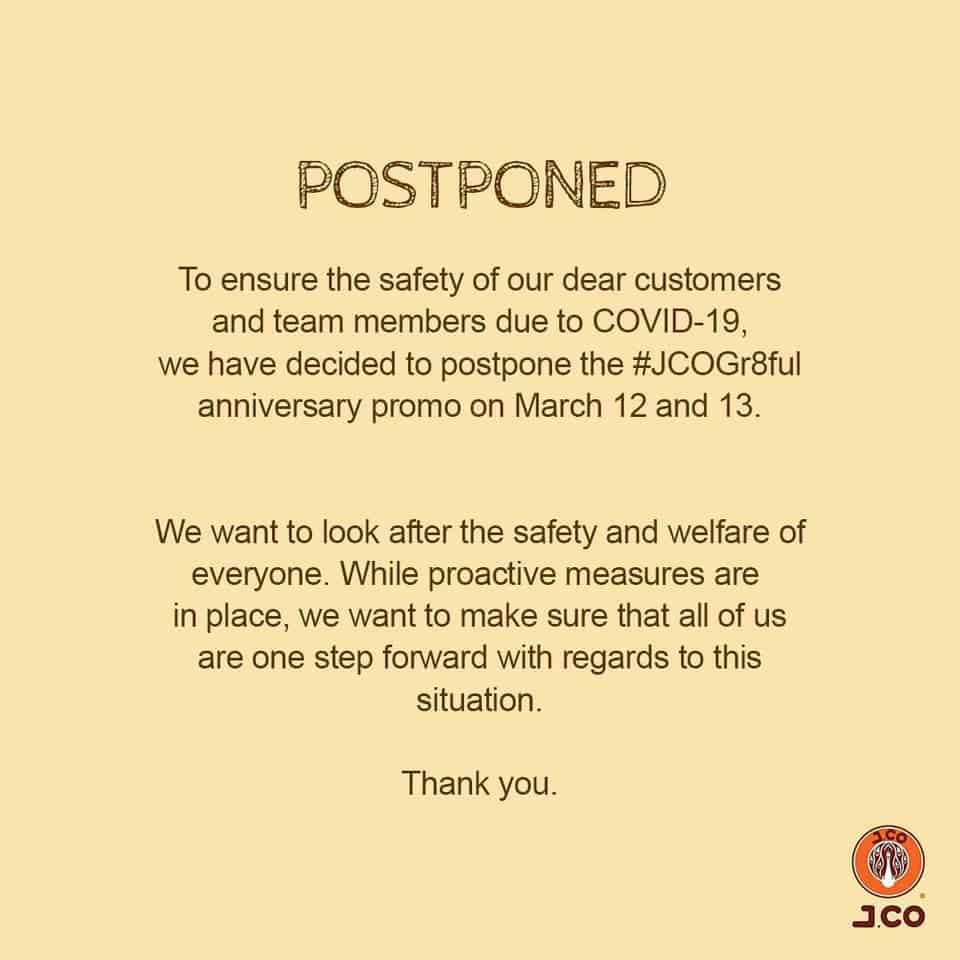 Time for a sweet party! Indulge and satisfy your sweet tooth as JCO Donuts has an exciting treat for us on its 8th anniversary. This March 12-13, 2020, JCO offers 2 Dozen Donuts for only P500!
Two dozens cost P625, so you will be saving about P125 on this treat. The promo is valid on March 13 & 14, 2020, from 10am to 6pm only, in all JCO stores nationwide (not applicable in booths/kiosks).
Terms and Conditions:⁣⁣
1. Purchase 1 box of pre-assorted dozen and 1 box of dozen donuts of your choice for only P500. ⁣⁣
2. 1 box of pre-assorted dozen donuts includes the 8 bestselling donuts: 2 pcs Alcapone, 2 pcs Oreology, 2 pcs Avocado di Caprio, 2 pcs Mr. Green T, 1 pc Mylosaurus, 1 pc Tiramisu, 1 pc Blueberry More and 1 pc Cheese Cakelicious. Splitting of the pre-assorted dozen box is not allowed.⁣⁣
3. This promo is valid on March 12 & 13, 2020, from 10am to 6pm only in all JCO stores nationwide, not applicable in booths/kiosks.⁣⁣
4. Each customer can only avail of this promo once, with a maximum of 2 dozen per transaction. ⁣⁣
5. For the 1 dozen donuts of your choice, only a maximum of 5 Alcapone and 5 Mylosaurus per transaction is allowed. ⁣⁣
6. This promo is valid for dine-in and take-out transactions only. Any advanced orders, bulk orders and online delivery orders on the day of the promo will not be allowed. ⁣⁣
7. The promo cannot be exchanged for other items or discounts and cannot be used in conjunction with other promos. ⁣⁣
8. In the purchase of goods and services which are on promotional discount, the senior citizen can avail of the promotional discount or the discount provided under the Expanded Senior Citizens Act of 2010, whichever is higher. The same rule applies with persons with disability (PWD).⁣⁣
⁣⁣
Per DTI Fair Trade Permit No. FTEB – 03078 Series of 2020.⁣⁣