Another iconic building will soon rise in the prime Cebu Business Park in Cebu City and this condominium tower will be designed by no other than Paris-based architecture firm, Vincent Callebaut Architectures.
Aptly named as such, Rainbow Tree, is taken from the "Eucalyptus Deglupta", an iconic and colorful tree from the Philippines.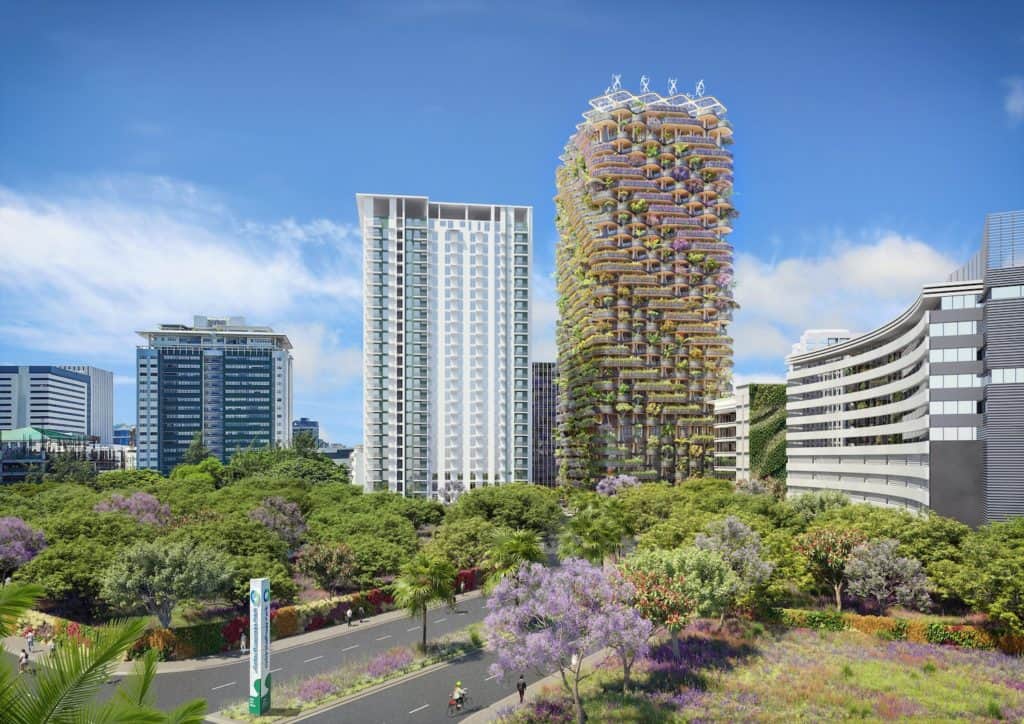 The Rainbow Tree features a 32-story building with 300 apartment units; mixed-use residential, condominium with retail and serviced apartments. The Rainbow Tree is a staggered geometric stack of 1,200 modules, each with sides measuring 4 meters sides and a height varying between 3.2 to 4.8 meters.
This project aims to build a residential building with double environmental certification (LEED + BERDE) for a perfect balace of cultural heritage and natural heritage of unparalleled splendor.
"On October 31, 2019, the United Nations Educational, Scientific, and Cultural Organization (UNESCO) designated 66 new "Creative Cities. Among them is Cebu, awarded for its innovation in design, particularly in the field of fashion, architecture, and the production of eco-responsible furniture," said Vincent Callebaut Architectures.
"The architecture of the Philippines is both a dynamic combination of multiple influences and a reflection of the country's historical and cultural heritage. This heritage is based on a mixture of Austronesian, Chinese, Malaysian, American (Art Deco), and Spanish (Baroque) influences."
"At a time when we need to find radical solutions to reduce the global carbon footprint, we have designed a 32-story, 115-meter high tower built of solid wood, as it is the only natural, abundant, and renewable material," added the firm.
The Rainbow Tree organic tower integrates the principles of passive bioclimatism and advanced renewable energies.
Adorned with beautiful plant essences from the neighboring tropical forests, the Rainbow Tree draws a flourishing spiral in the colors of the rainbow, bringing a breath of freshness to Cebu Business Park.
The tower will be built by using a CLT (Cross Laminated Timber). As the studio highlights, The Cross Laminated Timber manufacturing process requires much less energy than concrete or steel, and moreover it does not generate greenhouse gases. As a reminder, producing 1 ton of concrete generates 2.42 tons of CO2 and producing 1 ton of steel generates 0.938 ton of CO2.
In terms of fire resistance, remember that wood burns slowly, does not release toxic fumes, and transmits heat 250 times slower than melting steel and 10 times slower than concrete which cracks under the effects of the flames.
"The Rainbow Tree has sinusoidal balconies staggered between the even and odd floors allowing palm trees and deciduous trees to grow on a double height," explained the office.
"The endemic plant species are listed according to the color of their flowering – pink, purple, green, yellow, orange, red – to draw 5 plant spirals wrapping around the solid wood facades."
Moreover, the 30,000 plants, shrubs, and trees planted on the tower will capture 150 tons of CO2 in the atmosphere of the Cebu City annually to transform them into oxygen through natural photosynthesis.
The Rainbow Tree is subdivided into:
The basement, level -1 to -3
40 parking spaces per level
120 spaces in the infrastructure
Here are the facilities and amenities to expect in this iconic tower:
Ground floor:

Access ramps to silo car park

3rd to 6th floors:

40 parking spaces per level

160 spaces in superstructure for electric cars

7th floor:
8th floor:

Mezzanine of the fitness center with a double height over the swimming pool

9th to the 31st floor:

13 apartment units per level with 3-bedroom apartments

An urban skyfarm and its 2 mezzanines aquaponically poducing fruits, vegetables, and algae

On the roof:

1,650-square-meter photivoltaic and thermal solar panels
"By 2050, 80% of the world's population will live in cities. It is now necessary to produce as close as possible to the consumer-actors and consume the minimum of resources while reducing wastes and greenhouse gas emissions," said Vincent Callebaut, founder of Vincent Callebaut Architectures.
"Within the framework of the new circular economy, the Rainbow Tree is a prototype of a completely biobased vertical forest respecting the four pillars of the ecological city of the future, namely: energy self-sufficiency (heating, cooling, and electricity); greening of buildings and development of urban agriculture; soft mobility centered on pedestrians, bikes and electric co-mobility; social innovation through spaces for sharing between residents and solidarity services," added Callebaut.
Project brief:
Project name: THE RAINBOW TREE
Architecture firm: Vincent Callebaut Architectures
Type of development: Mixed-Use Residential, Condominium with Retail and Serviced Apartments
Project location: Cebu Business Park, City of Cebu, Island of Cebu
Plot: 2,245 sqm
Construction floor area (CFA): 38,613.4 sqm
Number of apartments: 300 Units
Amenities: BOffice, Restaurant, Swimming Pool, Fitness Center, Sky Farm
Sustainability certification: LEED Gold Plus – BERDE 4 Stars (Established by the Philippine Green Building Council)
Groundbreaking date: To be announced
Target completion date: To be announced