"Prevention is better than cure."
It's been roughly four months now since the COVID-19 outbreak began in the country. Based on recent reports, the COVID-19 cases in entire Cebu are not declining. In fact, there are at least 150 new cases reported in Cebu each day.
The lighter news is, several hospitals and clinics have now been accredited to do their own swab/rapid testing for the coronavirus disease. This means, if we are experiencing COVID-19 symptoms, we can now get tested voluntarily to the nearest testing center.
Common symptoms of COVID-19:
Fever
Cough
Runny nose
Sore throat
Fatigue
What to do if you're sick or am experiencing symptoms of COVID-19?
If you are experiencing any or all of the aforementioned symptoms, it's best to call a COVID-19 hotline first for consultation before heading to a clinic for swab testing.
Don't wait for your symptoms to get worse before seeking medical help.
COVID-19 Hotlines for consultation
0922-397-2334
0943-568-3298
(032) 402-3091
(032) 402-1269
CebuDoctors: 0961-525-5194 (Smart)
CebuDoctors: 0956-788-5071 (Globe)
CebuDoctors: 0931-059-8617 (Sun)
You can call these numbers regardless of your residence.
Enlisted below are the cluster clinics or swab testing centers in Cebu.
Cebu City
Cluster Clinics for Swab Testing
Barangay Tinago Gym
Brotherhood Gym, Basak San Nicolas
Sawang Calero Gym
Cebu Medical Society, Banilad
If you're carrying the common symptoms, you will be referred to in an isolation center while waiting for the test result.
If you get a 'positive' result of the virus, for mild symptoms, you will transferred to a Barangay Isolation Center. For moderate symptoms, to the treatment facility at CCMC.
For severe cases:
Symptoms include, but not limited to, breathing difficulties and severe diarrhea.
Call the Cebu City hotline numbers:
(032) 233-4194
(032) 254-8637
(032) 411-0102 / 411-0126
0923-937-8599
0923-937-8596
0909-943-1037
Wait for an ambulance to pick-up. Patient will then be brought to a hospital for admission.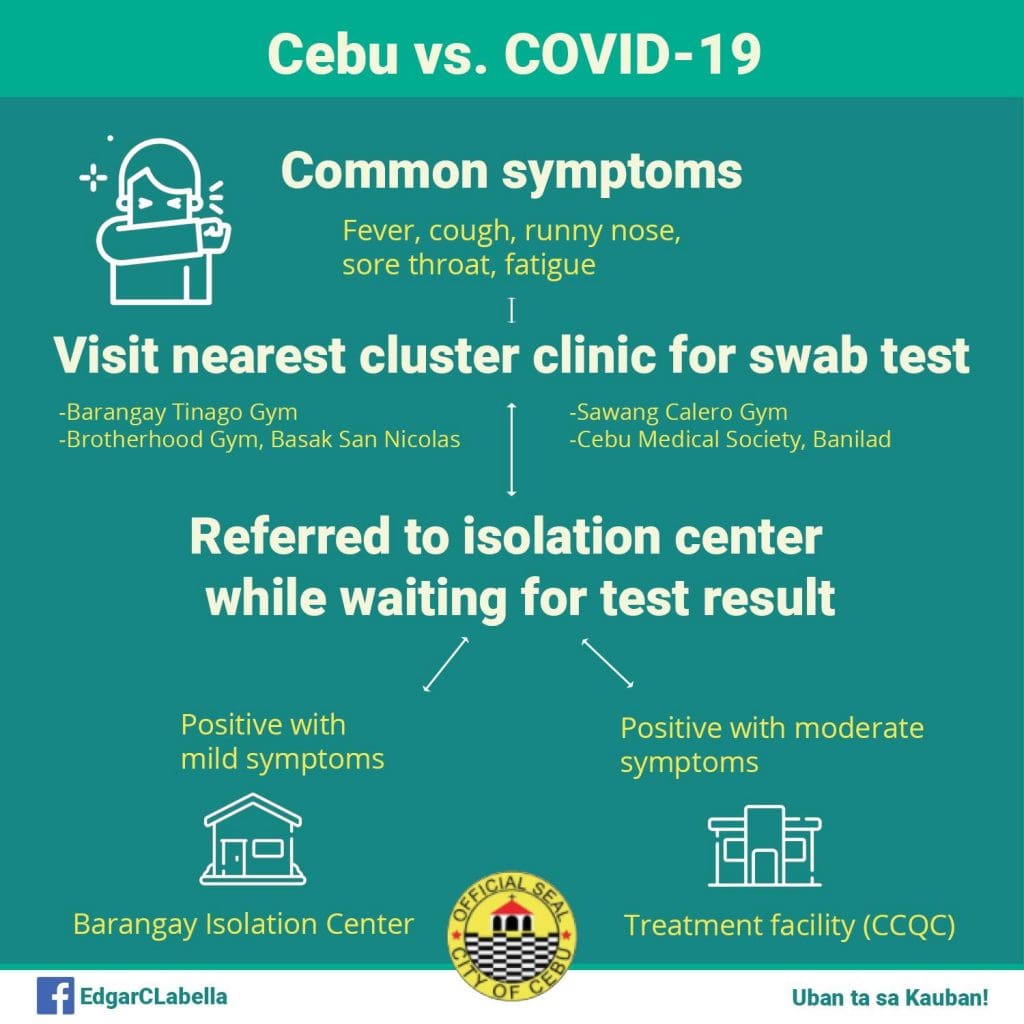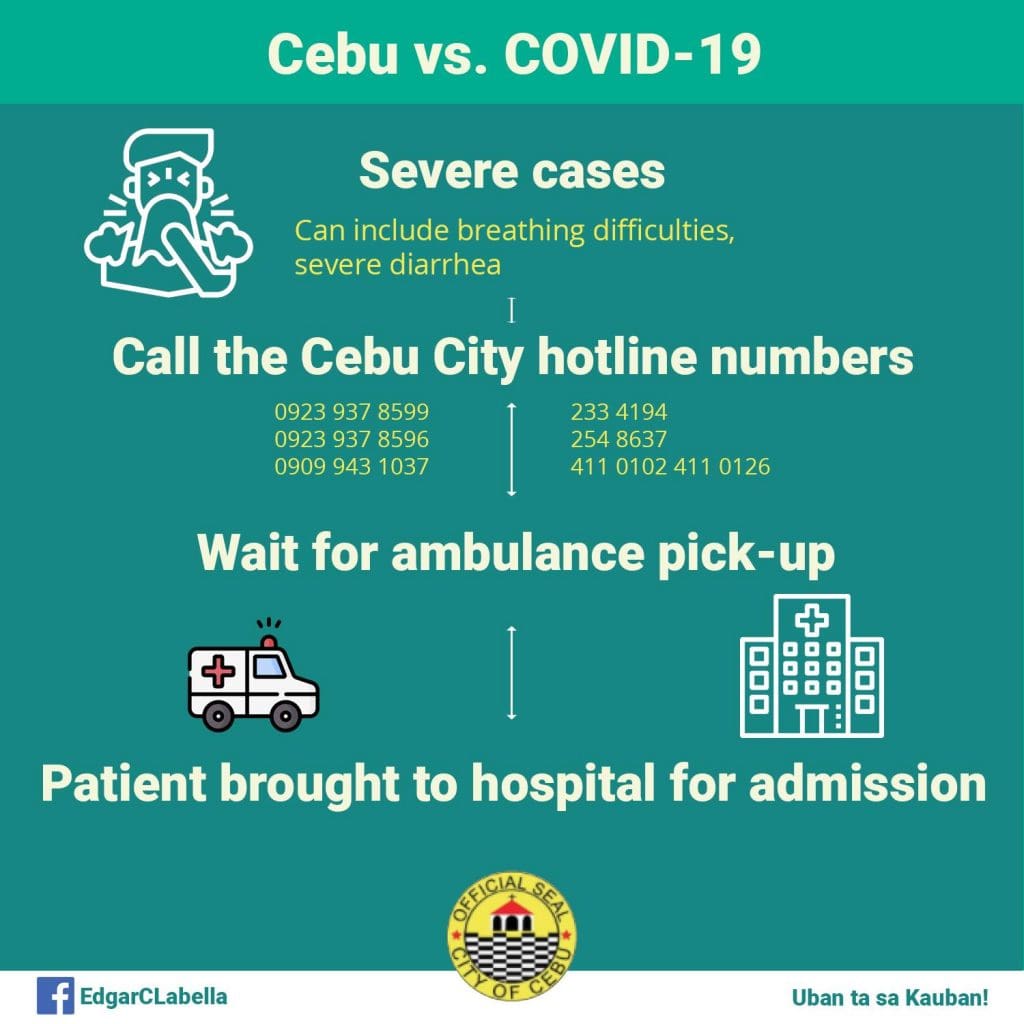 Bayanihan Cebu-DOH Testing Center
The BAYANIHAN CEBU-DOH SWABBING CENTER will officially open on Monday (July 13, 2020). Testing is free.
Location:2nd floor of the IC3/IEC Buildings (entrance via ramp at basement parking)
Operating Hours:Mon-Sat : 8AM-12NN, 1-5PM
It's a 12-booth facility where DOH med-techs will collect swabs and all specimens will be processed by the DOH for free.
Help desk contact numbers:
Before leaving your homes to be tested, please wear your masks and bring your own pen, as there are forms that need to be filled out at the center.
Drive-Thru, Walk-Thru Testing
Vicente Sotto Memorial Medical Center (VSMMC) recently launched a Drive-Thru & Walk-Thru swabbing for SARS CoV2 (COVID-19). Testing is for free.
Process Flow
Access VSMMC FB page and click the link provided.
Fill up Case Investigation Form and choose a schedule online.
On the testing day, Print/Save QR code and bring Valid ID
Present QR code, Valid ID and register at tent A
Your temperature will be taken and you will be given a bar code sticker
For Swabbing:
Walk-thru subjects to tent C
Drive-thru subjects drives to tent D or E
Scanning of bar code and verification of subject identification
Nasopharyngeal swab (NPS) / Oropharyngeal swab (OPS)
After swabbing, exit the area through:
Walk-thru subjects exits via B. Rodriguez gate
Drive-thru subjects exits via Jones avenue exit gate
Releasing of results through email is in 4 days and a copy will be given to your Local Government Unit (LGU) through DOH-RESU for contact tracing.
Operating hours: 9am-3pm (Mon-Fri)
Exact Location: B. Rodriguez St., Cebu City Philippines
Free Registration link: https://bit.ly/vsmmconline
Mandaue City
The Mandaue City Government encourages its residents who are experiencing COVID-19 systems to call or text first the barangay's FEVER CLINICS to schedule a check-up.
Below is the list of fever clinics in Mandaue City: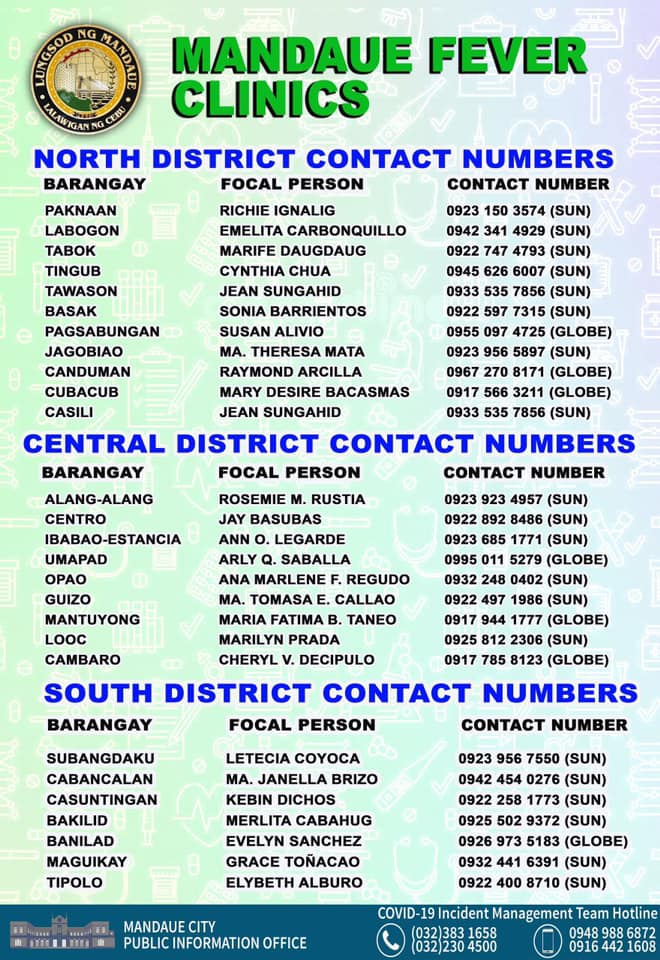 Lapu-Lapu City
24/7 COVID-19 Hotline in Lapu-Lapu City
0956-394-1999
(032) 341-3771
City Health
0916-468-0115
(032) 340-2584
Transport Hotline: 0933-491-3530
General Hotline
0961-731-7999
0961-729-3000
0916-704-0391
0916-441-6690
0932-104-1164
(032) 340-2124
Accredited testing facility:
ARC Hospital (Testing is not free)

(032) 260-9189
(032) 493-4250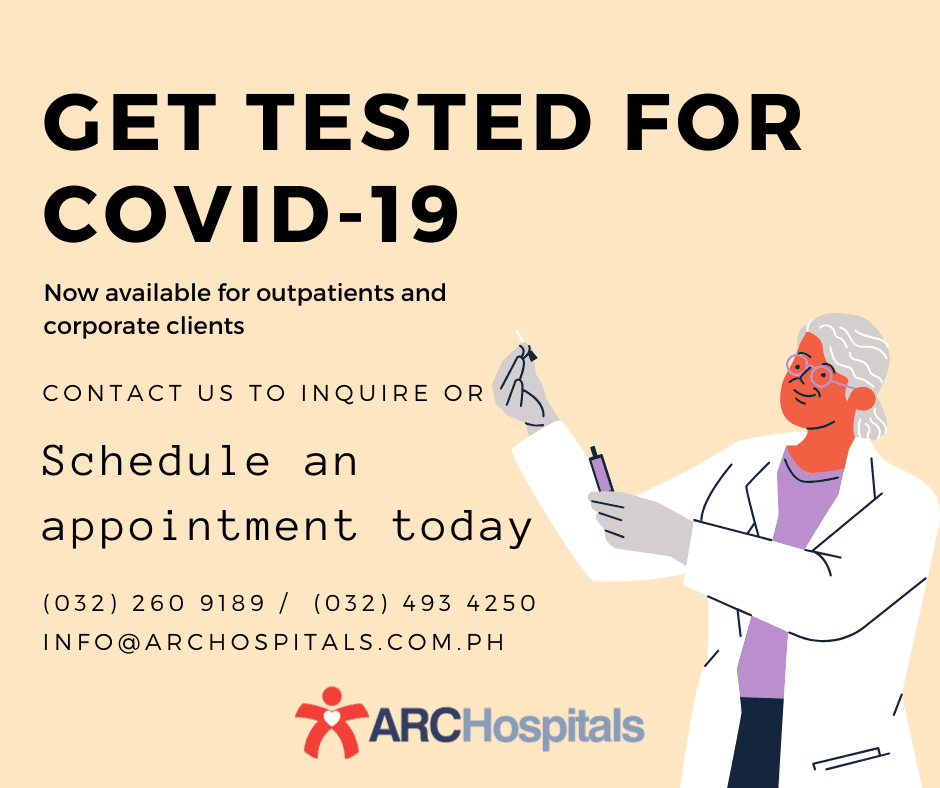 Cebu Province
Cebu Province is composed of cities and towns in Cebu that are outside Cebu City, Mandaue City, and Lapu-Lapu City.
COVID-19 Hotline in Cebu Province
(032) 888-2334 loc 3011, 3012, 3013
0917-843-7375
(032) 888-2329 loc 1271, 1272 (Integrated Provincial Health Office)
Frequently Asked Questions
If I know someone who has completed quarantine or has been released from isolation, will I be infected if I go near him/her?
No. Someone who has completed quarantine or has been released from isolation does not pose a risk of infection to other people.
What are the best things to do to lower the risk of being infected with COVID-19?
– Wash your hands often with soap and water for at least 20 seconds.
– If you just sneezed, coughed, or went to the bathroom, even before and after eating, wash your hands.
– Avoid touching your eyes, nose, and mouth with unwashed hands.
– If you are sick, stay at home.
– Cover your nose and mouth with tissue when sneezing or coughing and throw the tissue in the trash thereafter.
Should I worry about COVID-19?
Illness due to COVID-19 infection is generally mild, especially for children and young adults. However, it can cause serious illness: about 1 in every 5 people who catch it need hospital care. It is therefore quite normal for people to worry about how the COVID-19 outbreak will affect them and their loved ones.
Who is at risk of developing severe illness?
While we are still learning about how COVID-2019 affects people, older persons and persons with pre-existing medical conditions (such as high blood pressure, heart disease, lung disease, cancer or diabetes) appear to develop serious illness more often than others.
Are there any medicines or therapies that can prevent or cure COVID-19?
While some western, traditional or home remedies may provide comfort and alleviate symptoms of COVID-19, there is no evidence that current medicine can prevent or cure the disease. WHO does not recommend self-medication with any medicines, including antibiotics, as a prevention or cure for COVID-19.
However, there are several ongoing clinical trials that include both western and traditional medicines. WHO will continue to provide updated information as soon as clinical findings are available.
Is there a vaccine, drug or treatment for COVID-19?
Not yet. To date, there is no vaccine and no specific antiviral medicine to prevent or treat COVID-2019. However, those affected should receive care to relieve symptoms. People with serious illness should be hospitalized. Most patients recover thanks to supportive care.
Possible vaccines and some specific drug treatments are under investigation. They are being tested through clinical trials. WHO is coordinating efforts to develop vaccines and medicines to prevent and treat COVID-19.
Will mask protect me from COVID-19?
It's best to wear masks at all times when going outside. Your mask cuts own risk by 65%.
Social distancing, face masks and eye protection all appear to reduce the spread of COVID-19, in both health care settings and the general community, according to a new review commissioned by the World Health Organization (WHO).
Could my pet be a source of COVID-19?
No. There is no evidence that companion animals or pets such as cats and dogs have been infected or could spread the virus that causes COVID-19.
How long is the incubation period for COVID-19?
The "incubation period" means the time between catching the virus and beginning to have symptoms of the disease. Most estimates of the incubation period for COVID-19 range from 1-14 days, most commonly around five days. These estimates will be updated as more data become available.