Good news, maka biyahe najud balik!
If you have been stranded in Cebu City, or somewhere else in the country, and been wanting to go back to your hometown, Cokaliong Shipping Lines has formally announced its resumption of operations starting August 1, 2020 now that Cebu City has been placed under general community quarantine (GCQ).
These are 12 routes set to resume operations:
Cebu – CDO
Cebu – Surigao
Cebu – Iligan
Cebu – Ozamis
Cebu – Iloilo
Masbate – Cebu
Nasipit – Cebu
Surigao – Cebu
Dumaguete – Cebu
Dumaguete – Dapitan
Dapitan – Dumaguete
Dapitan – Cebu
Schedule & Rates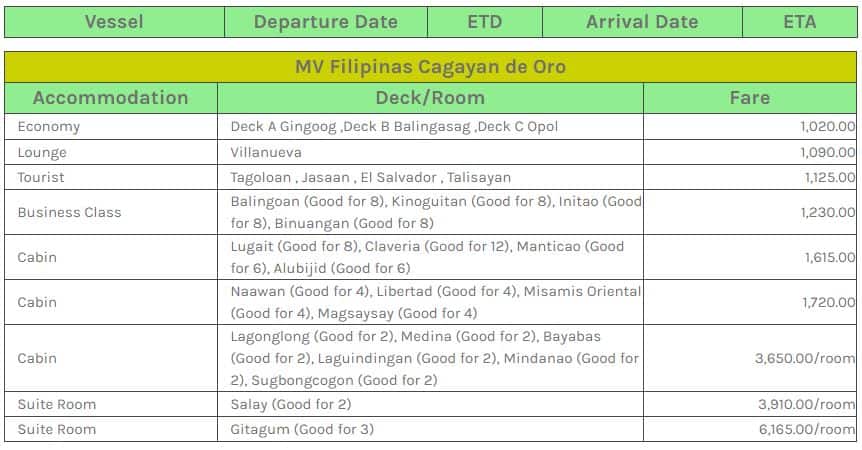 For the latest schedule and full rates, visit Cokaliong's official website at http://www.cokaliongshipping.com/csl/schedule.html.
Requirements
These are the requirements you need to prepare and present upon purchasing tickets. Requirements are applicable to those traveling in and out of Cebu.
AUTHORIZED PERSONS OUTSIDE OF RESIDENCE (APOR)
FRONTLINERS & MEDICAL PERSONNEL

Photocopy of Mission Order

WORKERS FOR INDUSTRIES ALLOWED UNDER GCQ

Photocopy of Travel Authority from JTV CV Shield
Photocopy of Company ID
Photocopy of Certificate of Employment
LOCALLY STRANDED INDIVIDUALS (LSI)
INBOUND CEBU CITY RESIDENTS

*FREE Tourist class tickets, compliments of the Cebu City Government
Photocopy of Travel Authority with destination as Cebu City
Photocopy of Valid government ID with Cebu City address

INBOUND CEBU PROVINCE RESIDENTS

Photocopy of Travel Authority from JTC CV Shield
Photocopy of letter of acceptance from local chief executive of receiving LGU

ALL OTHER INBOUND & OUTBOUND LSI

Photocopy of Travel Authority from JTC CV Shield
* Pending the approval of your receiving LGU

LSI AND OFWs in Transit

Photocopy of Travel Authority from JTC CV Shield
Photocopy of confirmed ticket to your final destination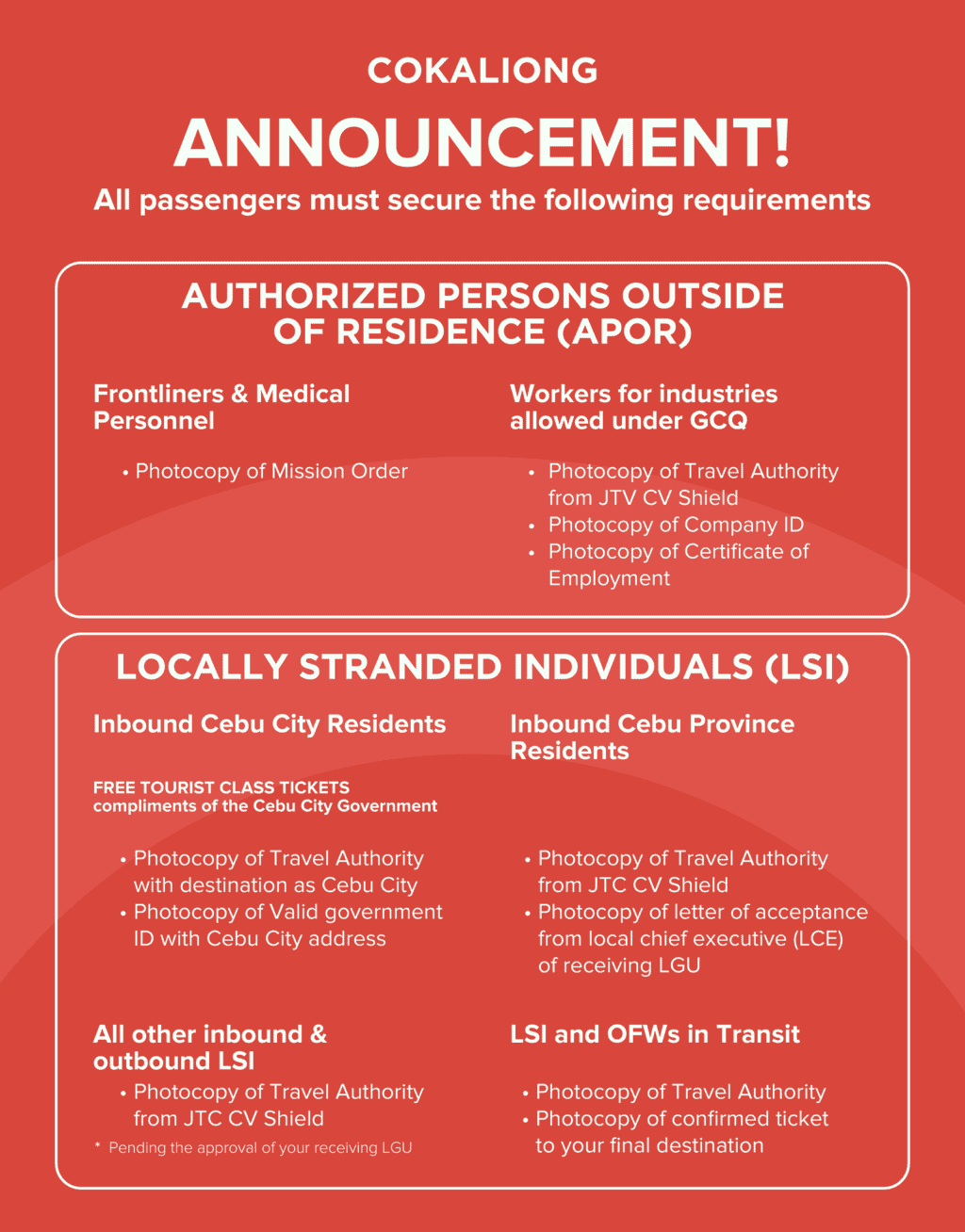 Where to buy the tickets?
In Cebu, tickets will only be sold at the following Cokaliong offices:
Cokaliong Tower Main office
Pier 1 Cokaliong Ticketing Outlet
Pier 4 Cokaliong Ticketing Outlet
Contact details:
Contact number: (032) 232-7211
☞
Up to 50% OFF on nearby hotels in Cebu.
IMPORTANT NOTE:
The rates, contact details and other information indicated in this post are accurate from the time of writing but may change without Sugbo.ph's notice. Should you know the updated information, please message us on
Facebook
.