On Thursday, the Department of Health Region 7 (DOH-7) has released its latest COVID-19 update in the region as of yesterday, May 10. In its report, Cebu has logged one hundred four (104) new confirmed cases, 3 new laboratory negative and 3 new deaths. This brings the city's total to 1,784 confirmed COVID-19 cases.
Editor's Note: DOH-7 has been releasing data from previous day since last week. To reiterate, numbers presented in this article are based on the data from yesterday, May 10.
There were 663 test results conducted on May 10; 112 of which are positive results, with 8 being repeat tests of previously confirmed cases. Of the 104 new confirmed cases, 97 are from Cebu City, 5 from the Cebu province, and 2 from Lapu-Lapu City.
Three (3) additional laboratory negatives from previously confirmed positive cases. 2 of them are from Mandaue City and 1 is from Lapu-Lapu City.
Additional deaths are added into the regional numbers today. 2 of the deaths are residents of Cebu City and 1 is from the province of Cebu. One of the deaths recorded is a 1-year-old male infant who was declared dead on arrival in a government hospital in Cebu City. DOH-7 is still getting the details of the final causes of death from the hospitals where they were admitted or the city where they died.
As of May 10, 2020, the whole island of Cebu now has a total of 1,784 confirmed COVID-19 cases with 43 recoveries and 24 deaths. Below is the latest breakdown of the confirmed cases in Cebu:
1,566 – Cebu City (+97 new)
109 – Mandaue City
43 – Lapu-Lapu City (+2 new)
44 – Cebu Province (+5 new)
4 – Health Workers
18 – Repatriates/OFWs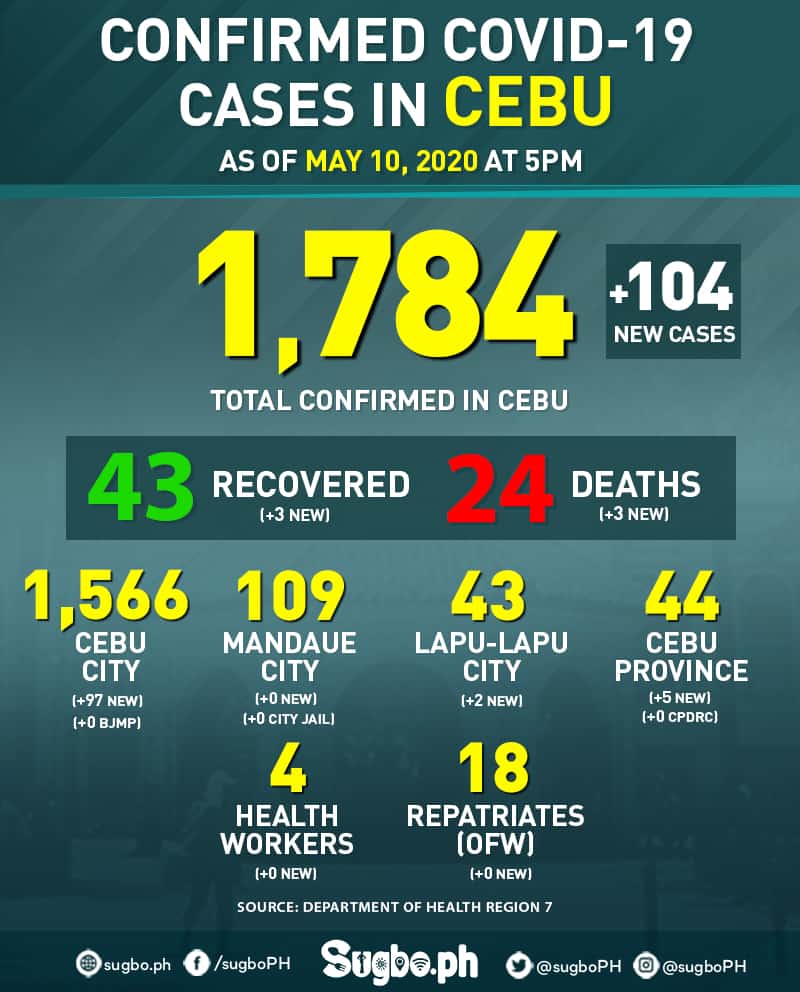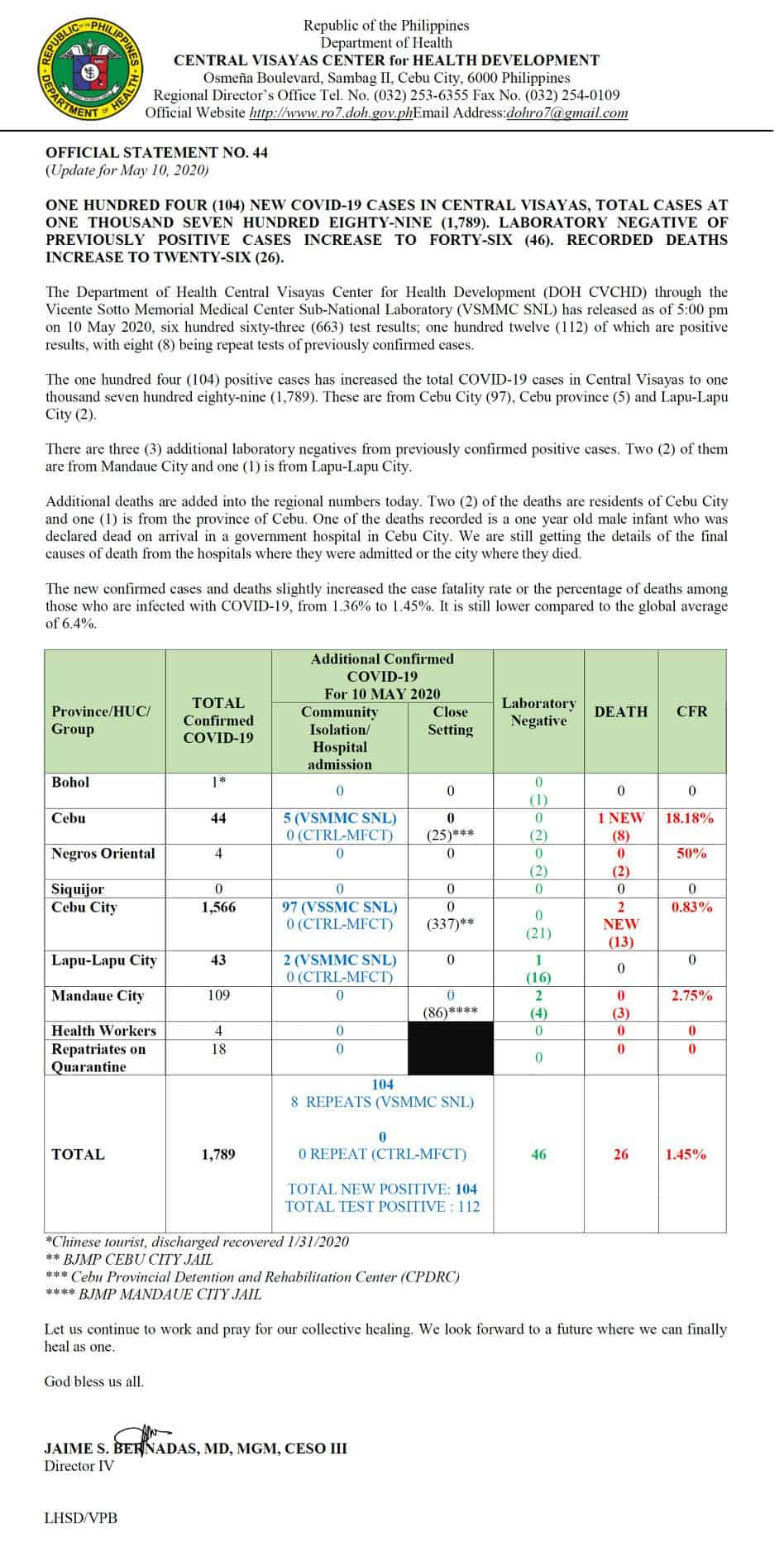 DOH-7 highlighted that the new confirmed cases and deaths slightly increased the case fatality rate or the percentage of deaths among those who are infected with COVID-19, from 1.36% to 1.45%. It is still lower compared to the global average of 6.4%.
The Department of Health is reminding us that this is a fight we can win, but we can only win if like good soldiers we do what needs to be done. We should be united in our fight against COVID-19 and not against each other, most especially our health workers who continue to selflessly serve in our health facilities even with the risk of being exposed to our common enemy.
The COVID-19 pandemic originated from Wuhan City in China that has affected nearly 200 countries and territories with more than 2.5 million confirmed cases and at least 185,000 deaths.
EDITOR'S NOTE: With the local government's continued efforts in targeted massive testing, we are expecting more new cases of coronavirus infection in entire Cebu, including Cebu City.
The results of the mass testing in Cebu will serve as basis of the city's policies, programs and actions after the expiration of the extended Enhanced Community Quarantine in May 15, 2020. This includes isolation of infected individuals in the respective quarantine centers.