The Department of Health Central Visayas (DOH-7) has reported there are now 864 confirmed COVID-19 cases in entire Cebu with 233 additional cases recorded today, May 1.
There's also an additional death recorded for today, a 58-year-old male from a municipality in the Province of Cebu. He had existing medical conditions aside from being diagnosed with COVID-19 infection. The patient died on the same date of admission.
According to DOH-7, there were 1,032 test results released today, which yielded 240 positive results with 7 of the results being repeat tests of previously confirmed positive cases.
Cebu's tally now is at 864 with 25 recoveries and 11 deaths. Below is the latest breakdown of the confirmed cases in Cebu:
• 758 – Cebu City (+75 new, +128 BJMP)
• 25 – Mandaue City (+8 new)
• 35 – Lapu-Lapu City (+1 new)
• 29 – Cebu Province (+4 new)
• 3 – Health Workers* (+3 new)
• 14 – Repatriates/OFWs** (+14 new)
Total: 864 confirmed cases in entire Cebu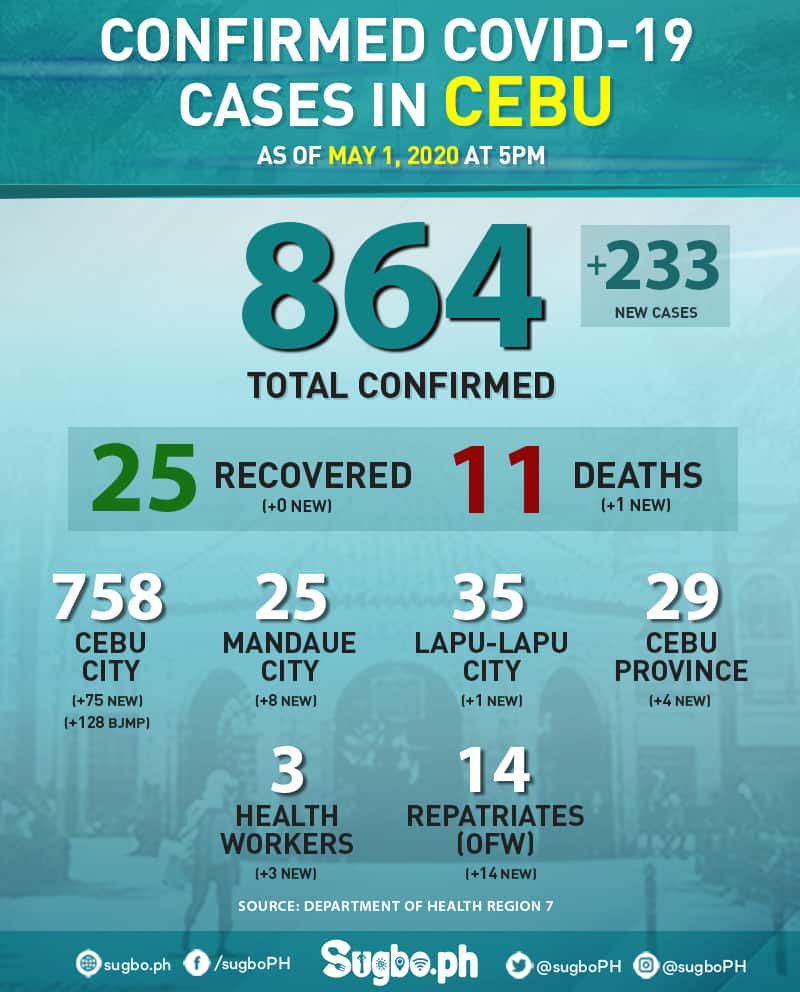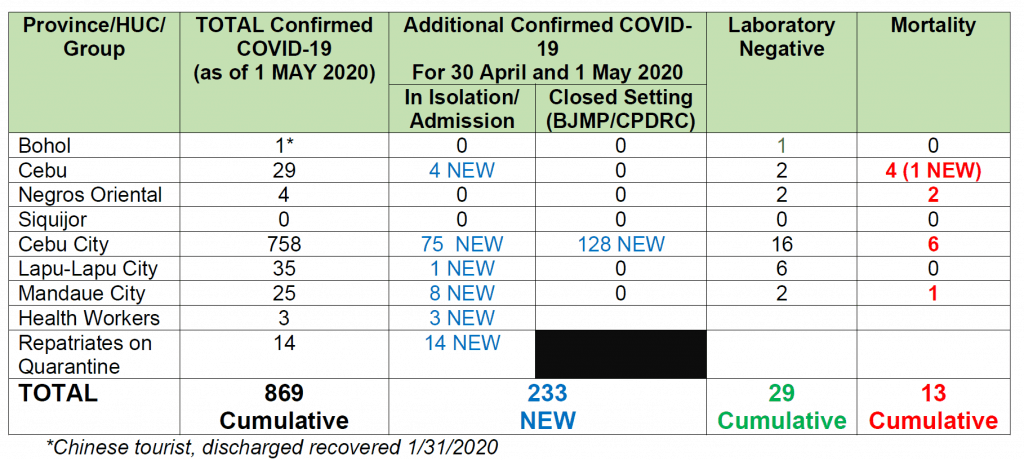 *DOH-7 on infected Health Workers:
"We now have three health workers who have tested positive for COVID-19. They were exposed to patients who have COVID-19 in their line of work. The hospital administration has started their isolation as soon as they manifested symptoms. Investigations are being conducted by the hospital's Infection Control Committee to ensure that all contacts inside and outside the hospital are being traced, swabbed, isolated and managed accordingly. The DOH CVHCD is one with the medical community in praying for the recovery of these brave health workers. We continue to support our health workers through the provision of Personal Protective Equipment (PPE) in the hope that no additional health workers will be infected with COVID-19 in the performance of their duties to serve our sick brothers and sisters."
**DOH-7 on infected Repatriates/OFWs:
"The presence of positive cases among our repatriates after undergoing the 14-day quarantine in Manila and a COVID-19 negative test result prior to travel to Cebu and other provinces in the region needs to be validated. Additional laboratory test such as testing for the presence of antibodies may tell us if the latest positive results are active infections or previous exposures. There are two kinds of antibodies: those that appear during infection (IgM) and those that appear upon recovery (IgG). The presence of either of the two will tell us if the infection is an active one or in the case of IgG, is of previous exposure and therefore the positive RT-PCR result could be possibly viral remnants of a previous infection. However, these repatriates are already on quarantine and will complete the additional 14 days. They will be tested again prior to release after the mandatory quarantine."
Meanwhile, in the Philippines as of May 1, 2020: the Department of Health reported 284 new confirmed cases, 41 new recoveries and 11 new deaths in the country. To date, the Philippines' tally is 8,772 confirmed cases with 1,084 recoveries and 579 deaths.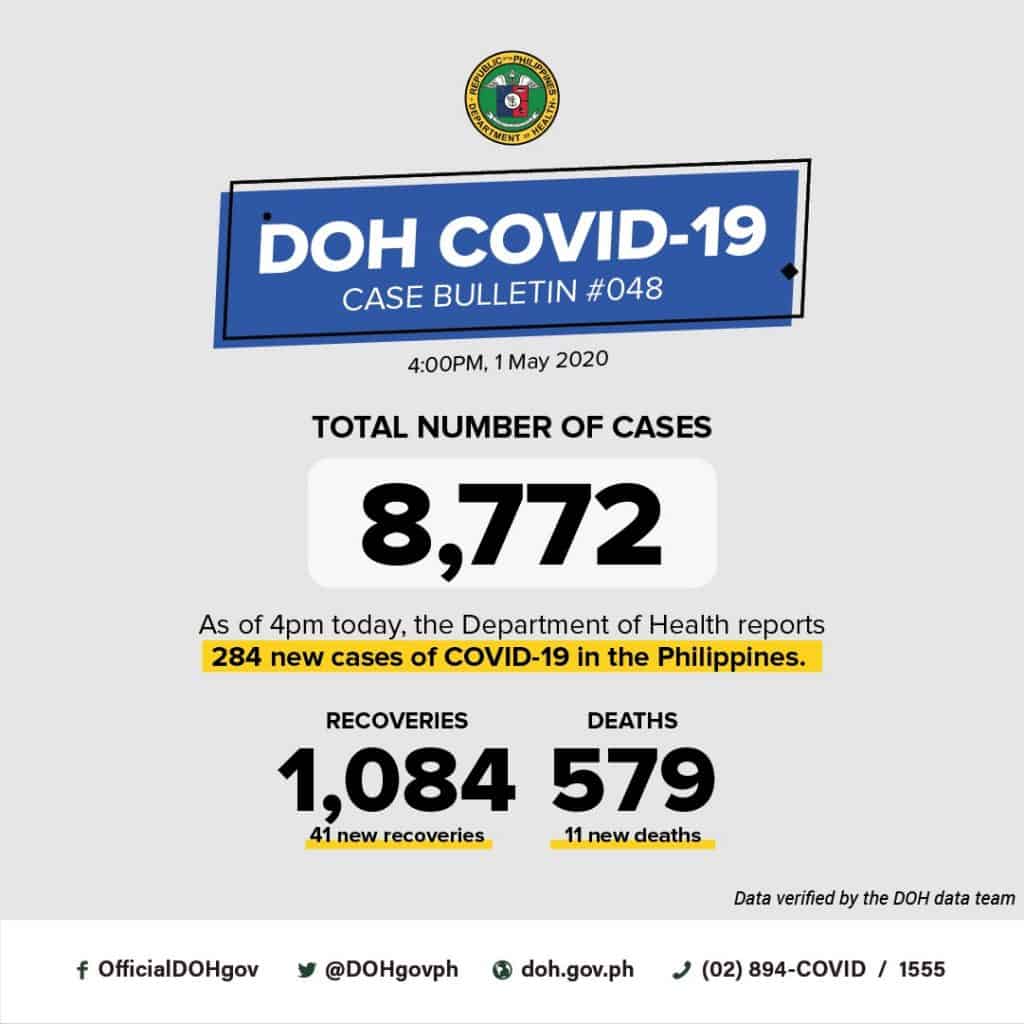 The Department of Health is reminding us that this is a fight we can win, but we can only win if like good soldiers we do what needs to be done. We should be united in our fight against COVID-19 and not against each other, most especially our health workers who continue to selflessly serve in our health facilities even with the risk of being exposed to our common enemy.
The COVID-19 pandemic originated from Wuhan City in China that has affected nearly 200 countries and territories with more than 2.5 million confirmed cases and at least 185,000 deaths.