The efforts of our local government have gradually paid off. Hopefully, this is the beginning of more good news in the coming days.
On May 13, the Cebu City Health Department (CCHD) has reported 27 new confirmed COVID-19 cases and 41 new laboratory negative (recoveries) recorded today. Since the mass testing began, this is the first time the city has recorded more recoveries than new positive cases.
Below is the breakdown of new cases:
1 – Basak San Nicolas (inmate)
7 – Bo. Luz
1 – Calamba
1 – Duljo
3 – Inayawan (inmates)
1 – labangon
2 – Lahug
2 – Mambaling
1 – Pardo
1 – Pasil
2 – San Nicolas Proper
3 – Suba
2 – Tejero
As of May 13, 2020, Cebu City now has a total of 1,687 confirmed COVID-19 cases with 9 deaths and 73 recoveries. Although the number of cases is high, Cebu City still has the lowest death rate (below 0.75%) in the Philippines compared to the City of Manila at 8.28% and global average at 6.4%.
It was previously reported that the rise of COVID-19 cases in the city is because of local government's efforts in conducting targeted mass testing since mid-April this year.
The results of the mass testing in Cebu will serve as basis of the city's policies, programs and actions after the expiration of the extended Enhanced Community Quarantine in May 15, 2020. This includes isolation of infected individuals in the respective quarantine centers.
Total breakdown of cases in Cebu City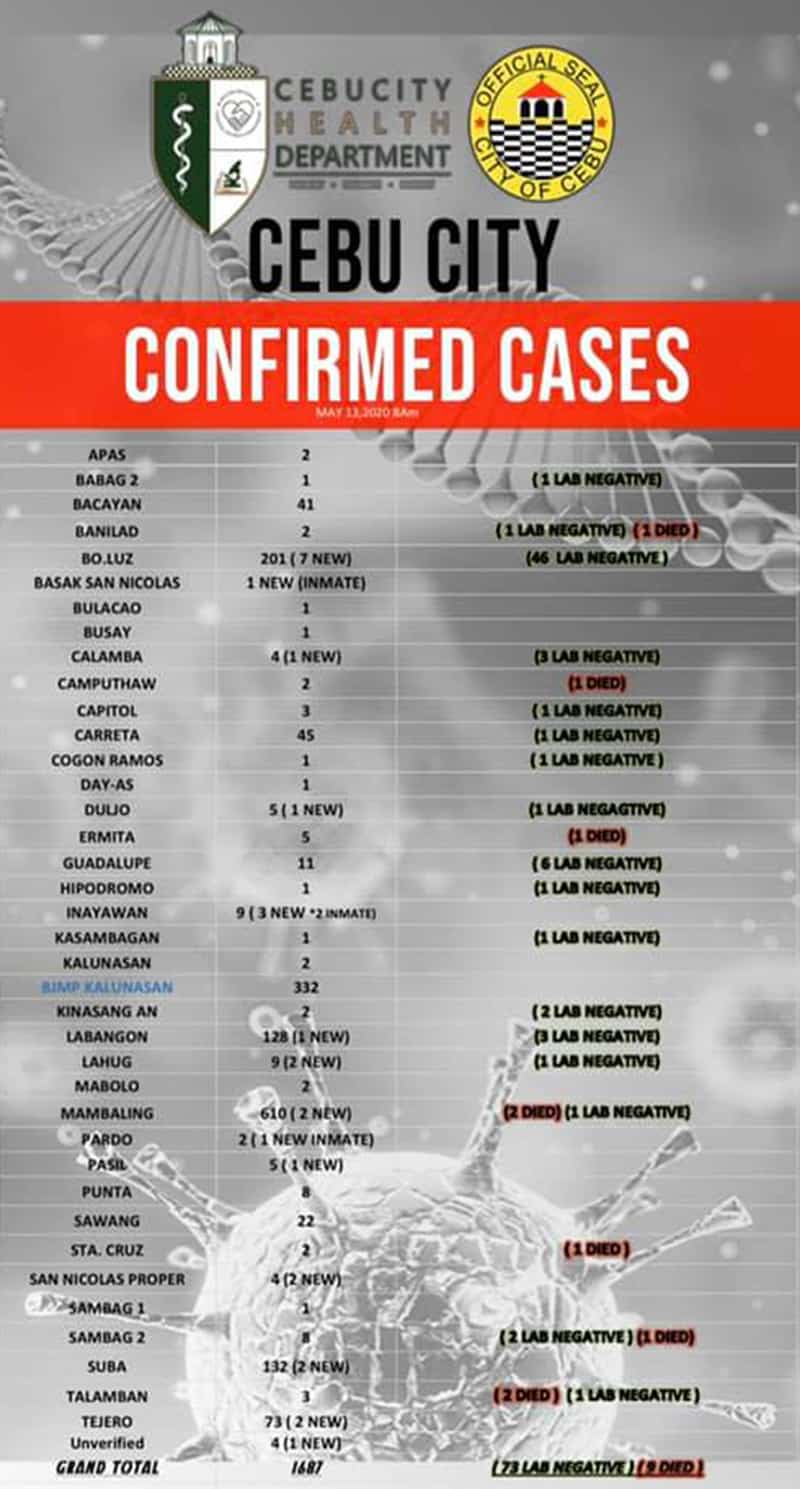 Sugboanons, let's do our part. Stay at home, practice good hygiene and follow the authorities.