In preparation to the 'new normal', Barili has revamped its tourism packages in lieu to their reviving of their tourism.
The town of Barili now offers dolphin-watching and all-terrain vehicle adventure (ATV) as their new tourism activities. With these, they have been poised as the "new rockstar in ecotourism adventure in Cebu Island."
Dolphin Watching
Because of the continuous dolphin-sighting in the waters of Japitan and Hilasgasan, a dolphin-watching activity will be opened to tourists.
Barili Mayor Garcia said that a resolution is being crafted to establish guidelines most especially in striking a balance between ecotourism as an economic opportunity in Barili and the continued conservation initiatives in Tañon Strait and its marine species as stipulated in Proclamation No. 1234 signed by former President Fidel Valdez Ramos in 1998.
ATV Adventure
If you're up for an extreme activity, their ATV Adventure is now officially open. Sure to give all adrenaline junkies their cravings, this adventure covers a total of 12 kilometers of rough road, mud, cliff and limestone wall, and an awesome vantage view of Tañon Strait, the western skyline and its perfect display of sunset moments.
There are three phases to the finishing line in the Bangaglapus Cave, another tourist spot in the municipality.
The Barili ATV Adventure costs from around ₱350-840 per head promo rate (regular rate is ₱600-800) depending on the package or level of difficulty.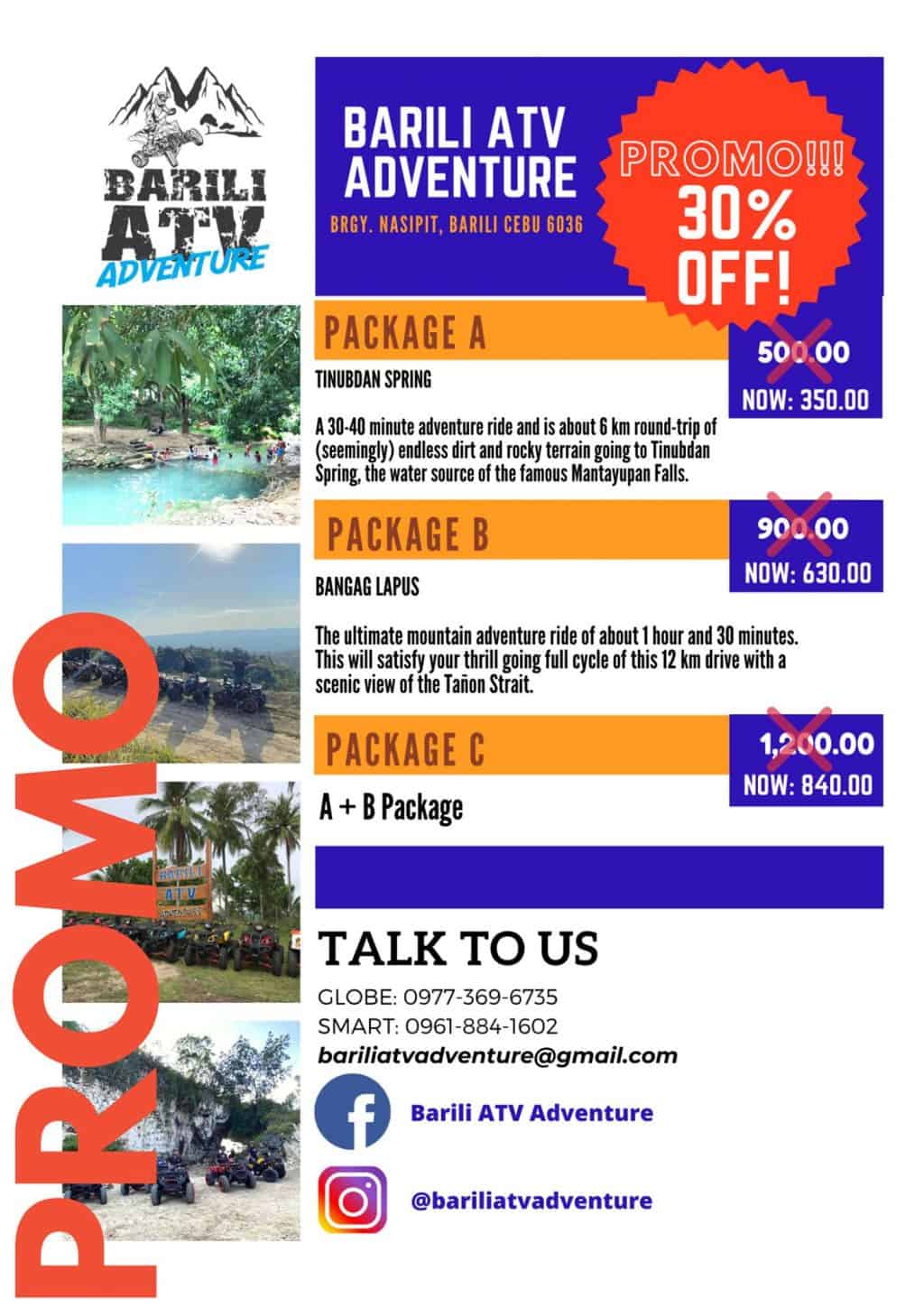 Book online, no walk-ins
To control the number of visitors of tourism-related activities, the Cebu Provincial Government launched discover.cebu.gov.ph as an online booking portal. These attractions in Barili will up in the online booking portal starting August 1, 2020.
Health protocols and guidelines limit the number of visitors to half of the original carrying capacity of each site or activity. 
As par of their preparation to the new normal, disinfecting foams and an ultraviolet germicidal light gave been used to disinfect and sanitize your protective protective gears after every use. They also have a handwashing station in place.