To celebrate impressive commercial flights sales in August and a return in confidence in air travel, AirAsia in the Philippines is offering an exclusive buy 1 take 1 promo on all domestic and international flights for a limited time. 
AirAsia Philippines closed the month of August with a 140% increase in seats sold, compared to the previous week's 42%. A third of bookings registered were for 2021 reflecting a demand for future travel.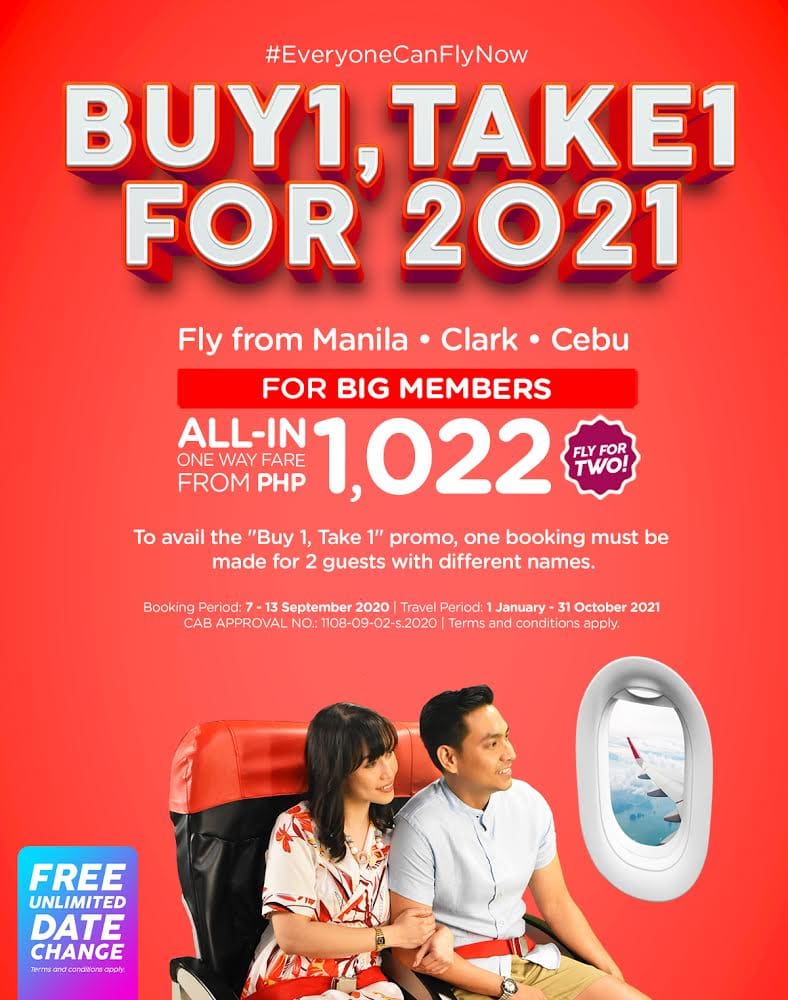 BIG members can enjoy all-in one-way fares from as low as P1,022 for two tickets. This special promo is available for booking on airasia.com or the AirAsia mobile app from today to 13 September 2020 for travel from 1 January to 31 October 2021. Promo seats are limited and subject to availability.
Booking Period: September 7 – 13, 2020
Travel Period: January 1 – October 31, 2021
Meanwhile, AirAsia also provides enhanced flexibility for guests travelling up to 31 December 2020. Guests may change their flight dates conveniently at any time with no flight-change fee. 
Guests can expect enhanced safety measures throughout the entire journey, including pre-flight, in-flight, and arrival processes. These include the mandatory wearing of face masks to be permitted to travel, amongst others. Guests are also advised to check and comply with measures implemented by local airport authorities for a smooth travel experience.
To book, just go to their official website at www.airasia.com.