When we think of Korean food, our top of mind is probably the famous Korean BBQ's and Samgyeopsals. But then, there's more to Korean food than that, especially on those that are not the usual eateries and diners, but actual Korean restaurants.
Located at Streetscape along Maria Luisa Road in Banilad, is one of these legit Korean restaurants to have that legit Korean food experience for all Korean food junkies, the Tofuya Korean Restaurant.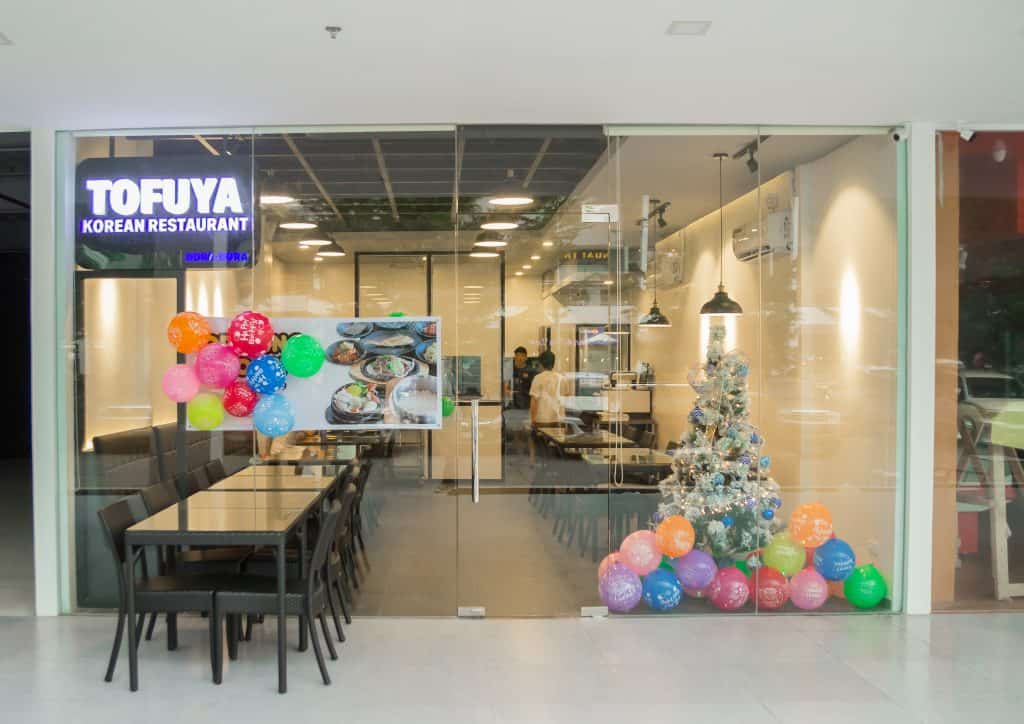 Best-Tasting Tofuya Soup
Here you can taste the infamous Korean Tofu stew which is also their specialty, Tofuya soup. These are soups with soft tofu, served in spicy broths mixed with either seafood, kimchi, beef, and/or many more.
These spicy broths are no joke and even has 3 levels of spiciness, from mild to spicy and super spicy.
One of the highlights in indulging yourself in these mouth-watering soups is watching the cracking of the egg into the steaming liquid and watching it going into all those flavors.
Kinds of Tofuya soup:
Seafood Soontofu
Beef Soontofu
Kimchi Soontofu
Octopus Soontofu
Mix Soontofu
Pork Soontofu
Authentic Korean dishes & more!
They also have some of our favorite Korean food as a main dish or you can have them in Combos.
La galbi (Korean BBQ ribs)
Bulgogi (marinated slices of beef/pork)
Chicken teriyaki
Bibimbap (mixed rice w/ meat and assorted vegetables)
They also serve these hot rice pots straight to your table and are very attentive on guiding how to eat Korean food the right way. They pour hot water to the remaining rice on the rice pots as a Korean tradition for cleansing the palette.
All Tofuya soup and dish combos includes one round of side dishes:
Salted and fermented squid
Kimchi
Stir-fried vegetables
Laver
Grilled fish
What are you waiting for? Experience the Tofuya Korean Restaurant now and even have a shot of the savory Korean drink Soju.
Tofuya Menu:
Other Information
Operating hours: 11AM to 10PM daily
Contact number: (032) 410-3406
How to get there?
Exact location: Streetscape, Maria Luisa Rd., Banilad, Cebu City.
BY CAR/TAXI/GRAB: Just navigate with Waze or Google Maps and set your destination to "Streetscape" in Banilad. There's an ample parking space available if you're bringing your own car.
BY JEEPNEY: Ride any jeepney passing through Banilad or UC Banilad Campus. Or:
– 13C if from Colon/USC Main/Ayala (south) or Talamban/USC-TC (north)
– 62B/C if from Carbon/Ayala (south) or Pit-os/Talamban (north)
– 13B if from Carbon/UV/Ayala (south) or Tintay/Talamban (north)
…then ask the driver to drop you off near Banilad Town Center or across Gaisano Country Mall. You may need to walk further (10-15 minutes) going to Streetscape (near Henry Hotel / Banilad-A.S. Fortuna flyover), to comply with the proper jeepney stops. It's recommended to take a cab or ride a habal-habal when commuting instead.