One great thing about the Filipinos is their adventurous mindset that "summer getaways" never stop nor travels should be seasonal. That an adventure or travel is not an expense but an experience. And once we discover places that captivate us, we get so excited to experience it ourselves. Perhaps this is the reason why Rancho Cancio made a buzz in the Queen City of the South. People wanted to witness and experience "nature's paradise in the city".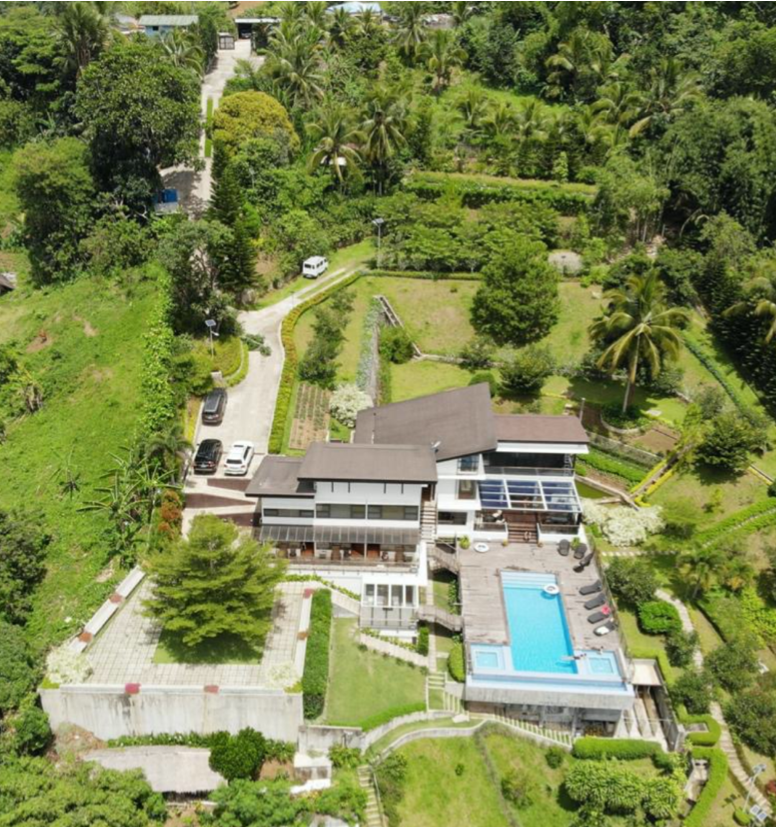 Located at Brgy. Adlaon, Cebu City (kilometers away from Busay), Rancho Cancio is a privately owned rest house that any hyped adjectives would always be insufficient to describe the place — it's beyond beautiful. We will let the pictures do the talking.
THE INFINITY POOL
INSIDE RANCHO CANCIO
RANCHO CANCIO AT NIGHT
Rates & Other Information
DAY USE:
₱8,600 for 10 persons (minimum)
Additional ₱860 per head
Day Use: 8AM to 5PM (Exclusive)
Terms:
Charge for 3 y/o & above: P100
Must order at least 2 meals (Morning Merienda or Lunch or Afternoon Merienda or Dinner)
Minimum number of orders per meal is 10
Towel rental: P50
CORKAGE: Snacks and softdrinks are allowed; Meals are strictly prohibited
All prices are subject to 12% service charge
FACILITIES & AMENITIES:
Rancho Cancio can accommodate up to 30 guests.
5 Bedrooms with 19 beds:

Bedroom 1: 1 Double Bed
Bedroom 2: 3 Single Beds
Bedroom 3: 5 Single Beds
Bedroom 4: 3 Bunk Beds
Bedroom 5: 7 Bunk Beds

Pool
Breakfast
Billiard Table
Kitchen
Air-Conditioning
Volleyball Court
WiFi
Parking
First Aid Kit
OVERNIGHT STAY
| ROOM 1, 2 & 3 | Weekend/Holidays | Weekdays (Sun-Thu) |
| --- | --- | --- |
| 10 Guests or Less (Aircon) | ₱18,500 | ₱16,500 |
| 10 Guests or Less (No Aircon) | ₱16,500 | ₱14,500 |
| Additional Guest | ₱1,000 | ₱900 |
| ROOMS 4 & 5 | Weekend/Holidays | Weekdays (Sun-Thu) |
| --- | --- | --- |
| 10 Guests or Less (Aircon) | ₱14,000 | ₱13,000 |
| Additional Guest | ₱1,400 | ₱1,300 |
TERMS:
All rooms are non-aircon.
Children 6 y/o & below may opt to share a bed with an adult and will not be charged for use of bed.
A minimum charge for children 6 y/o & below opting not to use a bed will be charged P200 instead.
Bed rental costs P600-650 and includes beddings and 1 towel per person.
Standard check-in: 3PM
Standard check-out: 2PM the following day
Must order breakfast, lunch & dinner
CORKAGE: Snacks and softdrinks are allowed; Meals are strictly prohibited
All prices are subject to 12% service charge
Set Menu: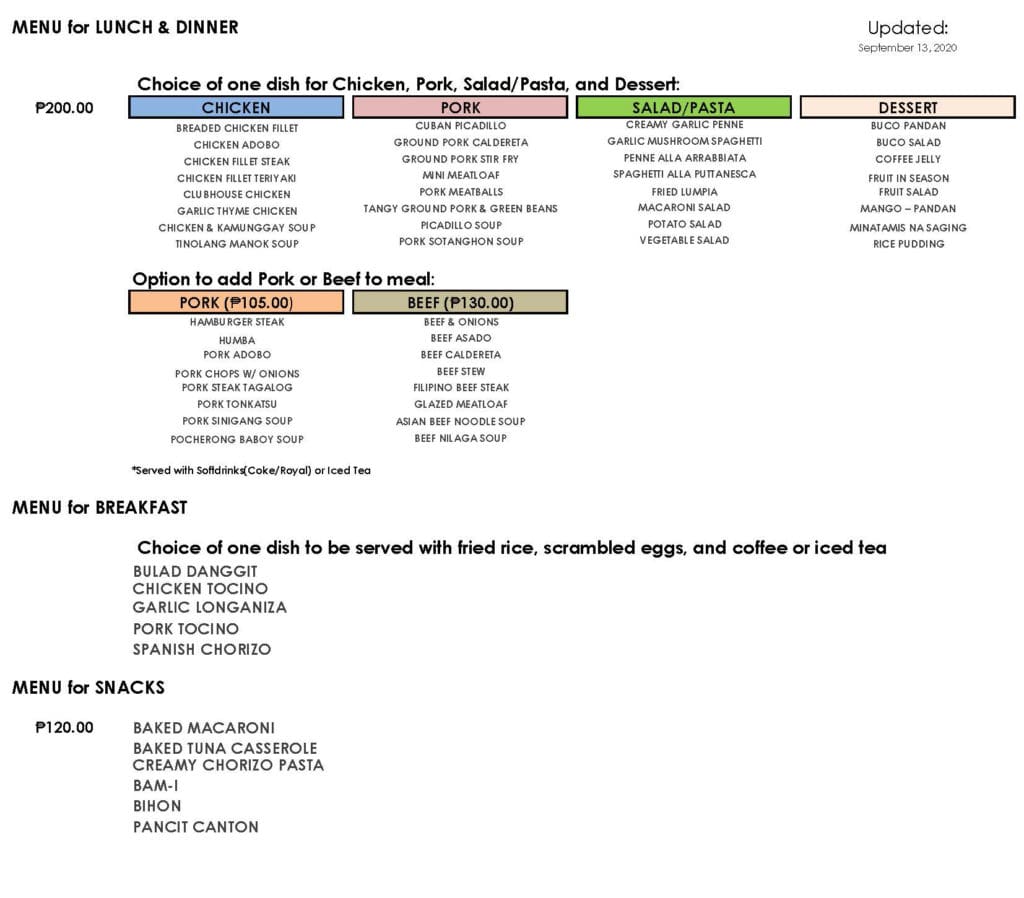 Reservation Policy
All reservations must be booked in advanced and confirmed through email.
Submission of RESERVATION FORM is needed to make a
reservation.
All reservations are tentative until a downpayment is made.
The reservation is cancelled if downpayment is not made before the deadline.
How to book?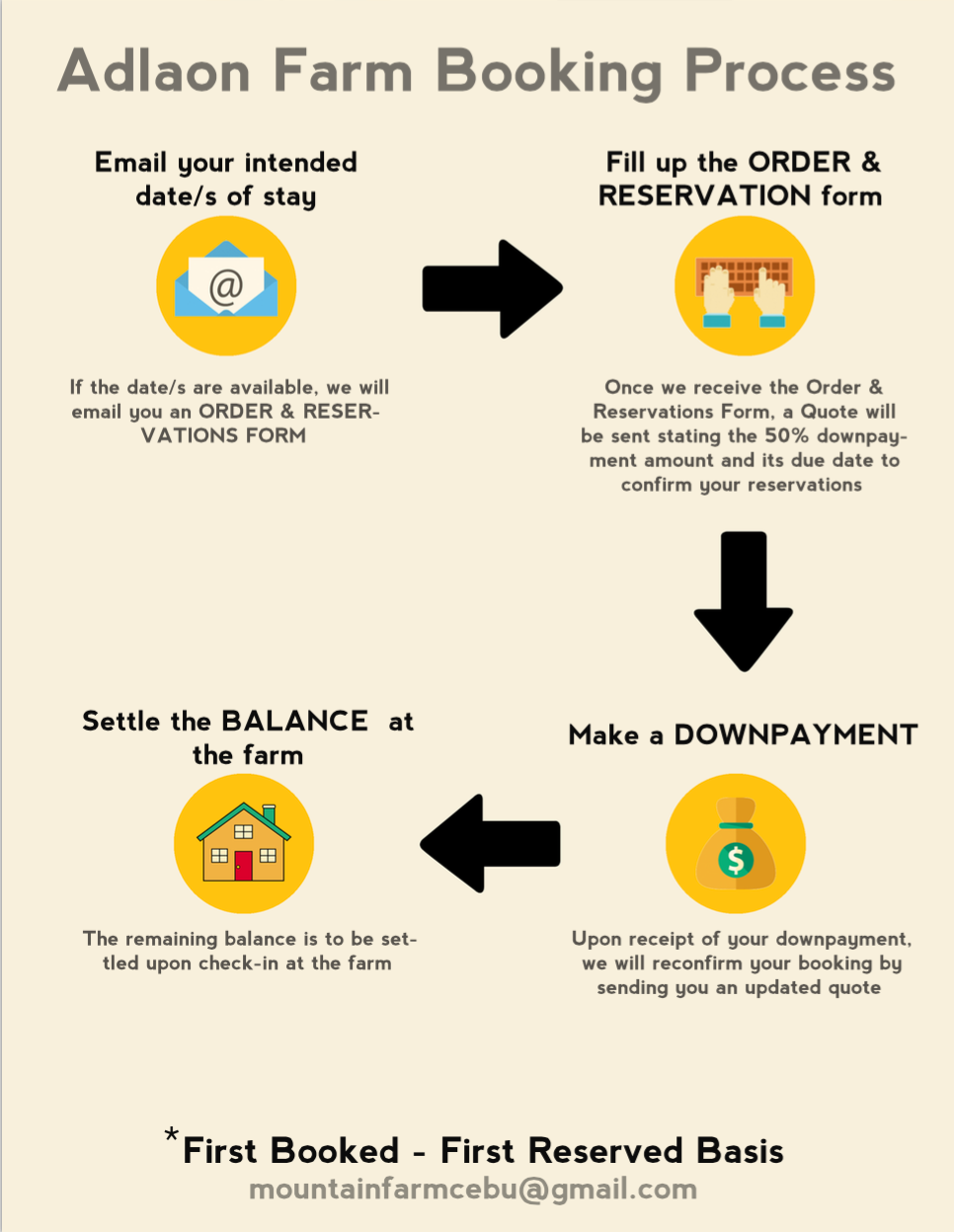 CONTACT NUMBER & DETAILS:
The owner prefers not to disclose any contact numbers for some reasons, and insists that all inquiries and reservations shall be coursed through email at [email protected]. Don't forget to include your name, intended day/s of stay, reservation date/s), and any other specific inquiries. They will respond with all the details including the directions, rates, terms and conditions, etc.
You can also comment below your name and email address so we can send you the details.
HOW TO GET THERE?
Location: Brgy. Adlaon, Cebu City (kilometers away from Busay / Ayala Heights)
There is no public vehicle that can take you directly to Rancho Cancio. The trip could take approximately 1 hour to 1.5 hours from JY Square Mall. You may need a private vehicle to get to the place or rent a vhire or jeepney (pakyawan). Many drivers are not familiar of the place, so make sure to ask for a detailed guide or instructions on how to get there from the owner once you have made a reservation.
You can also navigate with Waze or Google Maps. Just set your destination to "Rancho Cancio" in Cebu City.
Frequently Asked Questions
Is your farm open to the public?
No, the farm is our private residence which accommodates guest only thru bookings.
Do you accept walk-in guest/s?
No, we do not.
Can we do an ocular of the place?
An ocular must be scheduled ahead of time and prearranged. Ocular is only allowed if there is no checked-in guest at the farm.
We are less than 10 for Overnight/Day use, do we have to pay for 10 guests?
Yes, we have a minimum of 10 guests for overnight/day use.
Do we have to order the meals from you?
Lunch and Snacks are included in our day use package. Only breakfast is included in our overnight packages. You may opt not to order Lunch and Dinner during your overnight stay with us. Please note meals must be ordered in advance.
Can we order additional food at the farm?
No, all the food is prepared in the city and cooked at the farm. Thus, food quantity is based on the pre-arranged number of guests. The only thing that can be ordered at the farm is Nespresso Coffee, Soft drinks and finger food.
Can we bring our own drinks?
Yes, you may bring your own soft drinks, juices and alcohol. Please bring your own ice.
How many guests can your farm accept for overnight stay?
We can accommodate up to 30 guests.
Do you charge for children's accommodation 6 years and below?
Any guest/child that will need a bed will be charged for use of the bed. However, if the guest/ child will share a bed, only a minimum fee will charged.
How much do you charge for Yayas and Kasambahay?
Same as an adult guest.
Can some guest come to the farm but not stay overnight? Is there a charge?
Yes, you may bring guest not staying overnight but this has to be pre- arranged. A day-use fee will be charged per guest plus meals.
Do you provide drinking water?
Yes, there is filtered water from the city.
Do you provide bed sheets and bath towels?
Yes, we provide. You are expected to return your towels on your bed prior to check out. Should we find a towel missing on top of the bed then you will be billed P500.00 per towel.
What is the size of your pool and how deep, is it chlorinated?
We have a 5m x 12m. The shallow part is 4-1/2ft and the deep part is 6- 1/2ft. We use a minimal amount of chlorine and use Ionized Filter Technology which means that the water is 95% chemical/chlorine free. You can swim the whole day like you were swimming in fresh water. You will notice the birds swoop down to drink from the pool on occasions.
Can we bring our pets?
We do not allow pets.
Is smoking allowed?
Smoking is not allowed inside the rooms, pool deck and other enclosed areas. You may smoke in the garden and we expect you to pick up your ciagertte butts.
Can we pick fruits, vegetables and plants?
No, it is not allowed.
Do you accommodate pictorials? Yes, we do please contact us.
Do you accommodate weddings?
Yes, we accommodate weddings in the farm.
There is an additional charge of P5,000.00 for wedding parties to cover the use of lights and sound system other than what we have on site. The coordinator and his/her team will be charged the same rate as the guests. They will be allowed to start decorating at 8:00am. We do not provide them with working tables, table cloths of their choice, lights, extra tables and chairs, wine glasses, waiter/s and whatever they may require for the occasion. They are not allowed to ask our team to do work for them. They are expected to clean up their mess prior to and after the wedding.