When you're in Manila and you talk about samgyupsal, Premier The Samgyupsal is definitely one of the top quality restaurants to find.
Their high quality imported meat is indeed a treat for authentic samgyupsal lovers. And as 2019 draws near to its end, Cebuanos are in for a treat: the famous Premier The Samgyupsal has finally opened its first branch here in Cebu, at James Town in Mandaue City (near Parkmall).
Their premium quality samgyupsal comes with a variety of other dishes including the Filipino favorite dwaeji galbi, the tasty woosamgyup and also the savory and fresh moksal.
With more than 15 delectable side dishes, you would definitely have that ultimate samgyupsal dining experience. From the beloved kimchi, to steamed egg, to imported nuts, the phrase 'side dish' is indeed, just an understatement.
And if that's not enough to satisfy your palate, their dips are also perfect for their already-tasty samgyupsal. That includes the cheese dip as well, letting you experience that cheesy-licious treat.
Menu:
Unlimited BBQ – Pork and Chicken

₱450/head Lunch price (10am ~ 4pm daily)
₱500/head Dinner price (5pm onwards)

Unlimix – Imported Beef, Pork and Chicken (BEST-SELLER)

₱500/head Lunch Price (10am ~ 4pm daily)
₱580/head Dinner price (5pm – onwards)

Unlimited shabushabu

₱500 – lunch
₱580 – dinner

ALL unlimited options come with 15 unlimited side dishes including unlimited steamed egg and 2 free soups (daenjang soup & spicy seafood soup) , unlimited rice and unlimited cheese dip.
Unlimited meat menu:
Samgyupsal – Plain Thick Pork Belly
Moksal – Plain Pork Shoulder
Yangnyeom Dwaeji – Marinated Pork Shoulder
Daepe – Thin Slice Pork Belly
Spicy Chicken – Chicken Thigh w/ spicy marinate
Soy Chicken – Chicken Thight w/ soy teriyaki marinated
Woosamgyup – USDA Thin Slice Beef ( Beef Shortplate)
Marinated Beef – Marinated Thin Slice Beef ( Beef Shortplate)
Marinated Pork – Marinated Thin Slice Pork Belly
Bulgogi – Korean Marinated Beef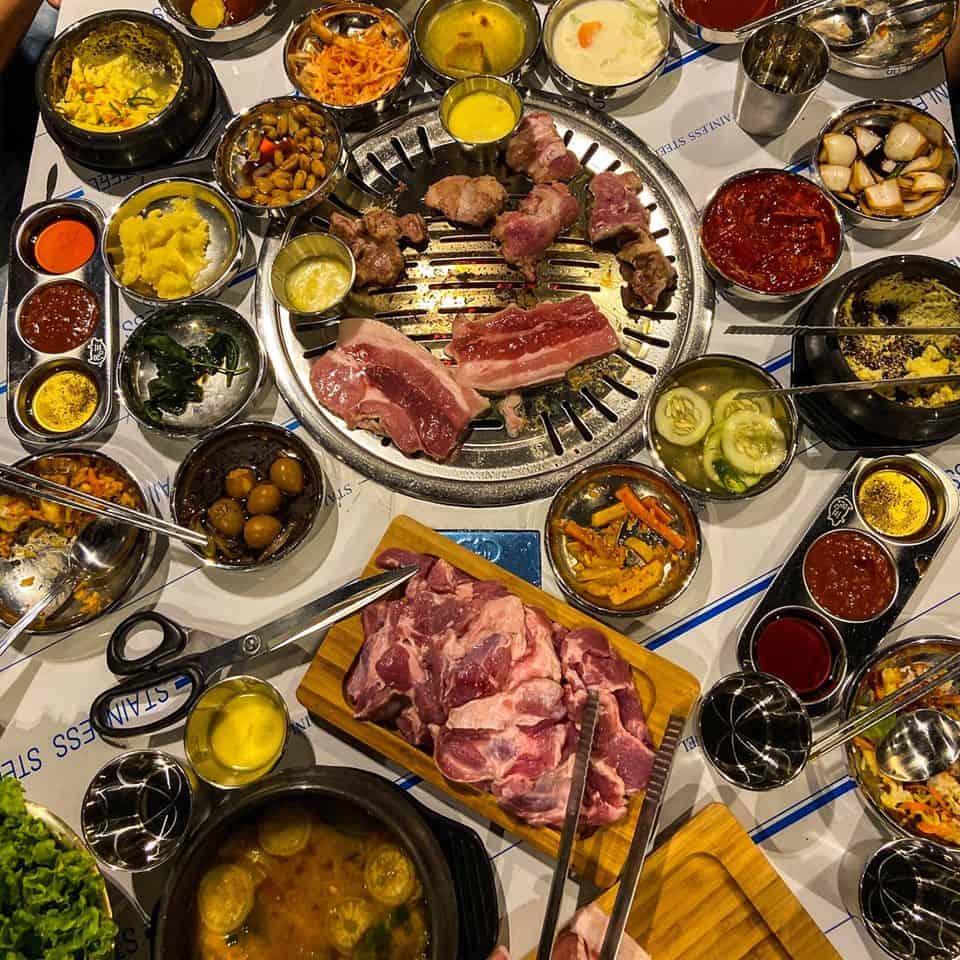 Aside from their unlimited menu, Premier The Samgyupsal also offers premium meat/steak such as AUS marbled sirloin beef , Wagyu Anchangsal (wagyu beef thin skirt), etc.
Other information
Operating hours:

Tue, Wed & Sun: 10AM to 10PM
Thu-Sat: 10AM to 12MN
Closed on Mondays

Contact number: 0956 014 3188
Social: Facebook Page
How to get there?
Exact location: James Town, Mantawe Ave., Tipolo, Mandaue City, Cebu — in between Chong Hua and Parkmall (across Rico's Lechon).
BY CAR/GRAB/TAXI: If you're bringing your own vehicle, just navigate with Waze and search for "Premier The Samgyupsal" in Mandaue. Spacious parking space is available.
BY JEEPNEY: From SM City, ride a 01K jeep (across APM Mall or near Sun Gold) going to Parkmall. Or ride 01K jeep from Emall. ₱7-15 fare. Drop off at James Town.