Raise your hand if you haven't had enough adventure this year!
How can we get enough anyway when new spots open one after another? We do our best to take note of the newest adventure and tourist destinations around Cebu, and alas! We have good news for our adrenaline-thirsty friends.
Put your helmets and harnesses on because Papa Kits Marina & Fishing Lagoon in Liloan just opened its first-in-Cebu Hamster Wheel adventure activity, Sky Bike, infinity and saltwater pool (you don't need a helmet for this) & a lot more!
Papa Kit's Marina and Fishing Lagoon, a premier eco-tourism attraction offers an up-close view of Liloan, offers Cebu's finest natural treasures that you can enjoy while engaging in extreme sports and water activities.
Read more about this attraction on https://sugbo.ph/2017/papa-kits-marina-cebu/
Hamster Wheel
RATE: ₱200 per person
Last year, Papakits brought the first inflatable island and waterpark to Cebu – AquaQuattro and now has brought us another first, and the thrill is unlike any other.
We admit we really had no idea what a Hamster Wheel ride is, until we stepped foot on it.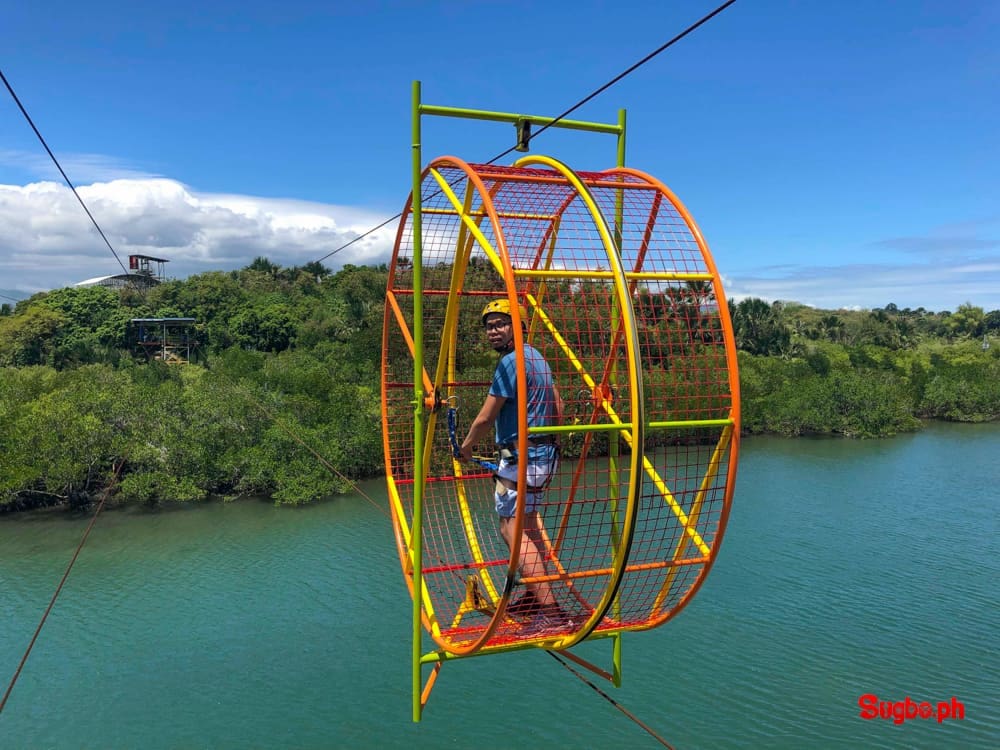 How does it work?
I was very excited and at the same time nervous to be a hamster. Basically, similar to a Skybike, you have to exert effort to move yourself to the other side of the cable.
You have to tread within the Hamster Wheel to reach the other side. 200-meter ride? Maliit na bagay… pero joke, we take that back! The wind, the shaky cable, not to mention the shaky knees, trust me, you will be thankful.
Some must be more dauntless than most but for us: It was thrilling, tiring and adrenaline-pumping.
Sky Bike over the sea
RATE: ₱200 per person
Did we mention how beautiful the view from up the Hamster wheel, Zipline, and SkyBike is?
One of the many reasons how the adventure rides and activities at Papakits are different from others is its sea view.
The surge of adrenaline, dopamine, serotonin, and endorphin plus the serene view of the sea is something unforgettable.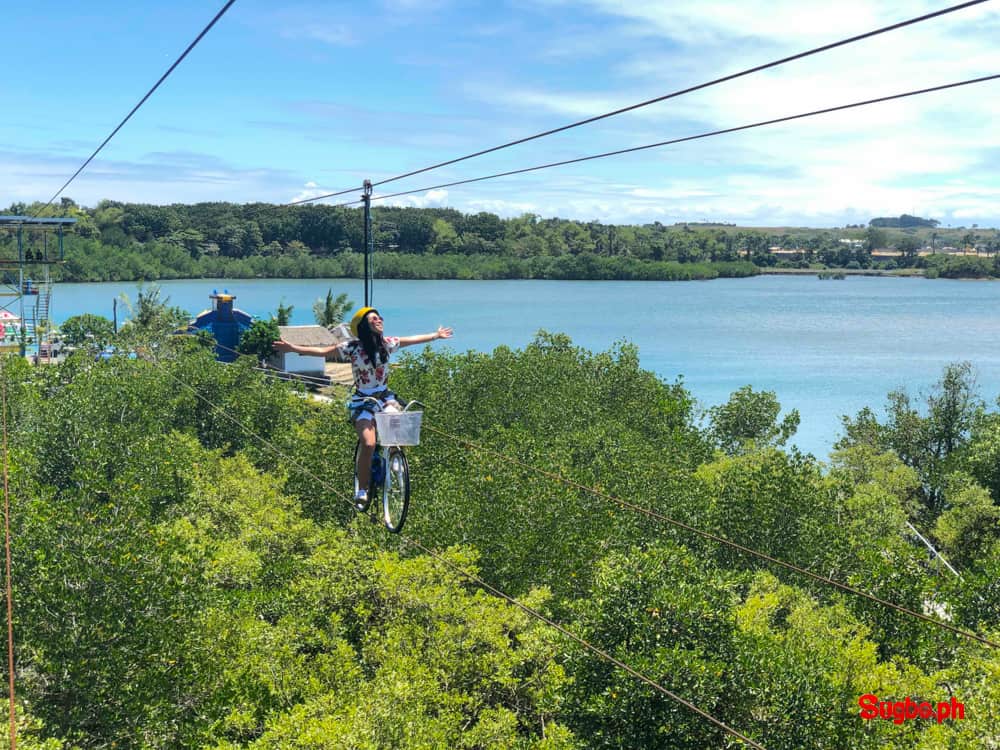 The new Saltwater Pool
RATE: ₱100 per head, access to both pools
When thinking of a getaway, at least one of the options is "pool". We love pools and swimming and splashes and saltiness?
Papakits Marine & Fishing Lagoon is opening its saltwater pool and we are stunned knowing that it's one of the first in Cebu and its health benefits compared to a regular pool is shocking.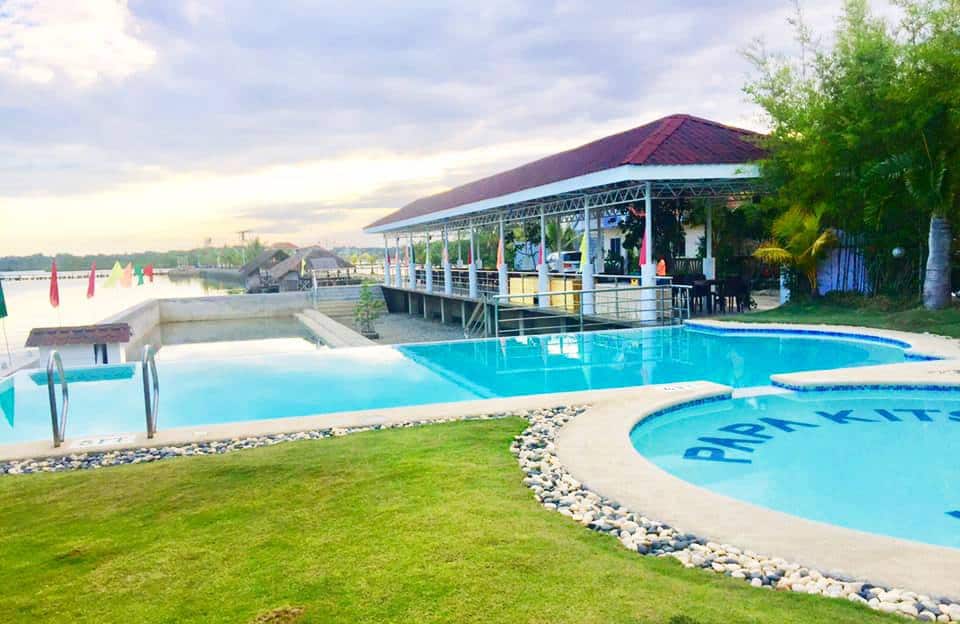 Saltwater Pool Benefits
Great for skin – It can leave your skin feeling smoother and softer, and can help with skin disorders like eczema, acne, and psoriasis.
Better on the Joints – It is better on the joints and muscles than a traditional chlorinated pool. Saltwater contains bromide, a mineral that helps relieve those everyday aches, pains and soreness we all feel deep within our joints and muscles
No Side-Effects – Some people are sensitive to chlorine and have trouble breathing when they're swimming in an over-chlorinated pool. Also, chlorine can make your eyes red and irritated from the chemicals within.
More Fun Activities at Papakits Marina & Fishing Lagoon
RATES AND OTHER INFORMATION
Read more about this attraction on https://sugbo.ph/2017/papa-kits-marina-cebu/
ENTRANCE FEE: ₱30 per person
ACTIVITIES and RATES
Hamsterwheel: ₱200 per head
Skybike: ₱200 per head
Swimming pool – ₱100 per head (both for infinity pool and saltwater pool)
Videoke Room at Kito's Restaurant- ₱100/hour, can accommodate up to 10 pax (PROMO: Free 1 pitcher of iced tea!)
Horseback Riding – ₱75 per head
Zipline – ₱200 per head
Wall Climbing – ₱100 per head
Hanging Bridge – ₱50 per head
Jungle Obstacle – ₱150 per head
Fishing Rod – ₱100 per head
Cottages – starts at ₱500
OTHER INFORMATION:
How to get there?
Exact location: Papa Kit's Marina and Lagoon, Poblacion Liloan, Cebu — 1.5-2 hours away from the city.
BY JEEPNEY: Ride any 25 or 27 jeepneys going to Liloan from the SM City Cebu Terminal.
BY V-HIRE: Ride a v-hire going to Liloan from the SM City Cebu Terminal/Ayala Center Cebu Terminal. The fare is only P50.
BY CAR/TAXI/GRAB: Spacious parking lot is available. To navigate, just search for "Papa Kit's Marina" on Waze or Google Maps. Estimated fare for taxi or Grab is P300.