Aside from the travel adventures and aesthetics Cebu brings, we all know Cebu is also rich in history and culture. And this is exactly what we are going to experience this May!
Celebrating Cebu's beautiful culture on its 13th year, Gabii sa Kabilin will be "Setting Sail" this May 24, 2019 from 6PM to midnight.
The Ramon Aboitiz Foundation Inc. (RAFI) Culture and Heritage Unit and its Local Government Units (LGUs), museum and cultural organizations will feature 18 cultural destinations in the cities of Cebu, Lapu-Lapu, Mandaue and Talisay.
Participants will be treated to cultural perfomances, culinary experience, art fairs, and special exhibits, while selected participating sites also offer children activities.
Participating heritage sites:
Cebu City
– Archdiocesan Museum of Cebu
– Armed Forces of the Philippines @ Customs (Aduana) House
– Cebu Archdiocesan Shrine of the Most Sacred Heart of Jesus
– Basilica Minore del Santo Nino Museum
– Casa Gorordo Museum
– Cebu Provincial Capitol
– Fo Guang Shan Chu Un Temple
– Palm Grass The Cebu Heritage Hotel
– Jose R. Gullas Halad Museum
– Museo Parian sa Sugbo – 1730 Jesuit House
– Museo Sugbo
– STC – Sr. Ma. Delia Coronel Folklife Museum
– USC (Main) Museum
– USP Foundation Rizaliana Museum
– Sugbo Chinese Museum
Mandaue City
– Mandaue Presidencia
Lapu-Lapu City
– Mactan Shrine
Talisay City
– Talisay City College
How to Join?
Guests can purchase and reserve tickets at any of the participating museums and heritage sites.
Ticket Prices:
Early Bird Rate: ₱175 (April 1-30)
Regular Rate: ₱195 (May 1-24)
Admission is free for children ages 7 and below.
This comes along with a Gabii sa Kabilin tour map. And a downloadable e-magazine, which can be downloaded starting April 19, 2019 through the following sites and pages: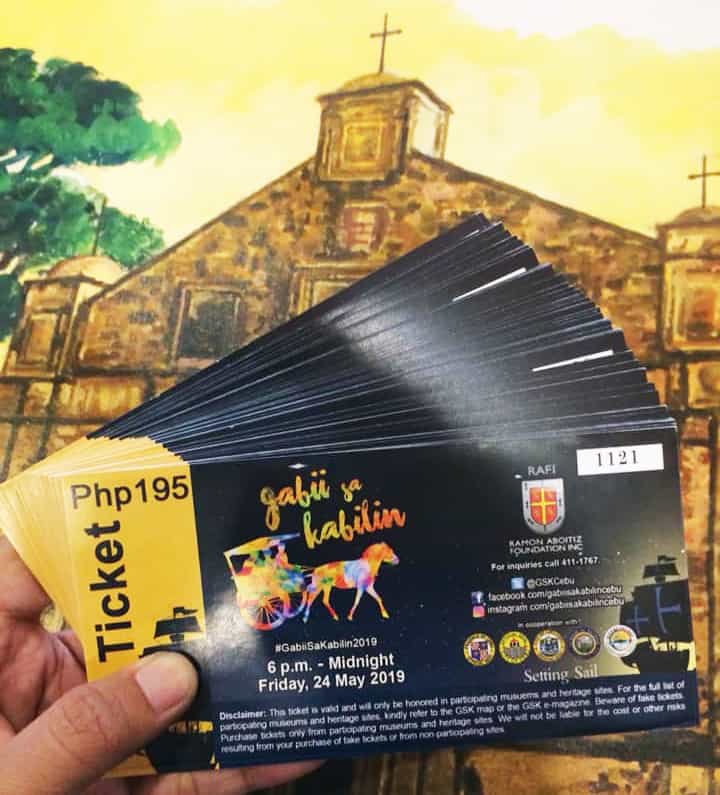 Transportation:
Participants are entitled to 1 tartanilla trip in the city's old district and unli rides in GSK-designated buses.
To allow participants to walk freely and safely in the participating landmarks, the following roads will be closed to traffic in May 24th from 5PM to midnight:
Mabini Street
P. Burgos Street
What you should not miss!
GSK 2019 is also holding contests for everyone to make the night even more fun and memorable!
Gabii sa Kabilin 2019 Heritage Hunt
Gabii sa Kabilin 2019 Blogging / Vlogging Contest
Gabii sa Kabilin 2019 Phoneography Contest
Contact information
For any inquiries about Gabii sa Kabilin, you may reach to the organizers through the following: