Stepping into Anjo World Theme Park is like drinking a whole bottle of energy drink in one go.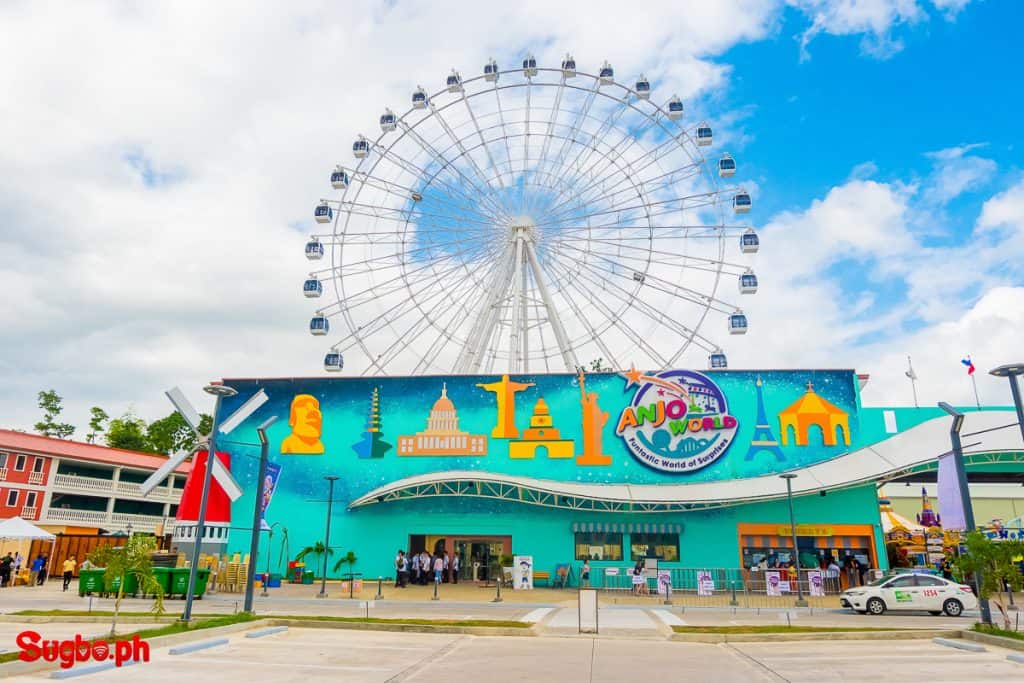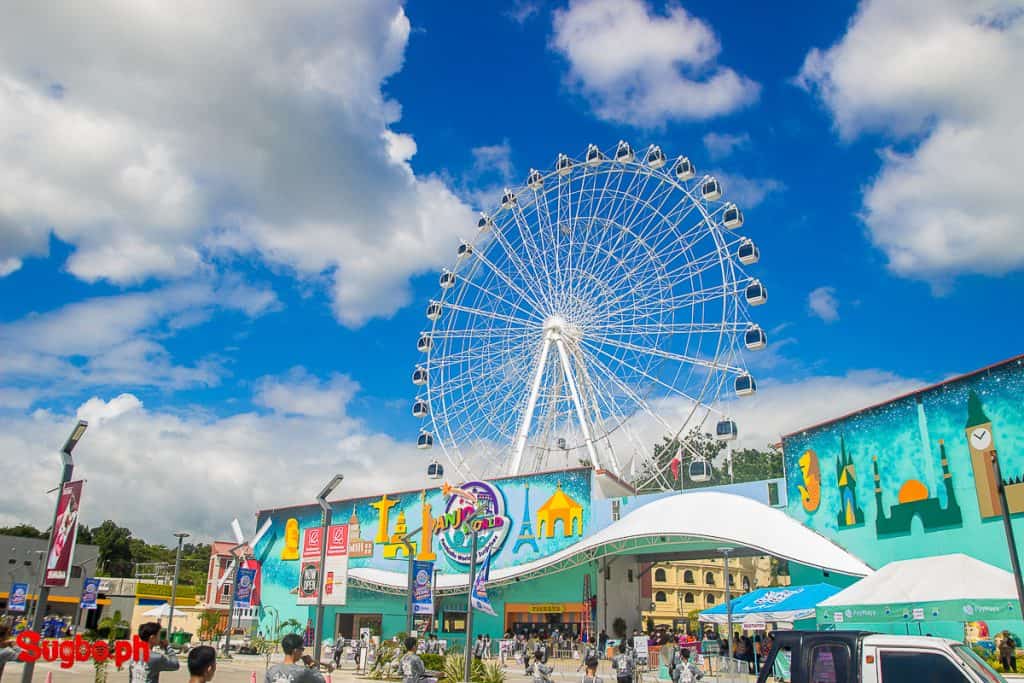 It makes you giddy, hyped, nervous and a little bit crazy. Considering there are 12 rides plus Snow World Cebu that you're about to try out, I'm thinking it's very understandable and normal.
Anjo World Theme Park truly is a wonder to behold, with its 200-ft high Ferris Wheel, the enormous and sky high rides, everything is massive and full of colors.
What makes it more magical is although there's fear and doubts, but the deafening shouts, screams and laughter heard all over the place is proof enough that everyone is having the time of their lives.
As the largest theme park in the Visayas. It certainly didn't disappoint when it comes to its extreme rides because I'm telling you they are not for the faint hearted.
Top on the list would be the "Boomerang" with you being strapped on a circle and you'd be swinging and the circle of course would also be turning, not really a fan.
There's also the silent killer "Vikings" because it looks okay but try it and you shall see why everyone saves this for the last.
They also have the one of a kind 4-seater spinning roller coaster "Pharaoh", the Tower Drop, and a whole lot more.
Here are some more photos during our visit at Anjo World Theme Park:
Snow World Cebu
At Anjo World, you can also experience the magical wonderland of snow atCebu's first ever, world-class Ice Theme Park, the Snow World Cebu.
Rides at Anjo World Theme Park:
1. Snow World Cebu ☃️
2. Anjo Eye, 200-ft Ferris Wheel 🎡
3. The Pharaoah Spinning Coaster 🎢
4. Venetian-inspired bumper boats 🚤
5. Boomerang 💥
6. Space Shuttle 🚀
7. Hip Hop (Go Go Bouncer) 🐇
8. London Taxi – Bump Cars 🚕
9. Vikings ⛵
10. Mr. Cup ☕
11. 25-meter Tower Drop 🗼
12. Mr. Toad (Kids-friendly Tower Drop) 🗼
13. Golden Carousel 🎠
Rates & Other Information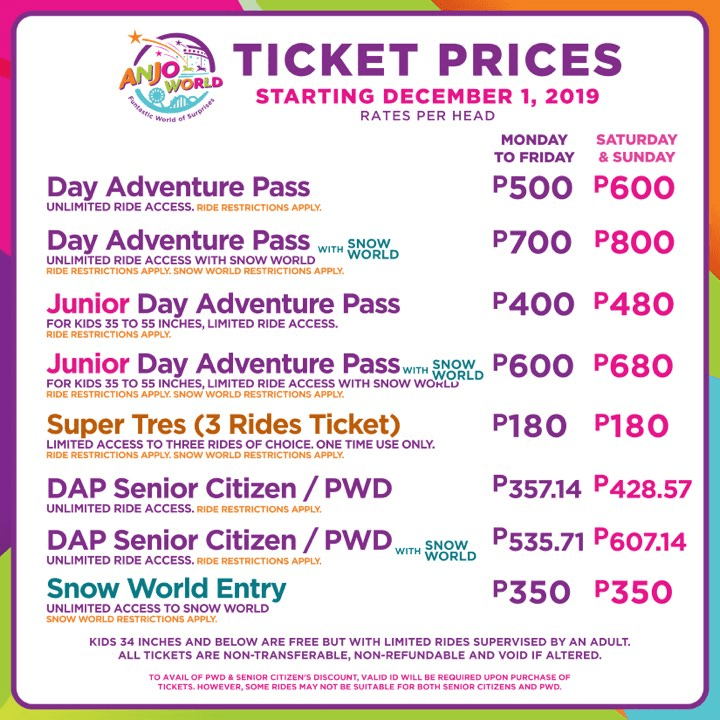 BUY YOUR TICKETS ONLINE
You can now buy your tickets online via:
Other Information
Operating hours:
– Mondays to Fridays: 12NN to 8PM
– Saturdays & Sundays: 10AM to 9PM
Contact number: 0977-808-8000
Social: Facebook Page
How to get there?
Exact location: Anjo World Theme Park is located within Belmont One in Cebu South Road, Upper Calajoan, Minglanilla, Southern Cebu — only 1-1.5 hours away from Cebu City and 15-30 minutes from Starmall near SRP.
BY JEEPNEY:
– From CIT University or Punta Princesa or Bulacao/Pardo, ride any jeepney (usually 43/44) going to Minglanilla / Naga.
– From SM City Cebu, ride any jeepney (usually 10H) bound for Bulacao or Pardo. From there, ride another jeepney (43/44) going to Minglanilla / Naga.
– Or from Ayala Center Cebu, ride a 12L jeepney going to Punta Princesa.
…then inform the driver to drop you off at Anjo World Theme Park or at Petron Gas Station in Calajoan.
BY BUS: You can also ride any bus or mini bus going south from the South Bus Terminal. Make sure to inform the driver or konduktor ahead that you're dropping off at Petron Gas Station in Calajoan, Minglanilla.
BY CAR/GRAB/TAXI: Navigate with Waze or Google Maps, and set your destination to "Belmont One" in Minglanilla.
PHOTOS BY JAYLORD BORNEA, SUGBO CONTRIBUTOR