One of the first things usually written in the bucket list of every millennial is "adventure". I mean, who doesn't love to go on an adventure? To travel and just be fearless to try every outdoor activity invented in the world, it's really something that also satisfies our being. Cebu is not only rich in hospitable people, wonders of nature and beautiful tourist spots, but it can also offer you an experience that can make you shout your lungs out or even lose your soul for a little while.
The Sugbo Ambassadors recently experienced Cebu in a whole new different view, at the newly renovated Danasan Eco Adventure Park in Danao City, Cebu. If you're hungry for an adventure that can make you utter the words "Kuya, tama na, taas na kayo" [Hey, stop. It's too high already!] and "Di ni nako kaya hadlok kaayo" [I can't take it any longer, I'm too scared.] and yet still end up trying every single adventure ride. This is it. Leaving you with shaky knees, cold hands and feet, and a racing heart, it is an escape you surely want to try. Experience Danasan Eco Adventure Park and thank us later.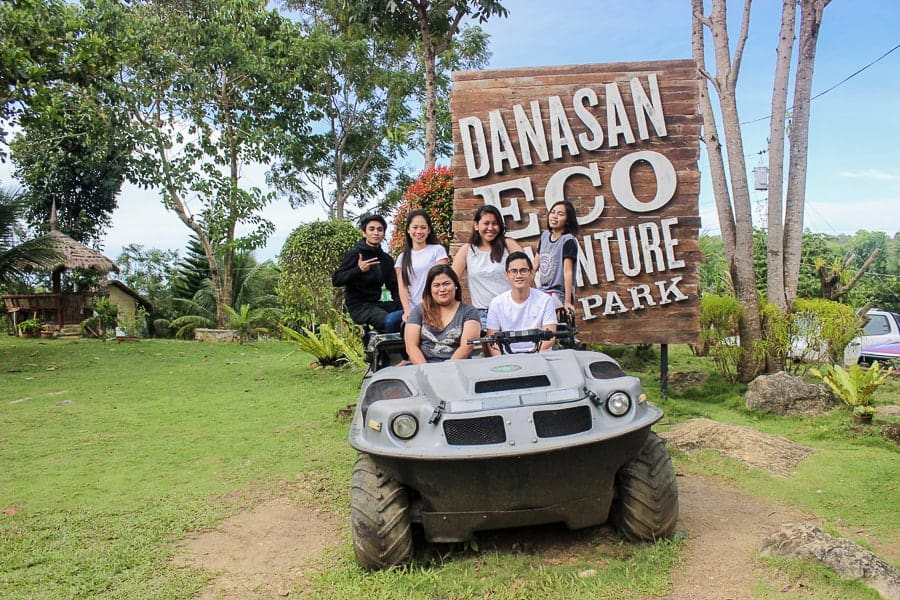 Here are the things you can start checking in your adventure bucket-list:
✔ ATV
Don't underestimate the ATVs. You got to make sure you have your strength and are ready to try the bumpiest road you will ever experience. Don't enjoy the scenic view too much because you might forget to turn, and it would all be too late. It's a 2-kilometer ride that goes on the inner part of the park compound and up beyond the hilly sides for 30 minutes.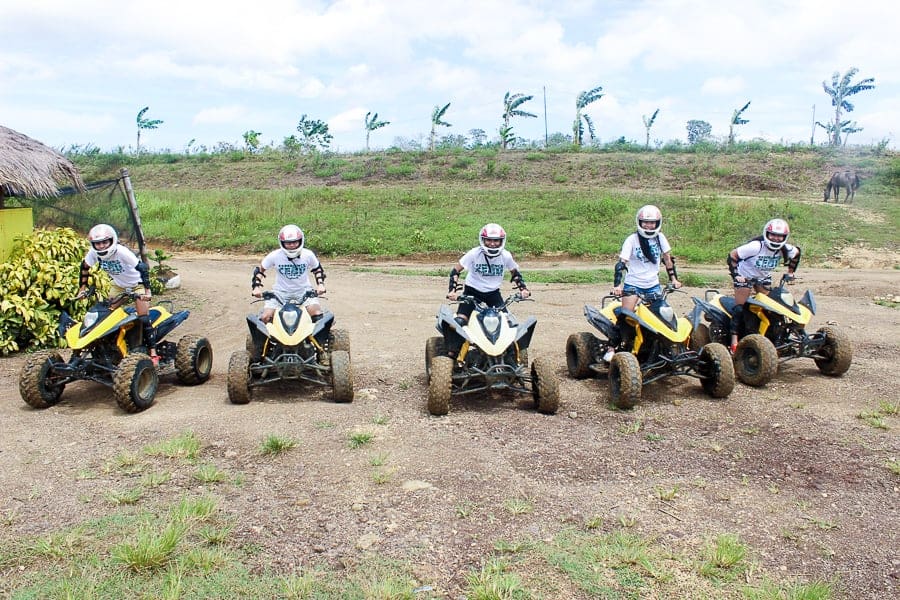 ✔ SPEEDWAY
Go-Kart, but unlike other go-karts, you can enjoy a longer trail. Your speed, your way. Just make sure you drive responsibly for your own safety. It has a 700-meter curve trail with 3 laps to bit.
✔ ZIPLINE AND HORSEBACK RIDING
Ziplining never gets old, and will always be a "classic" in any adventure park. The zipline is 440-meter long; but it's not really just about the ride. You also get to witness Danasan's beautiful, lush green mountain view.
On the other side, a horse awaits to take you back. Since the zipline is only one-way, either you walk back to the tophill or experience the real horseback riding. For extremists, you can ask the guide to make the horses run!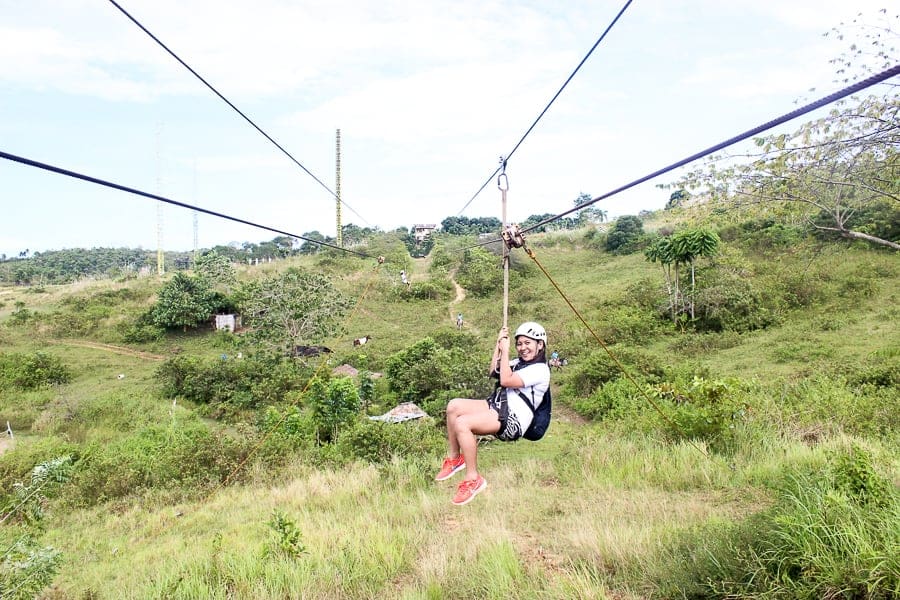 ✔ SKY BIKE
Another tingling experience you must try is the Sky Bike. It is a machine-operated ride in the air where you can enjoy and at the same time fear for what might happen to you given by your imagination – kidding! You can just put your hands in the air and feel the cold breeze. Still doesn't excite you?
Here's the twist. Once you have reached to the other side, the only way back is to pedal and pedal and pedal. It's not machine-operated anymore! Pretty sure your knees would shake and the strong wind would make it worse. More fun, rather.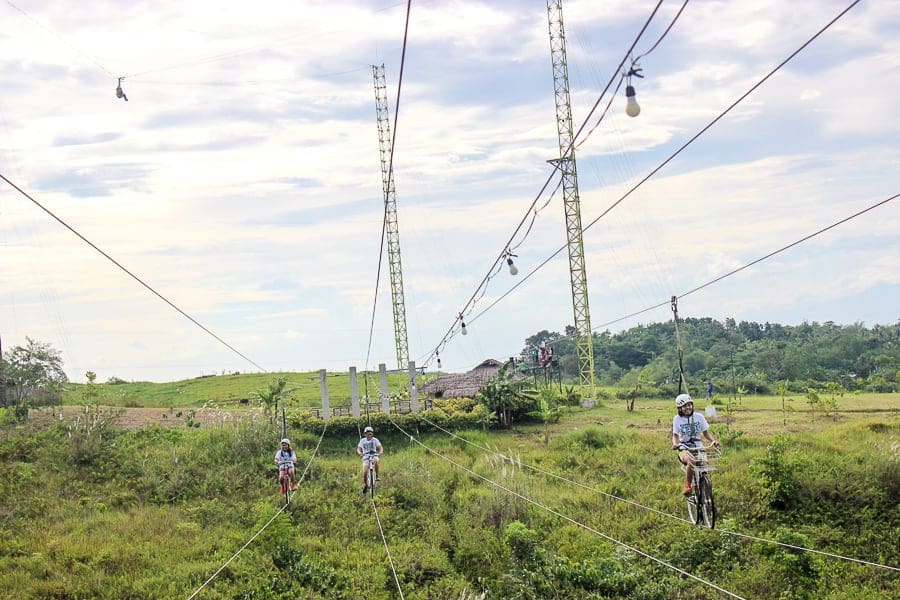 ✔ SKY DROP – NEW!
This is definitely the most exciting ride ever. Why? Imagine you are 120-feet high above the ground with only a harness and three-cables to support you. The slower you reach the top all the while enjoying the meadow of green fields and wave of clouds above, the faster the drop. Remember law of gravity?
But before falling from the heavens, you will be suspended in mid-air 120-feet above the ground as you forcefully pull the rope (release) and sentence your life to a soul-losing ride. Just a tip, if you try this at night, you will get to see the city lights of Negros.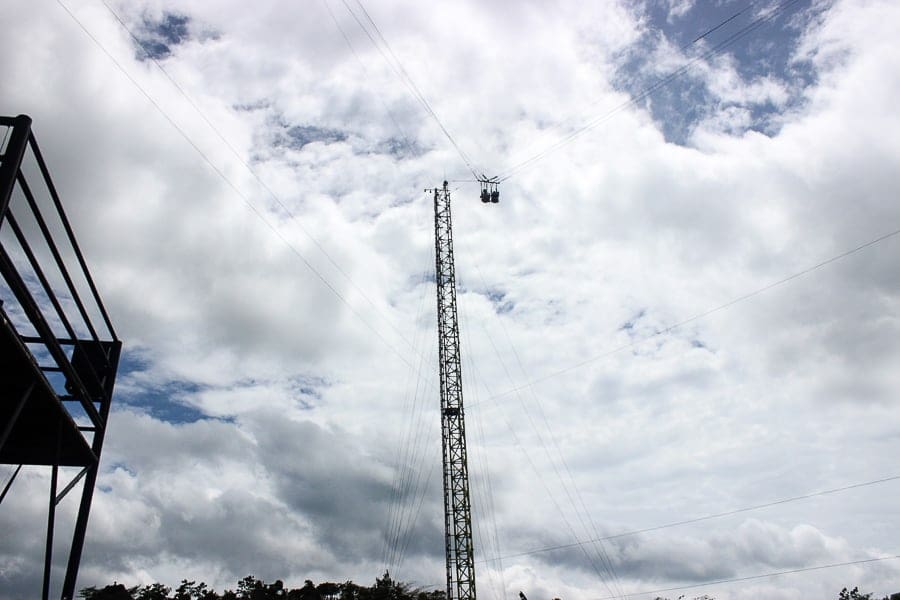 ✔ KAYAKING AND FISH FEEDING
Surprisingly, this is one of our favorites. It's somehow a breath of fresh air from all the extreme rides. Just paddling from one point to another in a calm lake, with the sun about to set, it will definitely give you chills and an amazing kind of relaxation. Very ideal for romantic dates, too. It would seem like a movie scene.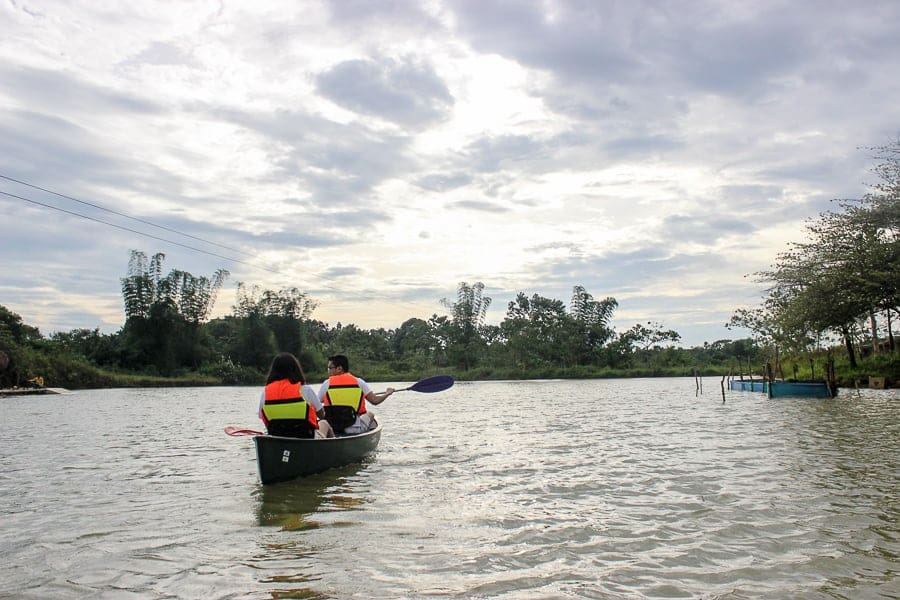 ✔ DANASAN WATERFALLS
Going to the waterfalls is no joke. You will need to go through a super bumpy ride on a truck for about 30 minutes. I'm not exaggerating, it's just how we experienced it. Then another 10-15-minute hike with the whole trail being too slippery. But trust me, it's all worth it once you've reached to Danasan Waterfalls. You will also experience the three-level waterfalls where you can do Tyrolean and Rappelling.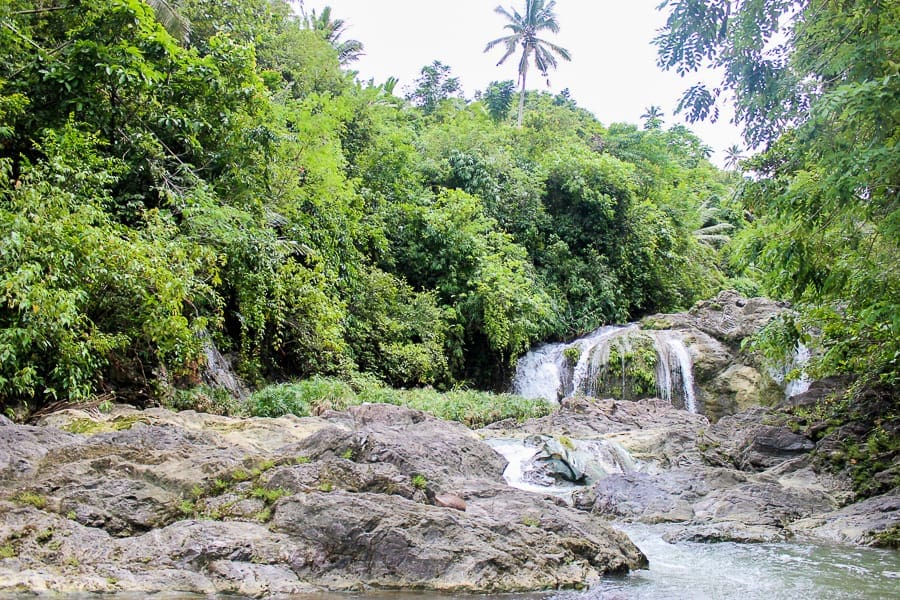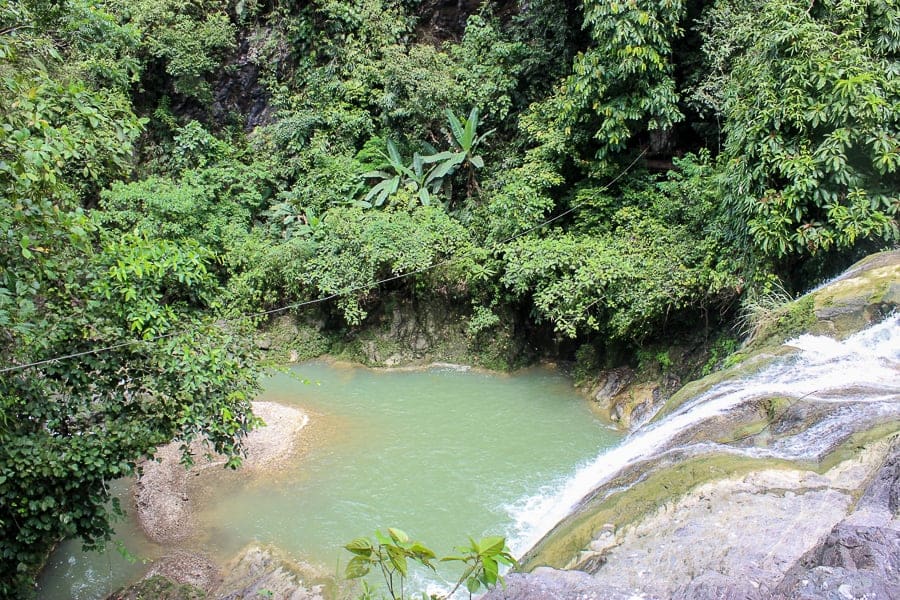 Unfortunately, due to the bad weather, we were not able to experience some of the rides. There are just SO MANY to experience. But we will surely go back and try everything.
TWIN TOWER (WALL CLIMBING 60-120-FT, HIGH CABLE TRAVERSE, 60ft RAPPEL)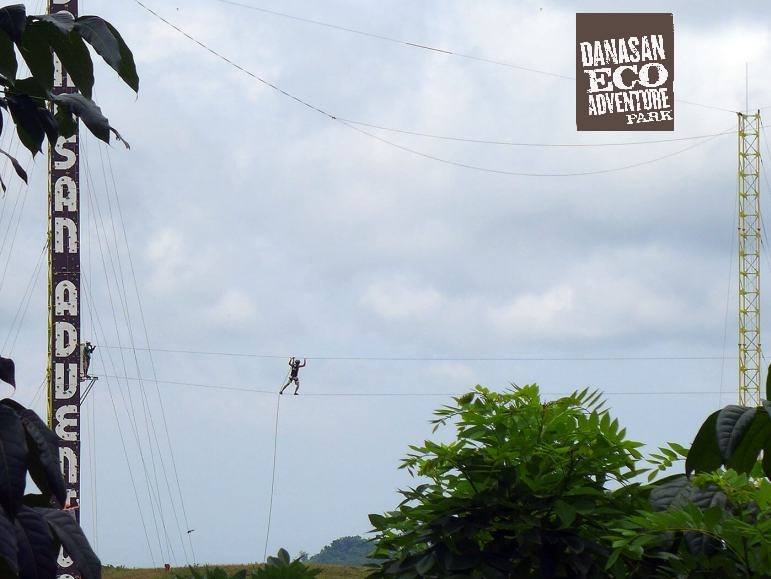 ✔ ROPE COURSE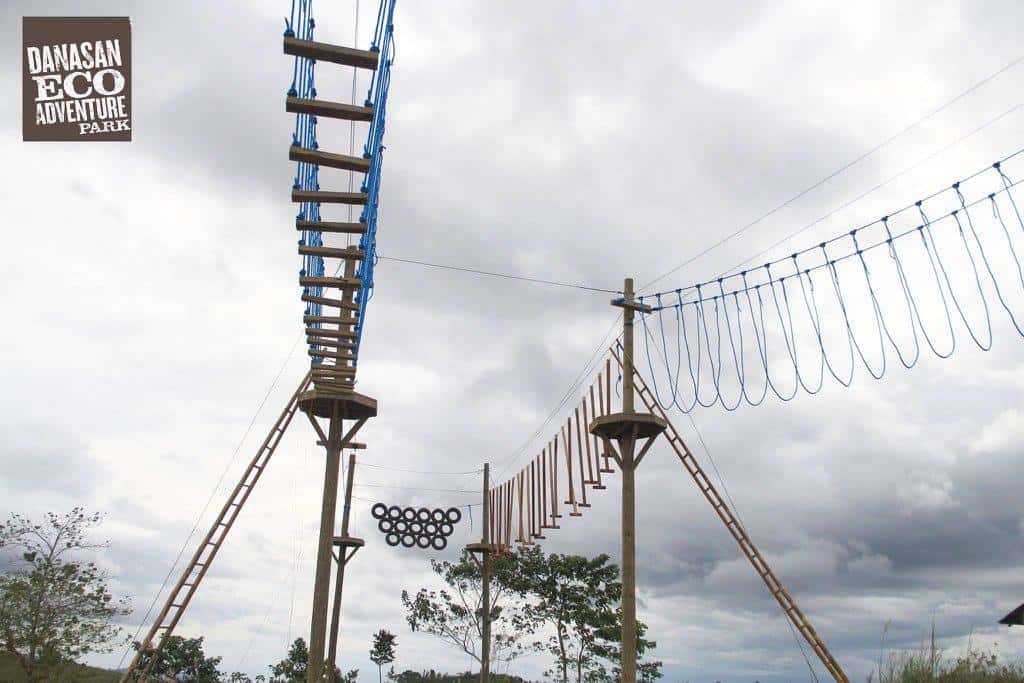 ✔ WAKE BOARDING
✔ CAVING AND TREKKING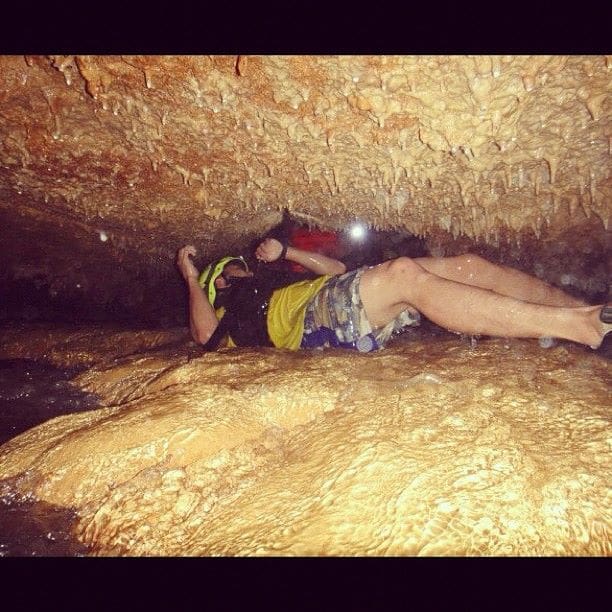 ✔ TYROLEAN AND RAPELLING
✔ INFINITY POOL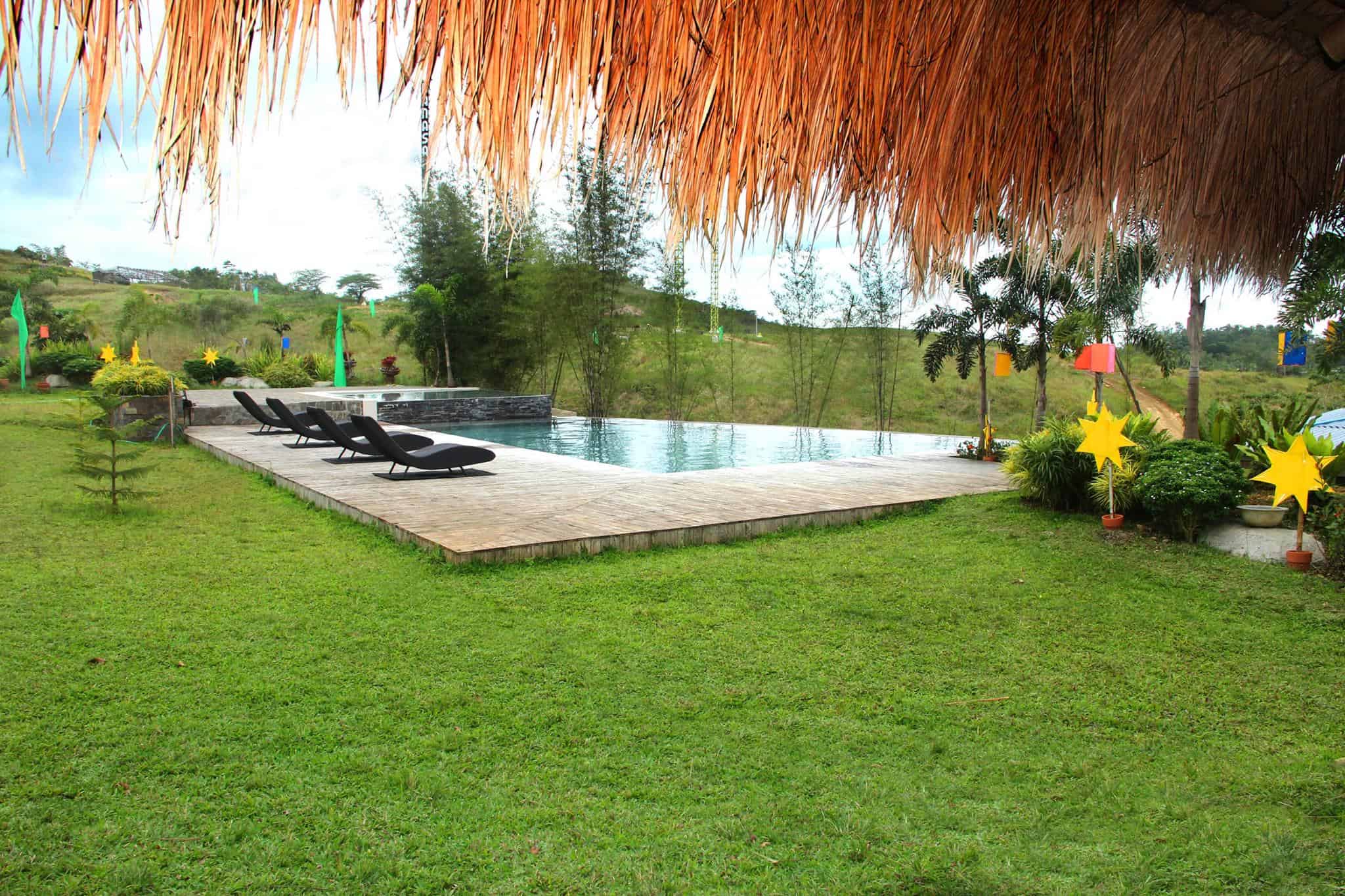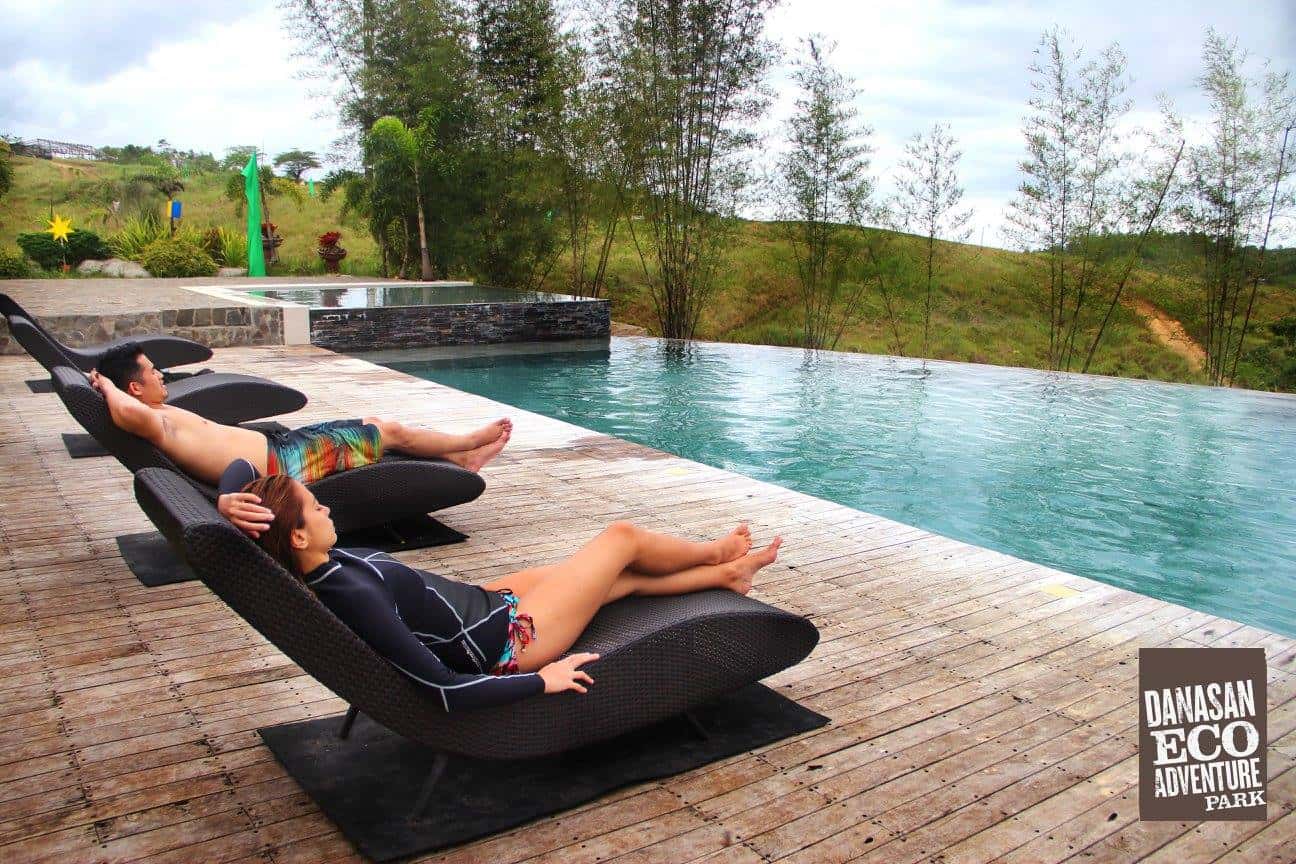 ✔ KAWA BATH – NEW!
After an adventure-filled day at Danasan Eco Adventure Park, relax and experience the indescribable thrill of being "cooked" with the Kawa Bath.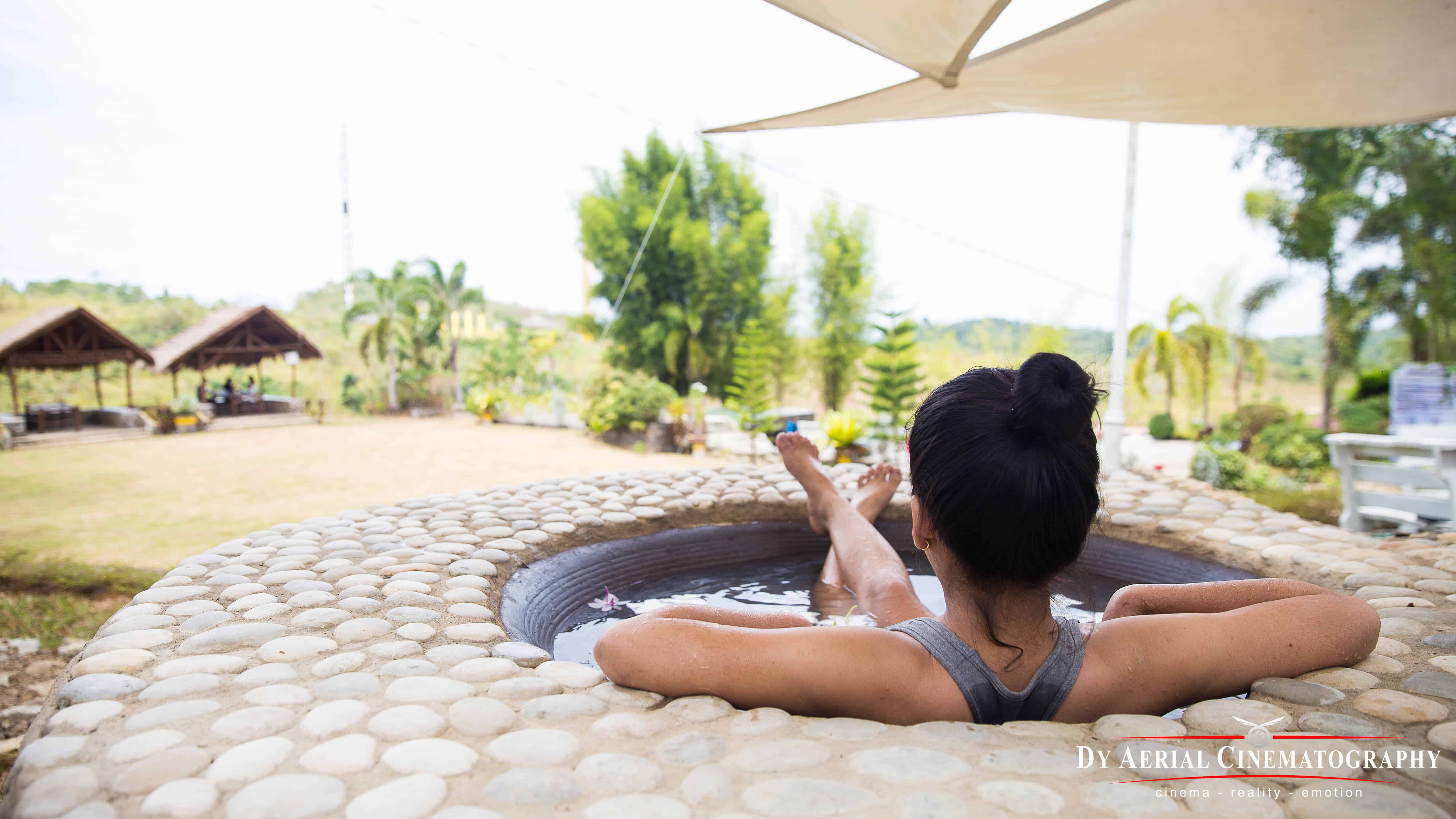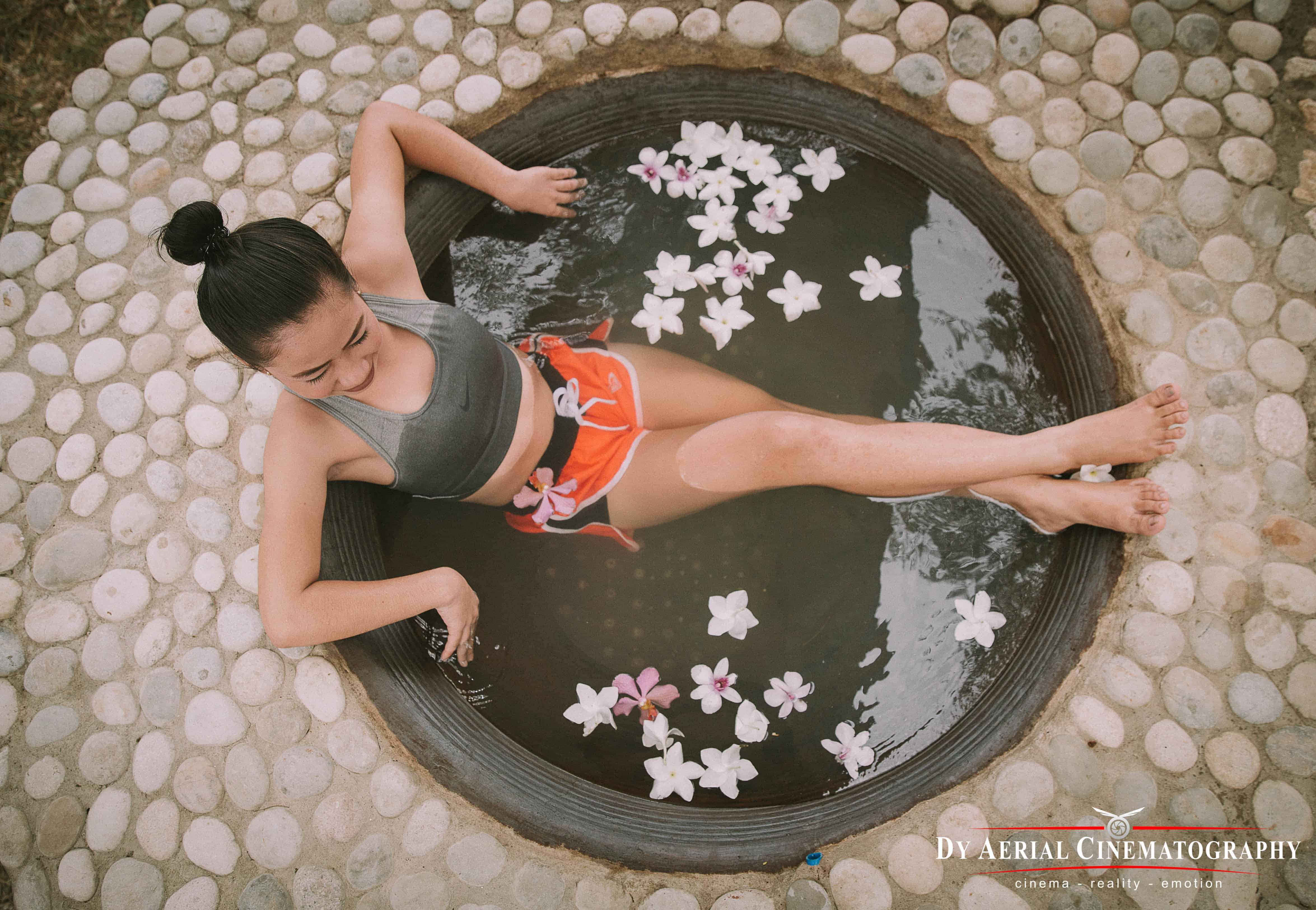 RATES AND OTHER INFORMATION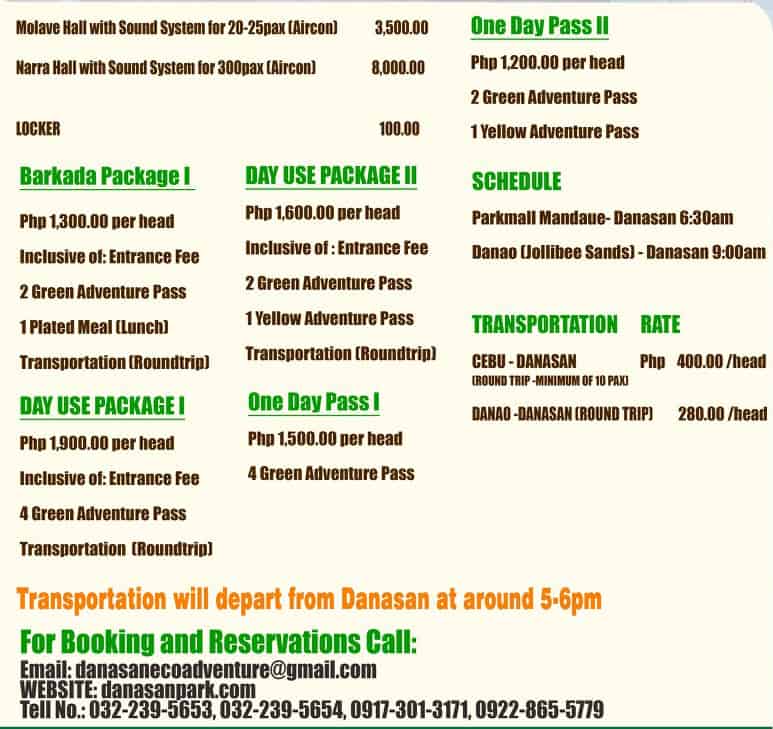 RESTAURANT MENU:
OTHER INFORMATION:
Booking/reservation office: 2/F Parkmall near Burrow (across Big Hotel / City Times Square)
Contact numbers: (0917) 301 3171 / (0922) 865 5779 / (032) 239 5654 / [email protected]
Social: Facebook page
Website: link
Accept walk-ins? Yes
Overnight use: 2PM check-in; 12NN the next day check-out
Corkage fee: NONE. Guests may bring food and drinks from outside.
This is the Sales Office at Parkmall.
HOW TO GET THERE?
Danasan Eco Adventure Park is located in Brgy. Danasan, 6004, Danao City (approx. 1-2 hours away from the city).
You have 2 options: (1) Avail Danasan's transpo packages – see rates above or (2) Bring your own vehicle. If you opt for the second option, make sure to navigate with Waze or Google Maps. Just a tip, there's a strong signal for Smart while weak signal for Globe.