People in this day and age, may it be through business, social influence, or whatnot, are starting to create a brand/name for themselves. But then, it is undeniable that most of these startup founders experience one common problem: limited budget to pay for a dedicated office space where they could work and meet with clients.
However, fret no more, as this problem has already been solved with the presence of a new workplace environment popularly known as a co-working space.
A co-working space is a shared work environment especially for small business founders, freelancers and remote workers. This new innovation has become a trend in recent years, hence, the growth of these spaces globally which includes, of course, our beloved city.
Here's a list of the popular co-working hubs here in Cebu:
1. Workplace Cafe
A great co-working place perfect for studying and working within a café experience. It provides its customers good internet connection, comfy seats and lots of power outlets.
Opening hours: 10AM to 6AM daily
Contact number: 401-3324
Rates:

Hourly: ₱50 (for first hour), ₱35 (succeeding hours)
Daily Space Rental: ₱280
Conference Room: ₱750 for the 1st hour, good for 8pax (600 for the succeeding hours)

Branches:

Main branch: Ramos St., Cebu City – right across City Suites or St. Paul College
Banawa branch: #2 Autogas Station, Banawa, Guadalupe, Cebu City
Mandaue branch: Jamestown, Mantawe Ave., Tipolo, Mandaue City, Cebu — in between Chong Hua and Parkmall.
2. MURALS HOSTEL & CAFE
This hostel is very helpful to digital nomad backpackers. With its clean rooms, cozy interiors, it really sets up your working mood.
Opening hours: 7AM to 12MN daily
Contact number: 0998 152 2197
Rates:

₱150 for 3 hours
₱250 for 6 hours
₱350 Whole Day (7AM to 12MN)

Location: Corner President Roxas and President Magsaysay Streets, Cebu City — few meters away from Castle Peak Hotel.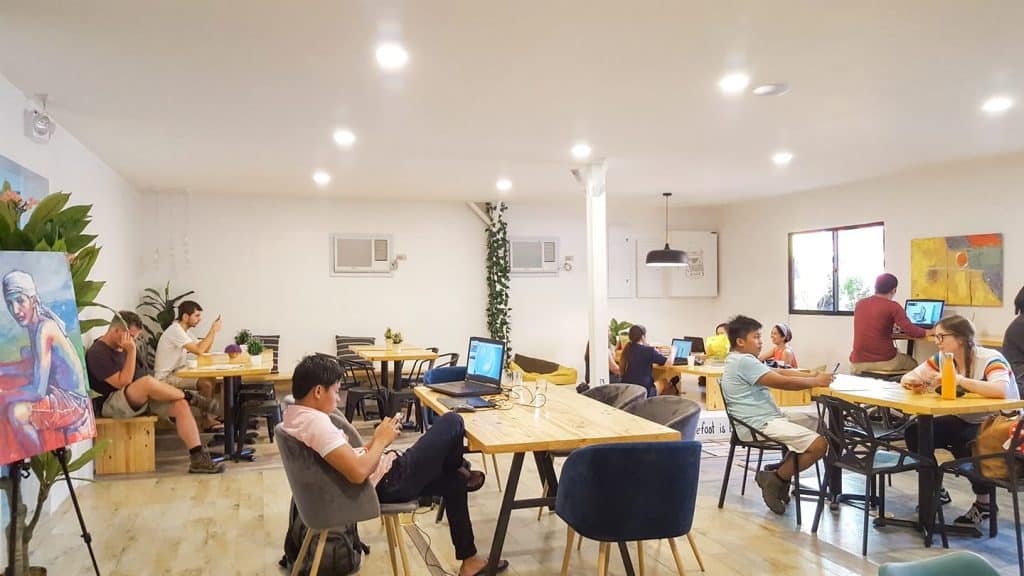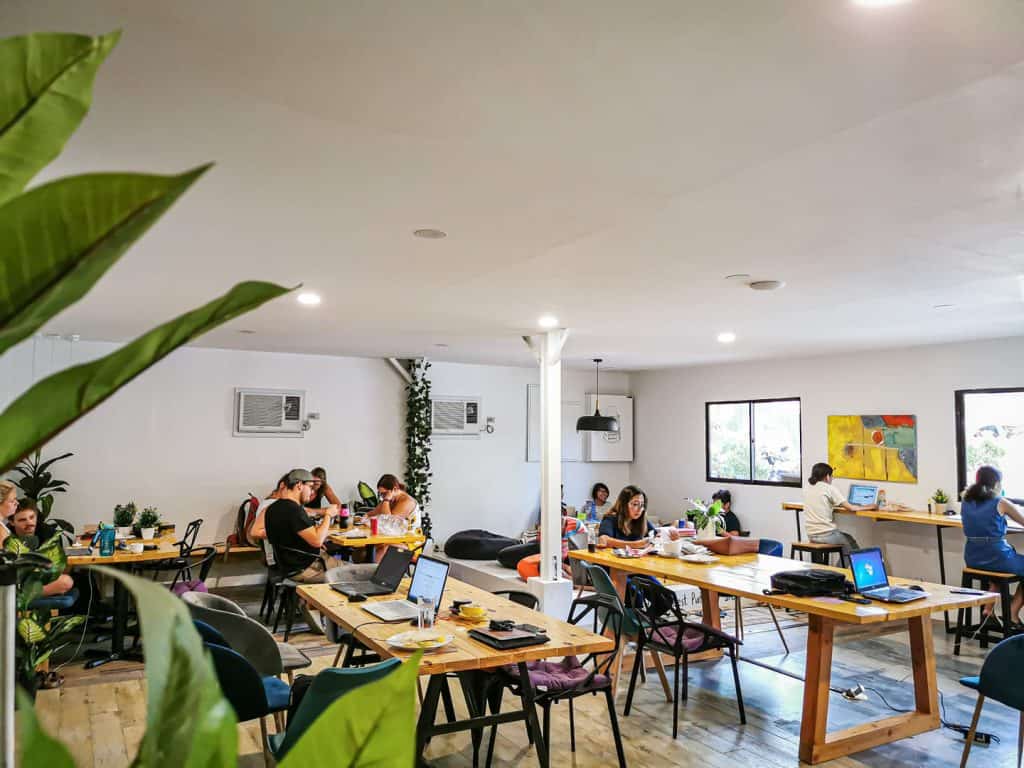 3. THE HIVE
Hive co-working space offers beautiful shared spaces, convenience, speedy internet connection to boot, comfortable desk stations, delish array of food options, and many more. This place is truly a great choice.
Opening hours: 8AM – 4AM daily
Contact Number: 564-2917
Rates:

₱50 (first hour) and ₱40 (succeeding hours)
₱399 (daily rate)

Location: G/F Arellano Square Building, N. Escario St., Cor Tojong St., Cebu City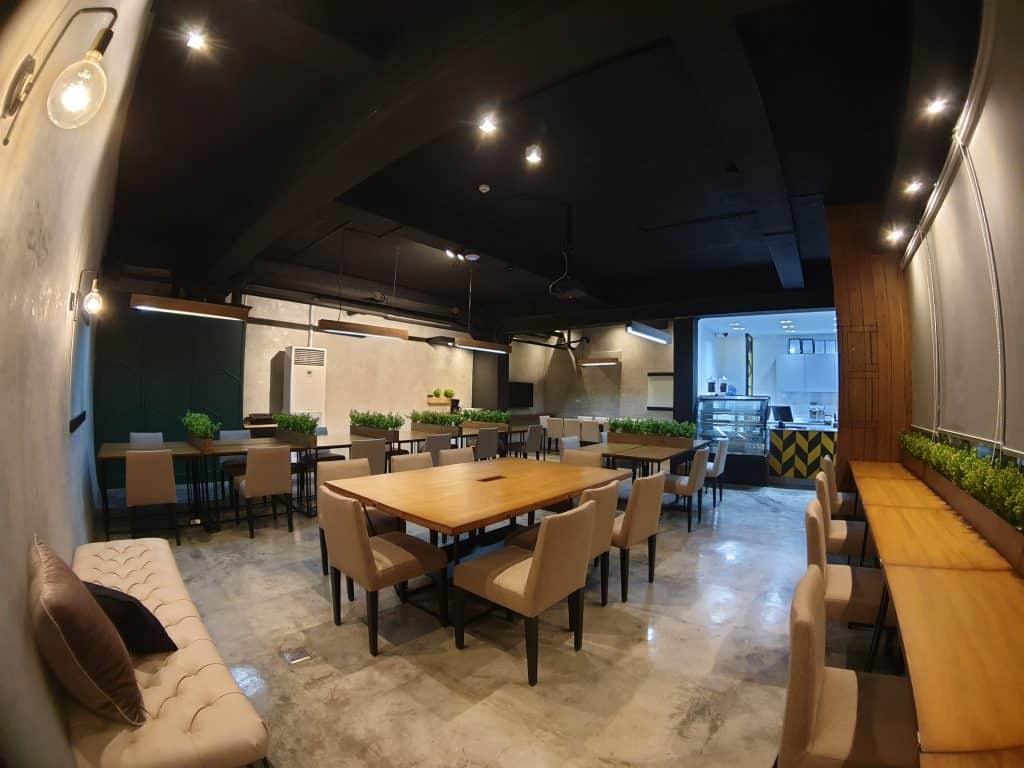 4. iiOffice
A clean and modern co-working space which is just a 12-minute walk to Ayala Mall. It is best known for its cozy and creative atmosphere. It also offers good internet speed and relaxing lounges.
Opening hours: 9AM to 7PM daily
Contact Number: 256-6608
Rates:

Hot desk / Open Plan: ₱300 /day
Hot desk / Open Plan: ₱4,000 /month

Location: 2nd Floor, Arinda V. Paras Bldg., Don Gil Garcia St., Cebu City

5. ASpace
This co-working space is considered as home to some of Cebu's creative professionals, and startup, independent businesses. It provides its customers with cozy interiors, and laid-back community vibe.
Opening hours: 24/7
Contact Number: (032) 888 7656
Rates:

₱500 /day (1-day pass)
₱10,000 /month (Dedicated Desk)
₱50,000 /month (Private Office)

Location: Unit KLM, Crossroads Mall, Gov. M Cuenco Avenue, Cebu City
Photo from the ASpace Facebook Page

Photo from the ASpace Facebook Page
6. The Company
The Company is famous for its view and natural lighting which greatly contributes to its customers' productivity. Their staff is also very friendly and hospitable.
Opening hours: 9AM to 7PM on Mondays to Fridays
Contact Numbers: 0995-104-0499 / 0905-520-2689 / 0943-828-6398
Rates:

₱400 per day
₱2,000 for Flexi Pass (8-Day Access)
₱1,500 per week
₱6,500 per month
₱9,000 per month (with 24/7 access and dedicated desk)

Branches:

G/F Bldg. 4, JDN Square, P. Remedio Street, Banilad, Mandaue City
15th Floor of HM Tower, in front of Calyx Center, Cebu IT Park
NOTE: Their co-working space are not open on weekends and regular Philippine holidays. However, only members with 24/7 access can use the space anytime, even on holidays.
7. OpenMind
OpenMind space is perfect for the young professionals and startup founders – with its speedy internet connection, cozy atmosphere, quiet environment and easy access to restaurants, their customers will likely be very productive.
Opening hours: 24/7
Contact Number: 0917 710 6852
Rates:    

₱500 per day shift (8AM to 10PM)
₱400 per night shift (10PM to 8AM)
₱9,000 per month with dedicated desk

Location: 9th Floor, Mabuhay Tower, IT Park, Lahug, Cebu City
8. NomadsHub.ph
With their friendly rate, customers will definitely be blown away by what Nomad's Hub could offer. They also provide very good internet connection. Every peso spent at this co-working space is definitely worth it.
Opening hours: 24 hours
Contact Number: 348-0071
Rates:

₱35 /hour
₱300 /day
₱4,500 /month
Note: They all offer a bed for as low as ₱550 for those who wish to work overnight.

Location: Building F, Unit 1 YAP, Ramos Street, Cebu City — near Baseline Residences.
Try out these co-working spaces in the city and be ready to make new friends, strengthen connections, create new ideas, and share them to the world!