"Bai" as most of the Cebuanos know, is how we coin our friends in the vernacular.
Nestled in the North Reclamation Area of Cebu, Bai Hotel is booming with pride as they welcome their guests with utmost courtesy. True to its name, Bai Hotel really treats everyone like they are their friends. You will feel at home and cozy within your stay.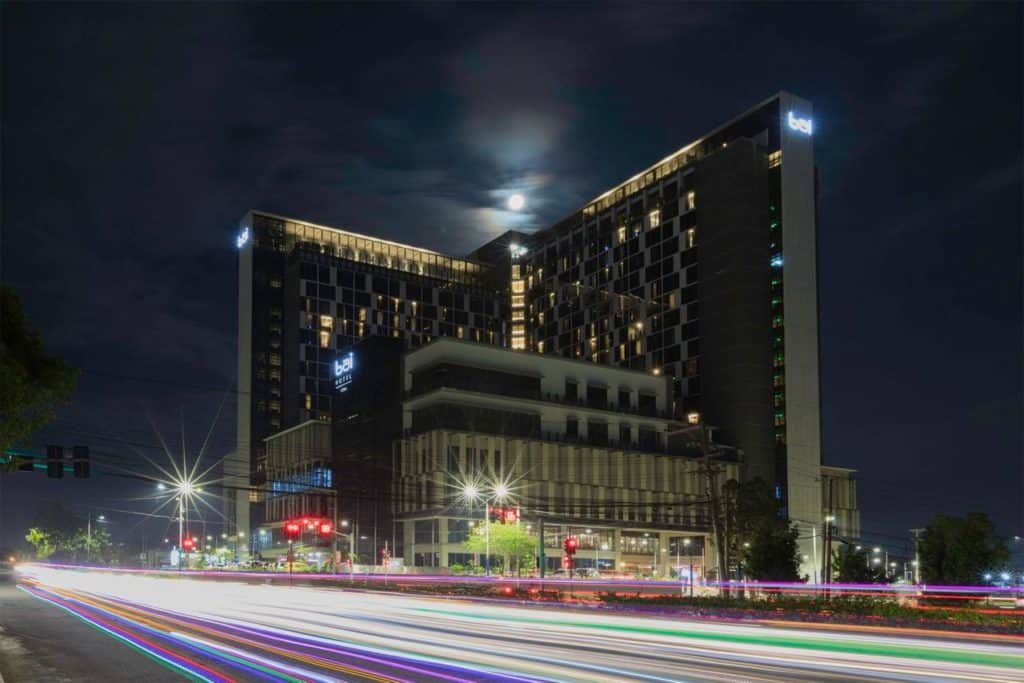 Why Bai?
Bai Hotel is practically one (if not the most) of the most convenient hotels in the metro because apart from it being situated near SM City Cebu, it is also just a 20-minute drive away from Mactan Cebu International Airport.
Much more than that, because Bai Hotel is in the North Reclamation Area, it is accessible to the beaches in the island of Mactan and even the historical sites in the city. So if you're up for a travel within the metro or an island hopping, Bai Hotel is the one for you.
Hotel Accommodations
Standard room rates:
Deluxe Room: ₱5,000 per night, with breakfast for 2
Premier Room: ₱7,000 per night, with breakfast for 2
Executive Room: ₱9,000 per night, with breakfast for 2
Executive One-Bedroom Suite: ₱11,000 per night, with breakfast for 2
The aforementioned types of room differs in amenities as the accommodation levels up.
Cafe Bai – Buffet Restaurant
Have we made mention about their limitless gastronomic offerings? Yes, Bai Hotel does not only promise you with a comfortable stay because, they also boast their limitless stomach-filling experience. Cafe Bai, the in-house buffet restaurant of Bai hotel offers different cuisines from breakfast till dinner.
Cafe Bai Rates: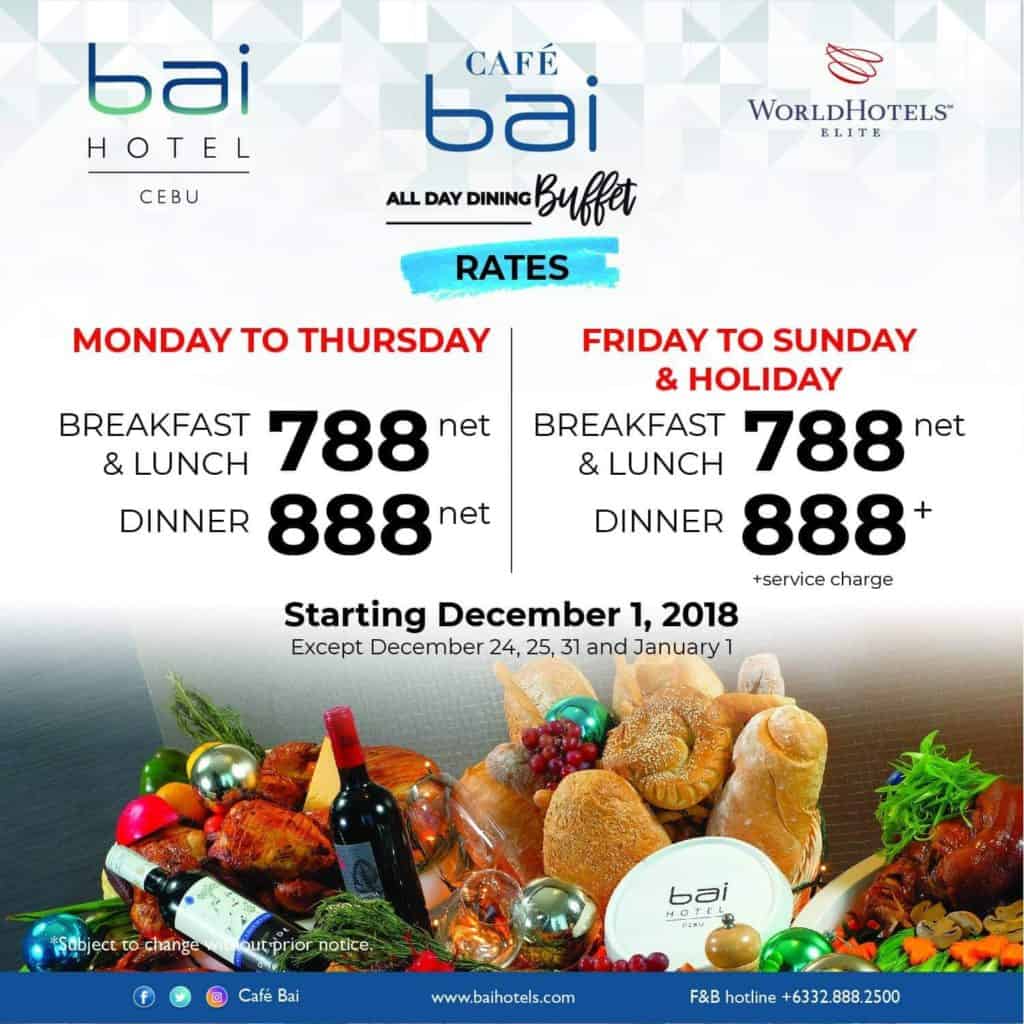 Marble & Grain Steakhouse
Dine in style and elegance at this steakhouse serving the finest custom-aged USDA prime beef and other meats. Pair it with their excellent wine selection and you'll have the perfect fine-dining experience. The menu also includes seafood, lamb, pork, and poultry dishes.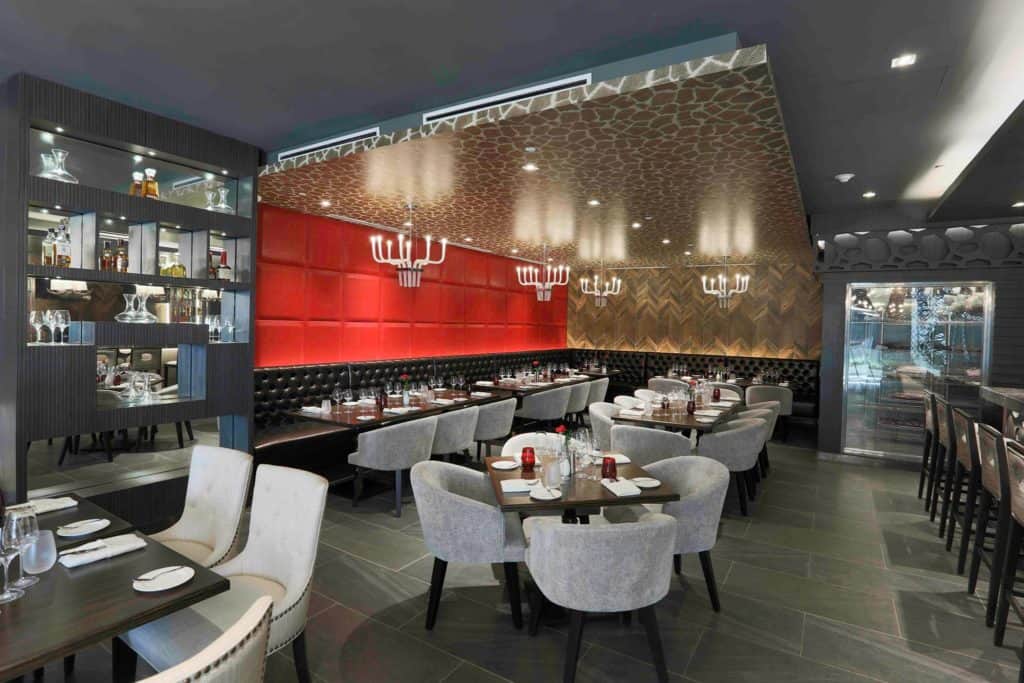 Operating hours: 12:00 NN – 2:00 PM; 5:30 PM – 10:00 PM (Closed on Mondays)
Ambiance: Fine Dining
Dress Code: Smart Casual (with collar for men)
Location: Ground Floor, Bai Hotel
Contact number: (032) 888-2500
Ume Japanese Cuisine
This authentic Japanese restaurant specializes in made-to-order sushi, soba, rice bowls, yakitori, sashimi, and other dishes. This feast of Japanese food is prepared especially for you by their resident Japanese chef.
Operating hours: 12:00 NN – 2:00 PM; 6:00 PM – 10:00 PM (Mondays – Sundays)
Ambiance: Modern Chic
Location: Ground Floor, Bai Hotel
Contact number: (032) 888-2500
Pool Bar
However, if you're in for a sleepover with your mga ka-Bai's, the Pool Bar is where you can opt to unwind. The bar serves light snacks and fresh fruit drinks and shakes, wines, cocktails, and beers. You can enjoy the beauty of Metro Cebu from 7am until 10pm from the Twilight Roof deck and Bar on the 23rd floor too.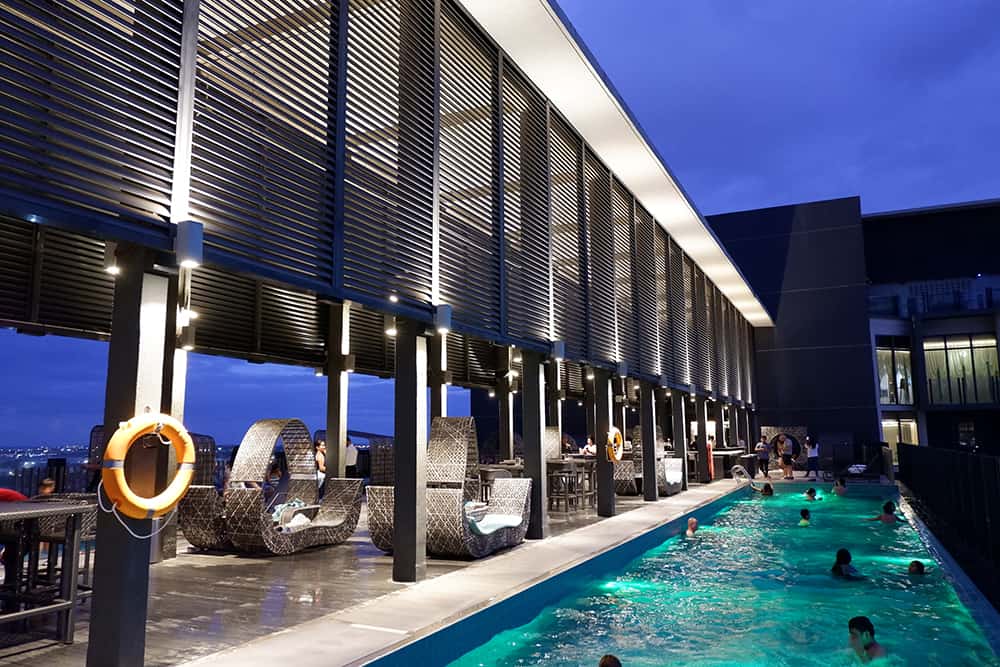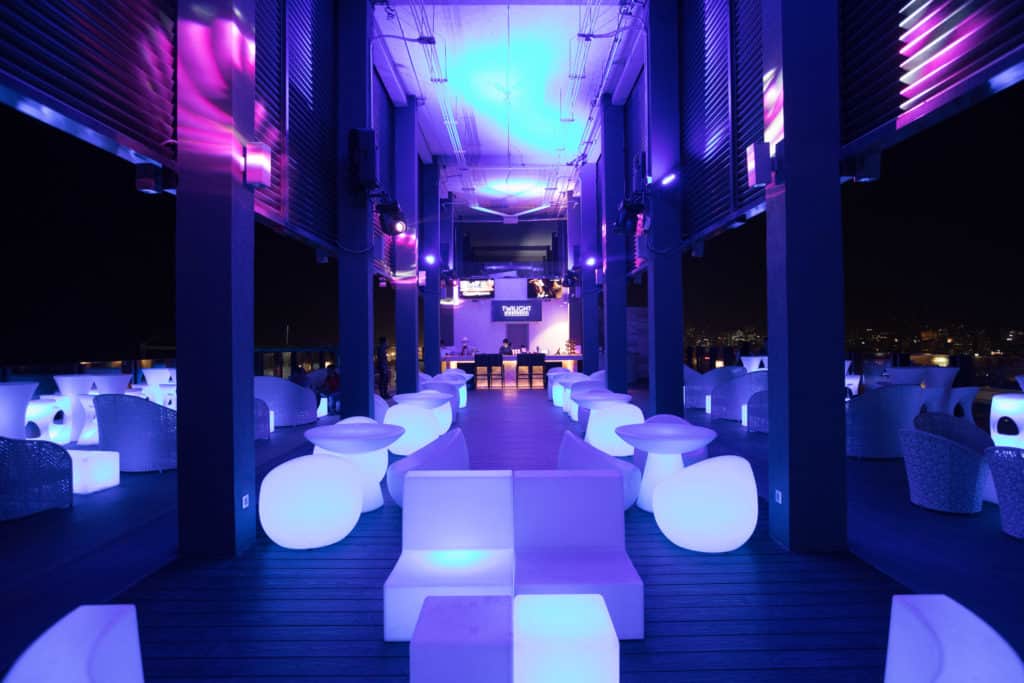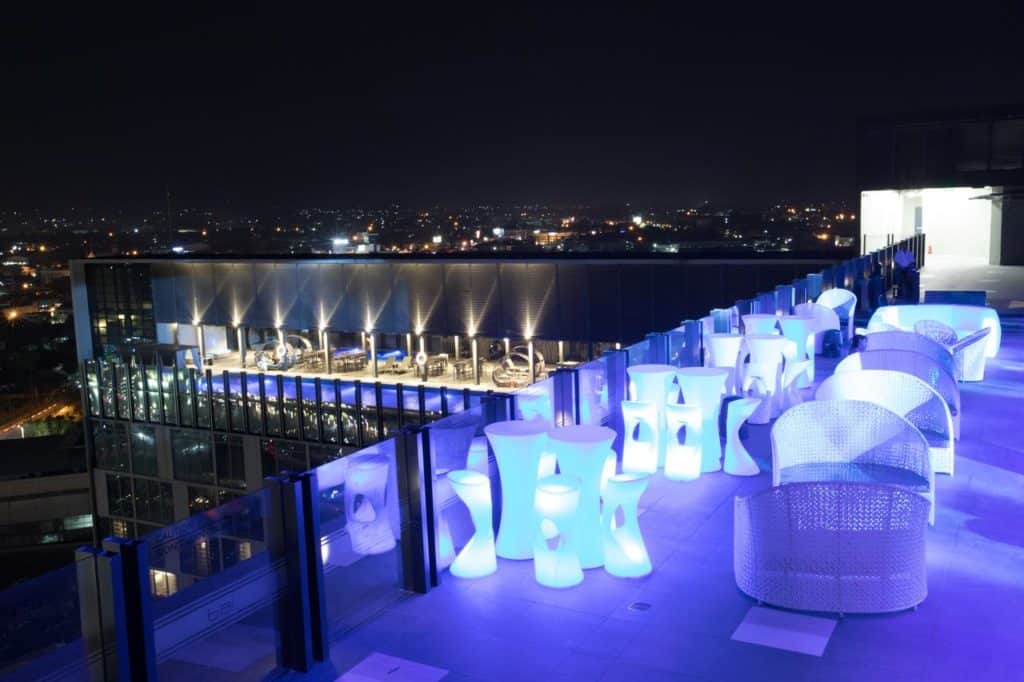 Other Amenities
Aside from the aforementioned, Bai Hotel also has a business center, fitness center with sauna booths, a spa, and an infinity pool. Truly, there is nothing more that you would want to ask more. They have everything!
But to top it all of, a hotel wouldn't expand nor flourish without a great customer experience and that is why Bai Hotel is still soaring in Cebu. The people are genuine and their branding is not only until their name, it transcends to the way their people treat their guests.
Other information
Online booking: link
Contact numbers: (032) 342-8888 / (032) 355-8888 / 0917-625-8830 / 0999-229-5675
Email address: [email protected]
Website: https://baihotels.com/
Social: Facebook Page | Instagram
Exact location: Ouano Avenue cor. Seno Boulevard North Reclamation Area, Mandaue City Cebu — right across Parkmall, near SM City Cebu