Yes, it's that time of the year again! Before the holly jolly Christmas comes the scary, horrific Halloween. Traditionally, it is a time when we remember our loved ones, especially our family members and friends who have passed away before us.
And while trick-or-treating is a popular tradition in other countries, Filipinos are more fond of story-telling "true" horror stories, watching a series of horror movies with friends, and ghost-hunting.
As part of their tradition, Parkmall once again opens its Horror Park to the public with this year's theme: "13th Floor: Enter At Your Own Risk". It is set to open from October 11 to November 10, 2019 (3PM to 11:30PM) with an entrance fee of ₱50 only.
Details
Regular rate: ₱50 per head
Operating hours: 3PM to 11:30PM — October 11 to November 10, 2019 only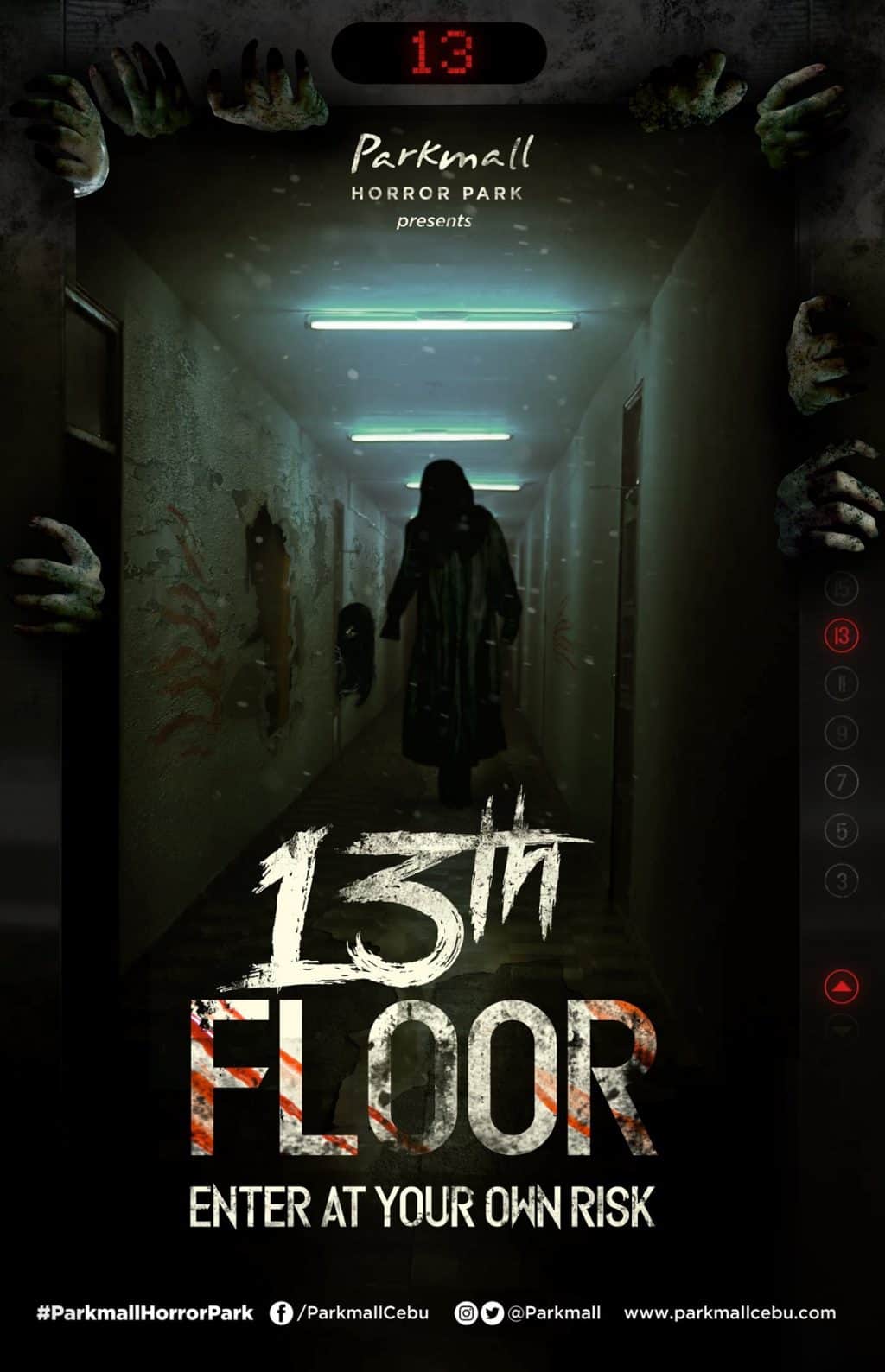 HORROR PARK GUIDELINES
1. Parkmall Horror Park is open daily starting October 11 to November 10, 2019 at 2:00PM until 10:00PM.
2. Tickets are sold at Php60/entry.
3. Maximum of 4 persons at a time are allowed to enter the Horror Park, to avoid accidents while going through the maze.
4. Any form of attacks such as hitting the scare actors is strictly prohibited. In the event that such abusive act is observed, the offenders will be immediately forced to leave the area.
5. Each guest is expected to follow the safety rules of the trail. Any damage inflicted on the equipment or any material inside the area is subject to monetary penalty.
6. The Horror Park Staff reserves the right to refuse entry to anyone. You will experience intense audio, lighting, extremely low visibility, strobe lights, damp or wet conditions, special effects and a physically and emotionally demanding environment.
7. You SHOULD NOT enter if you suffer from any of the following health ailments: asthma or respiratory condition, any heart conditions, are prone to seizures, pregnant or suffer from any form of mental disease such as claustrophobia. NO PACEMAKERS.
8. DO NOT enter the Horror Park if you are wearing any form of medical brace, cast, using crutches or have any physical limitations.
9. NO smoking, drinking, eating or running inside the Horror Park.
10. NO touching of the props, customers or the actors in the Horror Park
11. NO bags, sharp objects, cellphones and valuables can be taken inside. These have to be deposited in the check-in counter. GGVPI – Parkmall will not be held liable for any loss incurred inside the Horror Park
12. NO CHILDREN UNDER 7 YEARS OLD IS ALLOWED. Parental discretion is advised and recommended for children 8-12 years old.
Legal: The ticket to the Horror Park is a license to enter at your own risk! All patrons assume ALL RISK and DANGER incidental to the Horror Park before, during or after their entry. By entering the Horror Park, you understand and agree that Parkmall shall not be liable for any injury or damages incurred.
How to get there?
Exact location: 2/F Parkmall in North Reclamation Area, Mandaue City, Cebu.
BY JEEPNEY: From SM City, ride a 01K jeep (across APM Mall or near Sun Gold) going to Parkmall. Or ride 01K jeep from Emall. ₱7-15 fare.
BY CAR/GRAB/TAXI: If you're bringing your own vehicle or hailing a taxi/Grabcar, just navigate with Waze or set your destination to "Parkmall" in Mandaue City