It is no debate that Bantayan Island is a world-renowned beach destination in Cebu. It has one of the most amazing pristine white sand beaches in the Philippines with so many beautiful attractions you can tour around the island. And there is this little island nearby that became very popular because of "word of mouth".
A 30-minute boat ride from Bantayan Island, Virgin Island is one of the main attractions in Bantayan Island that has an untouched white beach and crystal clear waters where snorkeling can be enjoyed.
Though more expensive than usual and may not be ideal for budget-conscious travelers (see rates below), Virgin Island is private and maintained in good conditions. It is perfect for tourists who really have the heart for beaches and those who want to just chill and relax. The island also has cottages that you can rent price would depend on the type of cottage you would like to rent. There are hammocks which are free. And there is a local restaurant bar so you can have a meal or a drink.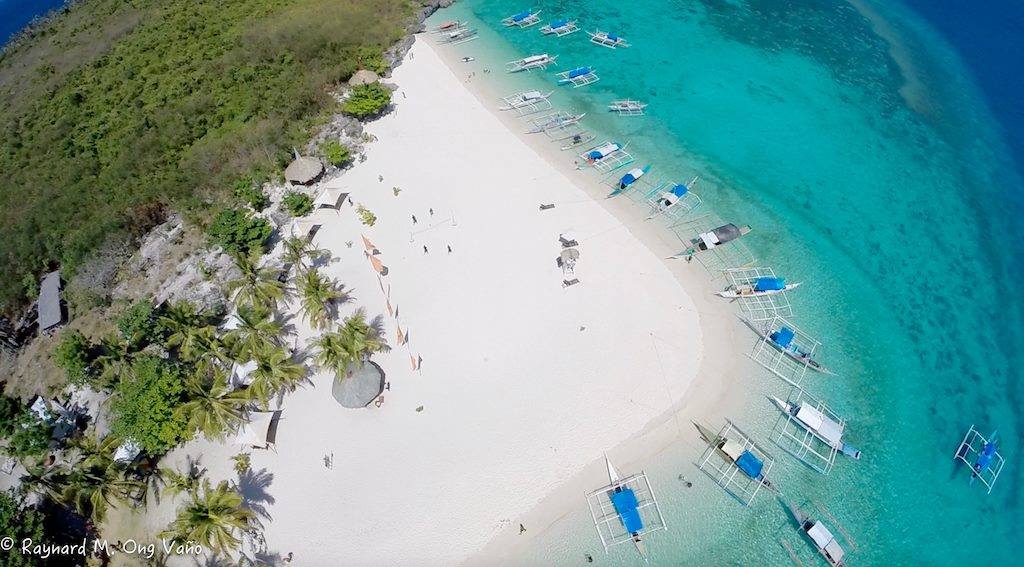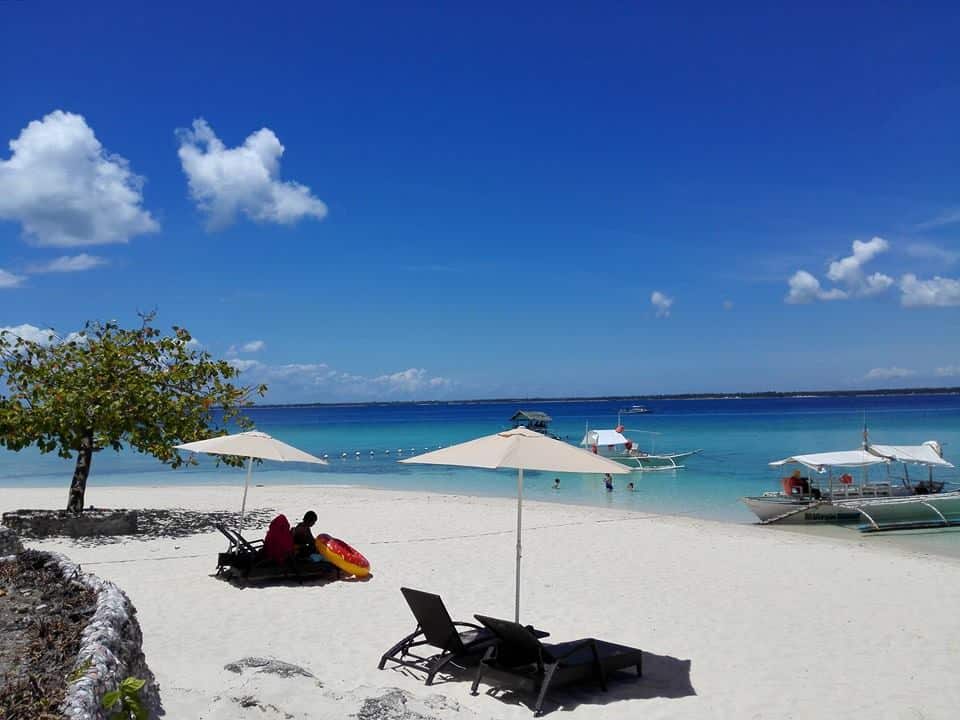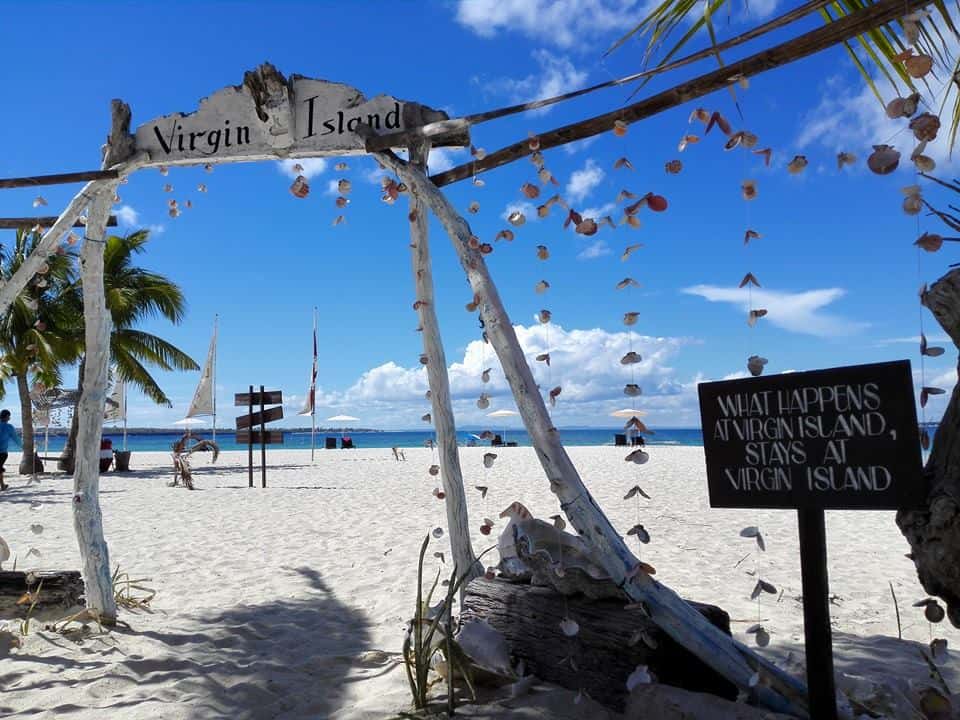 Things You Can Do at Virgin Island
✔ Pristine white sand beach (at par with Boracay)
✔ Snorkeling
✔ Beach volleyball
✔ Chill. Drink. Eat.
TRAVEL TIPS
Virgin Island is deal for groups (at least 5pax). If you are a solo traveler or a couple, you might need to shell out more. It's best if you join other groups from the mainland or book a tour package.
Everything is expensive in the island. If you want to save, bring:
– Water & food (You can save a lot if you buy from the public market in the mainland)
– Goggles, Snorkeling gears (or rent ahead from the mainland)
The beach is really great, but don't expect too much on the island's facilities and amenities.
If you need to sit on the cottage area, you will be asked to pay. If you don't want to pay, you can bring your own portable chairs.
Rates & Other Information
Boat ride
There is no regular passenger boats from the mainland. Make sure you ask around if there are no boats. Or plan ahead with the hotel or resort you're in.
Below are the estimated boat fares for your reference. Note, these are not fixed but being a good negotiator is an advantage.
– ₱1,500 one-way good for 12 persons (or ₱125 each)
– ₱1,000 one-way good for 8 persons (or ₱125 each)
Day Use Rates
Entrance fee: ₱500 for 2 persons, and ₱100 additional per person in excess of 2
Cottages: ₱300, ₱500, ₱600, ₱1,000 and ₱1,500
– Day use: 9AM to 5PM
Overnight Rates
NON-AIRCON COTTAGES
– Cabana: ₱1,500 for 2 pax (maximum of 4 pax)
– Open cottage: ₱1,500 for 5 pax
– ₱200 for every succeeding persons
AIRCON COTTAGES
– Bamboo Cottage: ₱3,000 for 2 pax. Maximum of 4 pax.
– Family cottage: ₱5,000 for 4 pax. Maximum of 6pax
– Barkada cottage: ₱7,000 for 8pax. Maximum of 10pax.
– ₱300 for every succeeding persons.
*Rates may change during peak season (December, April, May).
Other information
Operating hours: 9AM to 5PM, Mondays to Sundays
Contact numbers: 0920-118-3521 / 0917-322-2115 / 0922-726-6579
Social: Facebook Page

[box type="shadow" align="" class="" width=""]
Other articles about Bantayan Island:
1. Budget traveling to Sta. Fe, Bantayan Island
2. Top 10 Beach Resorts in Bantayan Island
[/box]
How to get there?
Exact location: Virgin Island, Sta.Fe, Bantayan Island, Northern Cebu — 4-5 hours away from the city.
If you want to go to Virgin Island, you have to go to Bantayan Island first.
Buses that will bring you to Bantayan Island are found at the North Bus Terminal. Take the bus going to Hagnaya. Travel time is approximately 3 hours. From Hagnaya take the Express Ferry Boat to Sta. Fe, Bantayan Island. Travel time is approximately 1-hour ride to Sta. Fe, Bantayan Island. A Ro-Ro vessel from Hagnaya to Santa Fe is also available.
After reaching Bantayan, you can charter a boat headed for Virgin Island. While you can reach Virgin Island from any part of Bantayan, the best jump-off point is in Sta. Fe. It is also advisable to visit the island with group of friends to reduce the cost of hiring a boat.
FARE
• Bus – P170 per way / P340 roundtrip (20% discount for students, present School ID)
• Ferry & Terminal Fee – P180 per way / P260 roundtrip
SCHEDULE
CEBU TO BANTAYAN (3.5-4 hours bus, 1 hour ferry)
Trip
Bus Departure (Cebu City to Hagnaya)
Ferry Departure (Hagnaya to Sta. Fe)
1st Trip
10:45 PM
3:00 AM
2nd Trip
12:15 AM
5:00 AM
3rd Trip
2:00 AM
6:30 AM
4th Trip
5:00 AM
9:30 AM
5th Trip
6:00 AM
11:30 AM
6th Trip
8:00 AM
1:30 PM
7th Trip
10:00 AM
3:30 PM
LAST Trip
12:20 PM
5:30 PM
BANTAYAN TO CEBU (1 hour ferry, 3.5-4 hours bus)
Trip
Ferry Departure (Sta. Fe to Hagnaya)
Bus Departure (Hagnaya to Cebu City)
1st Trip
5:00 AM
6:00 AM
2nd Trip
7:30 AM
8:30 AM
3rd Trip
9:30 AM
10:30 AM
4th Trip
11:30 AM
12:30 PM
5th Trip
1:30 PM
2:30 PM
6th Trip
3:30 PM
4:30 PM
LAST Trip
5:30 PM
6:30 PM
WHERE TO STAY?
Check out our new article: Top 10 Beach Resorts in Sta. Fe, Bantayan Island
You don't need to stay in those renowned hotels especially when you're on a budget. Here are your options:
Kota Beach Resort – for as low as P800, room for 2, 0956-276-4410 / (032) 438-9042
Bantayan Cottages – for as low as P400, room for 2, 0908-309-4717 / (032) 438-9358
[box type="shadow" align="" class="" width=""]
Other articles about Bantayan Island:
1. Budget traveling to Sta. Fe, Bantayan Island
2. Top 10 Beach Resorts in Bantayan Island
[/box]