Mark your calendars! Three of the country's hottest OPM bands — The Ransom Collective, December Avenue and Silent Sanctuary — join forces this November 11, 2018 for the Rise Up and Unite Concert, an advocacy concert for the Cebuanos and a celebration of our love for OPM, at the Southwestern University – PHINMA Open Grounds in Urgello St., Cebu City.
One of the beneficiaries of this event is Cebu Mental Health Week, an organization that aims to raise awareness, and eliminate the stigma and encourage the youth to advocate for mental health. This is also in partnership with SK Cebu in support for their outreach program project for Naga, Cebu.
EVENT DETAILS
Rise Up and Unite advocacy concert
November 11, 21018 (Sunday) at 7PM
Southwestern University – PHINMA Open Grounds
Ticket price: ₱649 per regular ticket
TICKET OUTLETS
University of Cebu – Main: 0925 855 0788
University of San Jose Recoletos University: 0947 460 7547
University of the Philippines – Cebu: 0915 106 0900
SM City Cebu: 0909 3652852 / 0935 8616867
Ayala Center Cebu: 0915 7472886 / 0920 9827819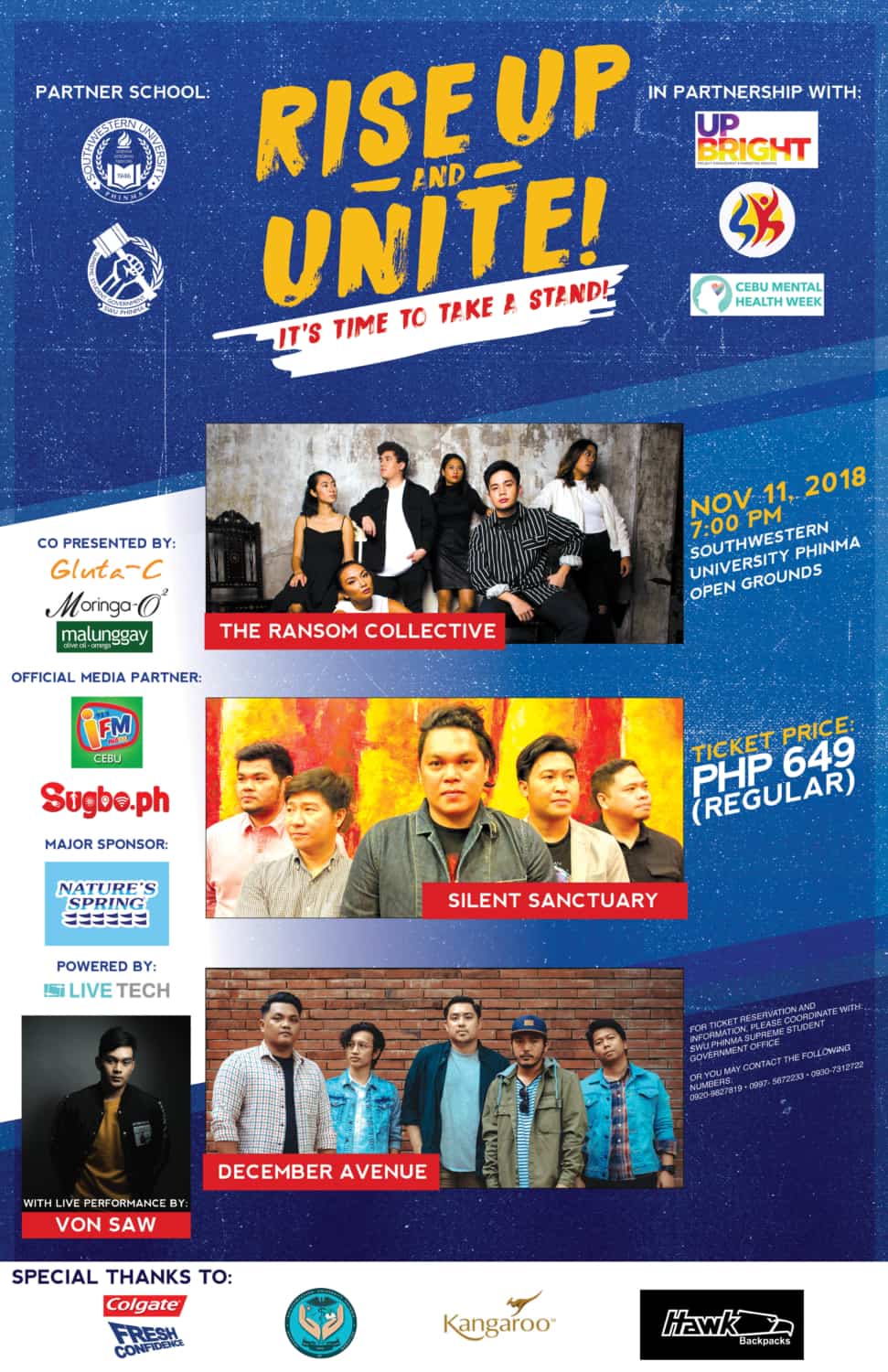 How to get there?
Exact location: Southwestern University – PHINMA Open Grounds — 15-20 minutes away from Fuente Osmena Circle.
BY JEEPNEY: Ride any jeepney passing through Urgello St. Or:
– 01K from SM City / Emall
– 09F from Basak (Quiot) / Colon
BY CAR/GRAB/TAXI: Navigate with Waze or Google Maps and pin your location to "Southwestern University PHINMA".
The Advocacy
Social awareness is defined as being aware of the problems that different societies and communities face on a day-to-day basis and to be conscious of the difficulties and hardships of society. As we improve social awareness, we also improve our experience of life, create opportunities for better work study life balance, become aware of other peoples emotions, and improve our ability to respond to change. Social issues include poverty, racism, bullying, opportunity inequality, mental health awareness, homelessness, LGBT issues, anti – abortion, education and much, much more. Anything that negatively affects people within a society, that people care about, can become a social issue.
The Rise Up and Unite advocacy concert aims to achieve and to reach out to the youth of today through music and arts. Most of us know the feeling of being moved by a work of art, whether it is a song, a play, a poem, a novel, a painting. When we are touched, we are moved; we are transported to a new place that is, nevertheless, strongly rooted and is a tool for expression. That is why arts and music is so powerful.
The Bands
December Avenue
December Avenue is a band that has become known for strong melodies with lyrics that really hit you in the heart; it has taken them a decade to break from the under the radar musical scene to breaking to the more established roster of OPM bands.
Silent Sanctuary
Silent Sanctuary is a 4-piece Filipino rock band that was formed in Metro Manila, Philippines in 2001. Five studio albums have been released by the band throughout its career. They are the band behind the hit songs: "Pasensya Ka Na", "Kundiman", "Sa'Yo", among others.
The Ransom Collective
The Ransom Collective (also known as TRC and originally known as Kian Ransom) is a Filipino indie folk band based in Manila, Philippines. The band is best known for winning the first place at Wanderland Music and Arts Festival's pre-event Wanderband competition last January 2014 and played at Wanderland 2014.