It is a norm in the Philippine culture to bring pasalubong when traveling. For some us, we just want to have something to munch while on the road.
Here in Cebu, all these flavors are magnified by Cebu's own unique culture to form a melting pot for wide variations of different kinds of delicacies that can be enjoyed by the locals and foreigners alike.
With Filipinos being known for their highly developed food palettes, these 13 popular delicacies in Cebu never cease from generation to generation.
1. HOPIA sa "Cebu"
Hopia is one of the favorite snack of Filipinos because of its delight taste. It is a bean filled moon-cake pastry originally introduced by Fujianese centuries ago. It has different flavors like mongo, mango, ube, pork and chocolate that will surely ease your craving tummy.
A must-try hopia is from Erika's Delight in Consolacion, Cebu. They have a variety of flavors to choose from.
Hopia Mongo: ₱38 for a box of 10pcs
Hopia Ube: ₱38 for a box of 10pcs
Hopia Pandan: ₱38 for a box of 10pcs
Hopia Mango: ₱45 for a box of 10pcs
Hopia Yema: ₱65 for a box of 12pcs
Hopia Baboy: ₱41 for a box of 12pcs
For orders, you can contact them at:
Contact numbers: 0932-771-6441 / (032) 238-5747 / (032) 423-6116
Location: Maglasang Avenue, Brgy. Pitogo, Consolacion, Cebu. Navigate with Waze or Google Maps and search for "Erika's Hopia de Cebu factory".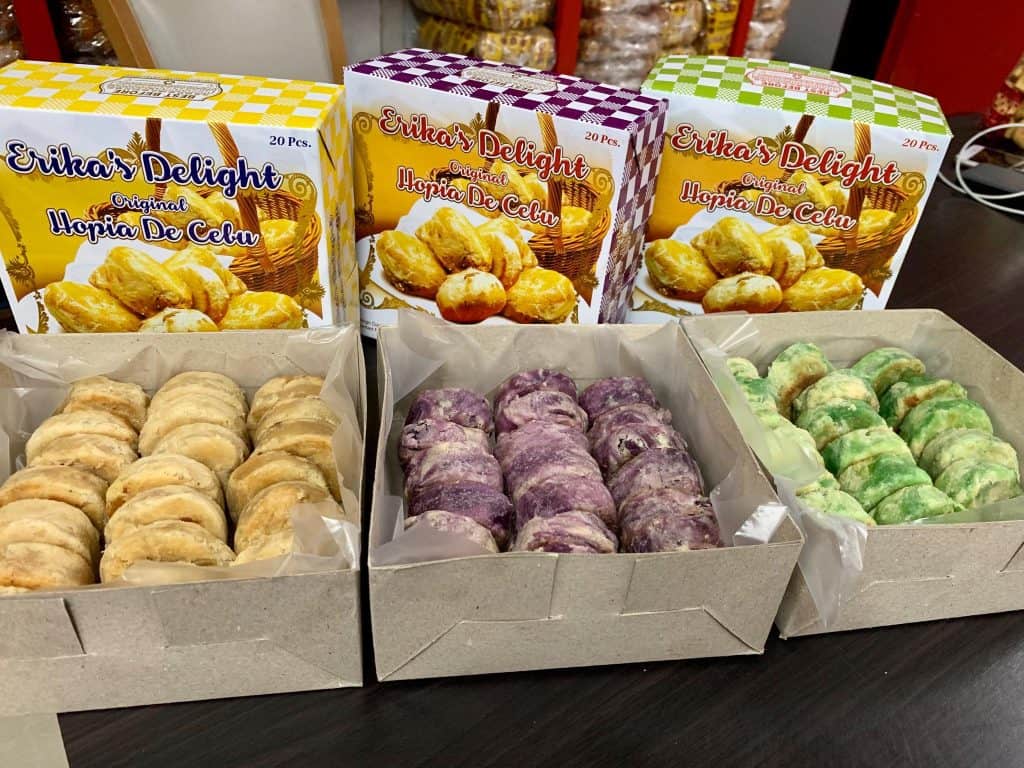 2. CHICHARON sa "Carcar"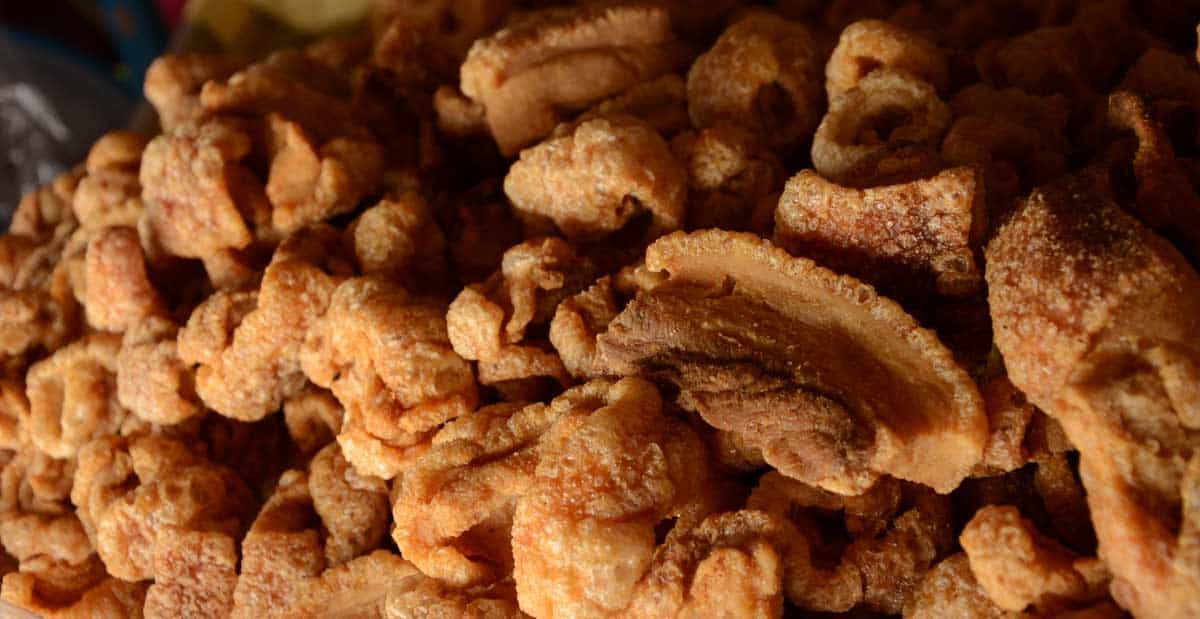 Crack on every bite. Chicharon comes with different flavors. It could be a chicken, beef, fish, or pork skin. There are lot of chicharon manufacturers in Cebu, but base on Cebuanos chicharon from Carcar is the best chicharon in the island because of its unique and scrumptous meaty taste. It is mostly sold in terminal store or along your journey towards South and North Cebu.
Usual Price: P20- P250/pack
3. PINTOS sa "Bogo"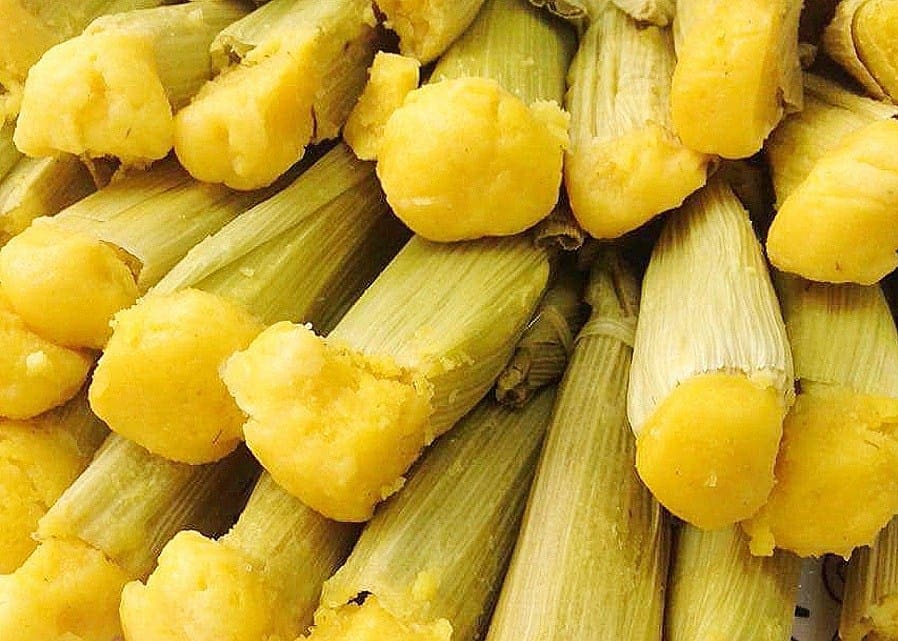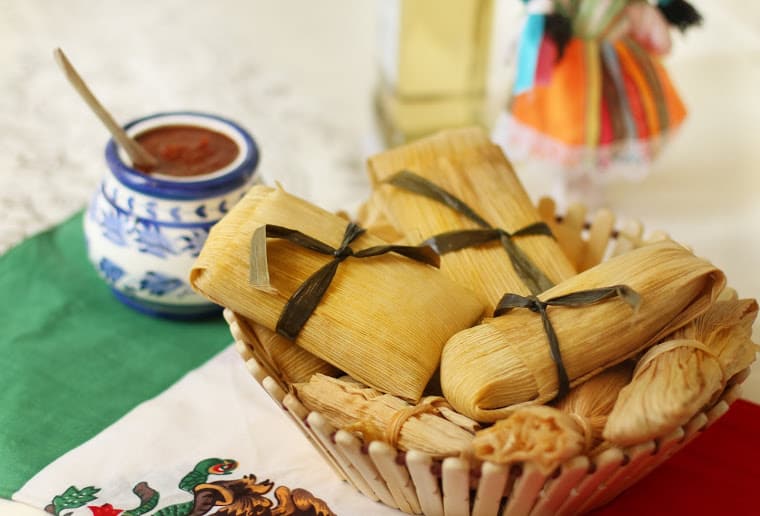 Pintos was originally made from the city of Bogo. It is their special delicacy which is made of ground corn, cheese and coconut strips, and wrapped with corn husk. Every 26th of May, Bogo city celebrates Pintos festival as a thanks giving for their major source of income which is their corn plantations.
Usual Price: P10.00 each
4. BUD-BUD / BUD-BUD KABOG sa "Sogod"
Bud-bud kabog or "Budbud" is the sister of puto maya. They were cooked on a similar process, the only difference is, Budbud is more sweeter than the puto maya and it is fully wrapped with a banana leaf. This is best serve with hot chocolate during merienda or breakfast.
A drive passing through Sogod will introduce you to the delicacy, a Sogod pride, since they sell these on the road.
Usual Price: P8-10 each / P25 for 3 pcs.
5. MASI / PEANUT RICE BALL sa "Liloan"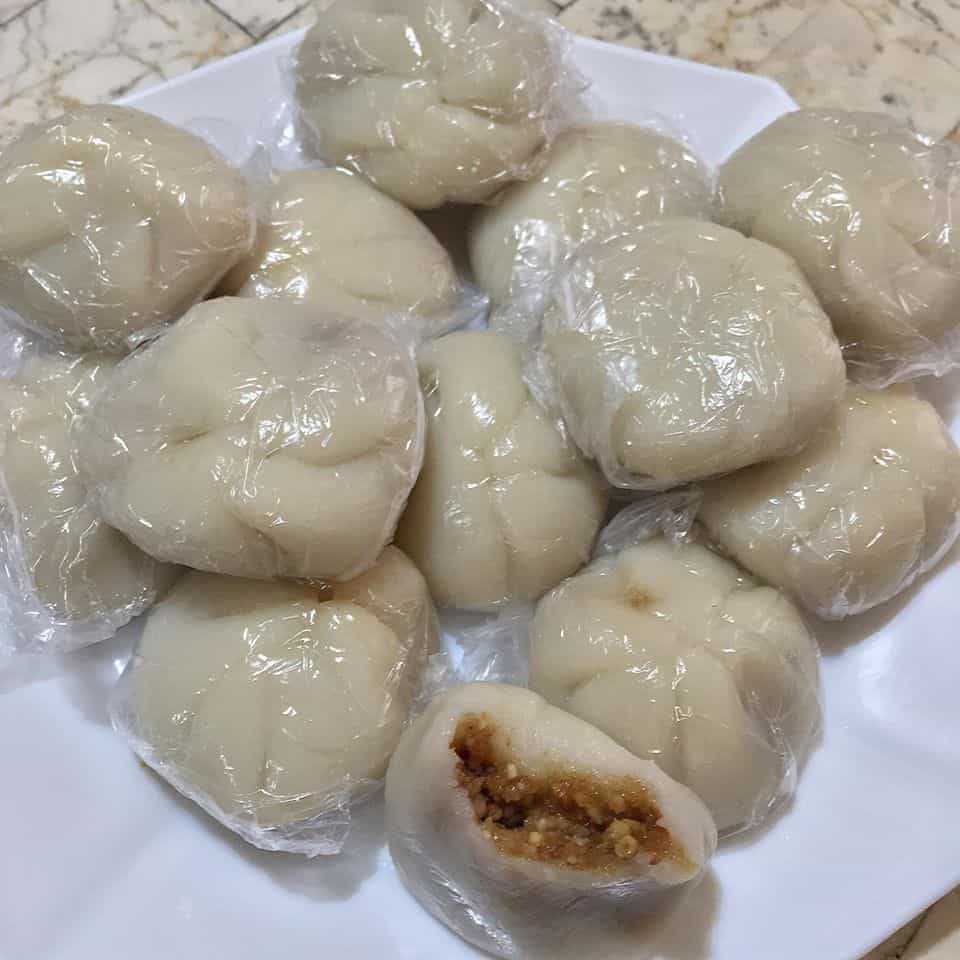 Of all delicacies masi is my favorite among all. Just like the other town in Cebu, Lilo-an is also proud with their bite-size sweet and chewy peanut ball called Masi. It is made of glutinous rice with a sweet peanut paste filling. It is very delicious and affordable. Best for merienda, snack, or even pasalubong. Approved!
Usual Price: P2.00 – P 10 each
6. BINGKA / BIBINGKA sa "Mandaue"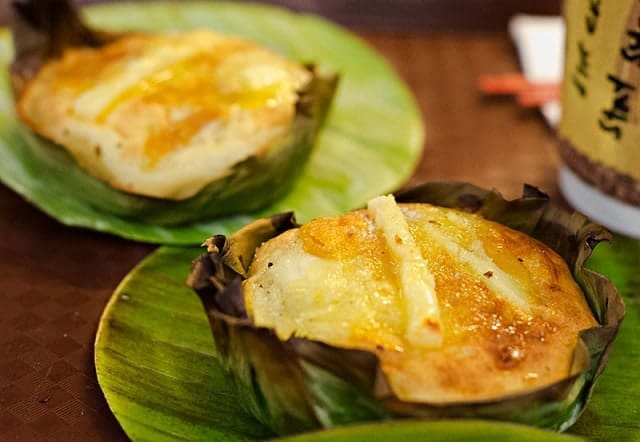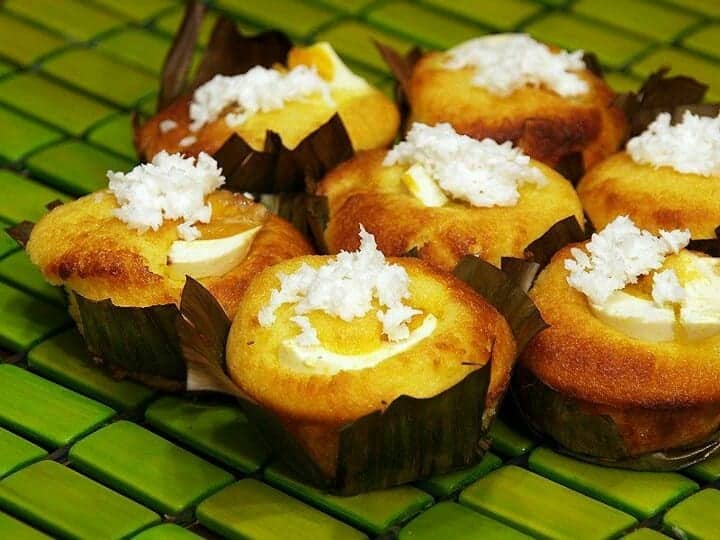 Bibingka "bingka" is a traditional delicacy together with puto, bud-bud kabog, bud-bud balanghoy, kutchinta and masi. They are usually eaten early morning or served as breakfast by Cebuanos. Bibingka is made of milled glutinous rice, coconut milk, margarine, and sugar then steamed on a hot pot using pre-cut banana leaf which add fragrance and taste to the bibingka. Bibingka can also be made with balanghoy or cassava which is sweeter than ordinary bibingka. These are usually sold outside the church or on the terminal area together with some other delicacies.
They say that the best tasting ones are in Mandaue.
Usual Price: P7.00 – P15 each
7. BOCARILLO, BUKAYO, AMPAO sa "Carcar"
Bocarillo and Bukayo are both made of coconut meat. The difference is bocarillo's strip is thicker than the bukayo and it has different colors formed like a flower, while bukayo's strip is thinner and mold in circle. Both are sweet and you'll love its chewy texture.
Along with chicharon, Carcar is famous for its bocarillo too.
Usual Price (Bocarillo): P15.00-15/ pack
Usual Price (Bokayo): P2.00-P10 each
8. MASAREAL sa "Mandaue"
I wonder why my grandmom always buy this kind of delicacy everytime we shop at the supermarket so I tried to taste it and realize "It's incredibly delicious!". One of the classiest delicacy I've ever tasted.
Masareal is a native delicacy originated in Mandaue City, Cebu. It is made of peanut, milk, and sugar. It is a rectangular shape packed on a white paper and sold to different areas in Cebu and even to different parts of the Philippines. Highly recommended for pasalubong or snack during travels.
Usual Price: P20 each
LIVING THE LEGACY EVERYWHERE IN CEBU
9. PUTO
There are two types of puto; the puto which is made of flour and the puto maya which is made of sticky rice (pilit). You can savor the taste of puto with its different colors and toppings depending of what flavor you want.
The puto maya which is serve on a plate or half wrapped in a banana leaf paired with a hot chocolate (sikwate) early in the morning. Both putos are sold in the market or in an early bird carenderia that opens at dawn.
Usual Price: P5.00- P15.00 each
10. PUT-PUT / KUTCHINTA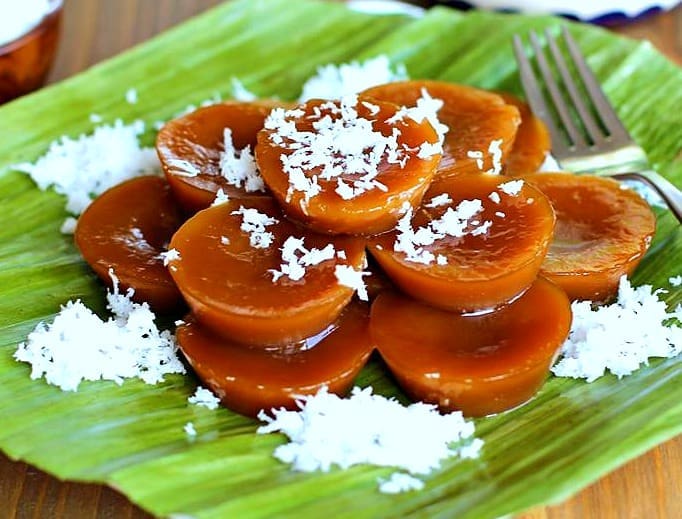 There are several delicacies in Cebu and put-put is one of my favorite. I love its mild-sweet glutinous texture which is made of flour, tapioca flour, atsuete powder lye water, dark brown sugar and a grated coconut for the toppings. It looks simple yet very palatable and I'm sure you'll never get enough of it too.
Usual Price: P5.00- P15.00 each
11. BUD-BUD BALANGHOY / SUMAN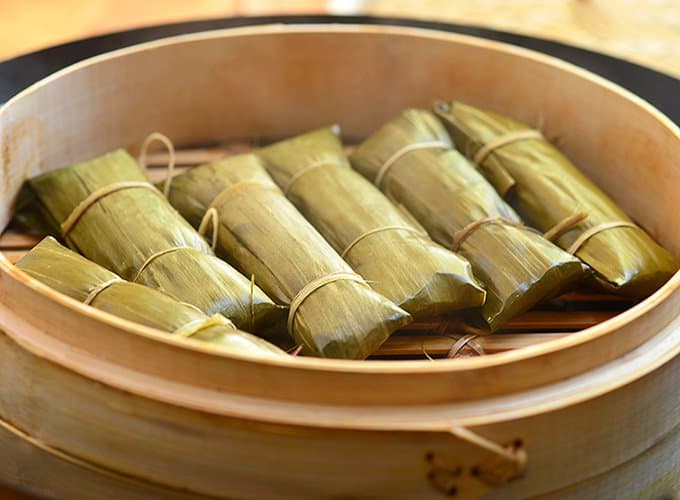 Suman or "Bud-bud balanghoy" is one of my favorite native delicacies because of its sweet and chewy texture. Bud-bud balanghoy is made of grated cassava, coconut milk, and sugar. This is also what cassava cake is made of. If you get confuse with bud-bud balanghoy and bud-bud kabog, just ask the vendor since both of them are wrapped with banana leaves.
Usual Price: P8.00 – P15.00 each
12. OTAP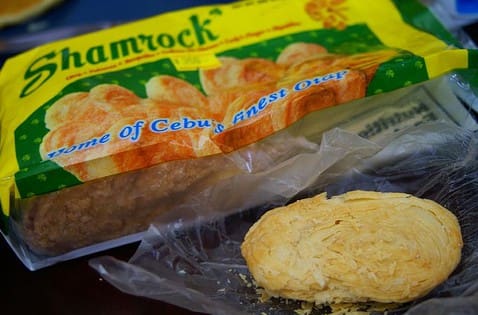 The otap is an oval-shaped puff pastry that is about four to six inches long and about two inches wide. The surface of the otap looks very crumpled and is sprinkled with sugar that has somewhat hardened on the otap. The crumpled look of the otap is what makes it very fragile and easily to break into bits of pieces when you bite it.
Usual Price: P30-50 per pack
13. DRIED MANGOS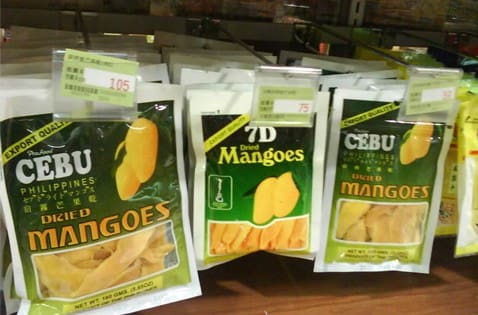 This is probably the most popular, and the most loved, delicacy in Cebu. Dried mangoes are bits of ripe mangoes that were dried out under the sun. Their chewy texture and sweet taste make dried mangoes so addictive that you will crave for more.
Usual Price: P70-150 per pack
Where to buy them all?
You can easily find them anywhere in Cebu or in the places where they are most famous. They can also be found in supermarket, outside the church, carenderia, terminal store and even along the highway where bus passes by.
Each delicacy has a story to tell of how it came to exist and be enjoyed by many Filipinos. They may be called with different names depending on what place you belong, but here in Cebu these delicacies remind them of our rich culture when it comes to food.