For a lot of students, summer has already ended and the sad reality has struck us. We have to go back to waking up early and going home with never-ending homeworks and projects onhand. But more than this reality, there is something we're all excited about – going back to school in style!
Another school year is about to start and we, girls, know that it is really difficult to come up with a stylish yet comfortable and age-appropriate outfit that we can wear to class everyday. If you're stressing about dressing up everyday, there is so much inspiration to go around and keep that headache at bay! To help you, here are 8 key pieces that you can also incorporate into your daily school looks.
No uniform? No problem! Sugbo has got you all covered.
1. SHIRT DRESSES
If you are in for a long day in university, let your skin breathe with a loose and casual dress. Shirt dresses will always be our savior if we cannot find matching tops and bottoms when we're running late for class and look effortlessly chic.
2. PLAIN BLACK or WHITE TEE
A plain black or white tee paired will never go out of style. Whether you opt to pair it with a blue or black jeans, it will still be pretty useful on your carefree days when you just want to chill while still wanting to look fab.
3. DISTRESSED JEANS
Denim will always and forever be everything! The classic distressed jeans and button down shirt or plain tee combo will be perfect for those who want to ace that "no-nonsense" look. But make sure you pair it with your fave sneakers or statement footwear then, dial 100% attitude.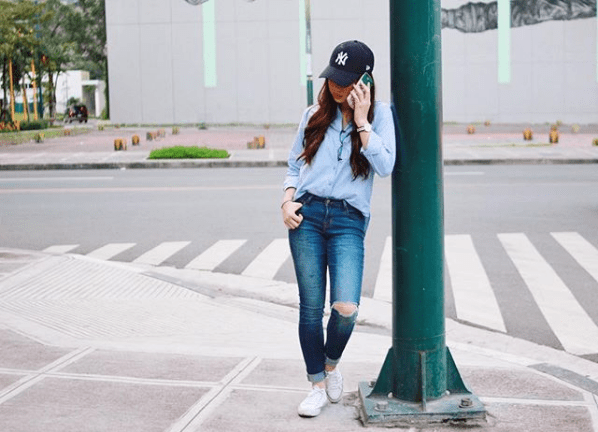 4. DENIM JUMPSUIT
Sometimes, schools have more relaxed dresscodes, or otherwise. But if your school is the former, this one will be great for you. A denim jumpsuit will surely make you a campus head-turner in a snap!
5. PASTEL PIECES
Some girls opt to strictly stick to feminine pieces all school year long and don't get me wrong, you can go feminine all the way. Get a pastel-colored peplum blouse and pear it with great-fitting jeans. You can layer your top with a cardigan too for an easy-breezy day in school.
6. CULOTTES
Yes, people say that this is by far one of the most unflattering bottoms for this will make you shorter (if you're short) and healthier (if you're a plus-size) but hey, these are very comfortable to wear and a great alternative to skirts. Just make sure you pair it with a great fitting shirt and your pair of trusty white sneakers.
7. PLAID PANTS
Who said school OOTD's can't be cooler than a pair of skinny jeans? Ditch your usual denim skinny jeans and opt for a pair of plaid pants. Pair it with the basic white or black tee and make a statement with your shoes.