If you are an avid lover of seafood and you want to try a boodle meal experience, this is the place to be.
Offering a variety of seafood boodle meals ranging from 2 people or more, Cebudol at 'Tambayan sa Lacion' serves your favorite seafood in a more appetizing presentation via a "boodle boat", at a reasonable price. Interestingly, this food stall trended on our Facebook Page where the post reached more than 500,000 people on Facebook.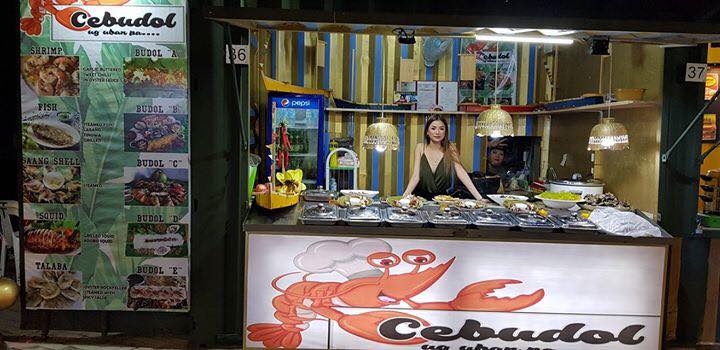 Rates:
– Good for 2 (Love Boat): ₱350
– Good for 4: ₱750
– Good for 8: ₱1,700
Operating hours: 5PM – 1AM, Mondays to Sundays
Contact number: 0999 228 8439
Social: Facebook Page
FOOD MENU:


Tambayan sa Lacion has more than 10 tenants offering a huge variety of food like pastas, BBQs, pizzas, desserts, and many more. They don't only serve food but entertainment and a unique experience.
How to get there?
Exact location: Tambayan sa Lacion Food Park in Consolacion, Northern Cebu.
Ride any jeepney going to Consolacion: #24 / 24A or #25 from SM City Cebu / White Gold. Or, ride a v-hire from Ayala Terminal or SM City Terminal going to Consolacion. Just tell the driver to drop you off at Tambayan sa Lacion.
If hailing a cab or driving your own vehicle, simply navigate with Waze and search for "Tambayan sa Consolacion Food Park". Parking space is available.