You do not see a pyramid-shaped bistro every day (unless you work near eBloc 3 because definitely you will). Tread along W. Geonzon St. but try not to turn your heads to this awe-inspiring architecture. People will definitely ask "What's the name of that place?" It's not just any place, it's The Pyramid in Cebu I.T. Park and it's more than a postmodern architecture but Cebu's next go-to dining and lifestyle destination.
Here are the 13 reasons why we think it's the next big thing:
1. Sensational architecture, the first in Cebu.
More than stunning, The Pyramid's form is simply provoking public interest and excitement. It's true that you don't see a pyramid-shaped building around Cebu, but its shape, the lights, the interior and everything about how it looks will surely cling to your senses.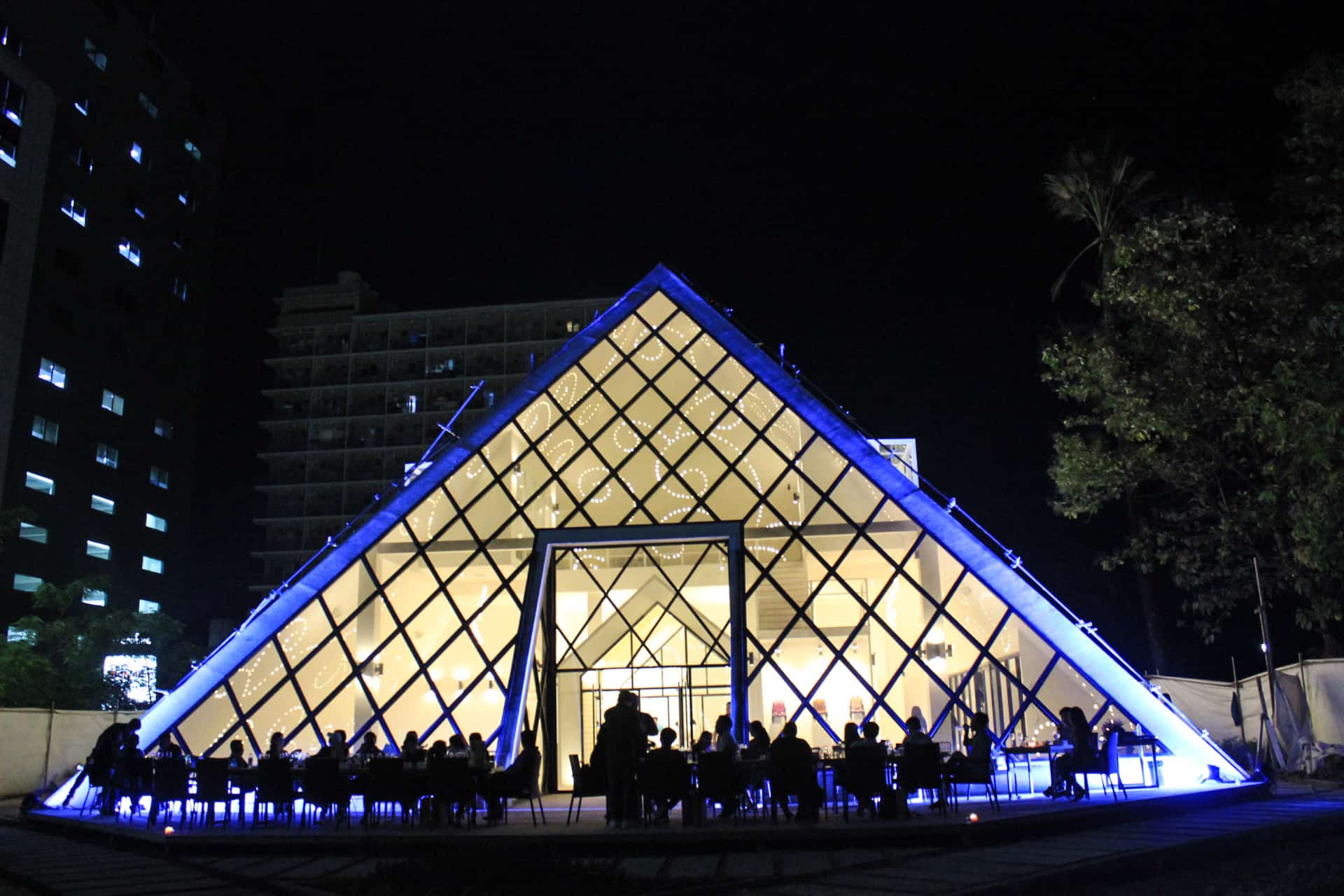 2. Fusion Cuisine. Bringing global culinary cultures in one place.
The restaurant highlights its parade of pizza, pasta, salads, cheeses beers, and wines that are both produced in the local and international. The themed nights are great for that "chillin' the night" evenings with family and friends.
3. Variety of menus served daily.
Breakfast, brunch, all-day and dinner menus offering specialty selection of entrées for different parts of the day. Apart from the premium wine selection, they also serve coffee and craft beers.
Here are some of the food they serve:
4. Bistro, not fine dining.
Do not be intimidated by how it looks, The Pyramid is classy but is surely not fancy. It is definitely your go-to bistro for casual wine and dining.
5. Surprisingly Affordable
Despite its luxury-looking structure, The Pyramid offers affordable wines and food. Food prices start at P100 while the wines at P250 and above per bottle.
6. "World-class" Wine Selection (from different countries).
7. Accessible Location.
The Pyramid is located at Central Bloc, Cebu I.T. Park, Lahug, Cebu City. Just right across eBloc 3, beside Yakski, and near to Sugbo Mercado I.T. Park.
8. Travel-worthy Attraction.
It will be a tourist destination, that's the least we could expect. It's all-white interior design is picture-perfect everywhere you look at, selfie-material wherever you pose at. Every angle is just instagrammable! Why travel to The Louvre in France if we have The Pyramid in Cebu. The bistro is sure to attract local and international jet-setters.
9. Enjoy lengthy stay. Long operating hours.
The Pyramid is open as early as 7AM to serve coffee and breakfast, and closes at 2AM to accommodate guests enjoying their drinks.
10. Art Gallery.
11. Open for exclusive events.
The Pyramid can actually be exclusively booked for weddings, debuts, corporate events, etc., and can accommodate up to 300pax.
12. Morning Yoga. Yes Yoga, you heard that right.
This is a shout out to Yoga lovers, fans, and to all those who need it. The Pyramid will be hosting a Yoga class every morning just before it opens. The Pyramid isn't your ordinary bistro, as well as Yoga isn't your ordinary exercise. Its benefits will reach even to your core, healing more than just physically but as well as mentally.
Live well and eat well in The Pyramid.
13. See for yourself.
The Pyramid is definitely the newest lifestyle and dining destination in the city. Words will never be enough to describe this elegantly affordable bistro than experiencing it for yourself.
The Pyramid Menu
The Pyramid Details
• Operating hours: 10AM to 3AM (Sunday-Thursday), 10AM to 4AM (Friday-Saturday)
• Cuisines: Filipino, American, Italian, Korean
• Contact information: [email protected] / Facebook Page
• Location: Central Bloc, West Geonzon Road, IT Park, Lahug, Cebu City (near Yakski BBQ / Sugbo Mercado)