Sounds surreal, we are now living in the modern times when we can get most of the things we want at our fingertips. Online information, social communication, online shopping — these are only some of the things we can conveniently access in the internet.
Although there are "side effects" in all this instant gratification concept, it cannot be denied it makes our lives so much easier and more convenient. Interestingly, with the rising popularity of online shopping, a Cebu-based startup company recently introduced CEBU GROCER – the first online grocery shopping in Cebu!
You read it right, ONLINE GROCERY SHOPPING that can save you a lot of time — save you from the horrible traffic of Cebu. And they GUARANTEE FRESH FOOD every single day!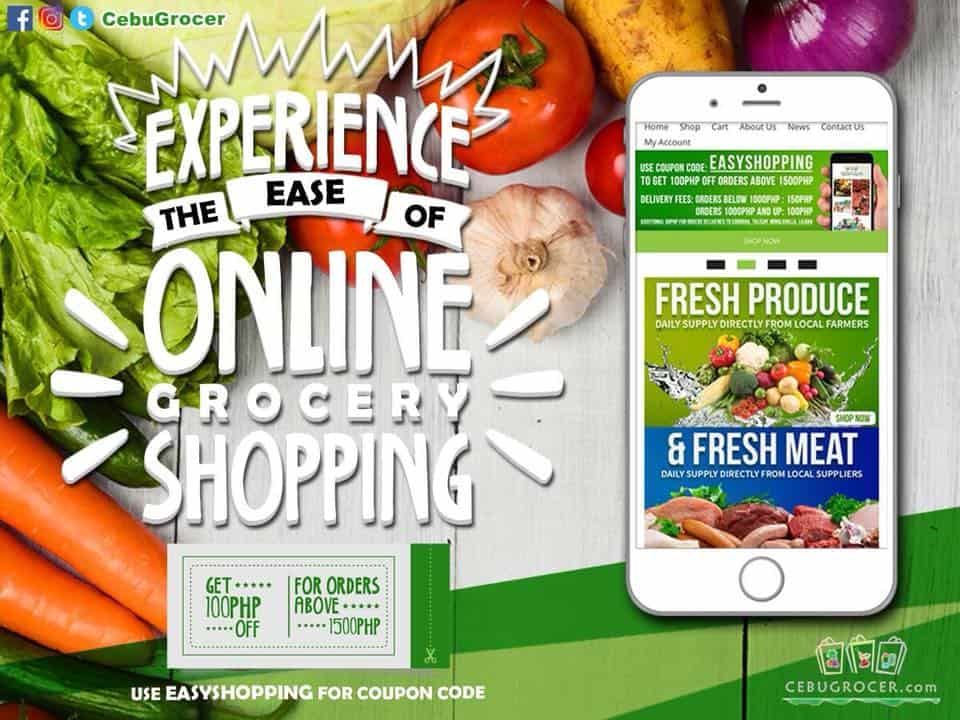 Still not convinced? Here are there 8 REASONS WHY you should try this newest breakthrough!
1. Avoid Cebu's traffic situation.
Driving and/or commuting in Cebu can be stressful especially during peak hours. The dreadful traffic jam makes it a big effort to do grocery shopping. However, doing it online alleviates the need to walk up and down store aisles. And you can log in any time — even at 4am am – and still have the advantage of a fully stocked store. Plus, going the delivery route saves you a trip to the store, which not only saves time, but gas money as well.
2. Cash/Credit on delivery.
Yes, that easy. You can pay through cash or credit card upon delivery of your good. Cebu Grocer also accepts paypal/credit card payments on their website.
3. It reduces unnecessary spending.
Grocery stores are designed to maximize impulse buys. Have you experienced queuing at the counter and finding a chocolate bar? And since it's near you, worse you are hungry and able to convince yourself it wouldn't hurt to grab one or two, you bought it by impulse. Sounds familiar?
4. No crowd.
When you are shopping online for groceries, you don't have to push through the crowd to get yourself to a shelf from where you want to pick something to eat. Shopping online gives you convenience because you can browse all you want without being disturbed by anybody.
5. Same day delivery.
Yes, there are actually items that can be delivered on the same day. Cebu Grocer's delivery team can deliver as far as Cordova, Consolacion and Minglanilla. You just have to relax and wait for your groceries to be delivered. But there are also items, that can only be delivered on the next day.
Another plus, if there are items not found in their website, just simply request and they can deliver.
6. Filipinos living abroad can buy groceries for their families in Cebu.
The best thing about Cebu Grocer is that they are always ready to send your love through your groceries to your family in Cebu. Not only it saves a lot of the points mentioned above, but they also give importance to family.
7. Guaranteed Fresh Daily.
Cebu Grocer delivers the freshest produce to your table at a very affordable price. Oven-fresh bread and pastries are prepared everyday, too.
8. Convenient Pick-up locations.
Cebu Grocer also has pick-up locations if you are nearby or on the go. No concierge fee. Just choose which location you prefer. Pick-up locations are:
• Robinland Business Center Ground Floor F.E. Zuellig Ave, Mandaue City, Cebu
• Shell Station Katipunan Tisa Labangon
• DIATOMS FUEL INCORPORATED. P Del Rosario Street, Cebu City,Cebu
Try Cebu Grocer today.They offer cash on delivery within Metro Cebu. AND take advantage of their P100 DISCOUNT on your orders with minimum spend of P1,500.