NOTICE: VisPop 5.0 2017 levels up, unveils Final 6. More details here.
Vispop is a nationwide songwriting campaign that encourages Visayan-speaking composers and music enthusiasts to write quality Visayan songs that speak of today's generation. It is set to put the Bisaya language and music in the mainstream consciousness of listeners.
The first batches of Vispop finalists and winners captured the hearts of not just Cebuano listeners but non-Cebuano speaking music fans all over the country as well. It produced well-crafted songs such as Duyog, Laylay, and Papictura ko Nimo, Guapo, Bok Love, Dili Pa Panahon, Labyu Langga, Buwag Balik, among others. The songs have been topping charts nationwide.
Now on its 4th year, Vispop is once again set to make waves with its new set of six (6) finalists meticulously chosen from among 360 entries from all over the country's Visayan-speaking regions.
The Finalists & their songs
Baklay by Jerika Teodorico
Damgo by John Cadelina and Irving Guazon
Imoha Ra Akong Kasingkasing by Sherwin Fugoso and Marajane Monton
Paghunas by Joseph Gara

Pep-Pep by Kenneth Corvera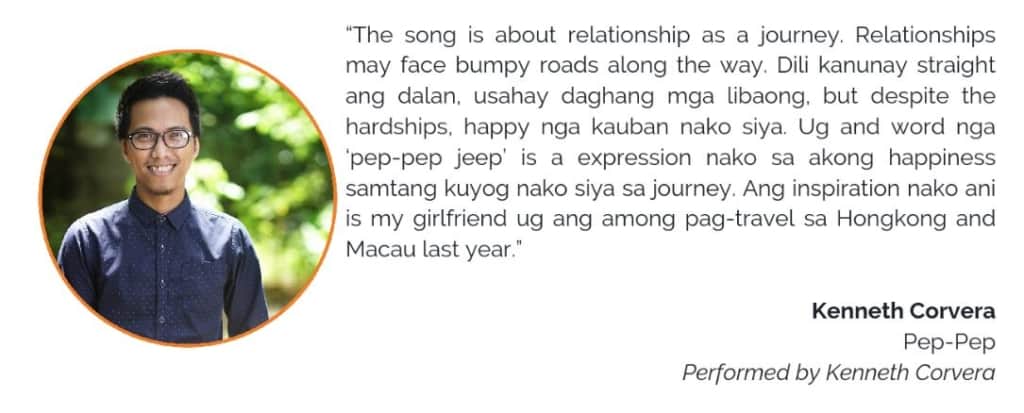 Suwat Ni Maria by Maria Salvaleon
How to vote?
Vote for your favorite Vispop 4.0 song to be this year's Netizens' Choice by liking and sharing the video posted on the Vispop page. For votes to be counted, 'like' the Vispop Facebook page first then 'like' or 'share' the video from there. In partnership with MOR Cebu 97.1, speak out and be heard by voting for the Listener's Choice Awards.
THE FINALS NIGHT
The VISPOP 4.0 Finals Night will be on June 18, 2016 (Saturday) at the Centerstage SM Seaside City. There will be live performances from the six finalists and other special guests will fill the night with love for the language and music.
For tickets inquiries and bookings, just head over to this link.
TRIVIA: Vispop is a brainchild of Artist and Musicians Marketing Cooperative, commonly known as ArtistKo, a non-profit, non-stock organization that supports individual creativity, skill and talent. Having artists, musicians and entrepreneurs as members, the cooperative aims to mount self-help mechanisms to provide benefits to all its members and continuously develop the local music and arts. ArtistKo's biggest project, Vispop, was conceptualized in 2009 and had its first staging in 2013.
Vispop is supported by Filipino Society of Composers, Authors and Publishers, Inc. (FILSCAP) and Cebu Chamber of Commerce and Industry, Inc.
NOTICE: VisPop 5.0 2017 levels up, unveils Final 6. More details here.