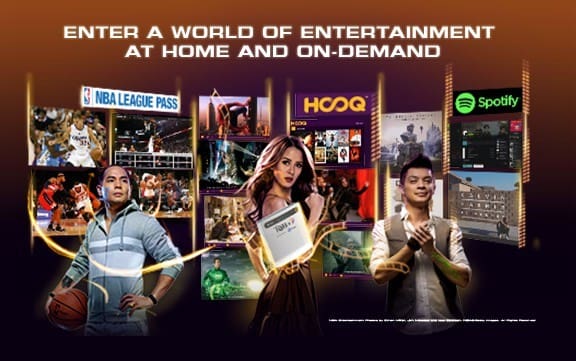 "It's a brave new world for broadband. We don't talk about speed anymore."
It's no longer about the speed; it's all about the content now. This is what one of the Globe Tattoo executives has always been pointing out during its Cebu media launch for Globe's latest home broadband offers. After ending its unlimited DSL offerings (yes, no more unlimited downloads and streamings), Globe Tattoo now attempts to entice customers with its entertainment bundles or exclusive contents.
Globe Tattoo's entertainment services include:
SPOTIFY for music streaming and downloading
HOOQ for local and foreign movies/TV series streaming and downloading
NBA League Pass for live and on-demand HD access to all NBA games
Meanwhile, here is Globe's latest entertainment-bundled DSL plans: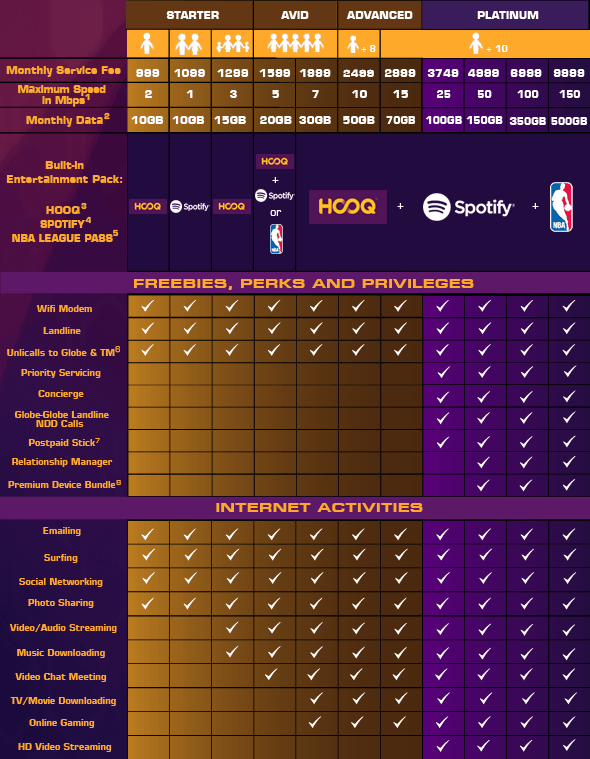 The main good thing I see in these new plans is that, aside from all the entertainment and convenience, it also saves us from pirate streaming and downloading at the very least. You can watch shows with peace of mind.
However, these entertainment plans can be tricky for an average user. One might think he can now watch movies or shows to sawa or access these unlimited contents without worrying about the data limit. Thus, he can easily fill up the data cap especially if he'd like to watch in high definition. And of course, these plans are apparently for usage at home where an average Filipino family consisting of 4-6 members lives. Subscribers really need to monitor and be careful with their online activities.
It seems that Globe is slowly adapting the pay per bucket policy for their subscribers as what the rest of the world is doing now.
FREQUENTLY ASKED QUESTIONS (FAQs)
Who can avail of the new Tattoo Home Broadband Plans?
New subscribers can avail of the new plans starting March 12, 2015. Existing subscribers can also avail of the new plans, subject to upgrade or downgrade policies.
Is this a limited offer?
This is a permanent offer.
Can I still avail of the old plans?
The old plans have been phased out and are no longer available.
I'm an existing subscriber. How do I avail of an Entertainment Pack?
You may avail of an entertainment pack by upgrading to a new Tattoo Home Broadband Plan or by availing of the add-on with a fee.
What will happen to my internet connection if I use up my data allowance?
Your subscribed speed will go down to 64Kbps.
What are Volume Boost Add-Ons?
This is an additional data allowance that you may purchase on top your base plan data allowance in order to continue browsing at your subscribed plan speed.
How much is a Volume Boost Add-On?

P50 for 1GB of data
P200 for 5GB of data
P300 for 10GB of data

Is there a way to check my internet usage?
We will start notifying you via SMS and E-Mail once you've reached 50%, 80%, and 100% of your data allowance. You'll be notified with a maximum of thrice a day on your data consumption.
Where can I apply?
New customers can apply via hotline (730-1010), online (tattoo.globe.com.ph), at the nearest Globe store or via a Globe Authorizes Sales Agent.
Existing subscribers can call the hotline (730-1000), visit the Globe store or log-on online (tattoo.globe.com.ph).
Is there a lock-in period?
Standard lock-in period is 24 months.
How much is the pre-termination fee?
Pre-termination fee is P2,500 plus twice your Monthly Service Fee.