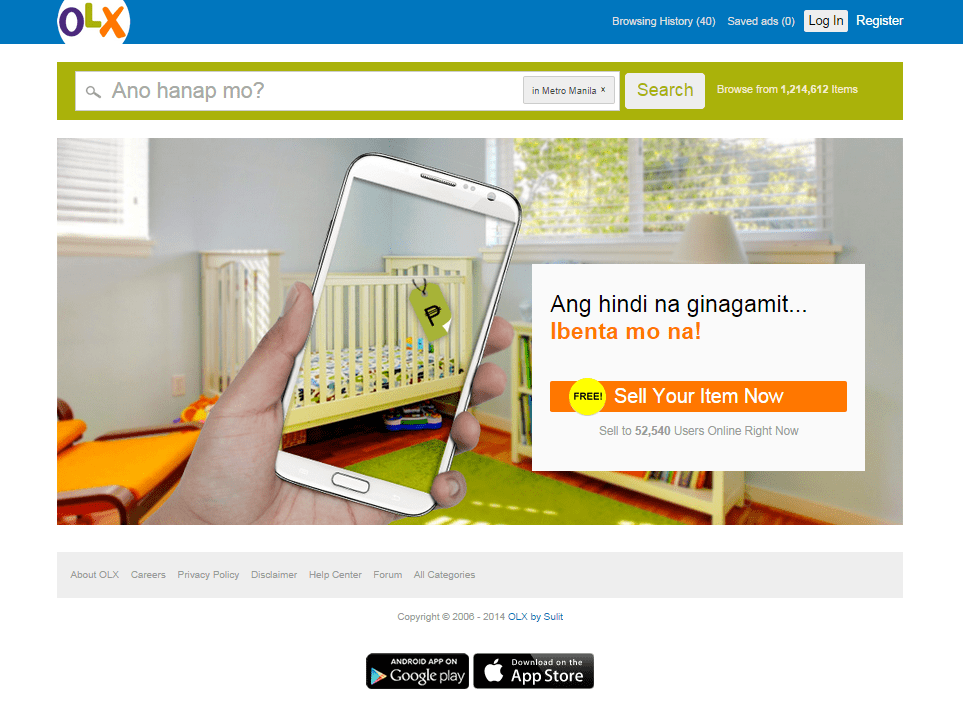 To be rich is something that's needed to be worked very hard. Well, not anymore! OLX had made it easy for you. You know OLX? Of course you do. And they're working on something big. Something made for you and something made for Cebu!
Of course I wanna be rich too but not selfish enough to keep this on my own. So you're saying you want to be rich? Want to know how? You just need a little Math. So now I present to you "THE YAMAN FORMULA"!
OLX.ph may not yet be around for far too long but you know sulit.com.ph has. I'm pretty sure you have quite an idea of what I'm about to tell you but wait, bigger, easier, faster or shall I mention the bonus too? Well, this is it, YAMAN FORMULA now spilling in easy steps in two easy ways.
STEP 1:
Go to OLX.ph on your desktop browser. If you love its old version, go to sulit.com.ph (it will redirect to olx.ph anyway.)
What are you going in that page? Yes, I forgot you are about to sell something? Something that you aren't using anymore or if you just need some money, then you are on the right page. Just follow the on-page instructions then you are good to go.
Don't you dare say that you don't have anything settled in the bottom of your cabinets or resting somewhere in your house. It's time to earn from your scraps, pre-loved items I mean.
We'll let assume that you want to sell a thing but you have no idea how much would it cost. Nothing to worry about, OLX.ph had figured that out already for you. At this juncture, I welcome you to the YAMAN CALCULATOR.
YAMAN CALCULATOR is your all around buddy to your richness. Check the standard selling price of pre-loved item. Even so, you have all the freedom to price your things. It has all the most sold items, from appliances to your footwear. Name it, now you don't have anything to worry about prices.
Another cool thing about this YAMAN CALCULATOR is "It can compute how rich you are or how rich you can be!" After I checked the items that I own It says "You have Php 202,900 hidden inside your house"! It shouldn't be lying or else I'm gonna sell all these stuff that I own to see it myself how rich I am. It's just as easy as answering a playbuzz quiz or filling an entire paper with your name. Try it yourself. You'll be amazed and you'll surely love to sell those things that you are not using.
Back to the YAMAN FORMULA steps. After filling the price sheet for your item wisely, wait then till your item turn to cash running to you. I mean "running" because OLX is optimized for transactions that can be done in your own locality. Of course, who will bother deal with a pre-loved XBOX 360 from Manila if there is another one from Cebu? Online selling – Made easier just for you.
If you're reading this, then I assume you are from Cebu. Well, good news for you random bisaya friend!
Cebu, at this point that you are reading this has more than 10,000 users. If you want to sell a bike or a phone then your customer is just minute s or an hour away from you. Well if it turn out that you are the customer, same applies. Search for a pre-loved iPad. We don't know, your neighbor is selling on OLX.ph. it is a whole lot easier and accessible. The "Yes Yaman" campaign to encourage Cebuano's to go online selling has only started earlier this year's March. You may not mind, after another month, a million more will be into this faster YAMAN solute on.

STEP 2:
This is for you if you have a smartphone. You don't have one? Still fine, the browser method will still do great for you. OLX now have an android and iOS application that is made to make your online selling easier and handy.
[nggallery id=45]

Search for OLX in App Store or Play Store and be amazed how many more are into online buying and selling by OLX. The app brings all the OLX features from a monitor screen to your hand. Just a few taps away. The mobile application has even a more secure and less hassle interface. Everybody may not have an email address but everyone has a cellphone number of course. The solution may be not look big but oh, it is. Your transection with your buyer or your seller is just a text away. Too awesome for OLX to bring it to this level of comfort just for you.

That's it fellas. I may have made the story long, don't misinterpret anything of it or else I will be the only one who can benefit from this good news OLX has brought to Cebuanos.
Now what are you waiting for? Check your basement, your cabinets and hidden treasure chests.
Say Yes Yaman! Yes to online buy and sell. Yes to OLX.ph!