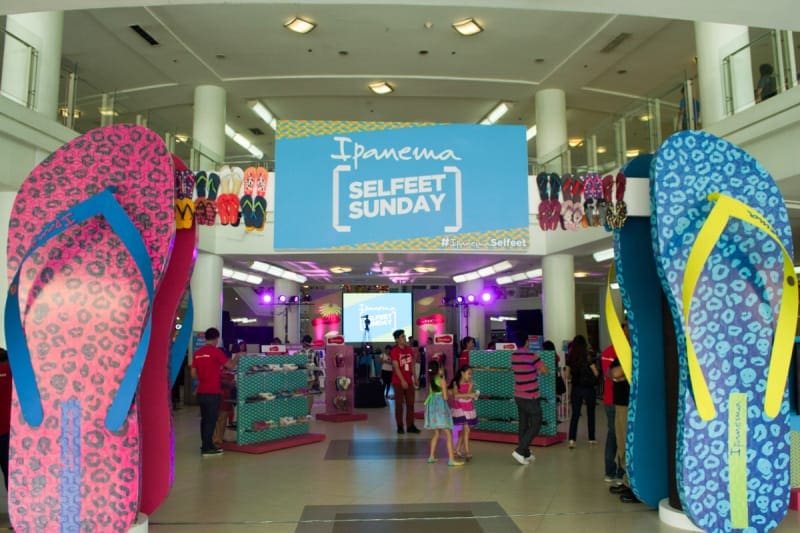 As well all know, Philippines has been recognized as one of the "Selfie Capitals" of the world. And as such selfie fever takes over our country, iPanema — a Brazilian flip-flop brand just puts an exciting twist to the phenomenon. Brace yourselves and be ready for the #IpanemaSelfeet – a campaign challenging all of us to take our very own selfeets using our awesome Ipanema slippers.
Well, even if people were just strolling around the mall, wanting to just have a sip of coffee with friends, Ipanema did not want them to stop there. Because even the mall goers were also treated with live entertainment, fun games, discounts, and raffles with awesome prizes inclduing Ipanema flip flops. I was there to witness the happy faces of the mall goers upon receiving their prizes. Wait! Did I mention that not only the winners did go home with the Ipanema filp flops? Even the not-so-fortunate-to-win, did! See? Ipanema surely wants everyone to just enjoy, and have fun! Win-Win situation for everyone it is!
Not only did the fun end in Ayala, it continued ONLINE! For those who were able to upload their selfeets on Facebook and Instagram with the hashtag #IpanemaSelfeet got freebies and had a chance to win special prizes including a 20% discount at Ipanema affiliate stores.
Ipanema definitely has its stylishly chic and colorful designs reminiscent of Brazil, and who will ever forget its signature buttery-soft sole? Ipanema is a perfect fit for Filipinos who are adventurous-at-heart or to those who are just looking for comfort. For more information, visit fb.com/IpanemaPhilippines.