Undoubtedly, one of the most popular — talking about worldwide recognition — tourist attractions in Cebu is the Whale Shark Watching or Swimming with the Whale Sharks in Oslob, Southern Cebu. And here's everything you need to know about this famous yet controversial spot in Cebu.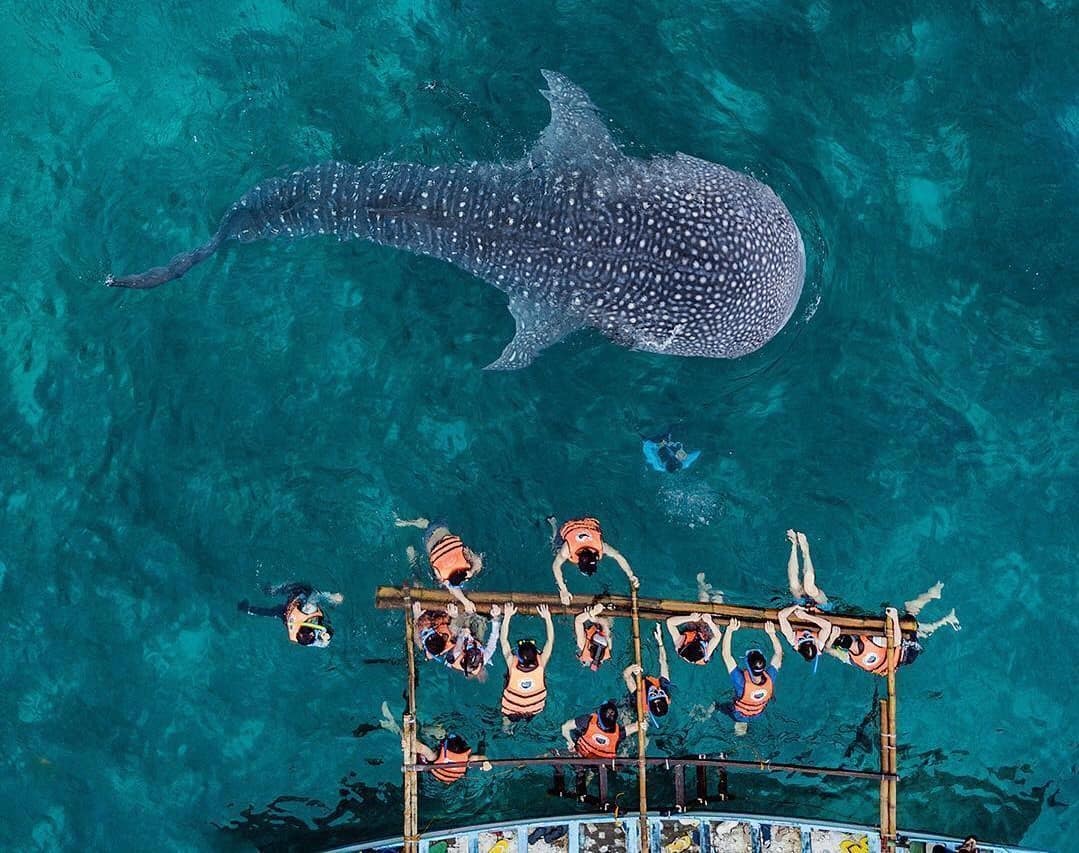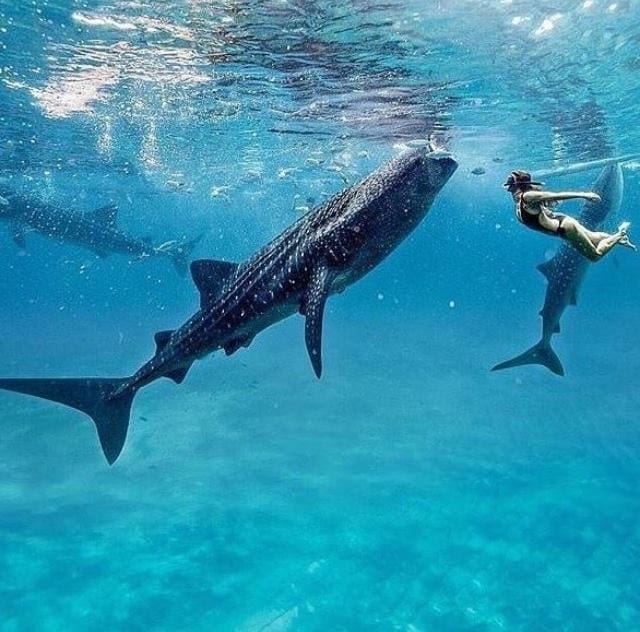 [box type="shadow" align="" class="" width=""]
TABLE OF CONTENTS:
1. Schedule and Fees
2. Rules and Regulations
3. Actual Photos
4. Quick Facts
5. How to get there?
6. Where to stay?
7. Frequently Asked Questions
[/box]
SCHEDULE & FEES
Schedule:
• Whale Shark Watching is available daily from 6:00 AM to 12:00 PM only.
Fees:
| TOURISTS | INCLUSIONS | PRICE |
| --- | --- | --- |
| Filipino Tourists | Whale watching (no swimming) + Life Jacket | No longer available |
| Filipino Tourists | Snorkeling with the Whale + Life Jacket | ₱1,000 or ~ USD 21 |
| Foreign Tourists | Snorkeling with the Whale + Life Jacket | ₱2,000 or ~ USD 42 |
NOTE:
The activity is good for 30 minutes only.
Diving and snorkeling are limited in time and people. The activity is by batch.
TIP: If you don't want to wait in the line for too long and avoid the horrible traffic in the city and the southern parts, make sure to leave Cebu City or Mactan at around 2 or 3 AM.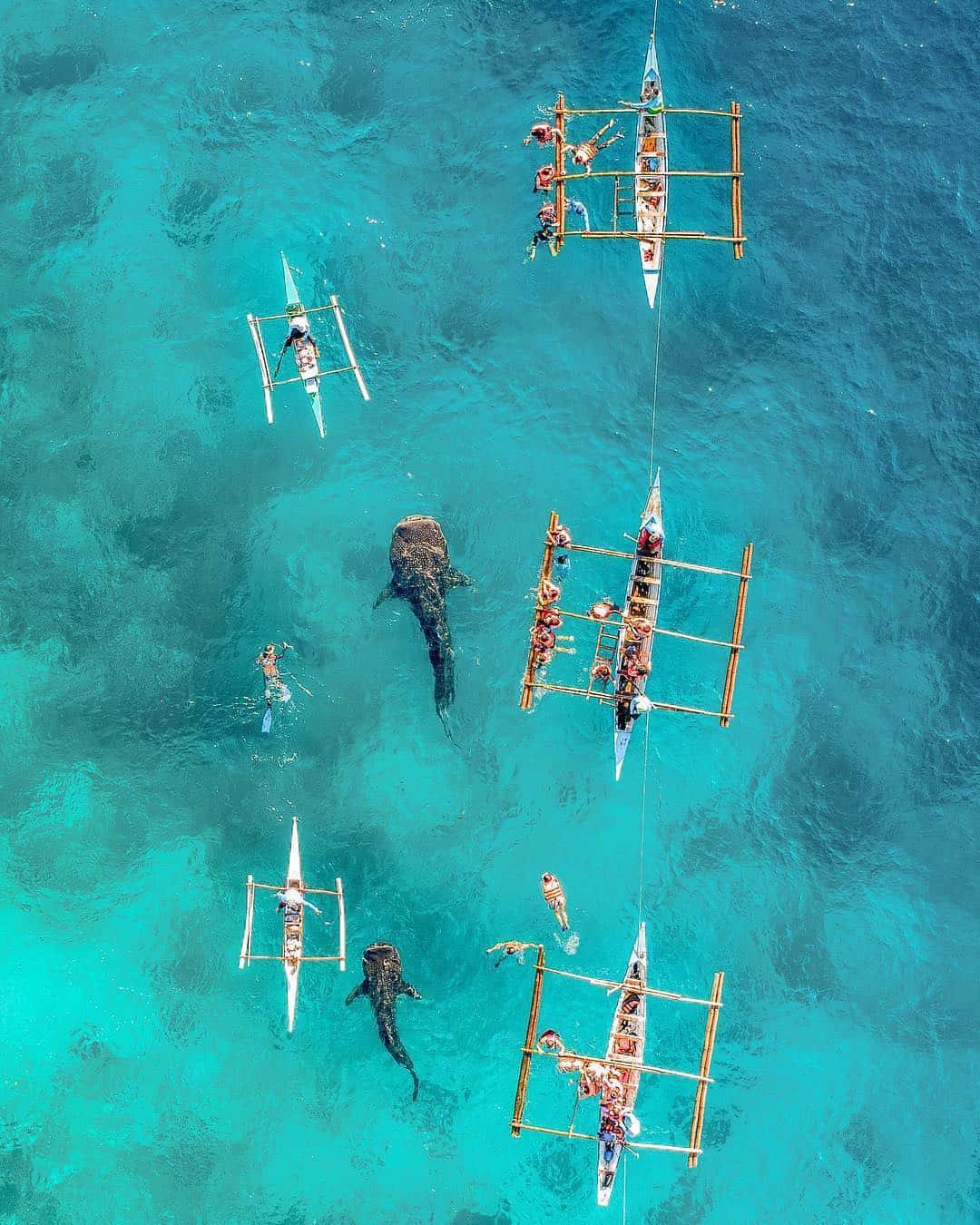 THE RULES
All whale shark watchers must undergo orientation at the Briefing Center on the rules for interaction with whale sharks.
No feeding of whale sharks by unauthorized personnel.
Do not touch, ride, or chase a whale shark.
Do not restrict normal movement or behavior of the shark.
Do not use flash photography.
Do not create splash when entering the water.
Do not wear sunscreen if you are going to enter the water.
Motor boats are prohibited in the area. Only paddle boats are allowed.
Viewing is limited to 30 minutes.
Maintain a minimum distance of 5m from the head, 6m from the tail (this differs from the 2m from the head, and 5m from the tail stated in the ordinance).
Actual Photos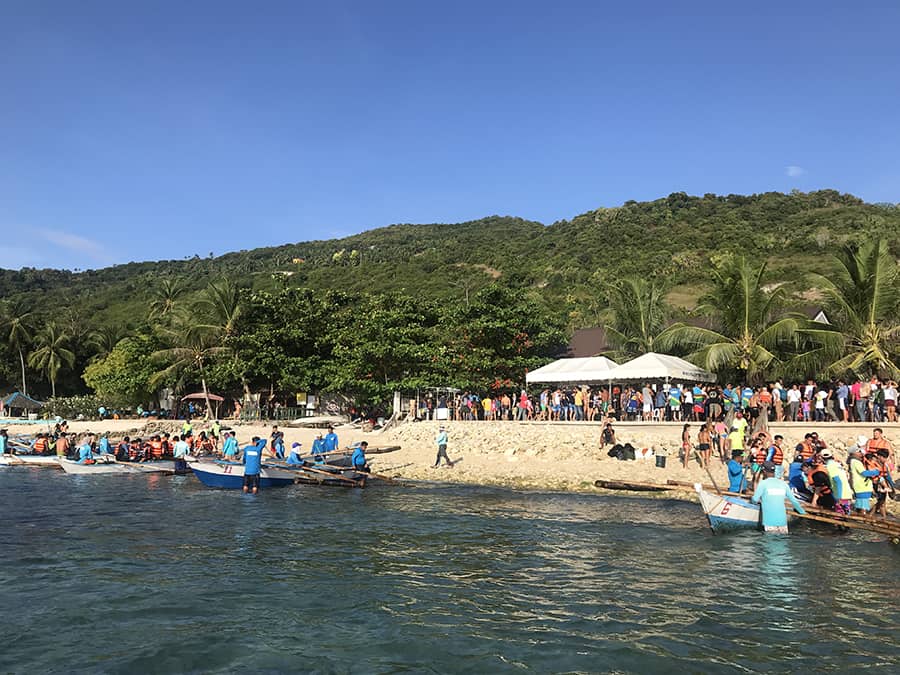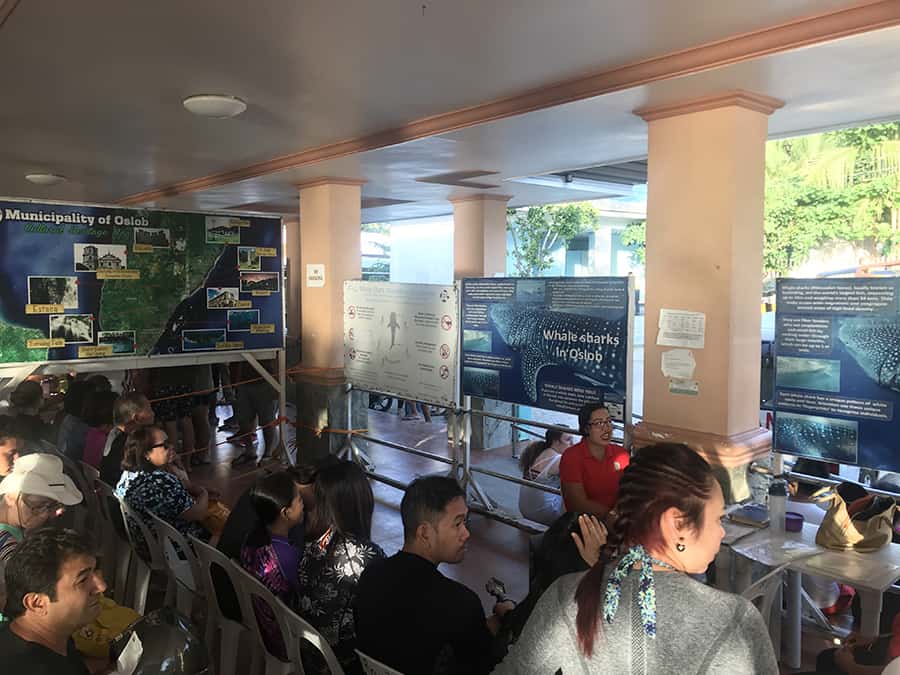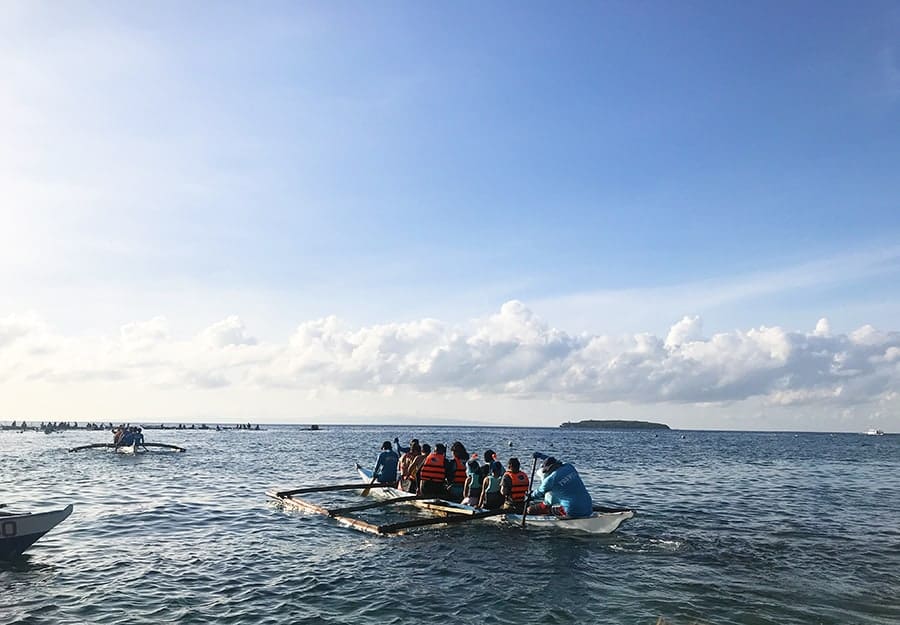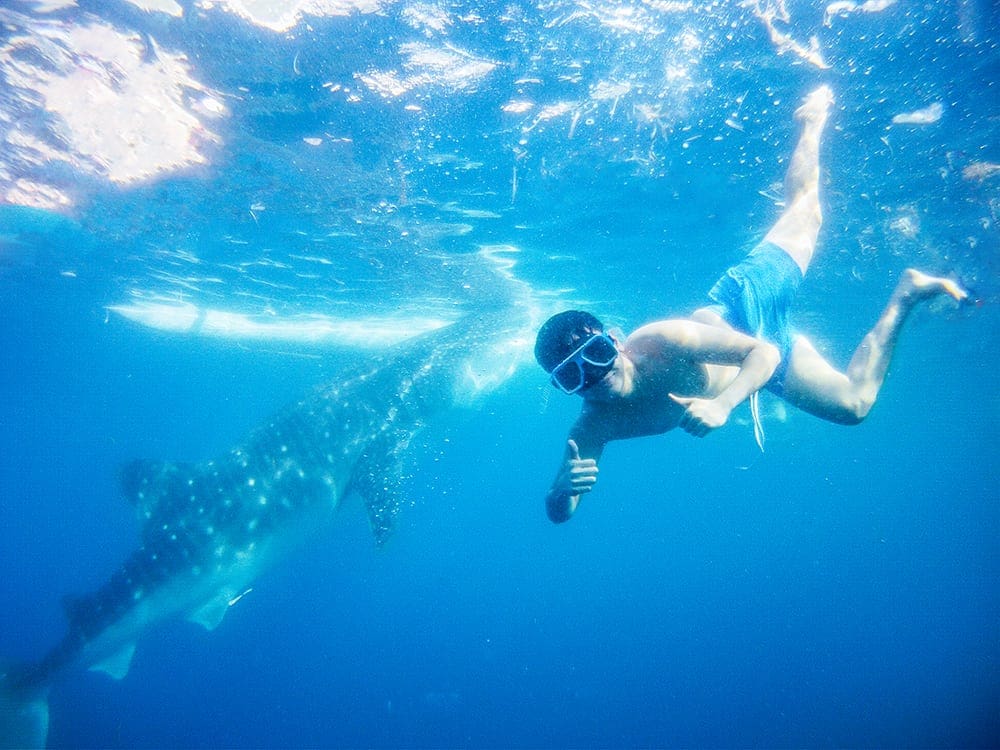 QUICK FACTS:
[dropcap]1[/dropcap]
The activity site is situated in Brgy. Tan-awan in the town of Oslob, a remote part of Cebu that is 3-4 hours away from the city or 4-5 hours drive from Mactan Airport.
[dropcap]2[/dropcap]
Diving and snorkeling are limited in time and people, and done by batch. Each batch has 30 minutes to watch or swim with the whale sharks. Prior to that, there is an informative talk and presentation about the Whale Sharks and STRICT RULES to be observed during the activity.
[dropcap]3[/dropcap]
All the Whale Sharks at the Oslob Whale Shark Snorkel tour are wild animals and come and go as they please. The floats you see on the surface are merely marking the area for motorized boats to stay away.
[dropcap]4[/dropcap]
All the boats used in the activity, at the feeding area, are paddled using wooden oars — leaving no harmful chemicals unlike boat propellers.
[dropcap]5[/dropcap]
There are marine biologists in the area monitoring the water activity. Images are taken each day in water and using astrological mapping – map the whale shark spots.
[dropcap]6[/dropcap]
The Whale Shark Watching tour provides many benefits including, but not limited to, providing a larger source of income and employment to a town that historically has a high unemployment rate and also a knock-on effect for the entire economy of Cebu. It encourages the local and foreign visitors alike to advocate in the preservation of the Whale Sharks and minimizes the fishing of these gentle giants in many countries.
Online Booking
Pre-booking is required to experience this popular attraction in Cebu. But it's easy to book online.
Just head to the official booking website of the Cebu Provincial Government here: https://discover.cebu.gov.ph/tour/oslob-whaleshark-interaction/
How to get there?
BY BUS: From the South Bus Terminal (near Emall), ride a Ceres bus going to "Bato-Oslob". All buses bound for Oslob operate 24/7. Bus fare is ~₱155 /head (one-way). Inform the driver to drop you off at the main Whale Shark activity site.
BY CAR: Road trips are fun, especially if you're going south. Make sure to navigate via Waze or Google Maps and set your destination to "Oslob Whale Shark Watching".
BY VAN RENTAL / TRAVEL AGENCY: If you want a hassle-free trip and want to make the most out of your vacation, it's best to book a travel agency. You can check out our trusted travel partner: SquadPH Tours and Travels. They offer affordable tour packages with options for 1 Day up to 3D/2N tours.
Where to stay in Oslob?
Hotel Sebastian Oslob

Starts at 1,600 PHP

Issa's Haven Resort

Starts at 1,250 PHP

Seascape Beach Resort

Starts at 3,000 PHP

Seafari Resort Oslob

Starts at 1,895 PHP
FREQUENTLY ASKED QUESTIONS:
1. What type of clothes do I need to wear?
There are no rules that specifies on what to wear, as long as you are comfortable with your outfit however swim wear is better especially if you go snorkeling.
2. What do I need to bring?
Extra Clothes
Rush guard or Swim Suit (but not mandatory)
Towel
Underwater Camera
3. Do I need to make a reservation?
No for walk in guest, first come first serve basis is followed. You only need to make a reservation from us if you avail our private tour package.
4. Are there any restaurants and room accommodations in the area?
Yes there are few restaurants that offers variety of Filipino dishes and some are foreign cuisine. For room accommodation reservation and rates please click here.
5. Are there other nearby tourist spots we can visit?
Yes, namely:
Tumalog Falls
Sumilon Island / Sandbar
Cuartel
Immaculate Concepcion Church
Baluarte
6. Do you have a package tour that includes the Whale Shark Watching?
Yes, you can book through our trusted travel partner – SquadPH Tours and Travels for an affordable and hassle-free trip.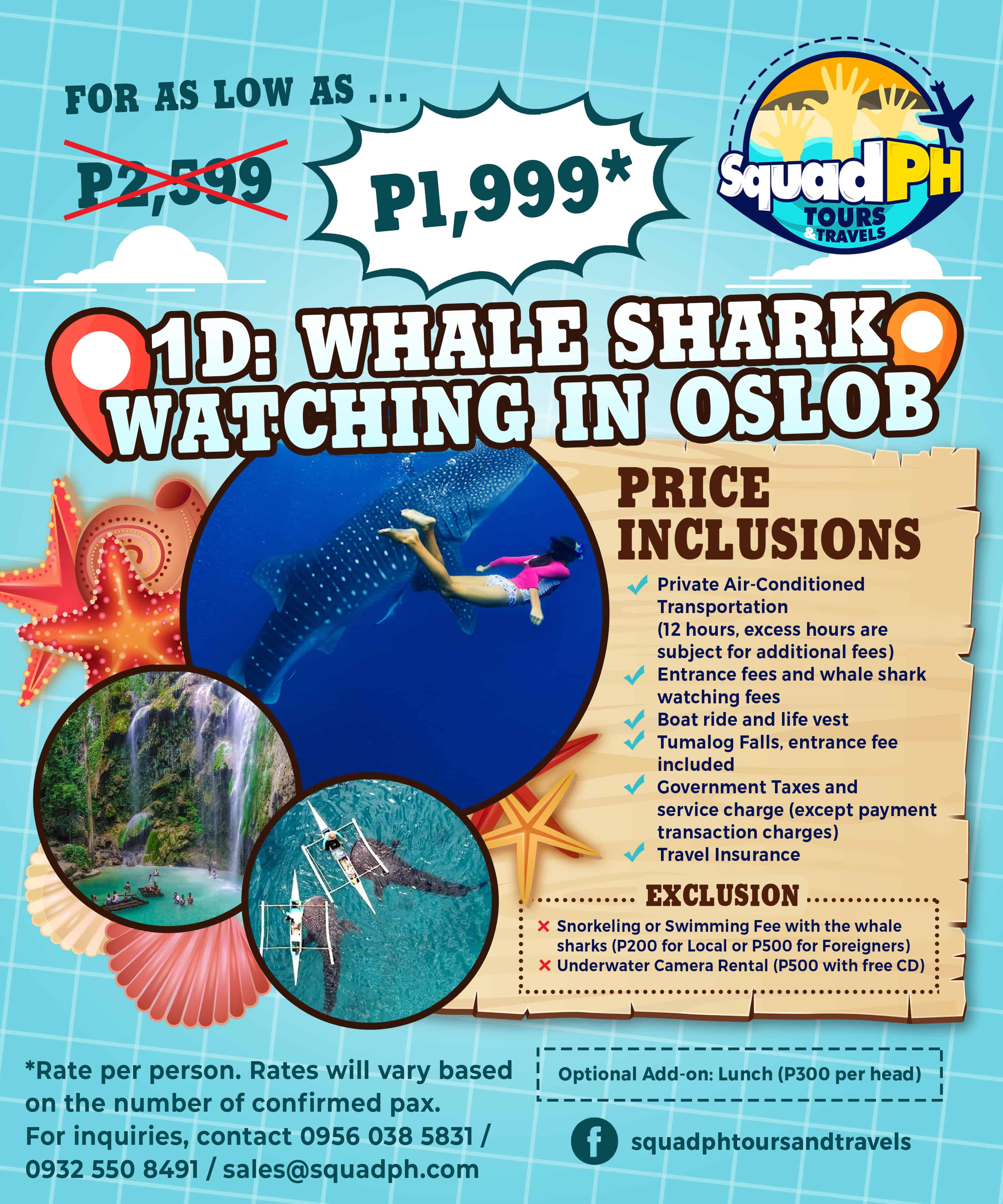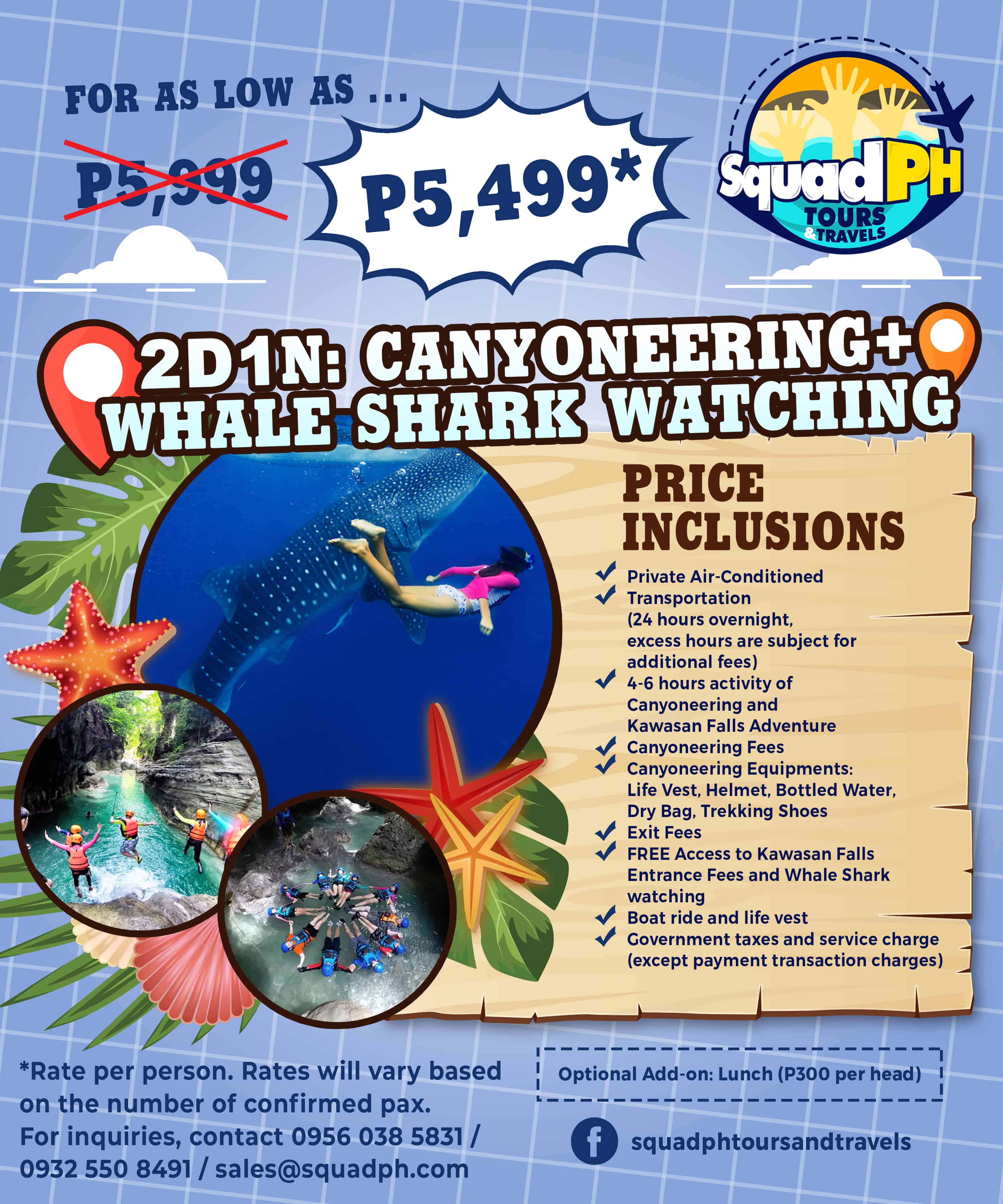 [box type="shadow" align="" class="" width=""]
TABLE OF CONTENTS:
1. Schedule and Fees
2. Rules and Regulations
3. Actual Photos
4. Quick Facts
5. How to get there?
6. Where to stay?
7. Frequently Asked Questions
[/box]