Exploring the wonders of southern Cebu can really take a toll on the wallet. Fortunately for everyone, Stay N Save in Oslob offers affordable and relaxing accommodation to allow more budget and time for the tourist attractions.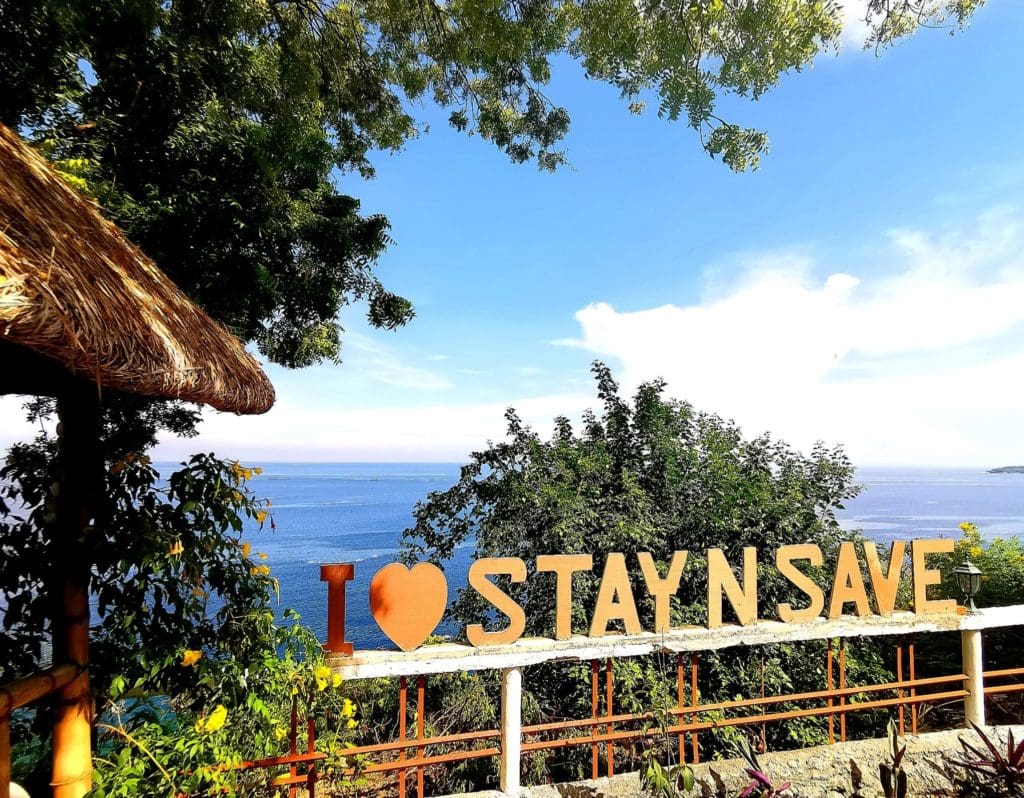 Stay N Save is a secluded nature glamping paradise in Oslob with a scenic view of the ocean. Their resort aims to provide respite to weary travelers who are looking for a place to stay for the night before proceeding to visit other attractions.
Although it is considered as a resting point, the mesmerizing views and rustic vibes of the place makes it an attractive sojourn by itself. The highlight of their resort is the tranquil morning atmosphere filled with claps of waves and the cool morning breeze.
Their rooms also compliment the place with their glamping tents, teepee rooms, and tree houses serving as the private quarters of the guests.
At the tip of the resort – just 226 steps away from the main resort – is a diving area with low-lying rocks acting as a barrier from the waves. The clear turquoise waters make this spot a favorite hangout place after a full day of exploring.
The cool temperature of the sea will surely be therapeutic to sore backs and feet. The scenic image of the sea and sky painted at the front gives the place a calm atmosphere with the spectacular and unobstructed view of the ocean and the distant horizon acting as the centerpieces.
Moreover, Stay N Save is equipped with a mini-resto bar that serves hearty meals and drinks that can be consumed while basking in the sea breeze and the verdant surroundings. They give the guests the option of eating in their dining area or the staff could bring the food to the rooms.
Stay N Save also has a special service for guests who want a special date dinner prepared for their loved ones and it comes with the preparation of a romantic dining area; just tell them ahead of time.
Be it affordable rooms, romantic dinners, or just an overall relaxing experience, Stay N Save ticks everything that's needed for a quality yet affordable sojourn.
RATES & OTHER INFORMATION
ROOM RATES
Fan Rooms
Glamping Double: P800 per night for 2 persons
Glamping Twin: P850 per night for 2 persons
Glamping Triple: P1,100 per night for 2 persons
Glamping Quadruple: P1,400 per night for 2 persons
Air Conditioned Rooms
Standard Double: P1,500 per night for 2 persons
Bunkbed Room: P1,200 per night for 2 persons
Budget Double: P1,300 per night for 2 persons
Teepee Double: P1,400 per night for 2 persons
Tree House Double: P1,500 per night for 2 persons
Family Tree House: P3,200 per night for 2 persons
Seaview Suite: P2,100, w/ balcony per night for 2 persons
Family Suite: P3,000, w/ balcony per night for 2 persons
Junior Suite: P2,000, w/ balcony per night for 2 persons
Cliffside Suite: P2,500, w/ balcony per night for 2 persons
OTHER INFORMATION:
HOW TO GET THERE?
Exact location: N. Bacalso Ave, Tanawan, Oslob, Southern Cebu — 3-4 hours away from Cebu City.
BY BUS: Find your way to the Cebu South Bus Terminal (as of writing, located in Lantaw SRP). Ride any bus that's bound for Oslob. Bus drivers are familiar with the place so just ask the driver to drop you off at Stay N Save.
BY CAR: Navigate with Waze or Google Maps and set your destination to "Stay N Save" in Oslob, Cebu. Parking space is available upon arrival.
☞
Up to 50% OFF on nearby hotels in Cebu.
IMPORTANT NOTE:
The rates, contact details and other information indicated in this post are accurate from the time of writing but may change without Sugbo.ph's notice. Should you know the updated information, please message us on
Facebook
.