It is a known fact that the island of Cebu is in itself a natural wonder with beautiful destinations scattered all over. Aside from its natural gifts, various private corporations in cooperation with the local government are working hand-in-hand to create progressive strides to make the province a better place to live in.
Unfortunately, the COVID-19 pandemic has put the world to a stop and locked people in the corners of their homes depriving every one of the chance to explore the wonders of Cebu. With the easing up of lockdown protocols in the Cebu Province, Cebuano tourism spots are gradually opening their doors to the public under "new normal" guidelines.
To ride along the waves of uplifting news as the city recovers, here are 16 must-visit attractions in Cebu this sumer:
1. Cebu Safari & Adventure Park
Cebu Safari & Adventure Park was one of the country's most-awaited attractions during its opening and has been frequented by a great number of tourists since then. It is a world-class zoological garden found in the mountain barangay of Brgy. Corte, Carmen, Cebu – 50 km north of Cebu City.
It covers 170 hectares of land area which makes it the largest zoological garden in the country and also one of the biggest in Southeast Asia. The park has 111 species of animals and over 1000 wildlife present that are compliant to international standards. Aside from various fauna, the park also hosts a number of flora from all over the world and various adventures that will make the trip much more worth it.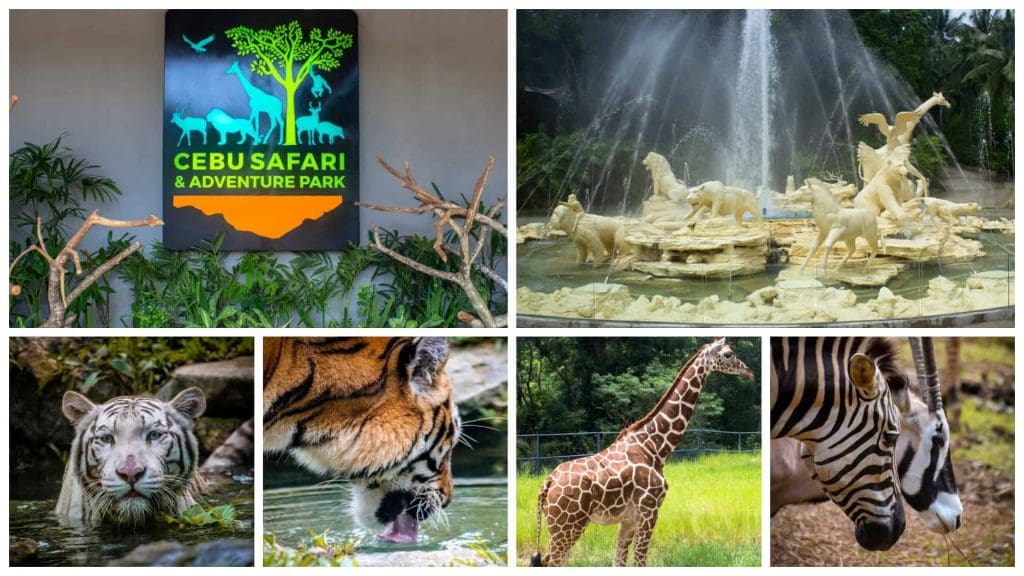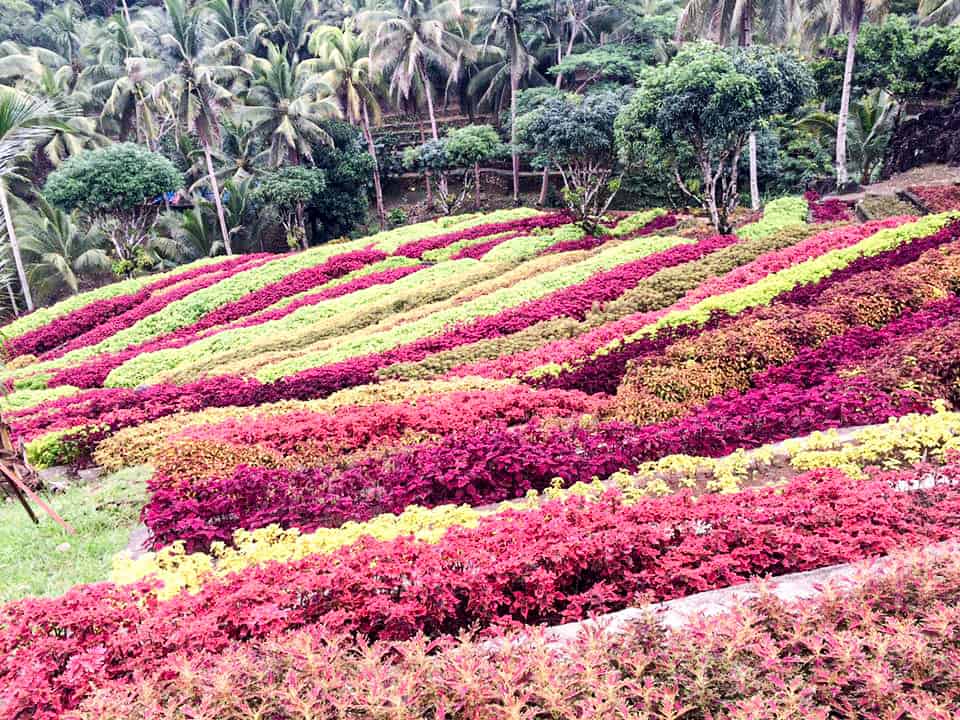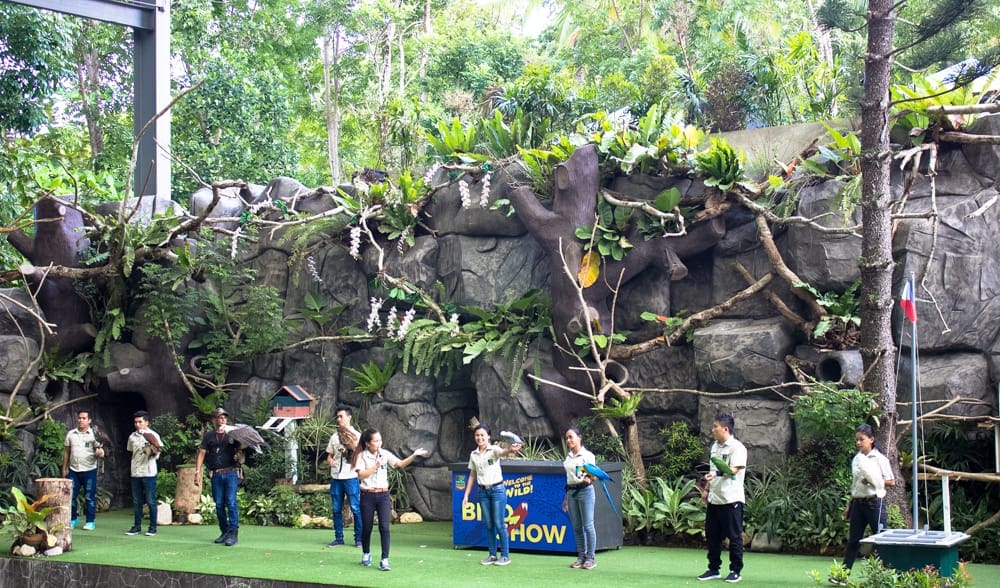 STATUS: Open, online reservations only
Exact Location: Toril, Corte, Carmen, Northern Cebu — approx. 2 hours away from Cebu City.
ENTRANCE FEES
Adult: P800 per head
Kids (2-3ft): 50% Discount
Kids (below 2ft): Free
Senior Citizens & PWDs: 20% Discount
Contact Information:
2. Cebu Ocean Park
Cebu Ocean Park is a gigantic aquarium opposite the SM Seaside Cebu that is one of the most famous attractions in the city. It is the first marine park to emerge in the Visayas and Mindanao Regions. The Ocean Park is 1.5 hectares big and serves as an aquarium for various aquatic animals and other species of rescued animals. It is in coordination with the Department of Environment and Natural Resources (DENR) to provide a safe haven for rescued non-aquatic animals that were captured and were victims of illegal trade so every visit to the park is actually very helpful in taking care of these animals.
Cebu Ocean Park is divided into multiple areas with different fun-filled activities such as animal shows, fish feeding, sea walking, viewing the fish tank, and many more. Moreover, they have function rooms which highlight the park's azure waters that will surely enhance any event or celebration.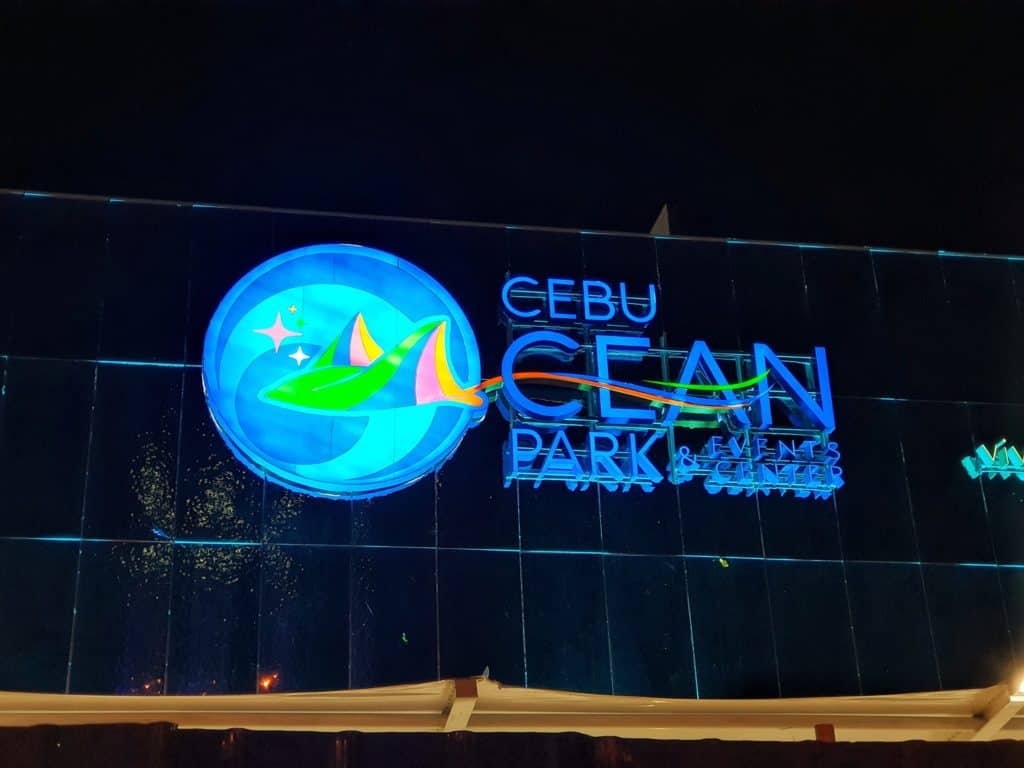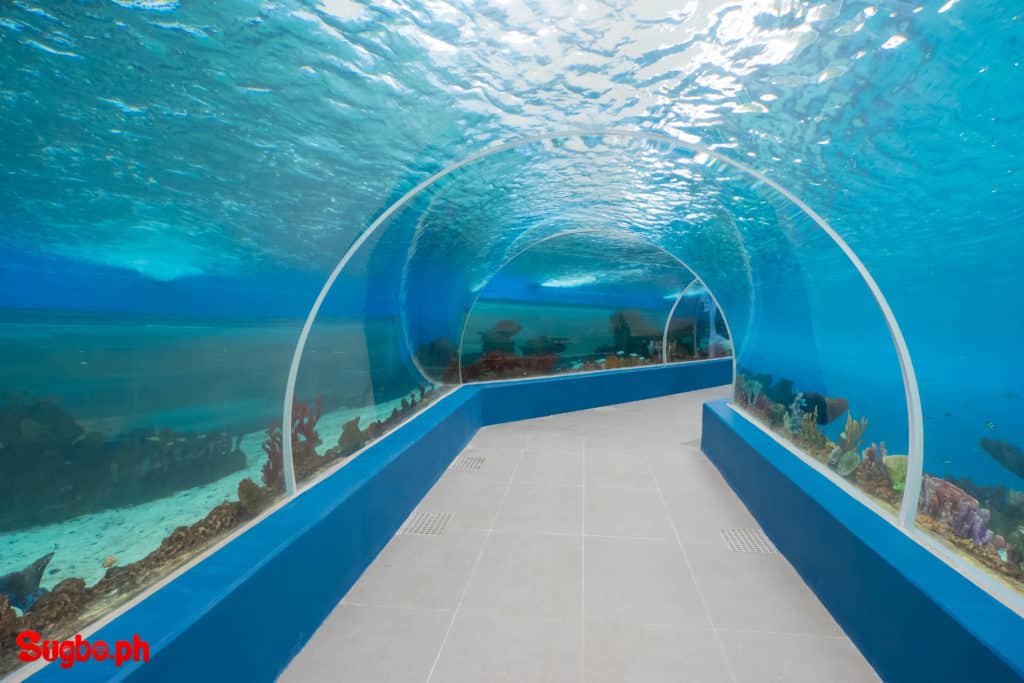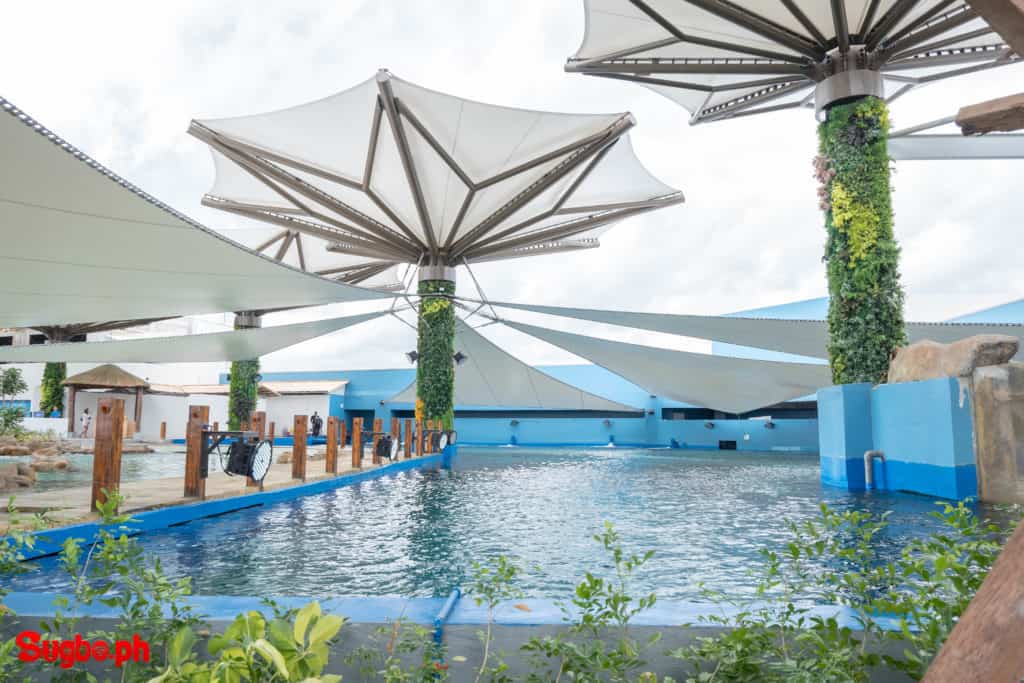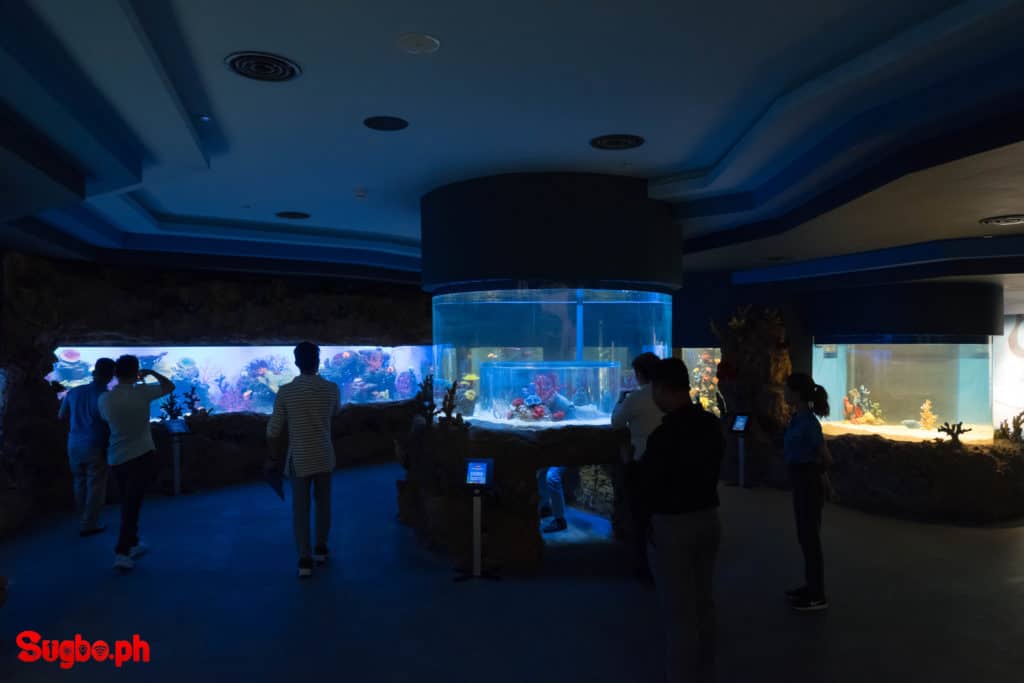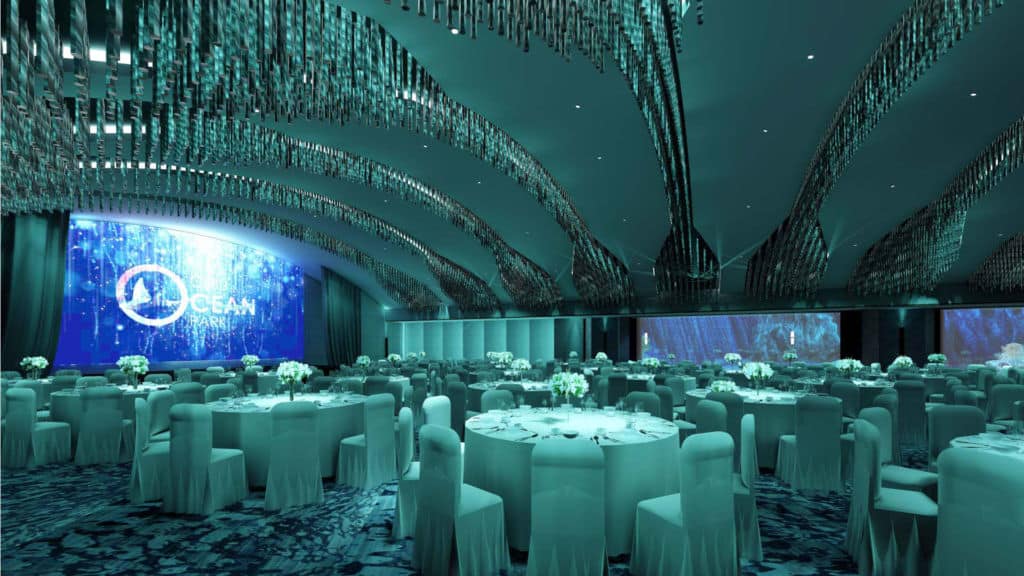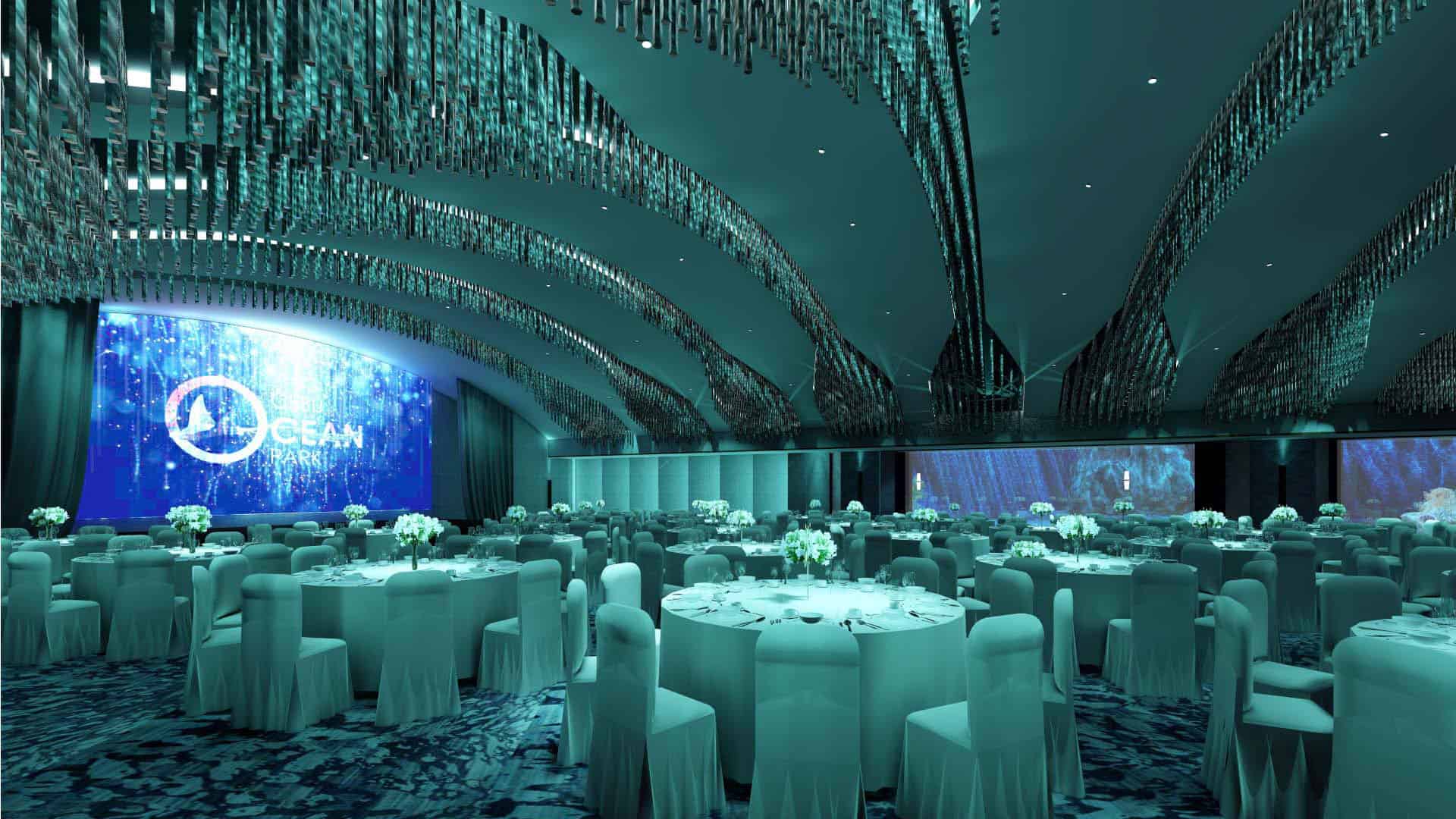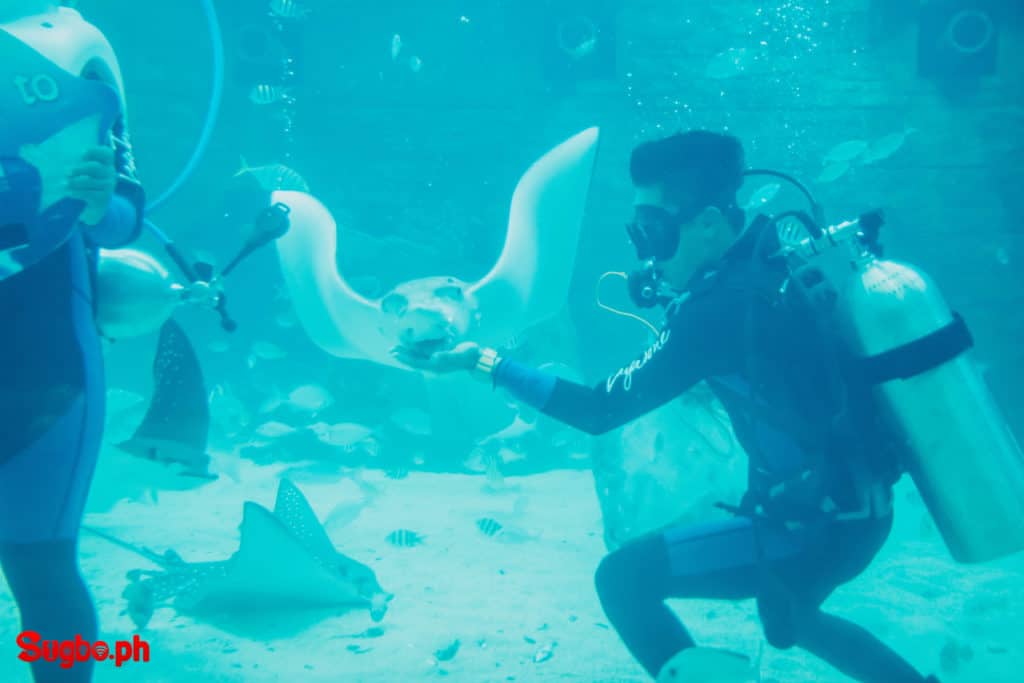 STATUS: Closed
Exact Location: SM Seaside Complex, South Road Properties (SRP), Cebu City — beside the San Pedro Calungsod Chapel, at the back of SM Seaside City Cebu; 15 minutes away from Fuente Osmeña Circle, 30 minutes away from Ayala Center Cebu.
ENTRANCE FEES
Regular: P800 per head
Local Resident (Weekday Rate): P600 per head
Kids (below 2ft): Free
Contact Information:
3. Anjo World
Anjo World Theme Park is a world-class amusement park and holds the title as the largest theme park in the entire visayas. It is a park that will take anyone on an emotional roller coaster of excitement, nervousness, and a little fear with 12 rides that guarantees thrilling fun. Visitors will be staring at the sky with their enormous and towering rides especially on their 200-ft Ferris wheel that has a panoramic view of the city at the top.
Majority of the rides in Anjo World are truly extreme and will give a tickling sensation that will just make anybody scream – not good for the faint of heart. Whichever adrenaline-inducing ride you choose to experience, you will be walking out of the park ecstatic and with new memories with friends and family.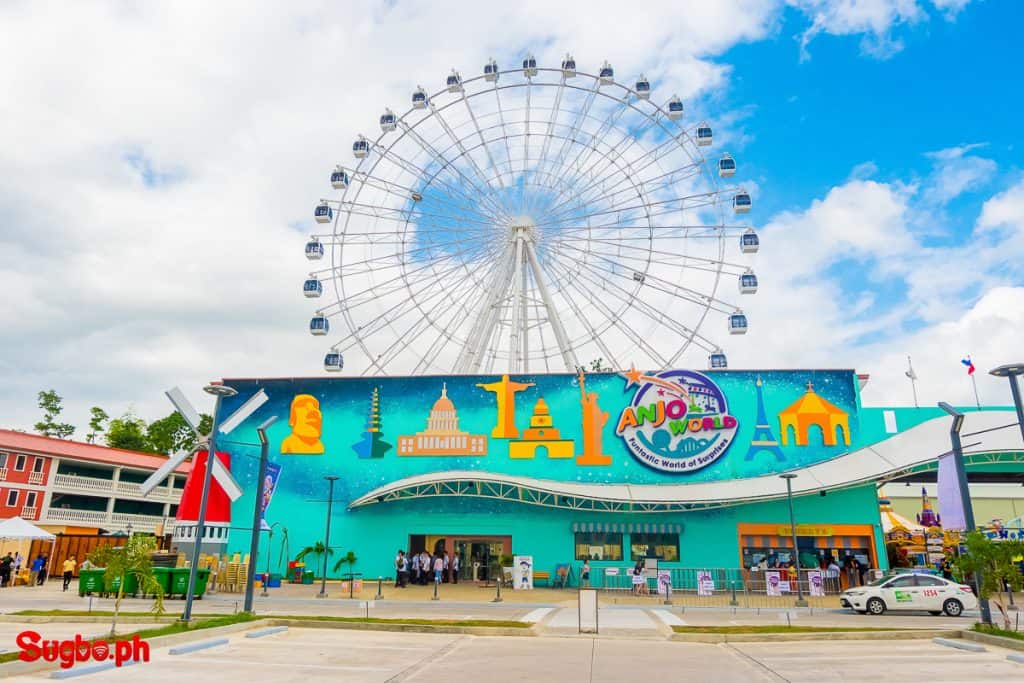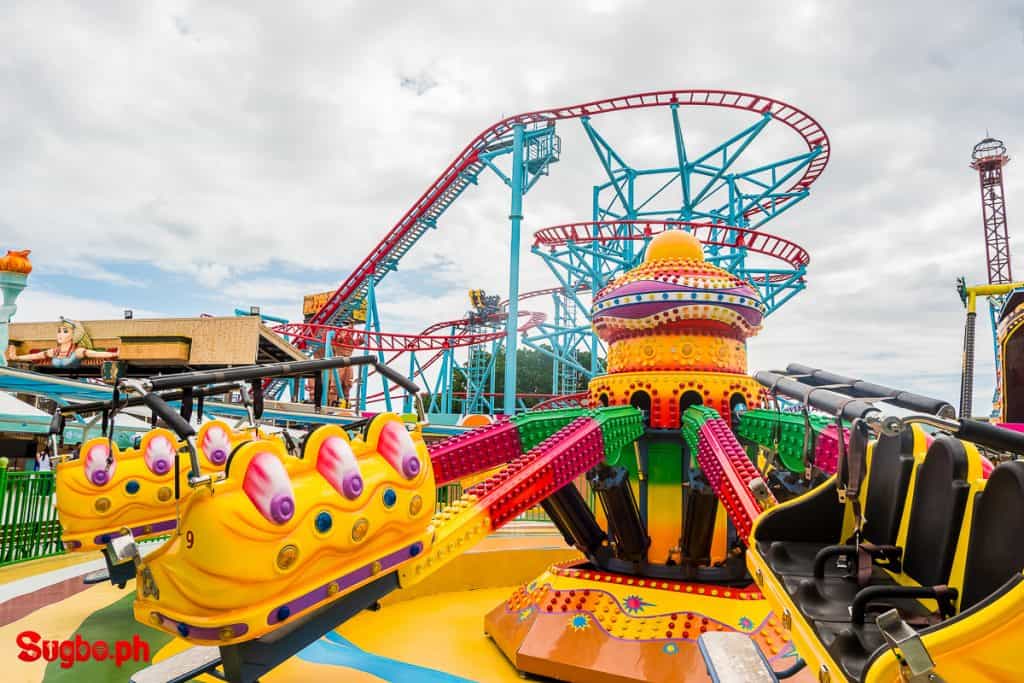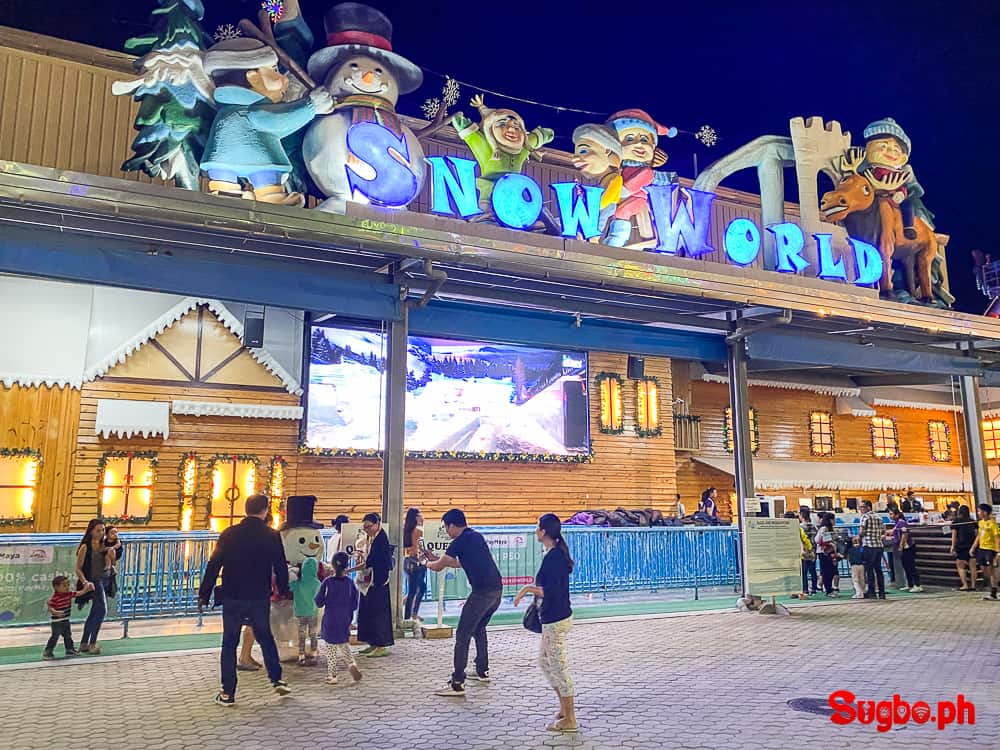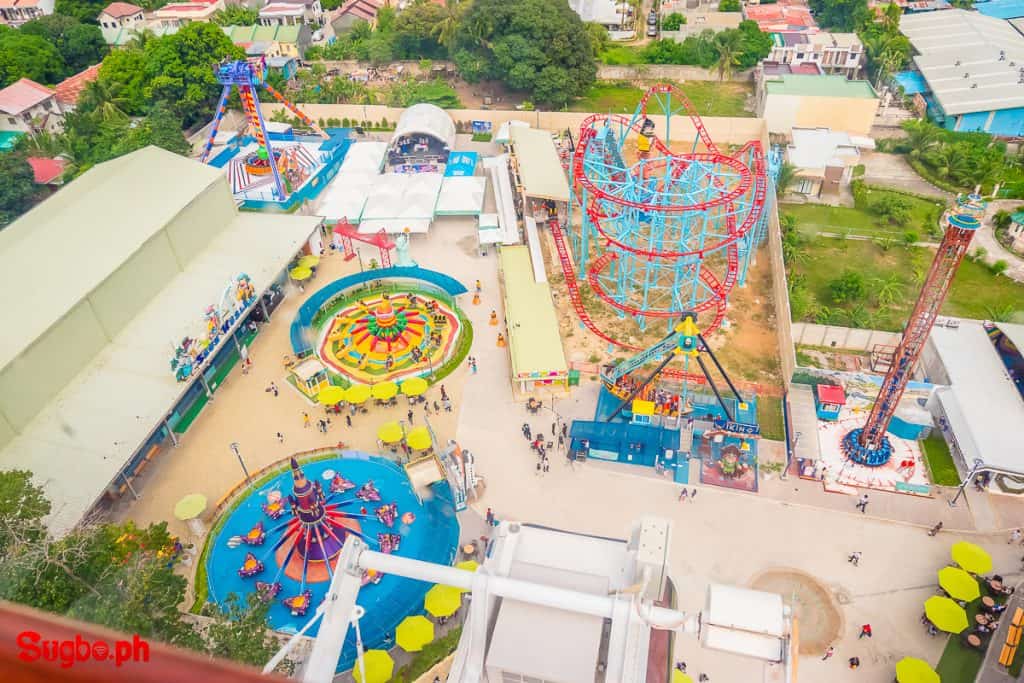 STATUS: Open with "new normal" guidelines, 50% Capacity
Exact Location: Belmont One, South Road Properties, Upper Calajoan, Minglanilla, Southern Cebu — only 1-1.5 hours away from Cebu City and 15-30 minutes from Starmall near SRP.
ENTRANCE FEES
Day Adventure Pass (DAP): P600 per head, Unlimited Rides
DAP w/ Snow World: P800 per head, Unlimited rides and snow world
Super Tres: P250 per head, 3 one-time rides of choice
Snow World: P350, Unlimited access to Snow World
Contact Information:
4. Waterworld Cebu
Cebu's industry hub, Mandaue City, experienced new waves of tourism during the opening of Waterworld Cebu, a 3-hectare complex currently considered as the biggest water park in Central Visayas. It is the perfect park to take a splash in with friends and family on a sweltering day. This water theme park will blow you away with its various gut-wrenching water slides and other water contraptions. It is a giant water playground that has no shortage of refreshing fun for the kids and kids-at-heart.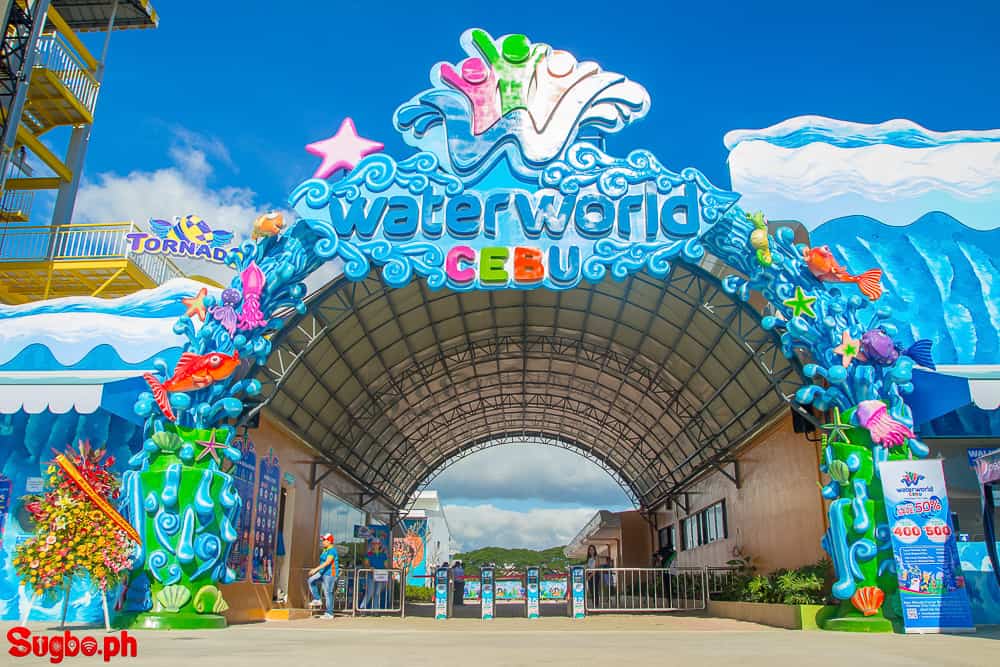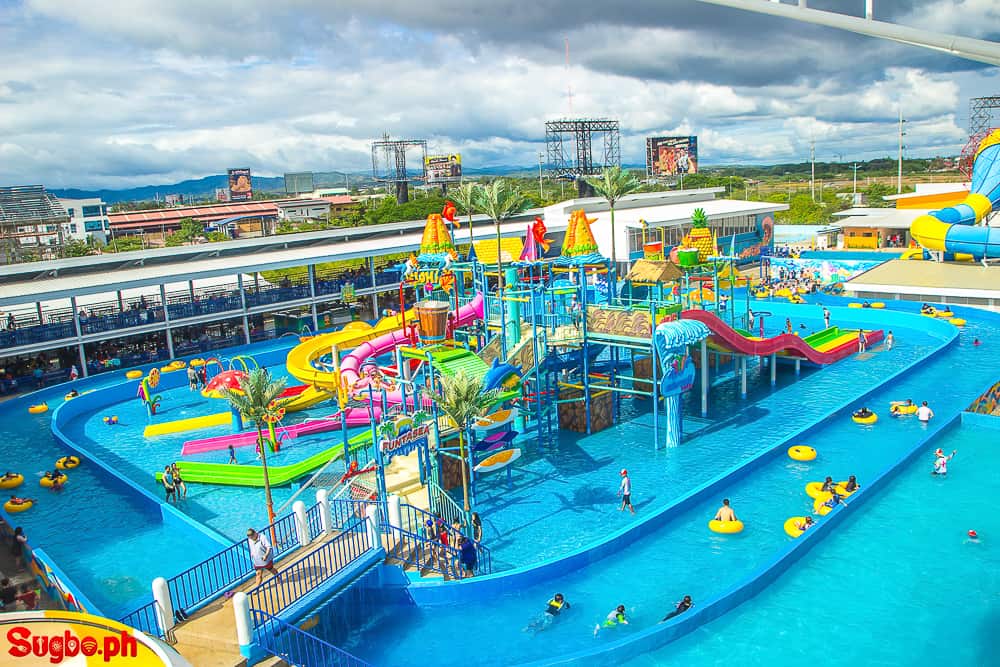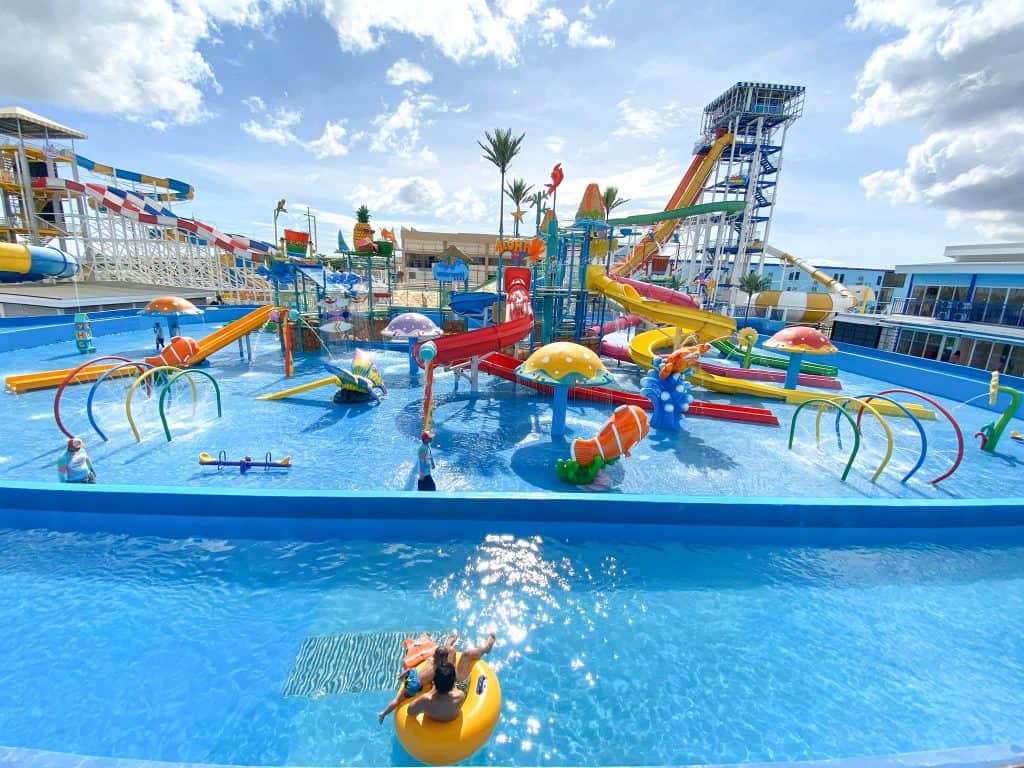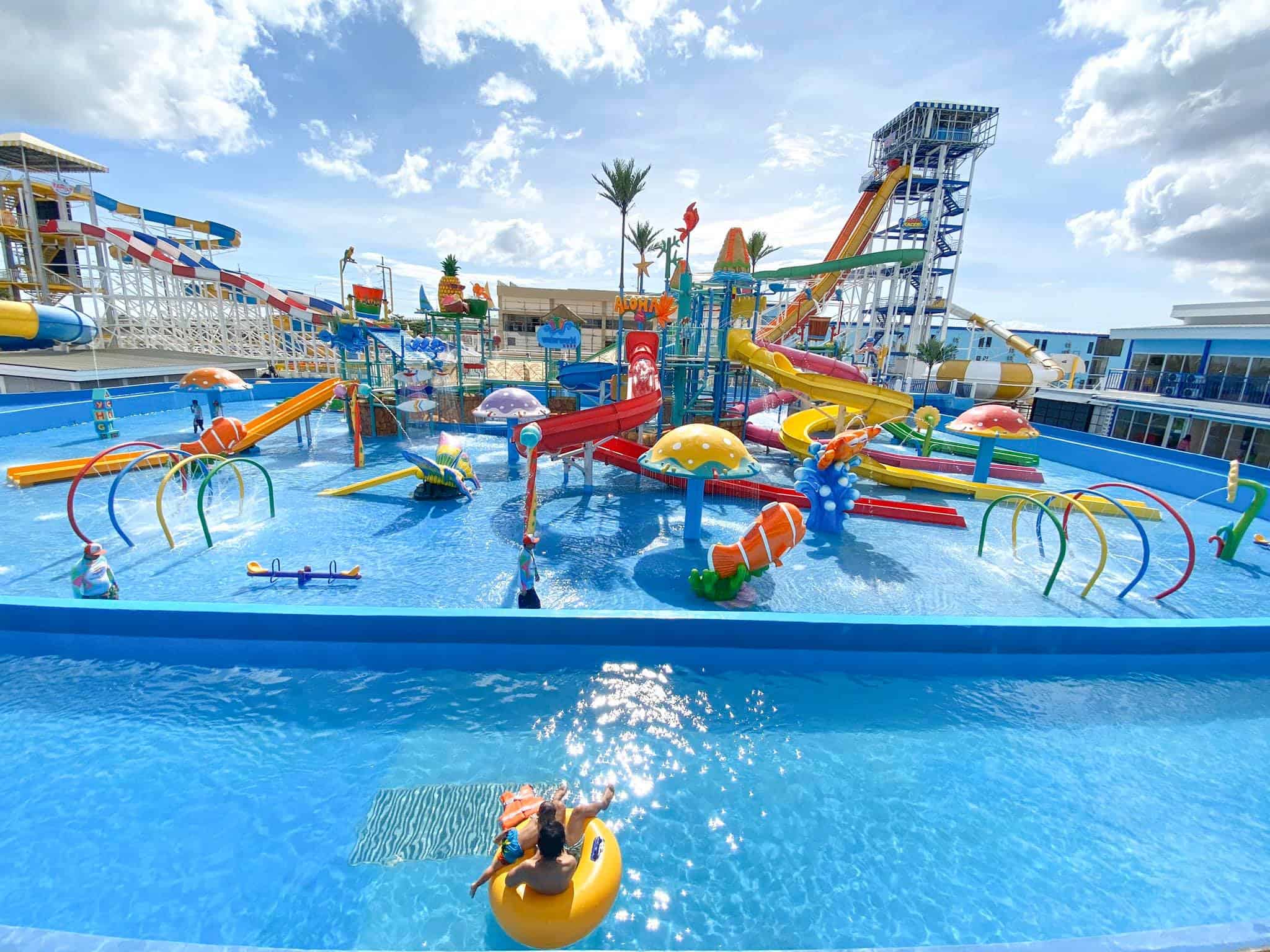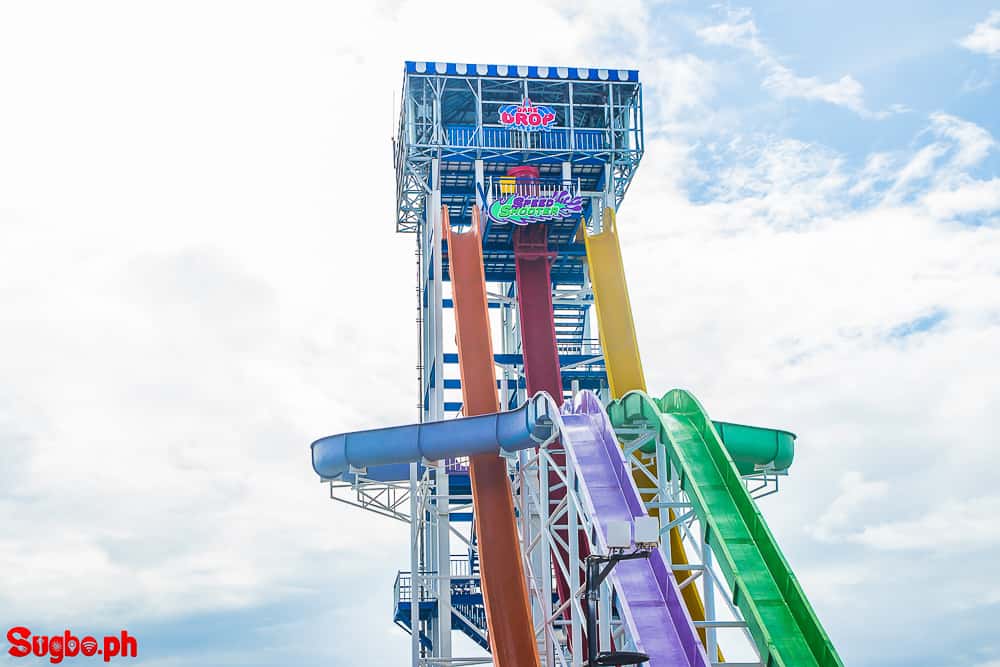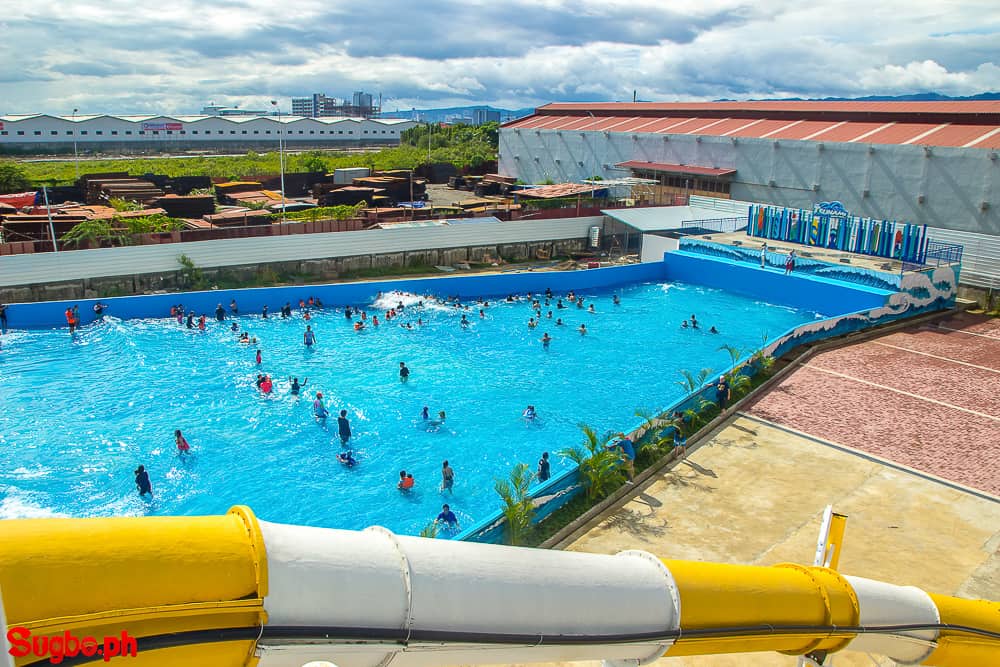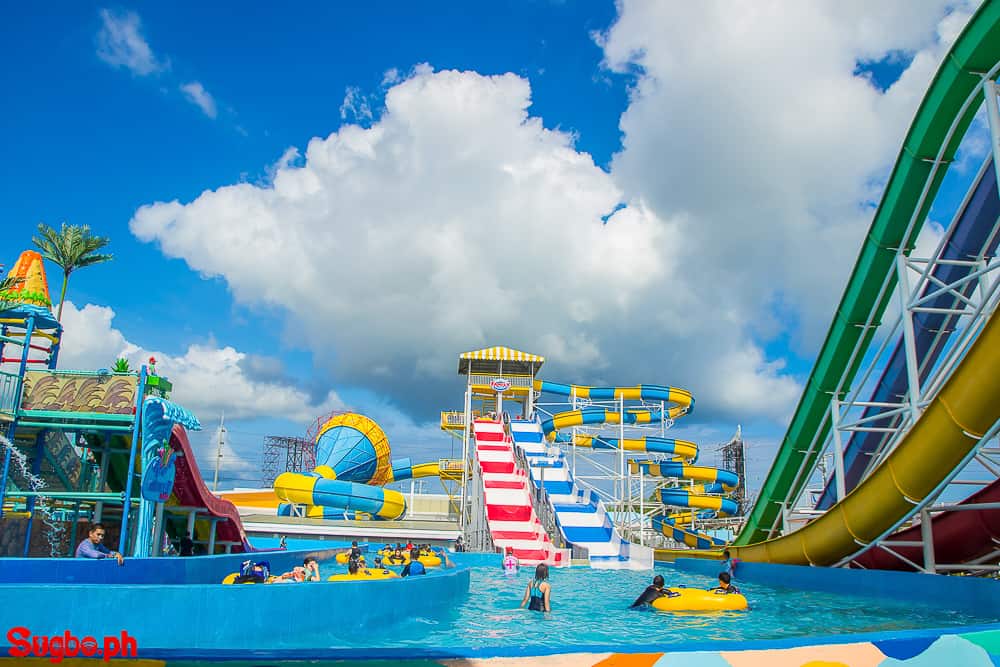 STATUS: Closed
Exact Location: Brgy. Umapad, Mandaue City, Cebu — near the tip of Marcelo Fernan Bridge in Mandaue City side.
ENTRANCE FEES
Weekday Rate: P400 per head
Weekend Rate: P500 per head
Kids (3ft below): Free
OTHER FEES
Table Rentals: P400 per day, good for 8
Locker Rentals: P100 per locker (day use only)
Aqua Suites: P2500 (day use only)
Contact Information:
5. Sirao Flower Gardens
This 8000-square meter flower garden on the mountain barangay of Sirao is a natural spectacle in Cebu. Reminiscent of Amsterdam's flower gardens, Sirao Flower Garden seeks to bring the same experience to its visitors and at the same time highlight the verdant mountains and cool climate of Sirao.
The most famous flower in the garden are the celosias with their bright fiery colors. Aptly called "Little Amsterdam", this garden does take its visitors on a trip to wonderland with the vibrant colors of the flowers and mini replicas of the Amsterdam fields.
The Sirao Flower Garden is divided into two sections: The Original Sirao Flower Garden and the Pictorial Garden and Camping Site. The Original Garden is the site filled with different species of colorful flowers while the Pictorial Garden features an infinity pool and several "Instagrammable" backgrounds that will surely make your social media feed much livelier.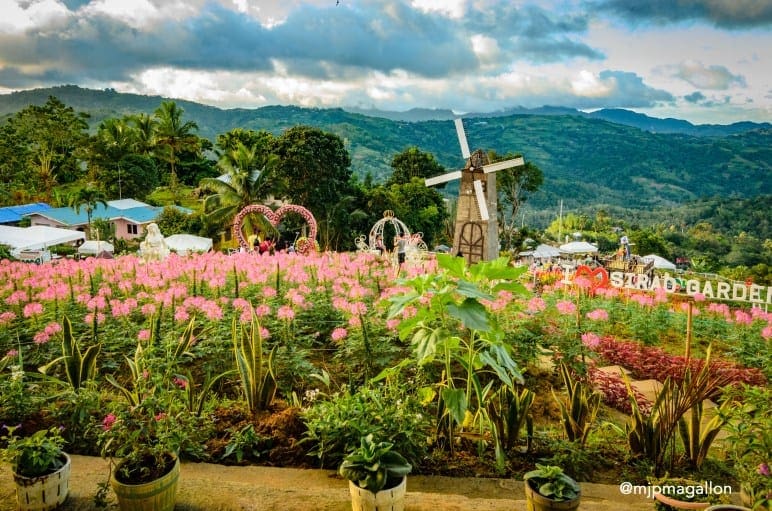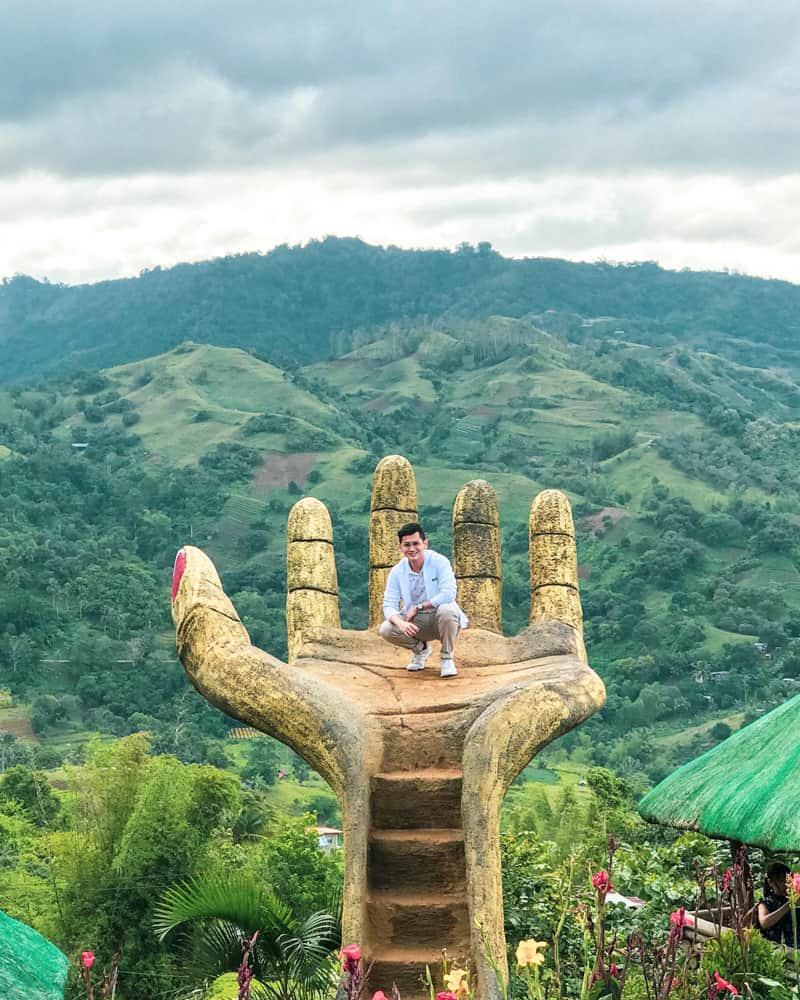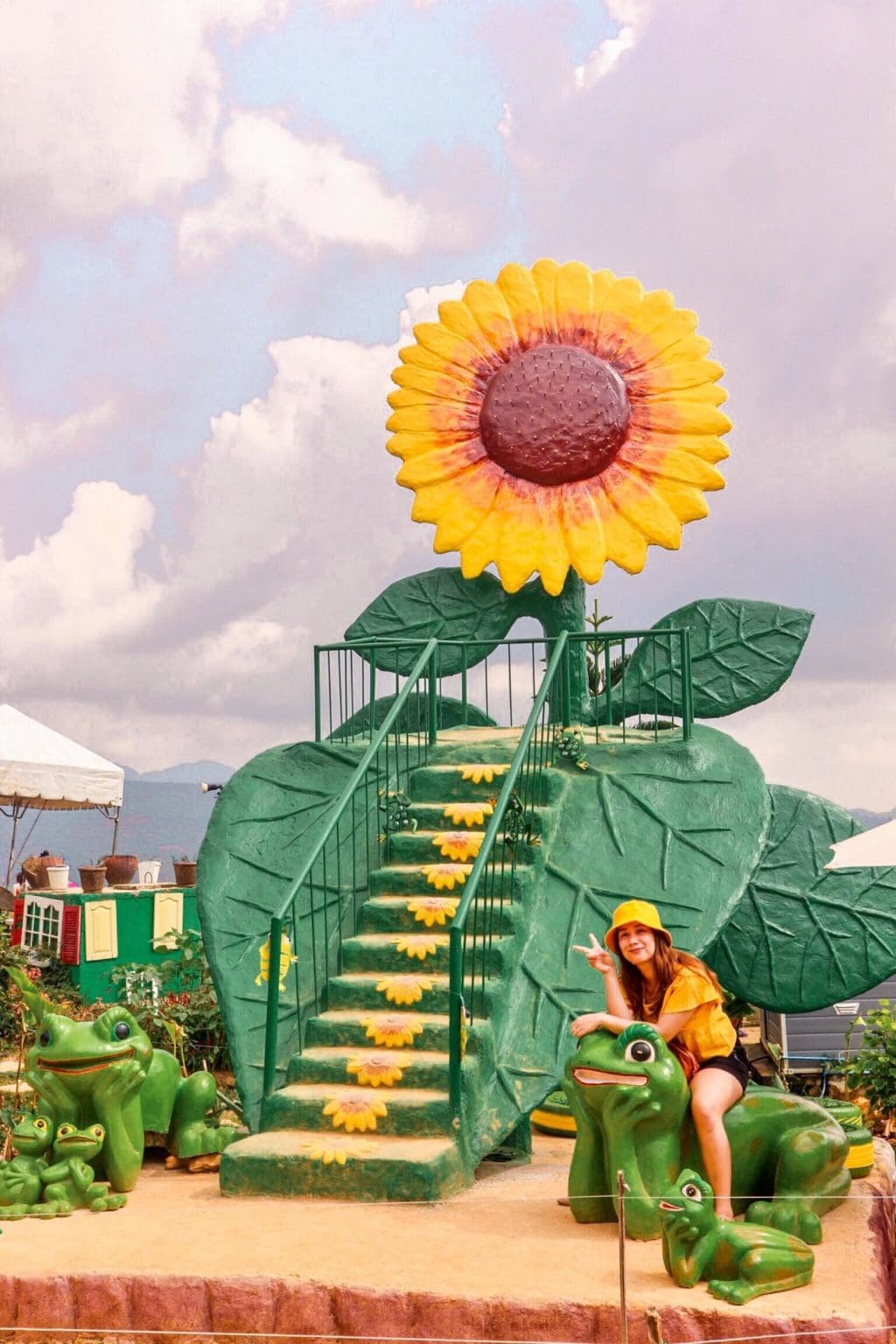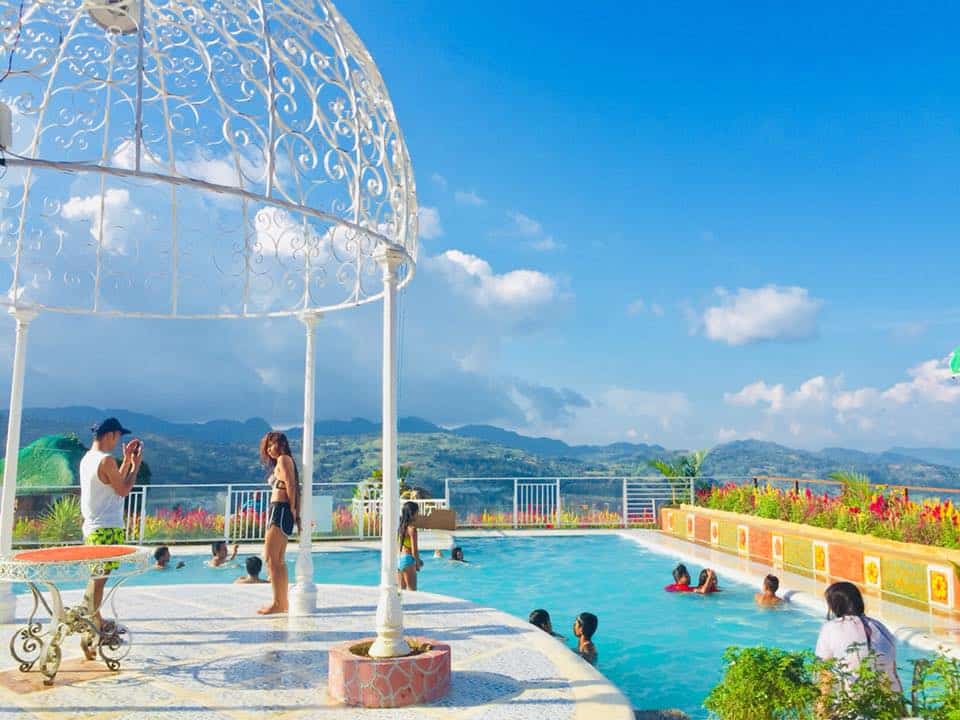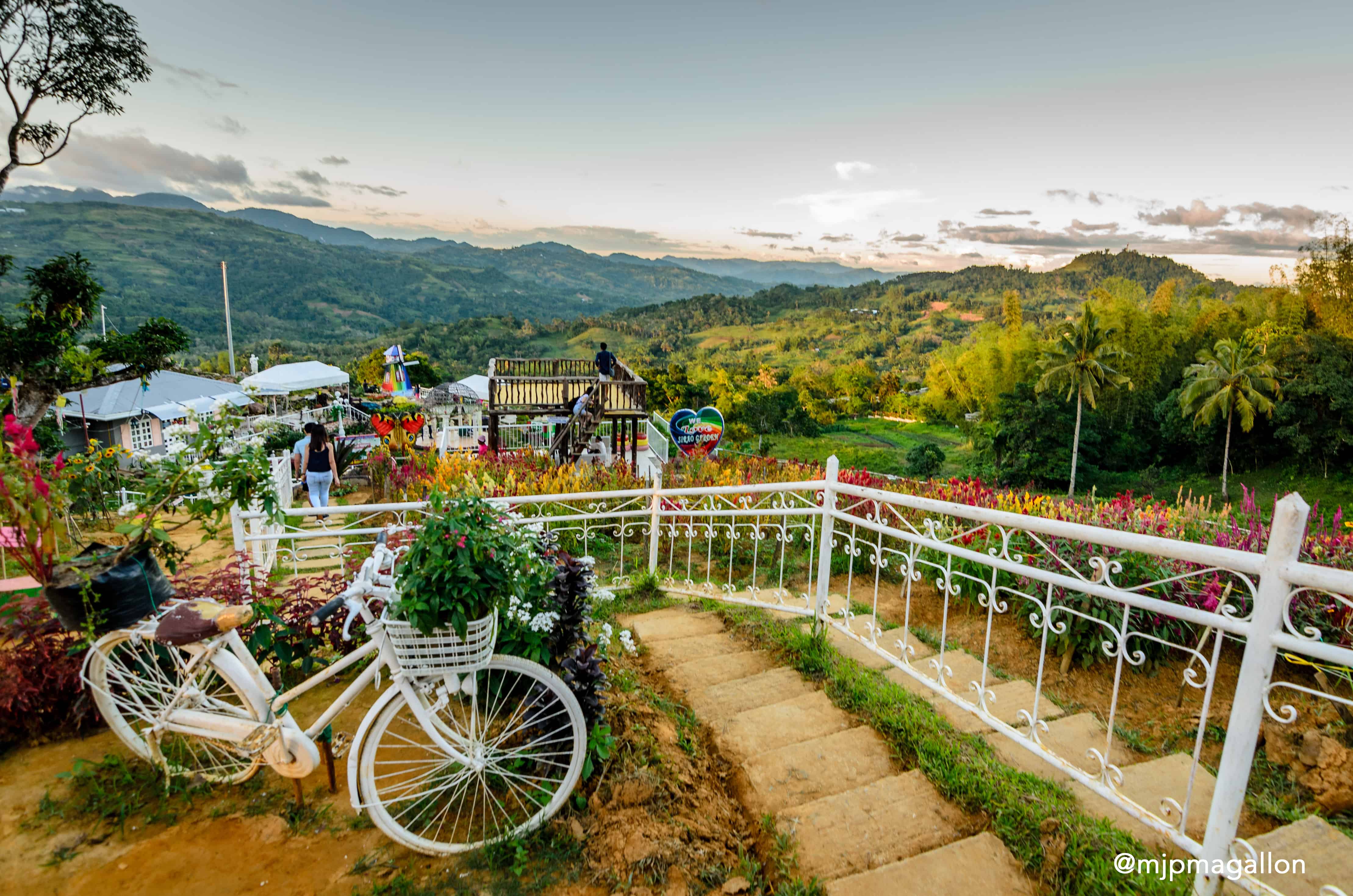 STATUS: N/A
Exact Location: Brgy. Sirao, Cebu City — approx. 30-45 minutes away from J.Y. Square Mall.
ENTRANCE FEES
Original Sirao Flower Garden: P100 per head
Pictorial Garden: P50 per head
Contact Information:
Contact No.: 0943-706-3437
6. Florentino's Eco Park
Florentino's Eco Park is a family-friendly picturesque mountain resort residing in Balamban. It was dubbed as the "Little Tagaytay of Cebu" due to its fresh mountain breeze and lush green sceneries. The ecopark is a hillside property that stands at about 3000 feet above sea level and offers a panoramic view of Cebu's verdant hills and mountains rolling into the distance. Beyond the thriving plant-life of the land is a silhouette of the Negros islands.
It is a fairly new attraction slash dining bistro that prioritizes the relaxation of its guests. There are a few cottages for rent that has a magnificent overlooking view of Cebu or if guests want to soak themselves longer in the fresh mountain air, then there are rooms available for overnight stays.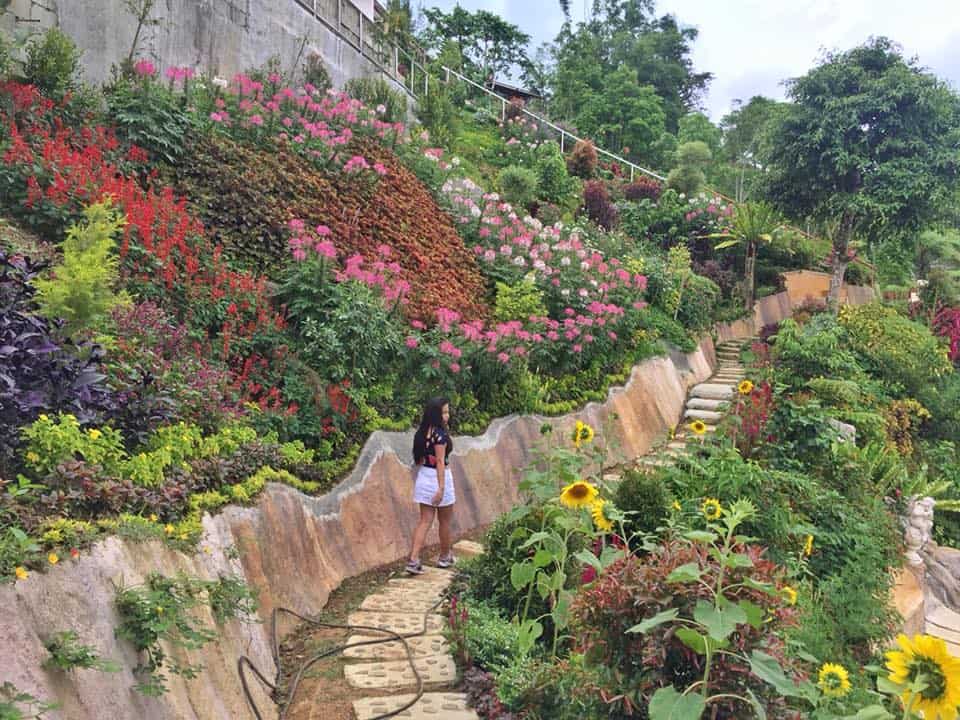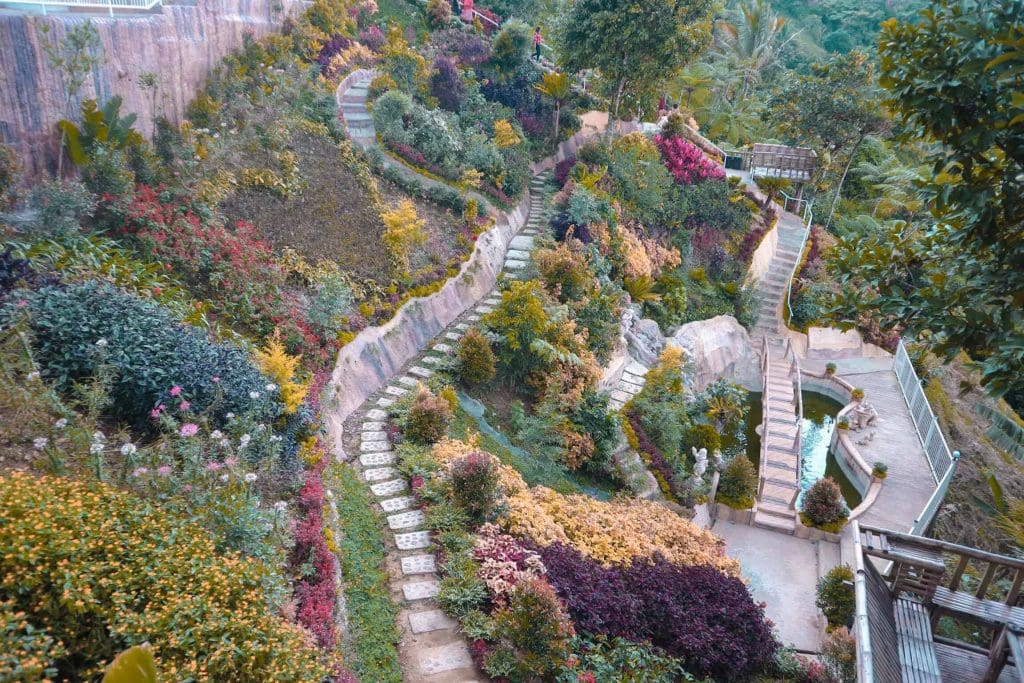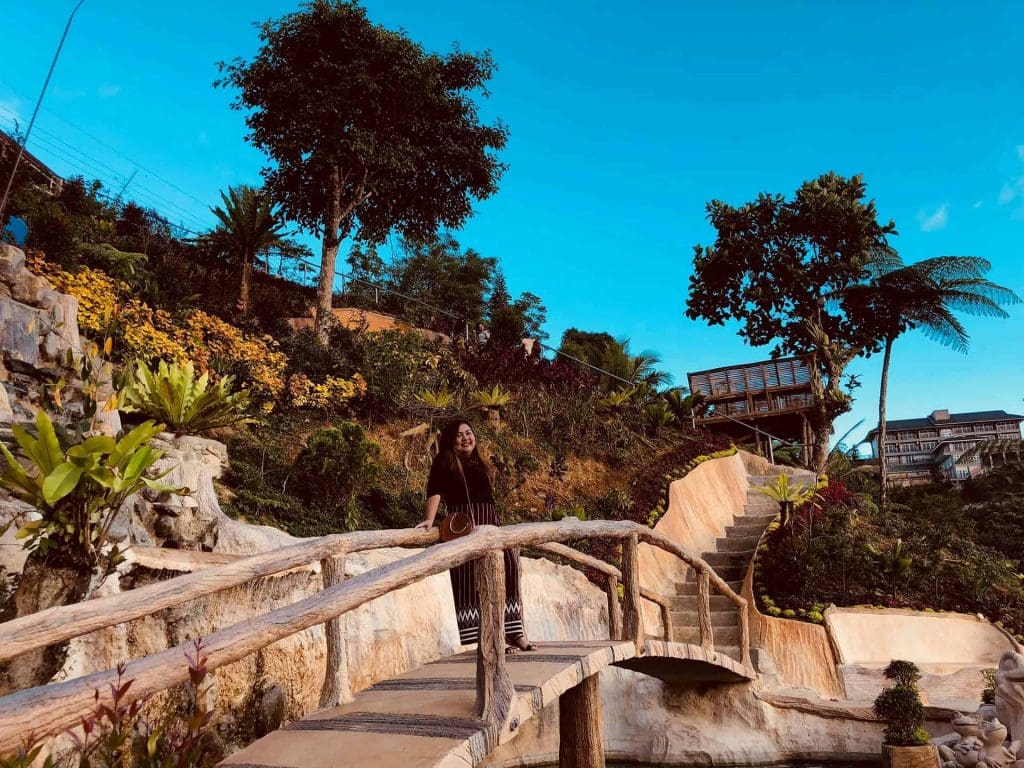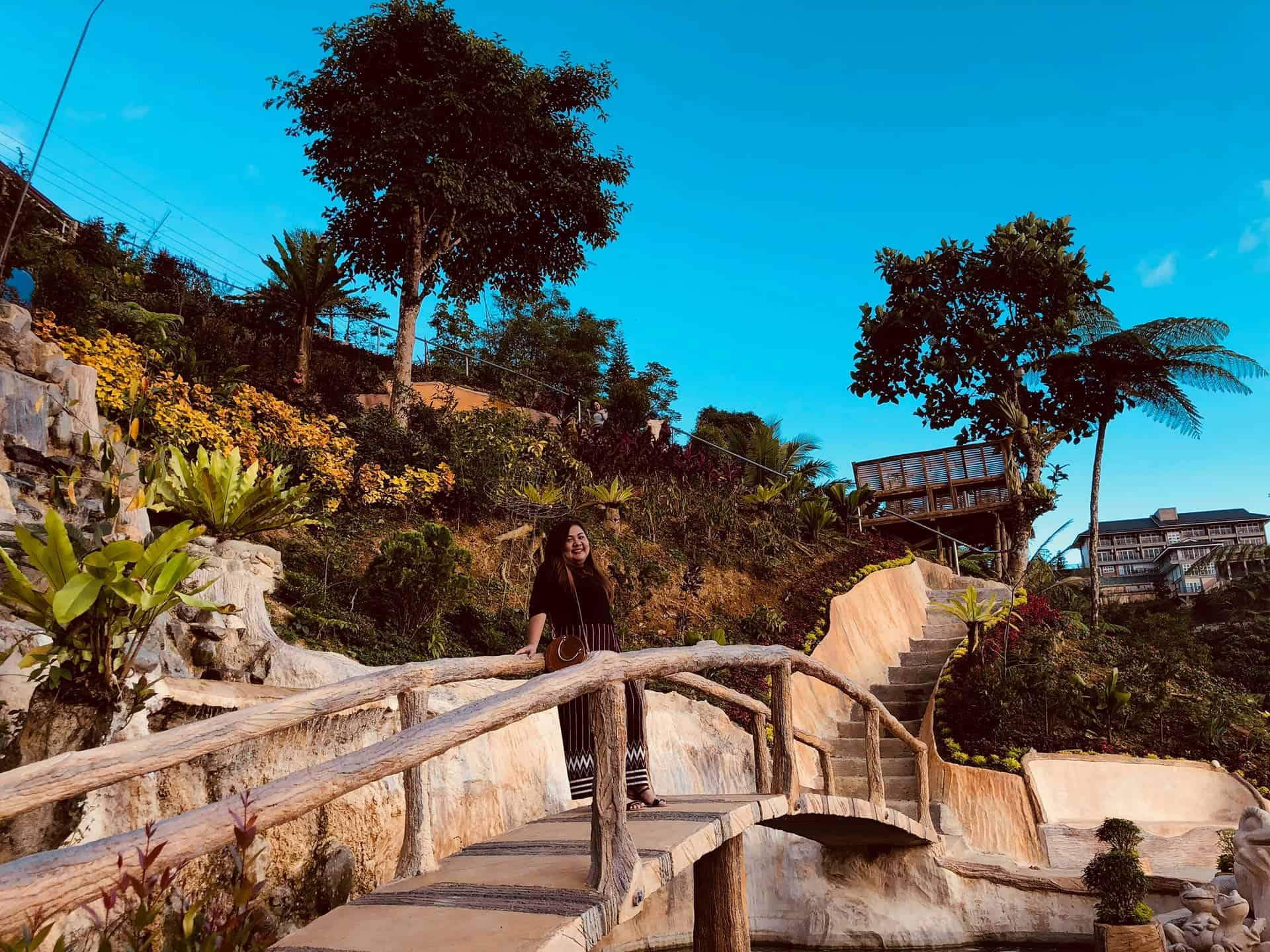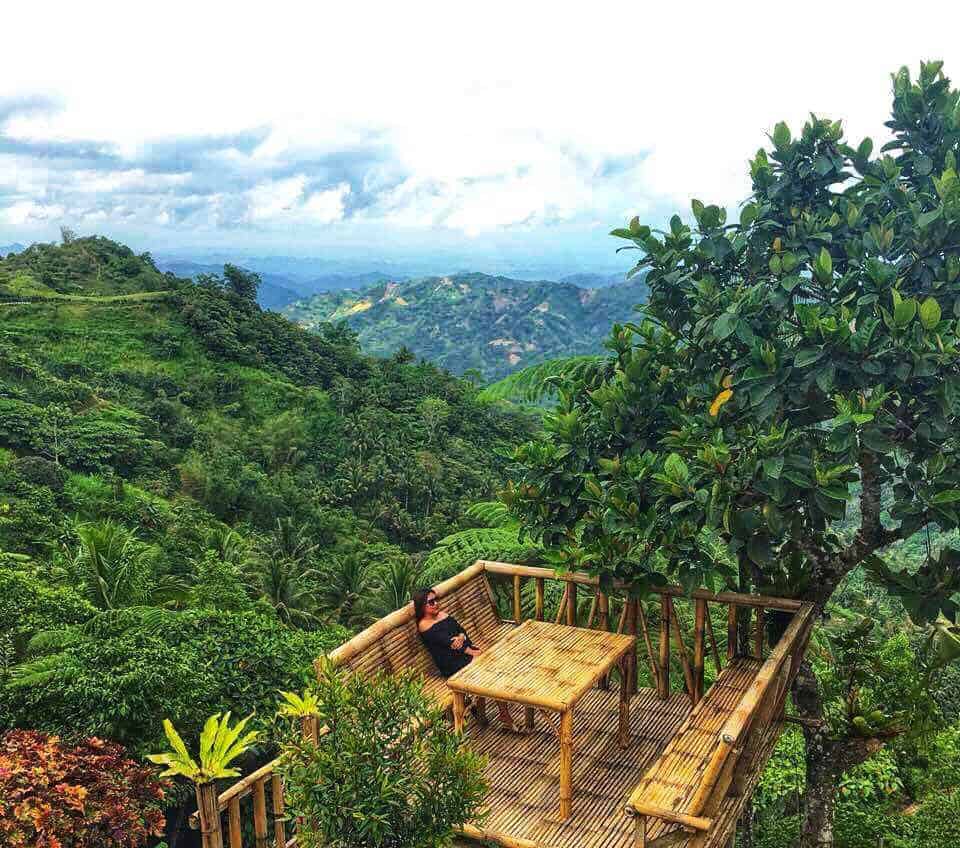 STATUS: Closed
Exact Location: Brgy. Gaas, Balamban, Cebu — across Adventure Cafe (30-45 min drive from JY square or Marco Polo via the scenic Transcentral highway).
Entrance Fees: P55 per head
Corkage Fee: None
Contact Information:
7. Buwakan ni Alejandra
Buwakan ni Alejandra literally translates to "The Flower Garden of Alejandra" – and is a truly beautiful flower garden arranged in a harmonious manner that makes the colors of the plants meld beautifully with one another to create a piece of art. The playful colors are not in any way overwhelming to eyes and are even quite mystical to the sight.
Buwakan ni Alejandra has been existent for a long time and has been witnessed by many colonizers since the Japanese occupation. Its beauty was only recently shared after it was renovated, landscaped and expanded. The garden is 700 square meters with a plethora of different flower species thriving in it. There are approximately 200 varieties that make up the picturesque scenery of the place.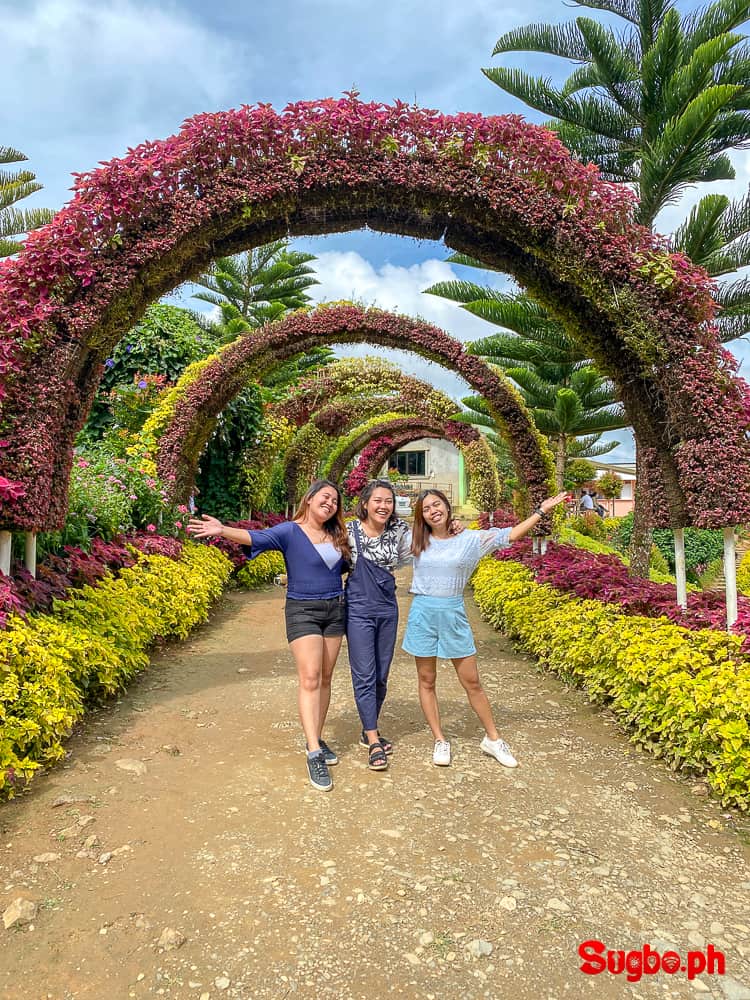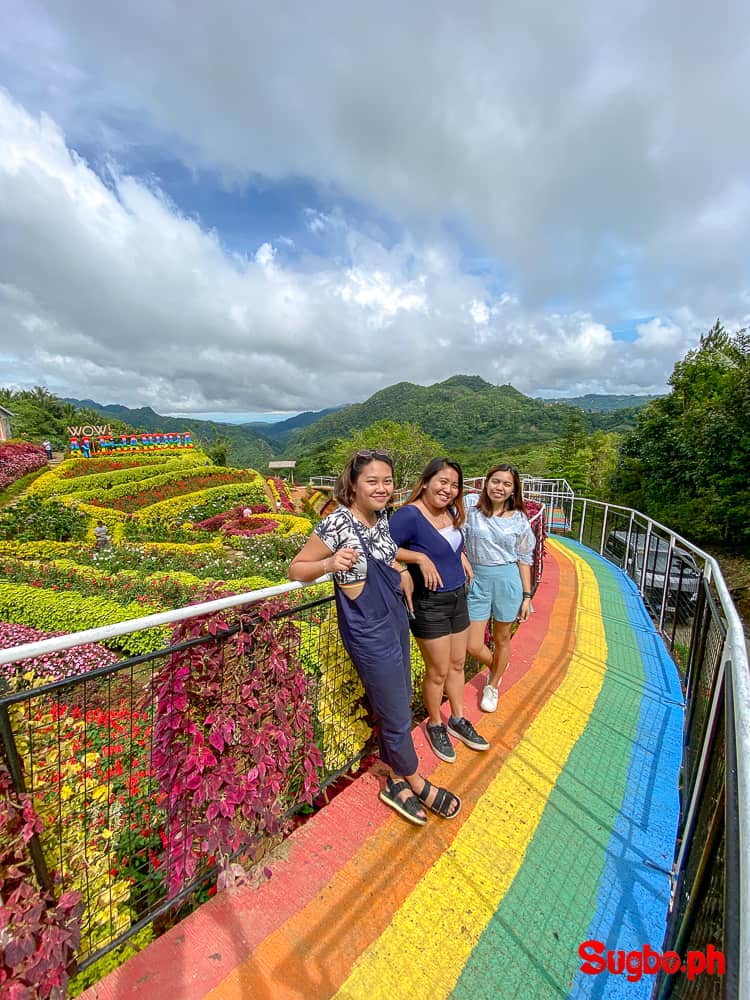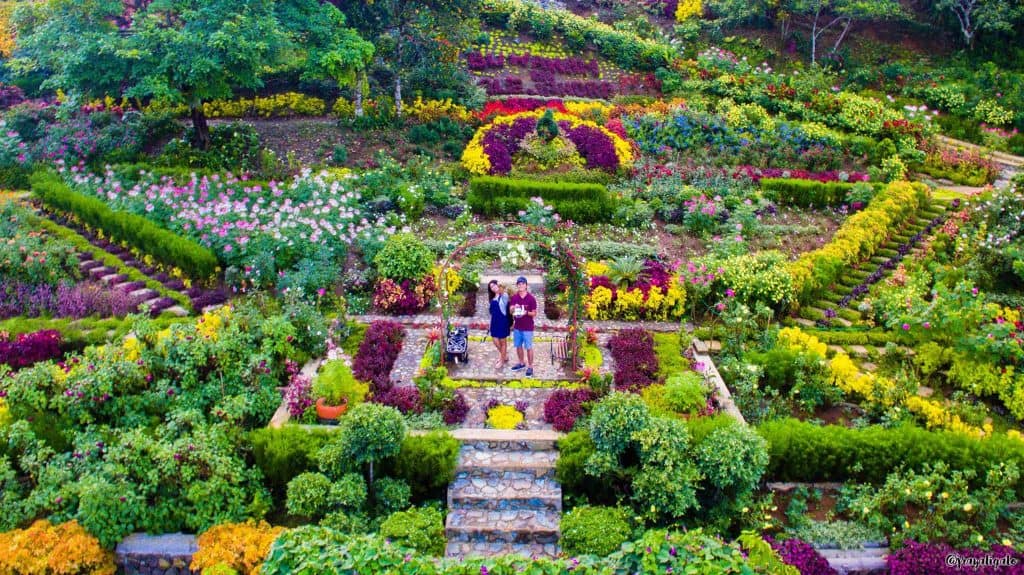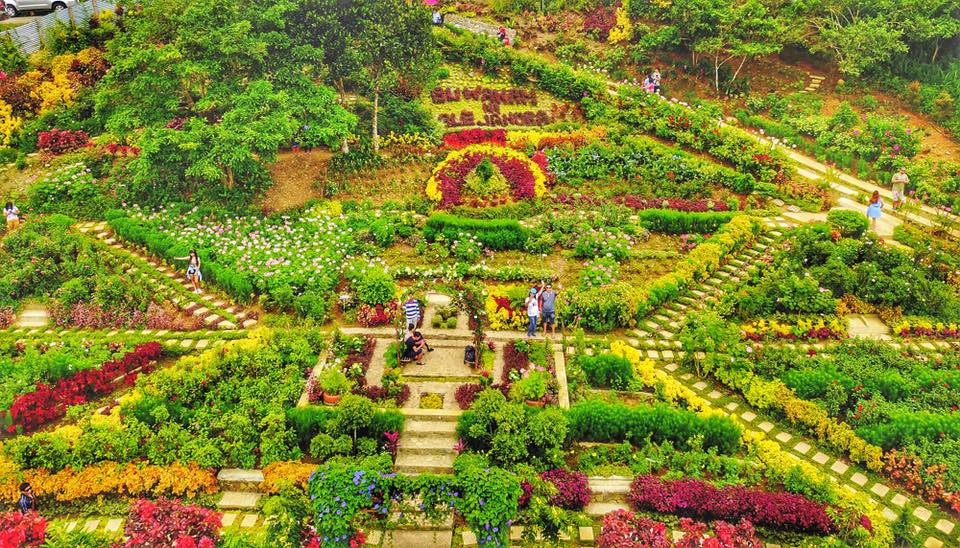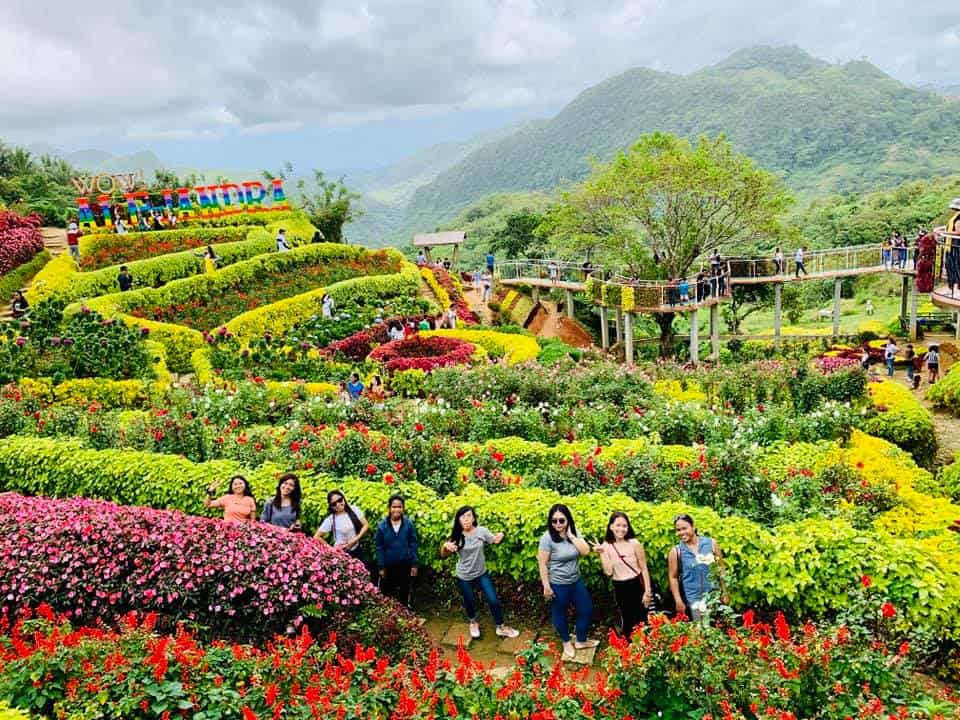 STATUS: Open with "new normal" guidelines
Exact Location: Brgy. Gaas, Balamban, Cebu – an hour away from the Cebu City Proper.
ENTRANCE FEES:
Adults – P75 per head
Children – P50 per head
PWD and Senior Citizen – P50 per head
Contact Information:
8. Adlawon Vacation Farm
Adlawon Vacation Farm is a staycation destination resting at the top of the mountain ranges of Adlaon, Cebu City. The most notable feature of the farm is the dominating green of the various flora growing all over the place. It has huge hectares of land that grow a variety of crops with the prominent ones being the miracle fruit and dragon fruit.
The relaxing atmosphere that is isolated from the stresses of the city makes it the perfect break from the busy life. This is the best place to stay for anyone that is looking for a communion with nature for a needed revitalizing of the soul. A stay at this farm is both relaxing and satisfying for the mind and the pockets.
The farm offers rooms with rustic interiors to complement the tranquility of the place. The food that they serve are also fresh from their farms so its quality is assured.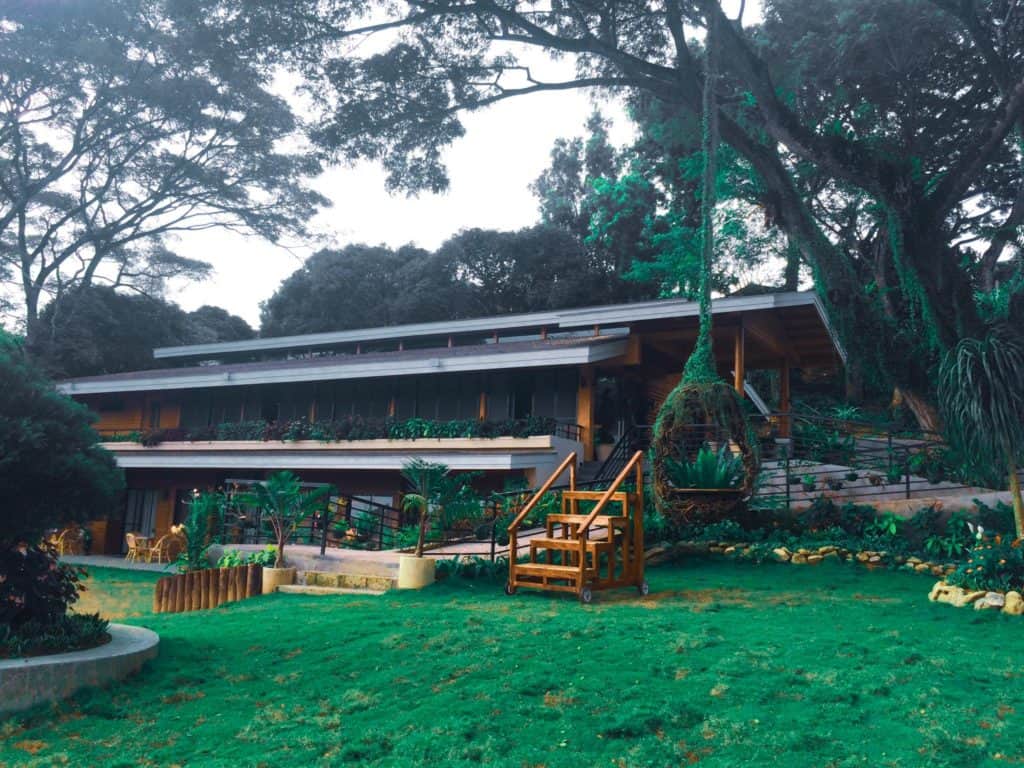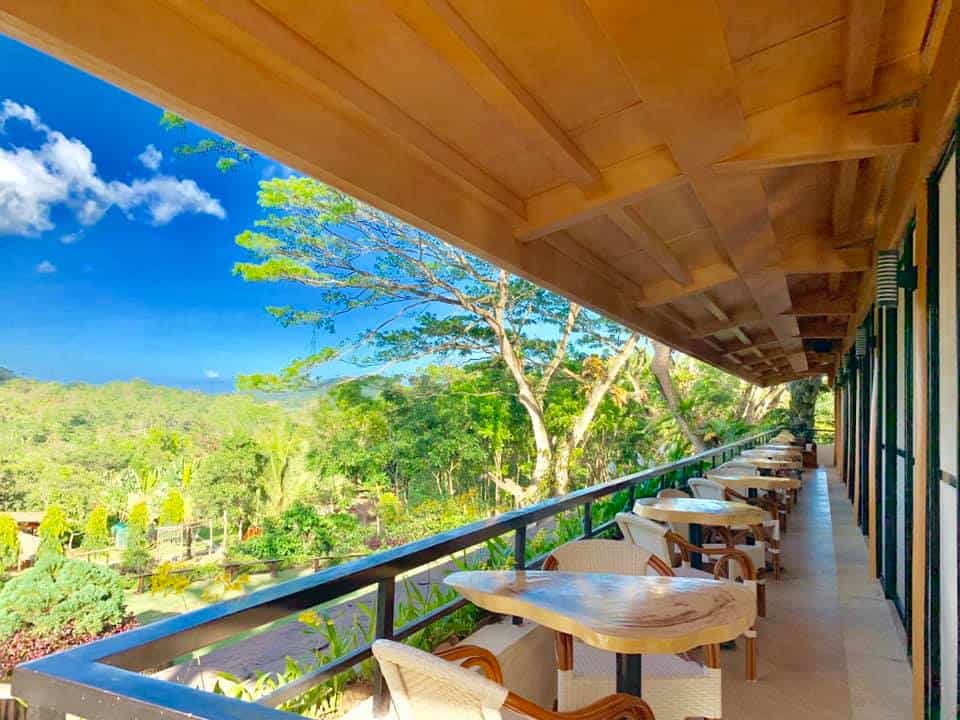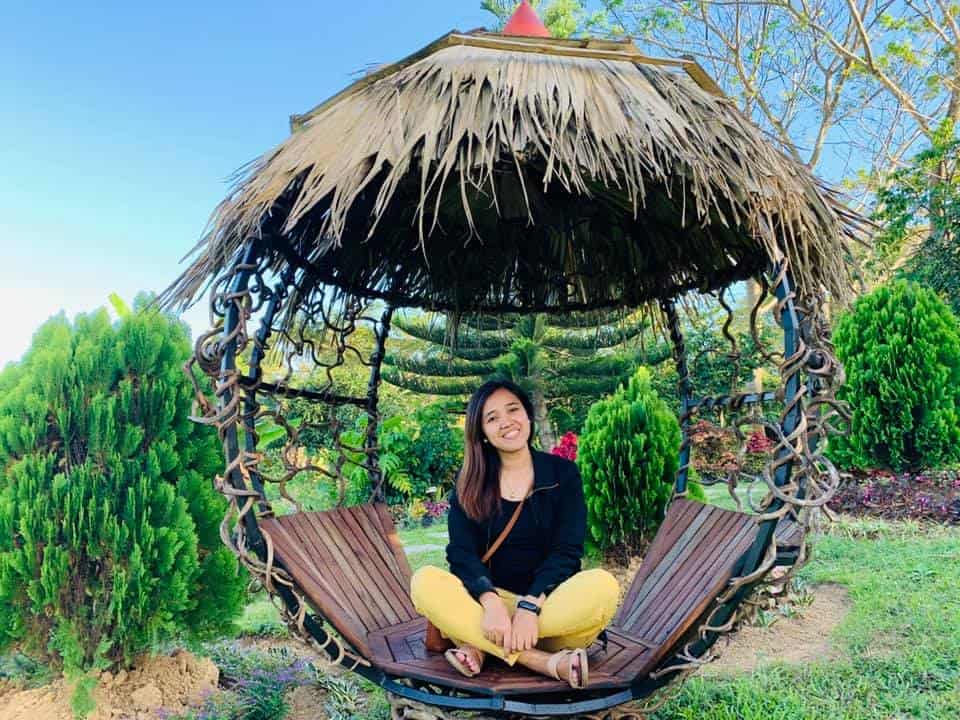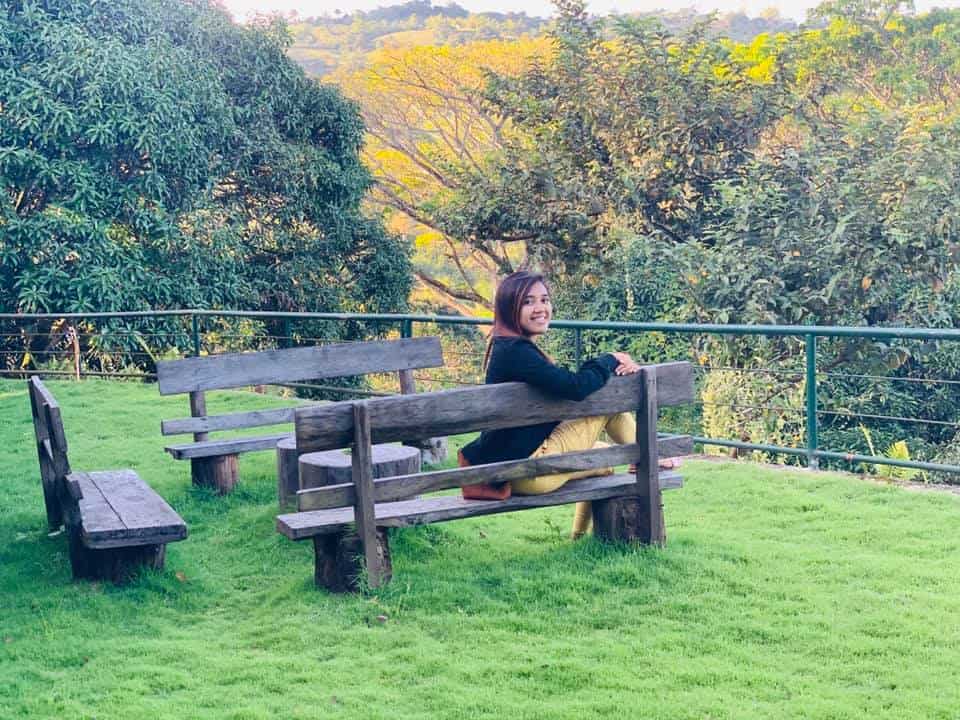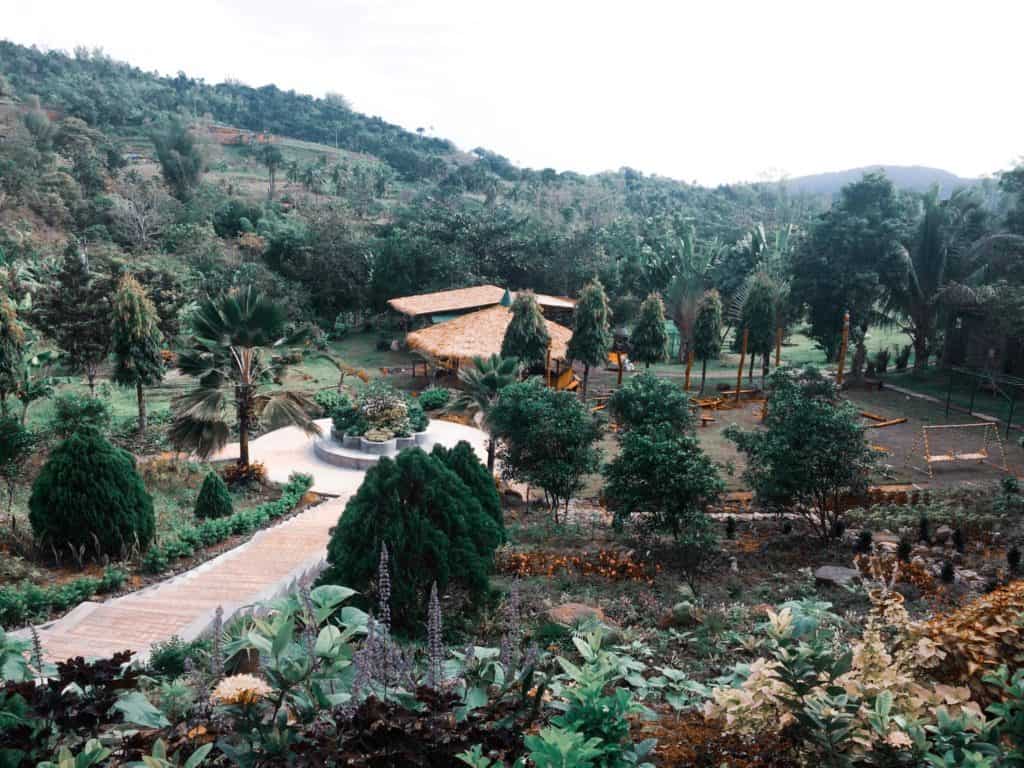 STATUS: Open with "new normal" guidelines
Exact Location: Brgy. Gaas, Balamban, Cebu – an hour away from the Cebu City Proper
ENTRANCE FEES:
Adults – P150 per head, inclusive of food and drinks
Children(below 12 y.o.) – P100 per child
Infants (below y.o.) – Free of charge
OVERNIGHT RATES:
Weekdays – P3500 per night, good for 2 persons w/ Breakfast
Weekends – P4000 per night, good for 2 persons w/ Breakfast
Contact Information:
9. La Vie Parisienne
Experience the posh lifestyle of the French in La Vie Parisienne, a French-owned wine-and-dine that offers some of the best French pastry, wines, and deli products that will surely take you to a trip to Paris. La Vie Parisienne sees to it that its guests experience authentic French cuisine and at the same time help them take a break from the busy life in the city.
Aside from delectable French dishes, the garden area with its dim lights creates a very cozy and relaxing atmosphere while chatting with friends. The experience in Cebu's "Little Paris" is a refreshing one but isn't short on magnificence.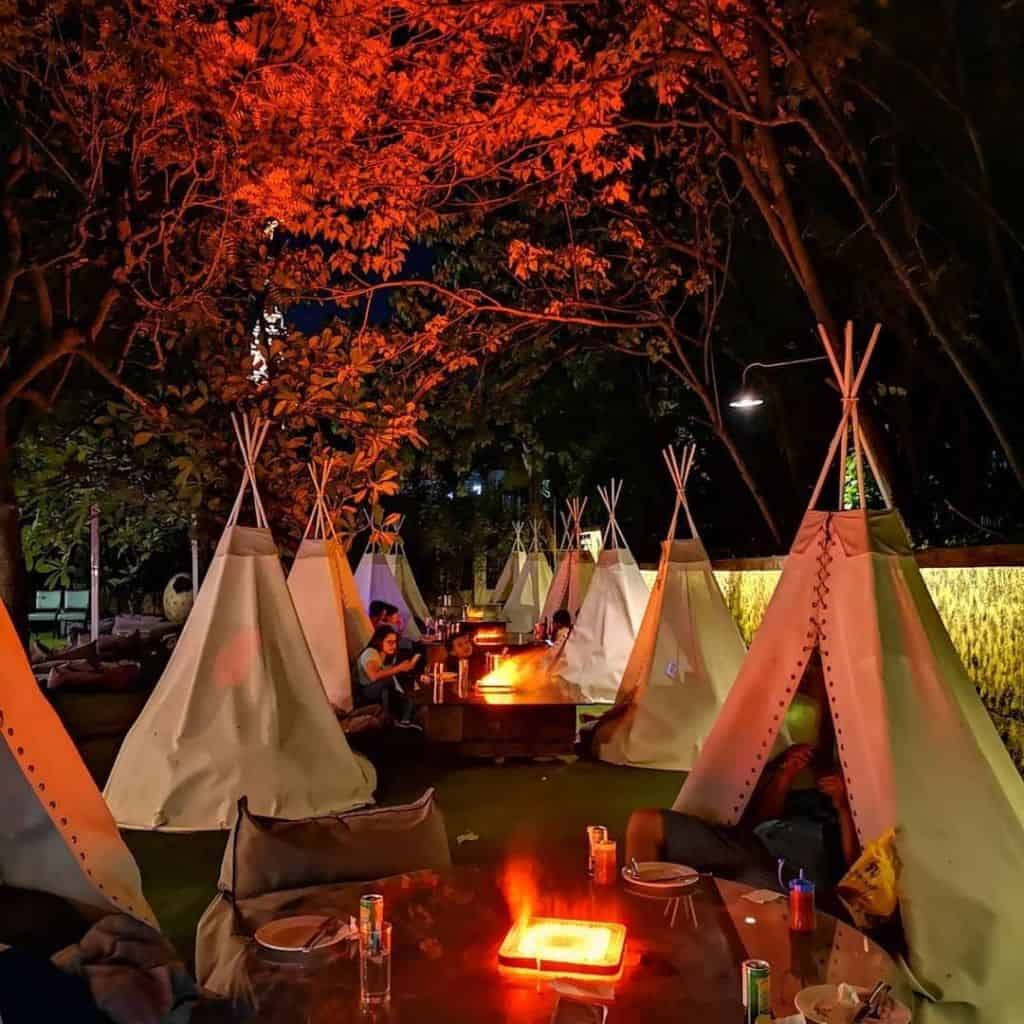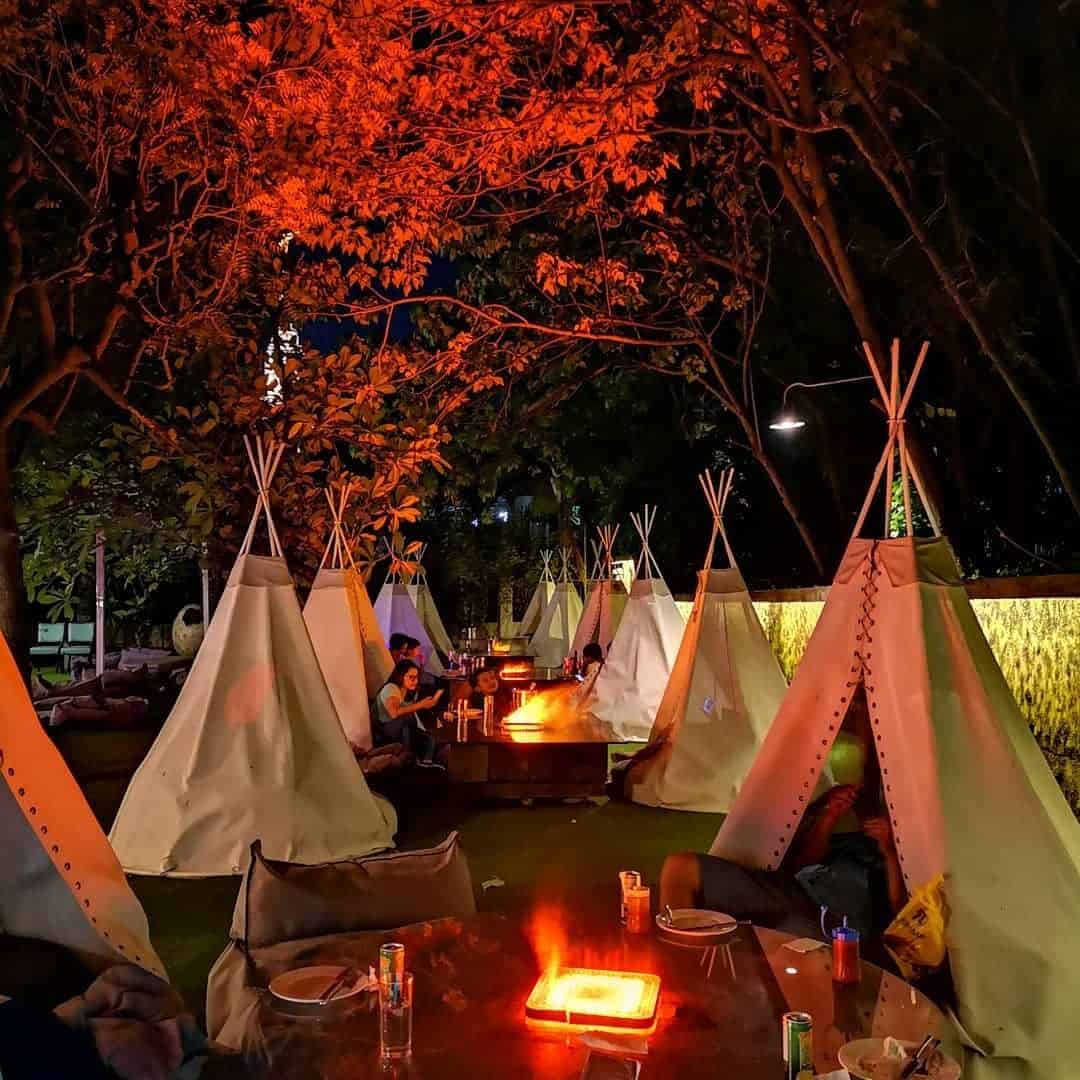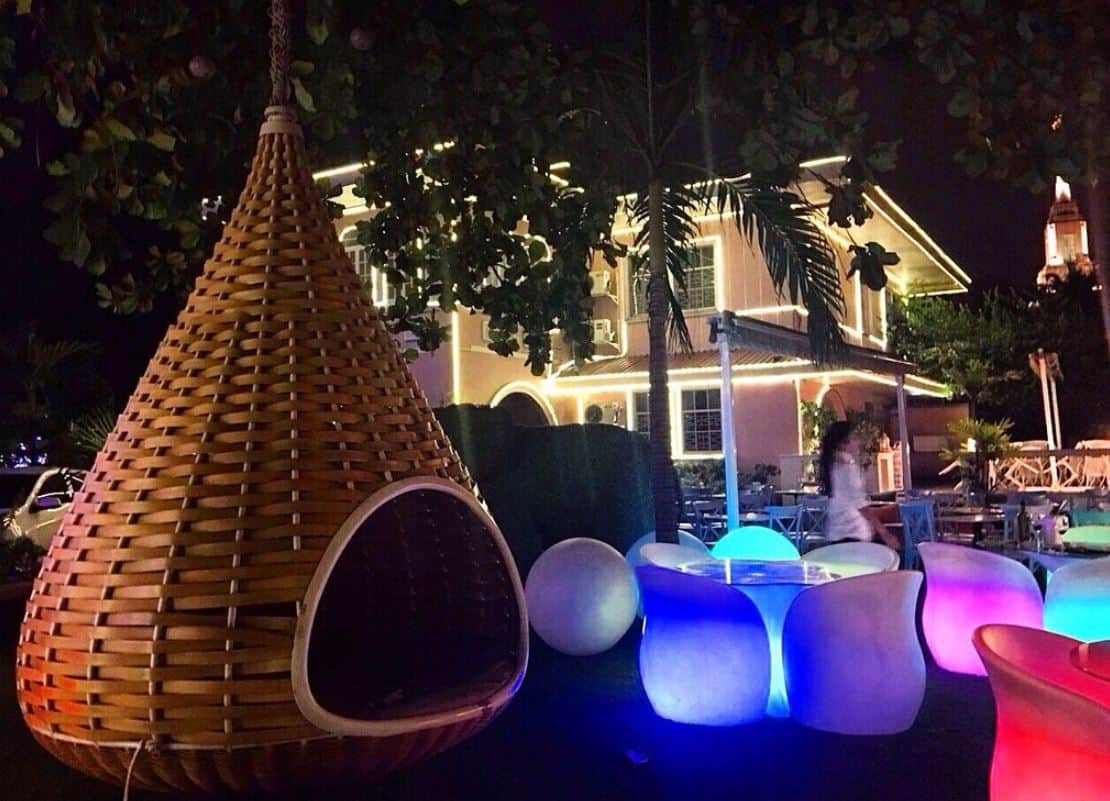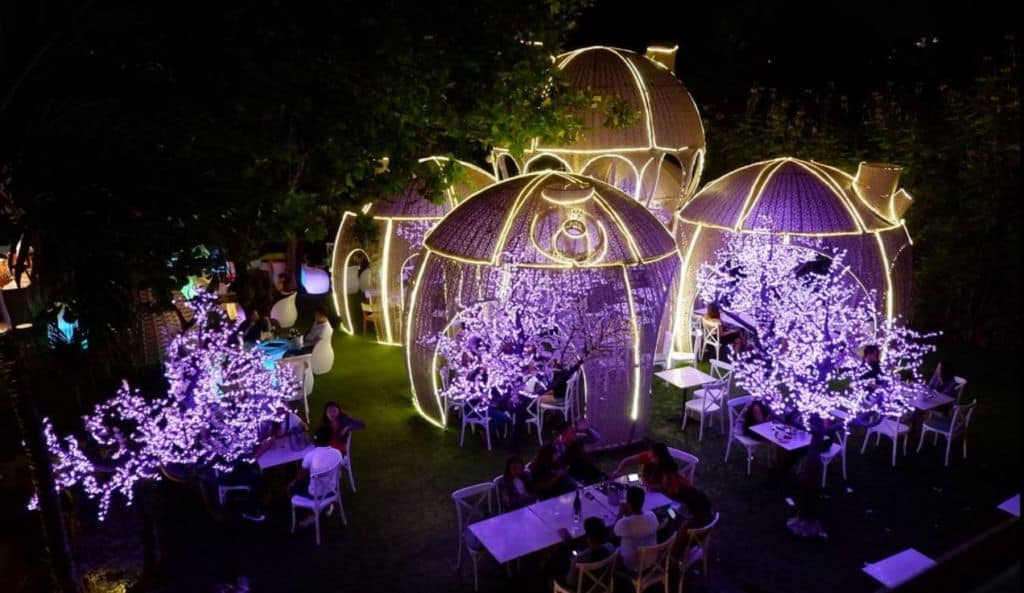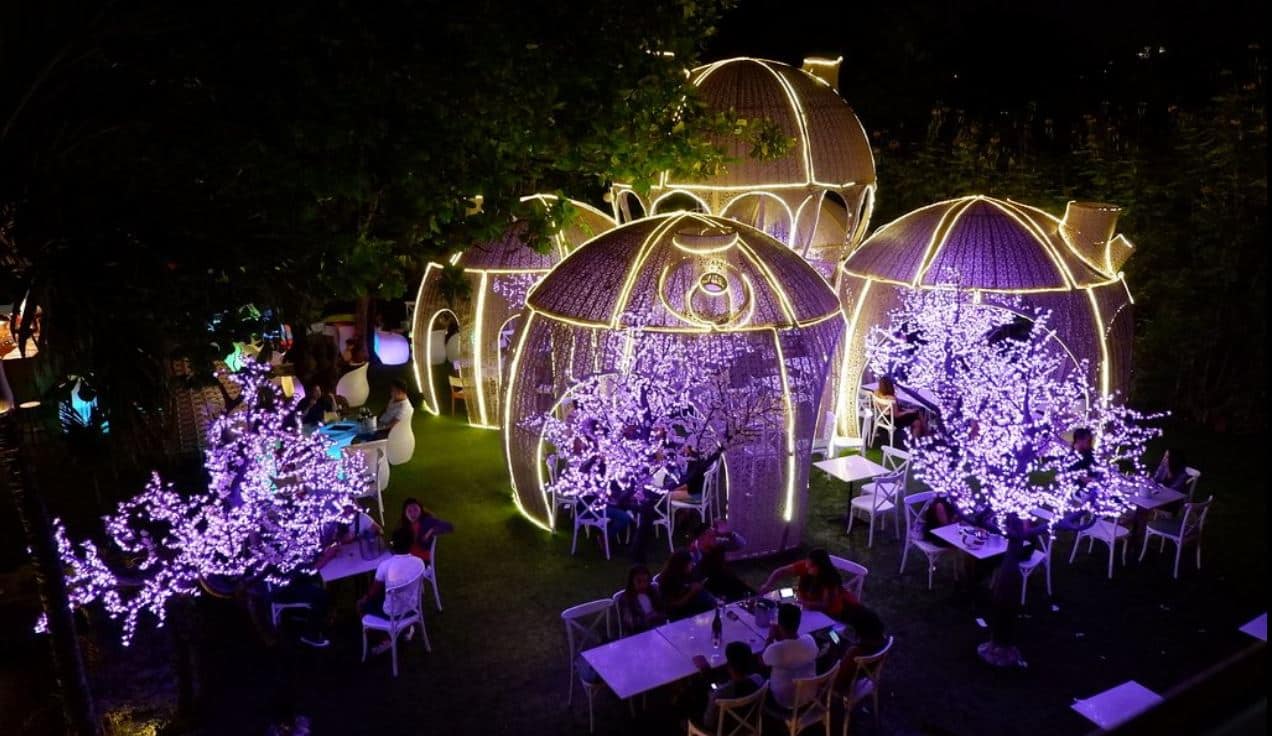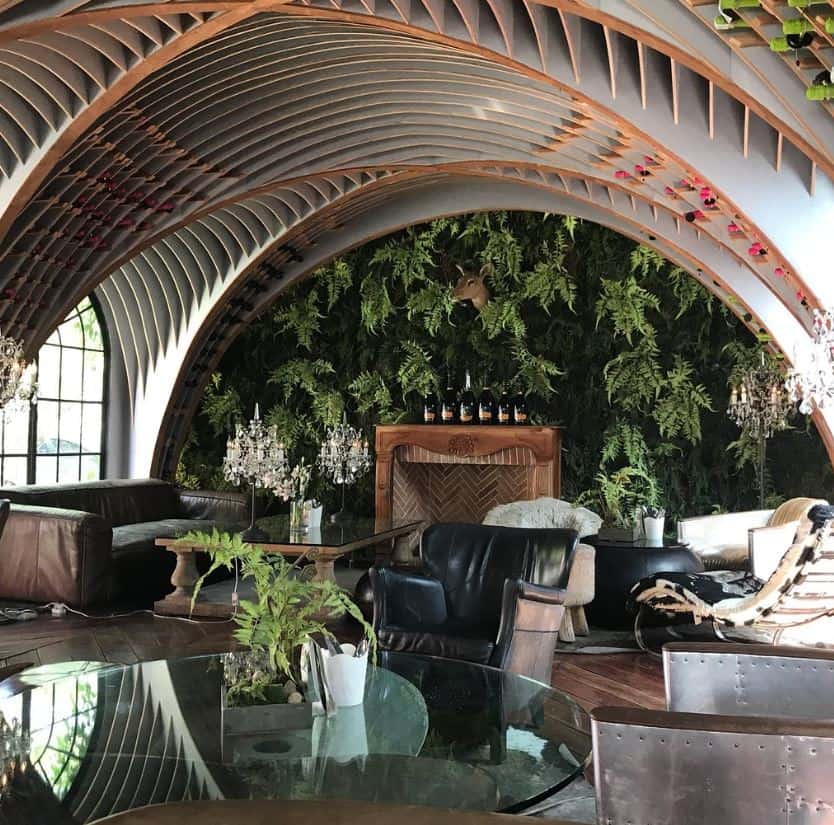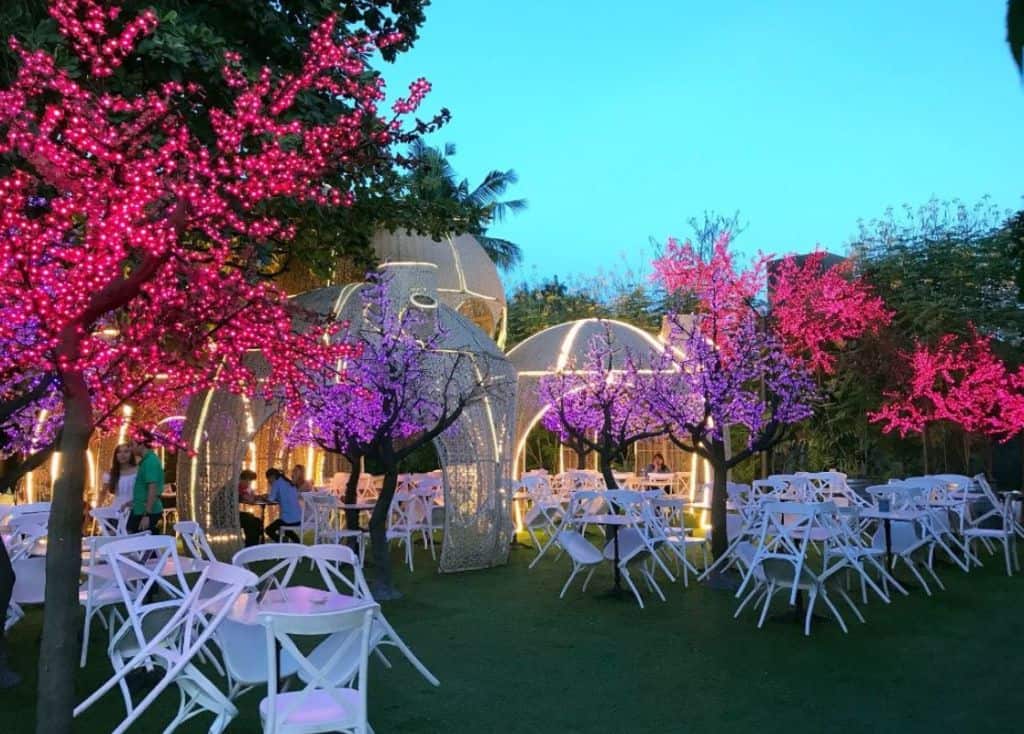 STATUS: Open with "new normal" guidelines
Exact Location: 271 Gorordo Avenue, Lahug, Cebu City — 15-30 minutes away from Fuente Osmena Circle; 10 minutes away from Ayala Center Cebu; 1 hour away from Mactan Airport.
Contact Information:
10. 10,000 Roses Cafe & More
10,000 Roses Cafe & More is famous for its patches of artificial white roses that dimly illuminate the night. The experience is relaxing and at the same time hypnotizing especially as the cool winds of the night start to blow gently on everybody's faces. Aside from the unique view of artificial glowing flowers, there is also a two-storey cafe tucked at the corner of the place that is just perfect for al-fresco diners and guests.
This cafe dons a modern industrial look with a rustic design that makes it blend with the pseudo-roses. It is the best place to witness the magical transformation of the flowers as the sun sets and the area starts to glow. Although their items on the menu are slightly more expensive than a regular cafe, the experience is something that can't be found anywhere else.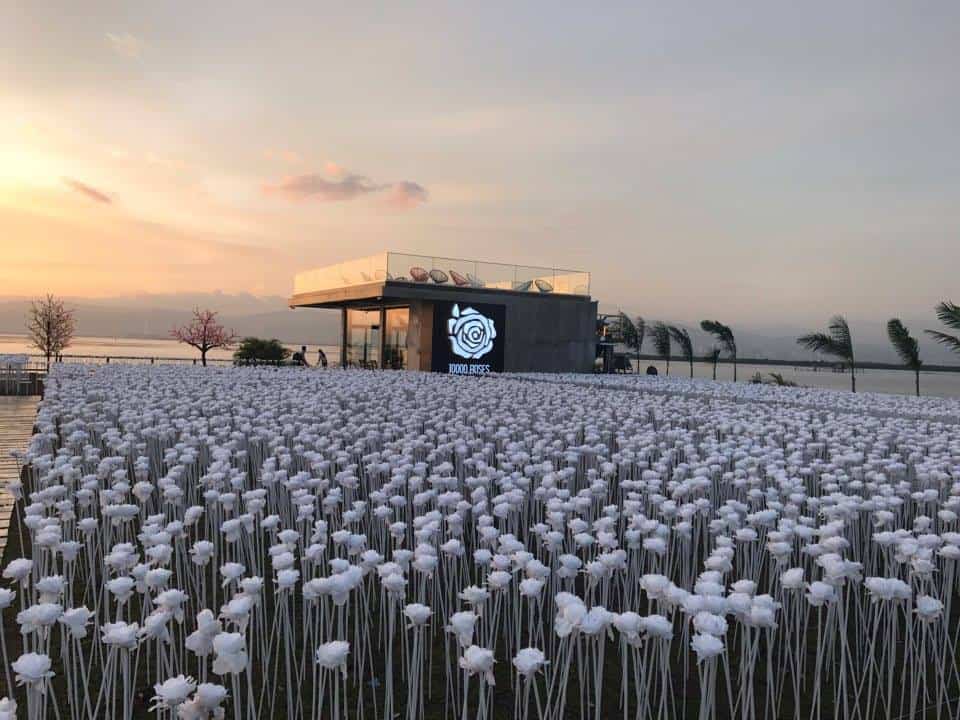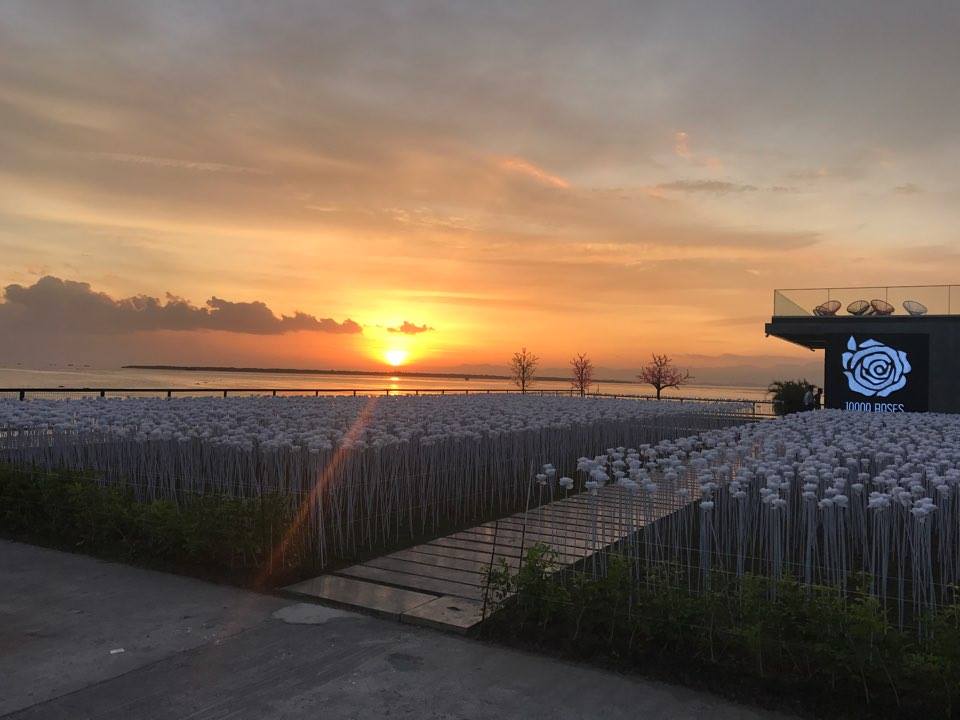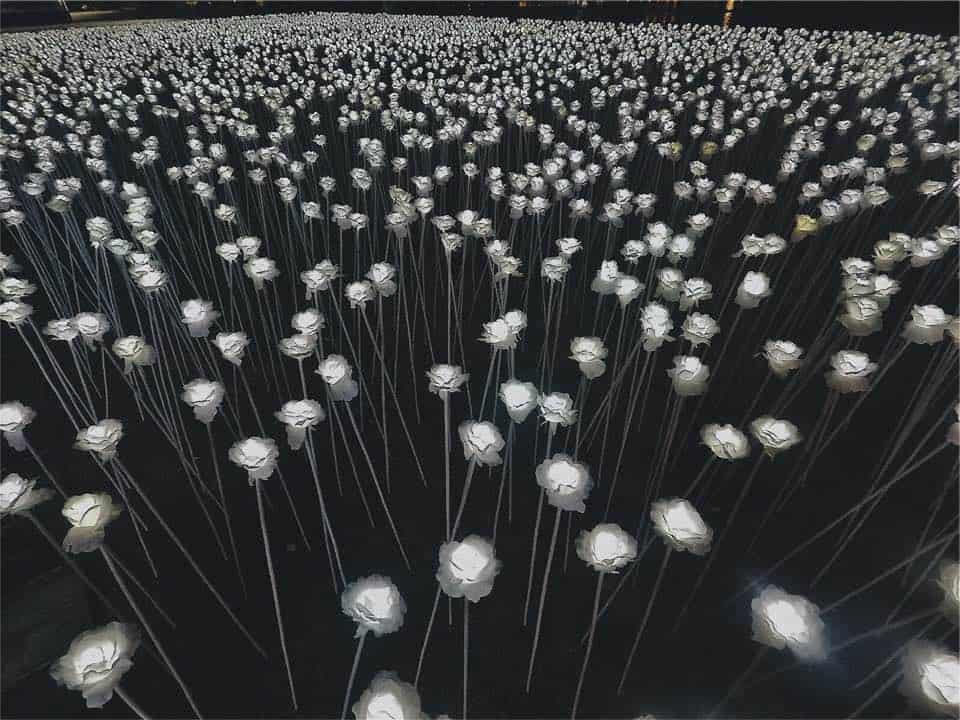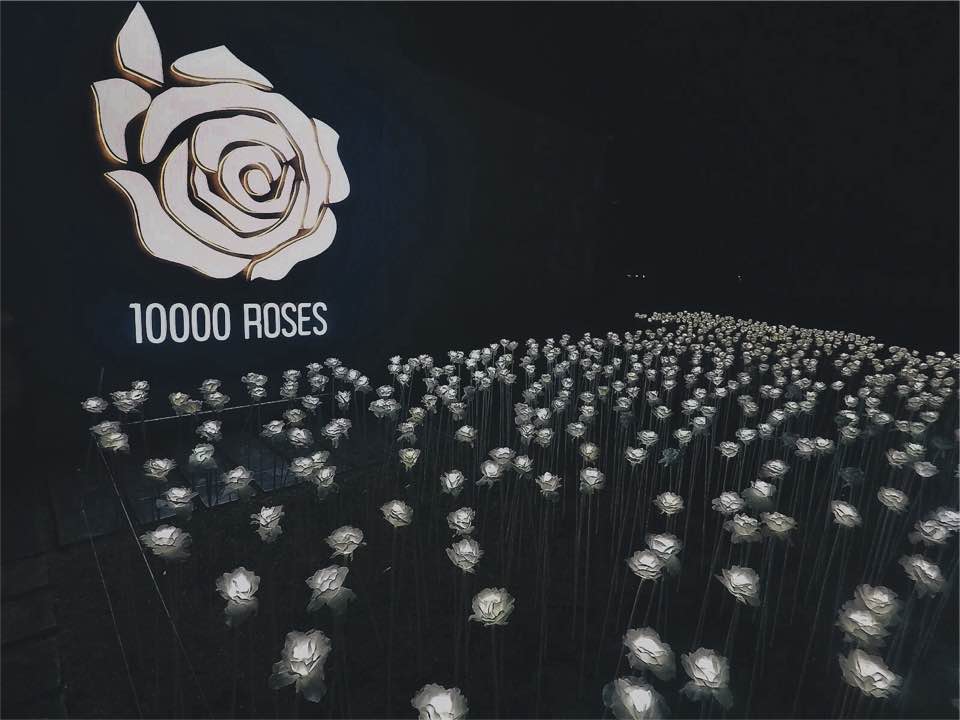 STATUS: Open with "new normal" guidelines
Exact Location: Day-as, Cordova, Cebu (beside Lantaw Floating Restaurant in Cordova)
Entrance Fee: P20 per person
Contact Information:
11. Oslob's Whale Shark Watching and Sumilon Sandbar
A world-renowned tourist destination at the southern reaches of Cebu is Oslob's Whale Shark Watching which has been visited countless times by people from all over the world. The whale shark encounter in Oslob is different from other whale watching because of its close proximity to the shore. This exciting and scary close encounter with the Whale Sharks in Oslob is something that a lot of people are looking to experience. Although it has been facing multiple controversies for a while, it hasn't changed people's opinions about the excitement of the activity.
After Whale Watching in Oslob, the Sumilon Island is a good option because of its azure waters and pristine white sands. The most iconic attraction on the island is the Sumilon Sandbar which is the best spot for watching the sunset. The best time to visit the sandbar would be during low tide since there are more exposed white sands to amble in. Additionally, just hidden in the deep waters near the sandbar are beautiful corals and thriving marine life that can be explored while snorkeling.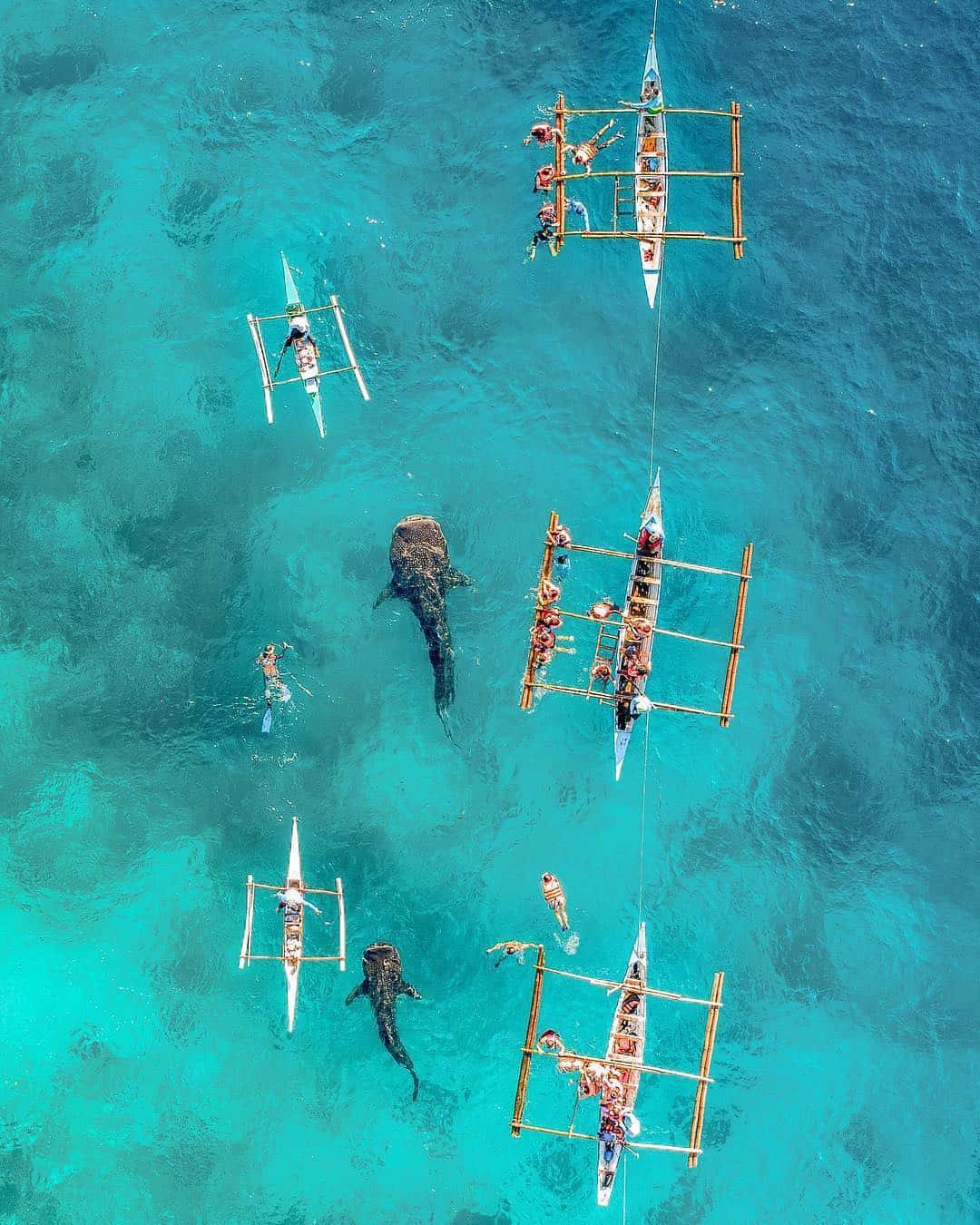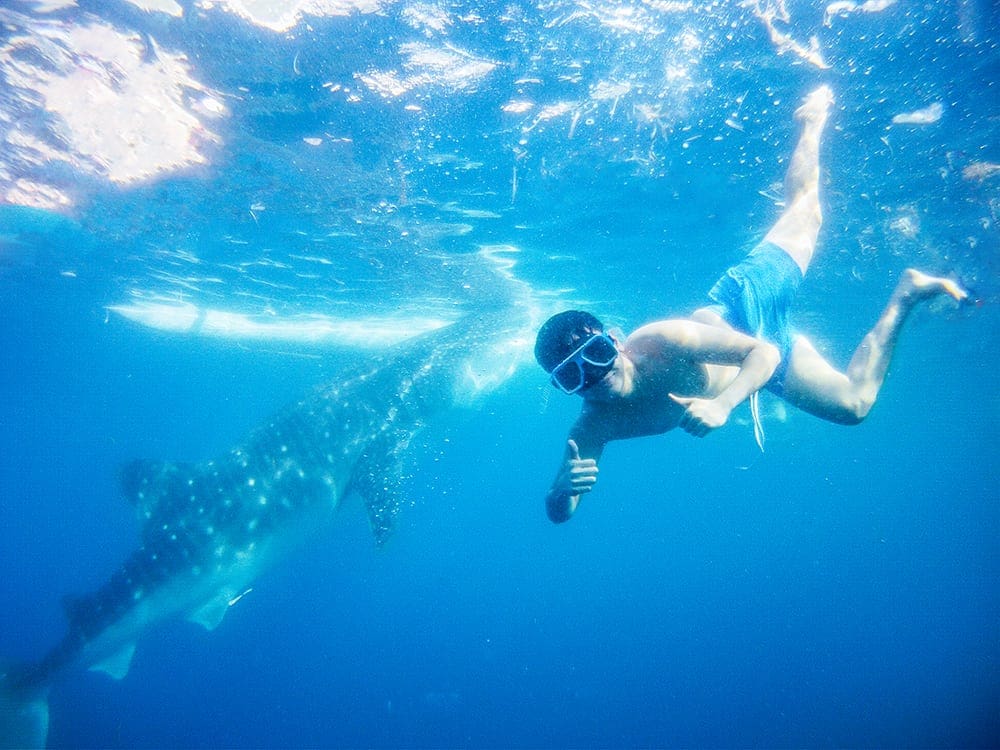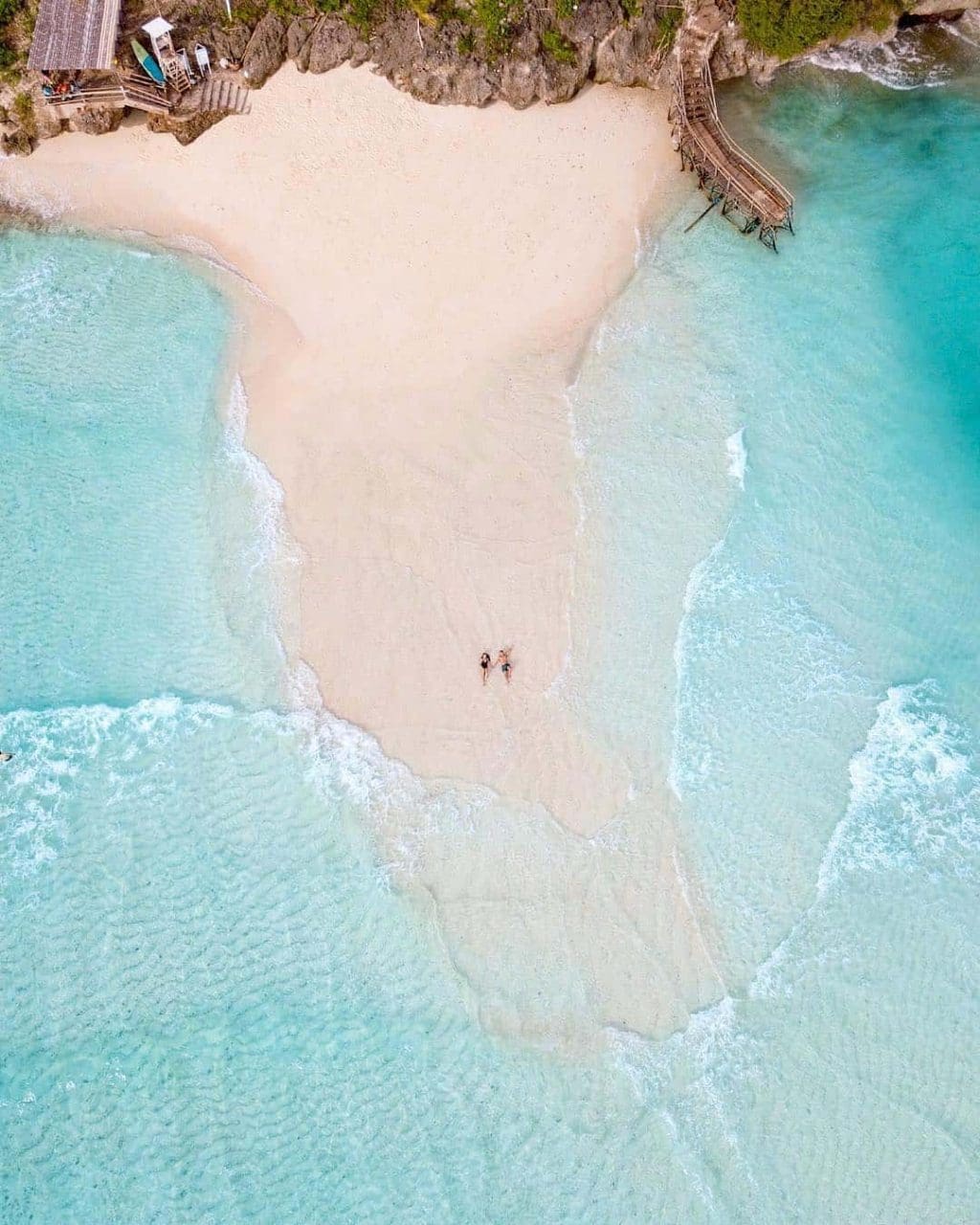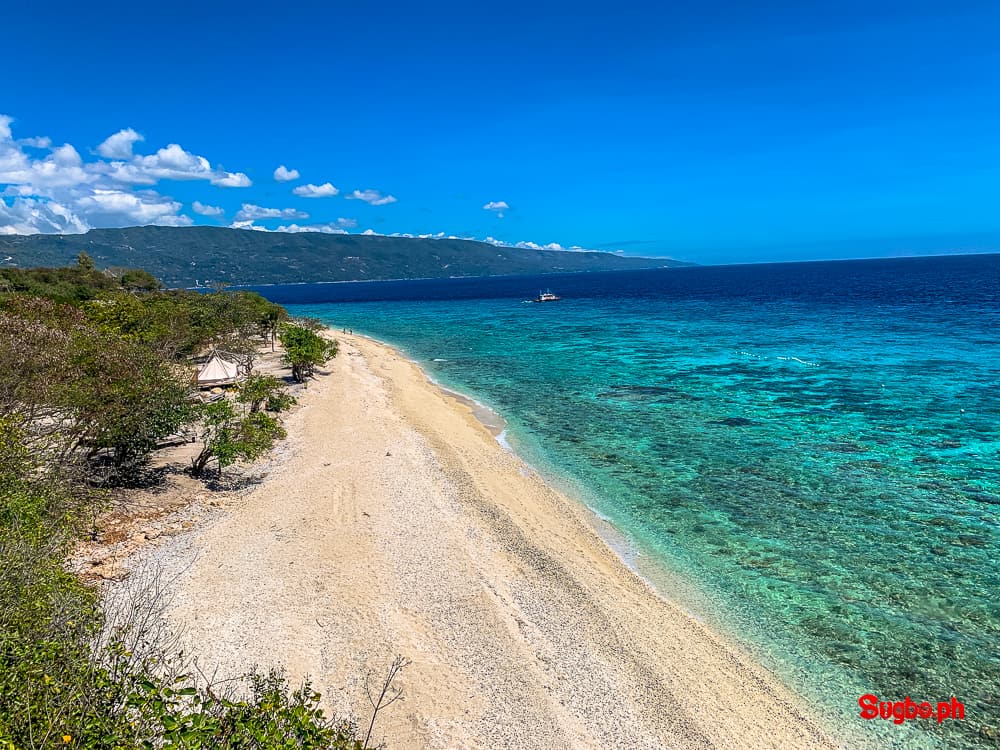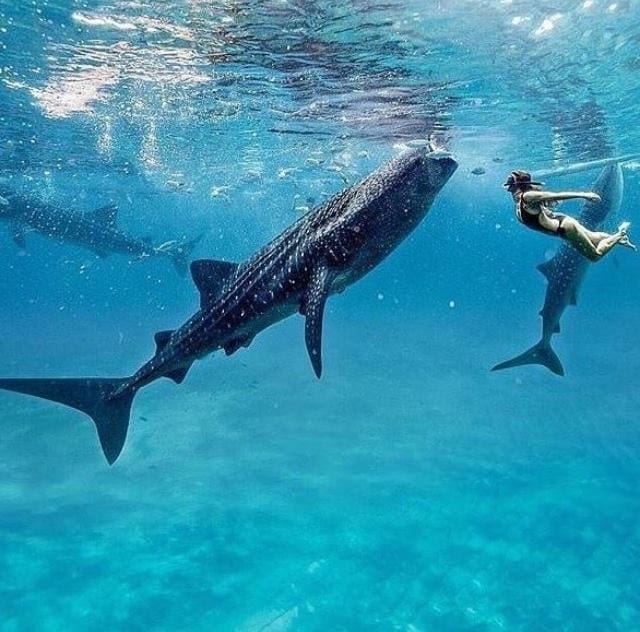 STATUS:
Whale Shark Watching: N/A
Sumilon Sandbar: Open with "new normal" guidelines
Exact Location: Oslob, Southern Cebu — 3-4 hours away from Cebu City.
ENTRANCE FEES:
Whale Watching
Whale Watching (Filipino): P300, no swimming
Snorkeling w/ the Whale (Filipino): P500
Snorkeling w/ the Whale (Foreigner): P1000
Sumilon Sandbar
Day Use: P1500 on weekdays, P2000 on weekends and holidays
12. Kawasan Falls & Canyoneering
Kawasan Falls is one of the most-visited nature destinations in Cebu because of its cool, refreshing waters surrounded by lush, green forests and the hypnotizing sound of the water hitting the basin. The clear, turquoise waters of the waterfall is just so mesmerizing that people can't help but soak in the water. For a deeper experience and immersion in nature, some opt for the famous thrilling activity – canyoneering. It is basically a set of activities that can be done around the waterfalls such as swimming, climbing, hiking, cliff diving, and more.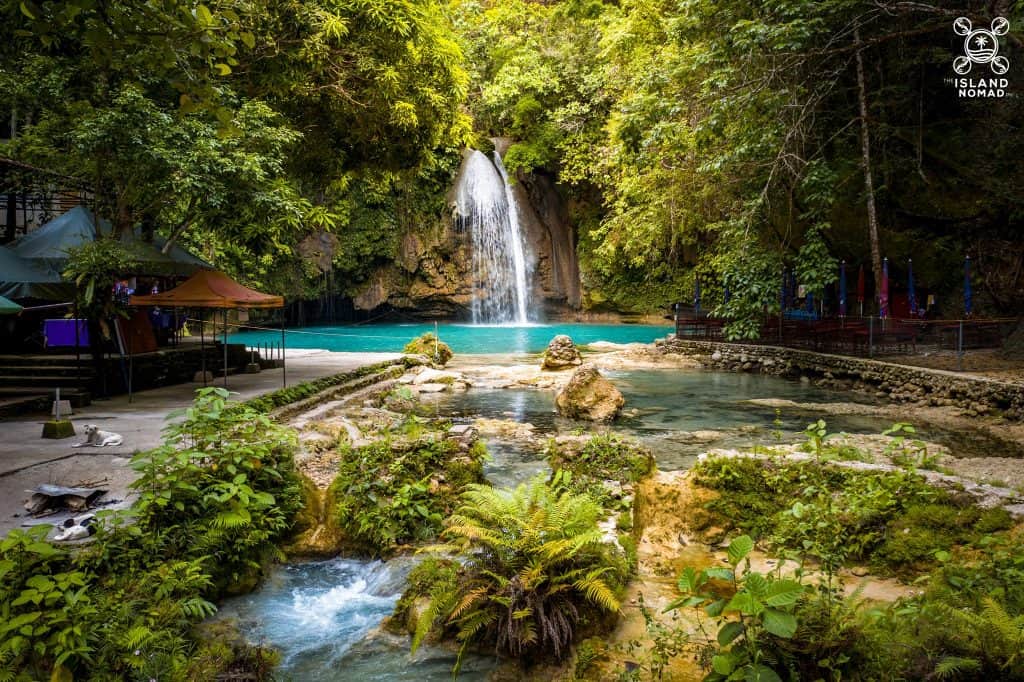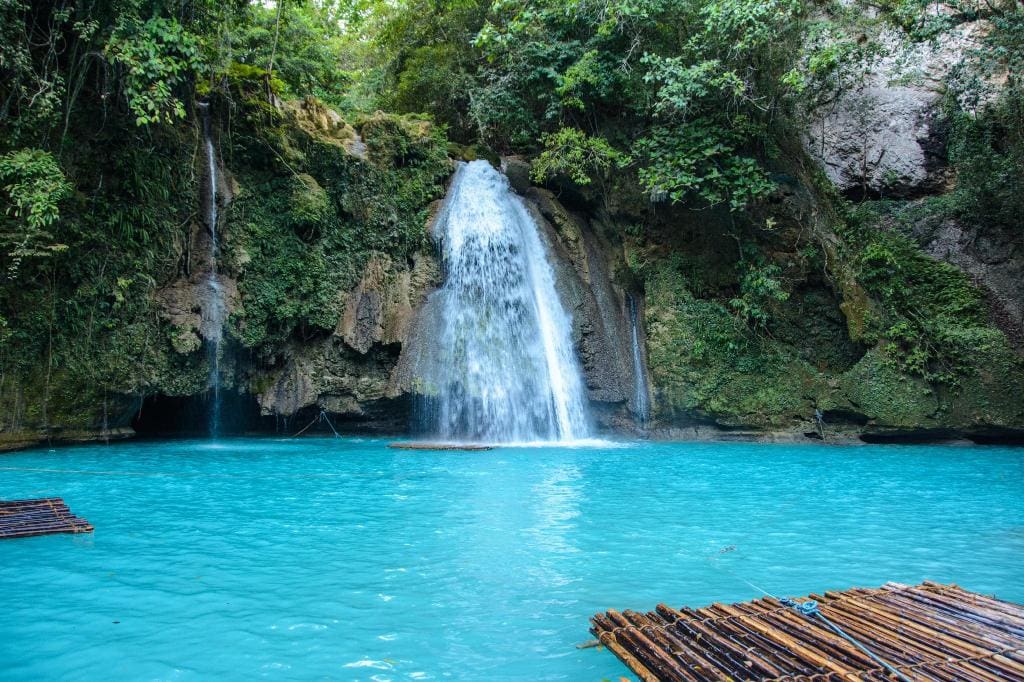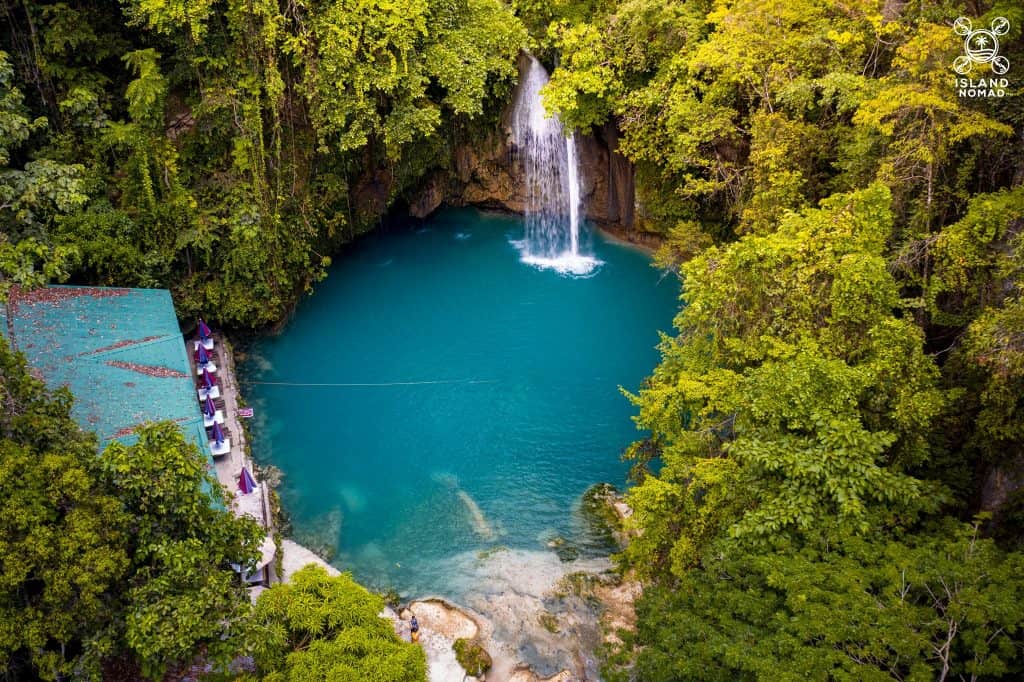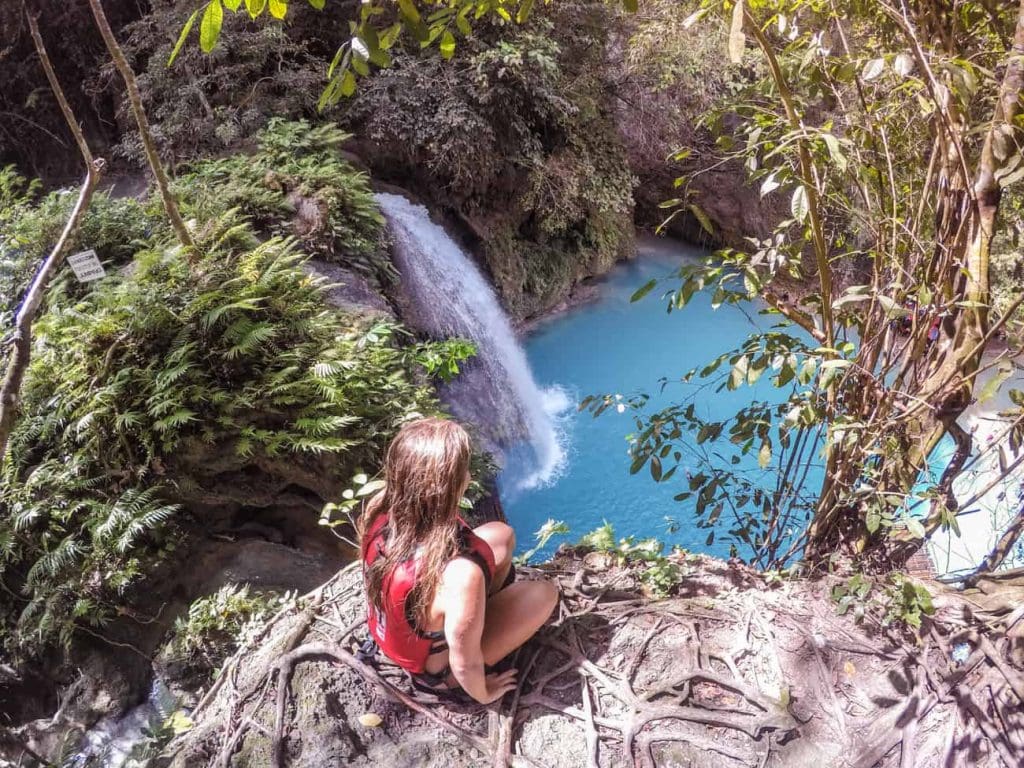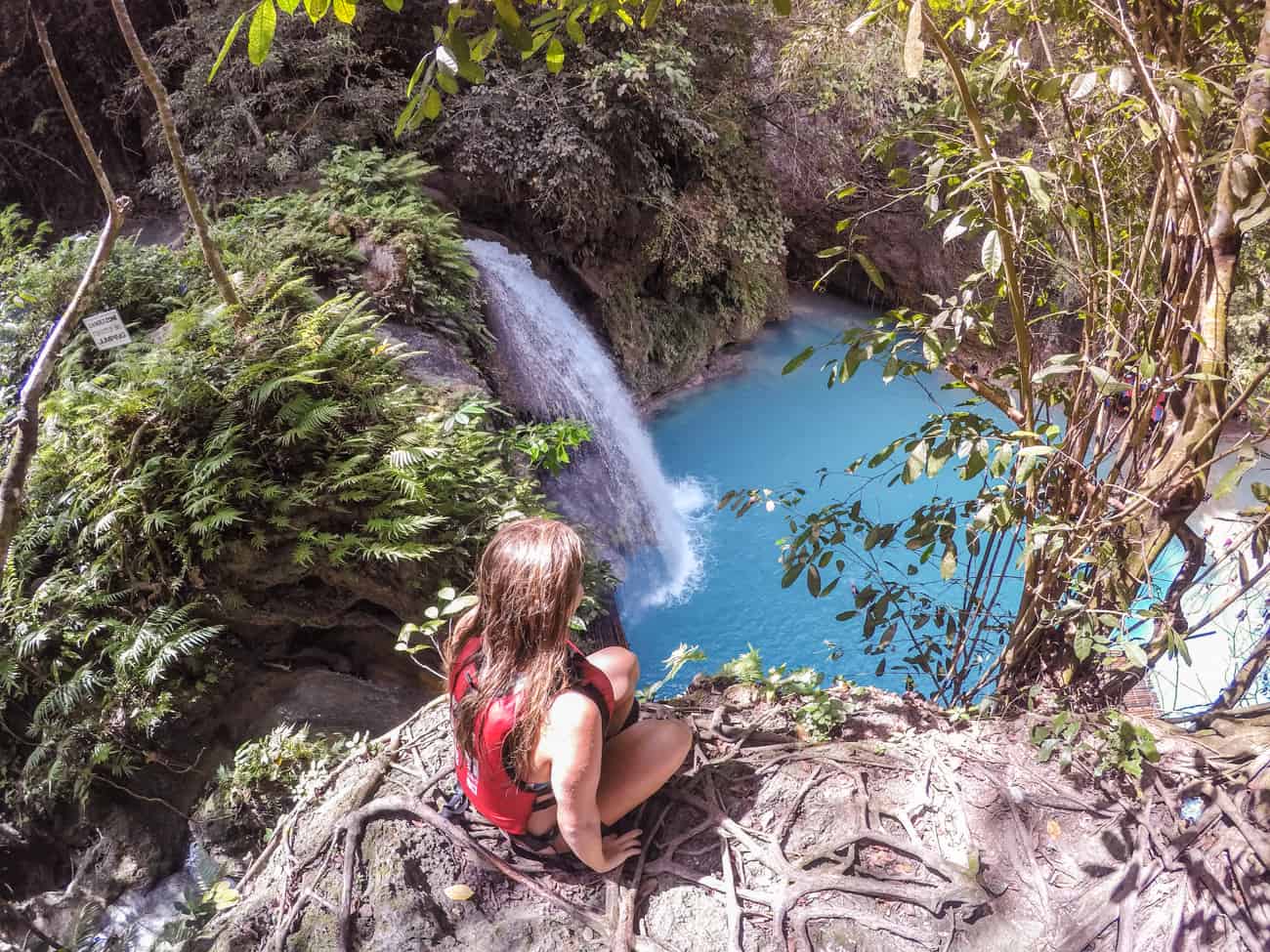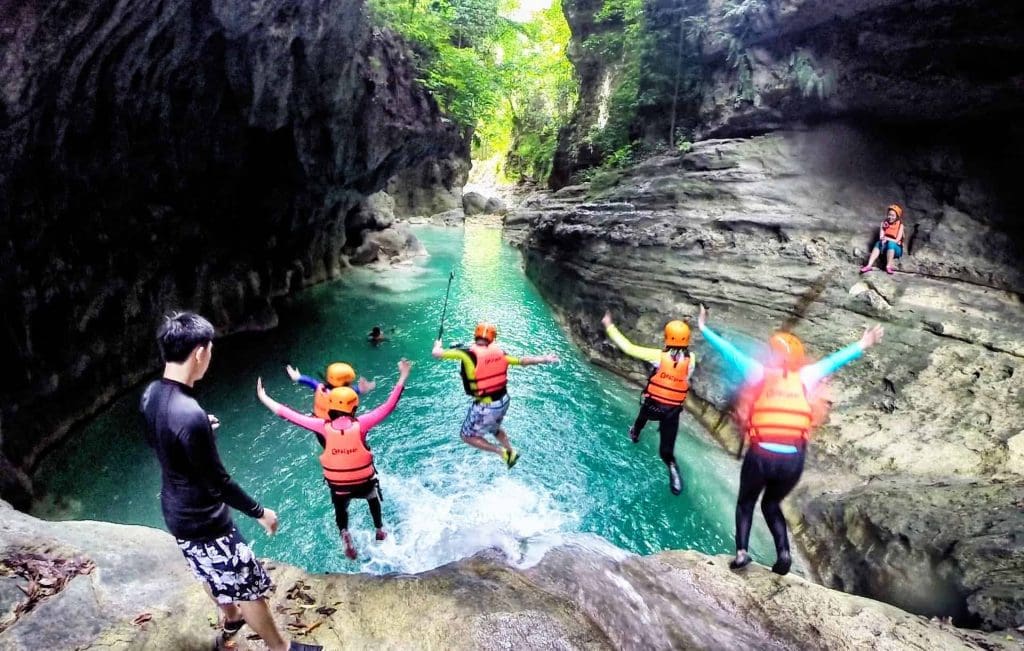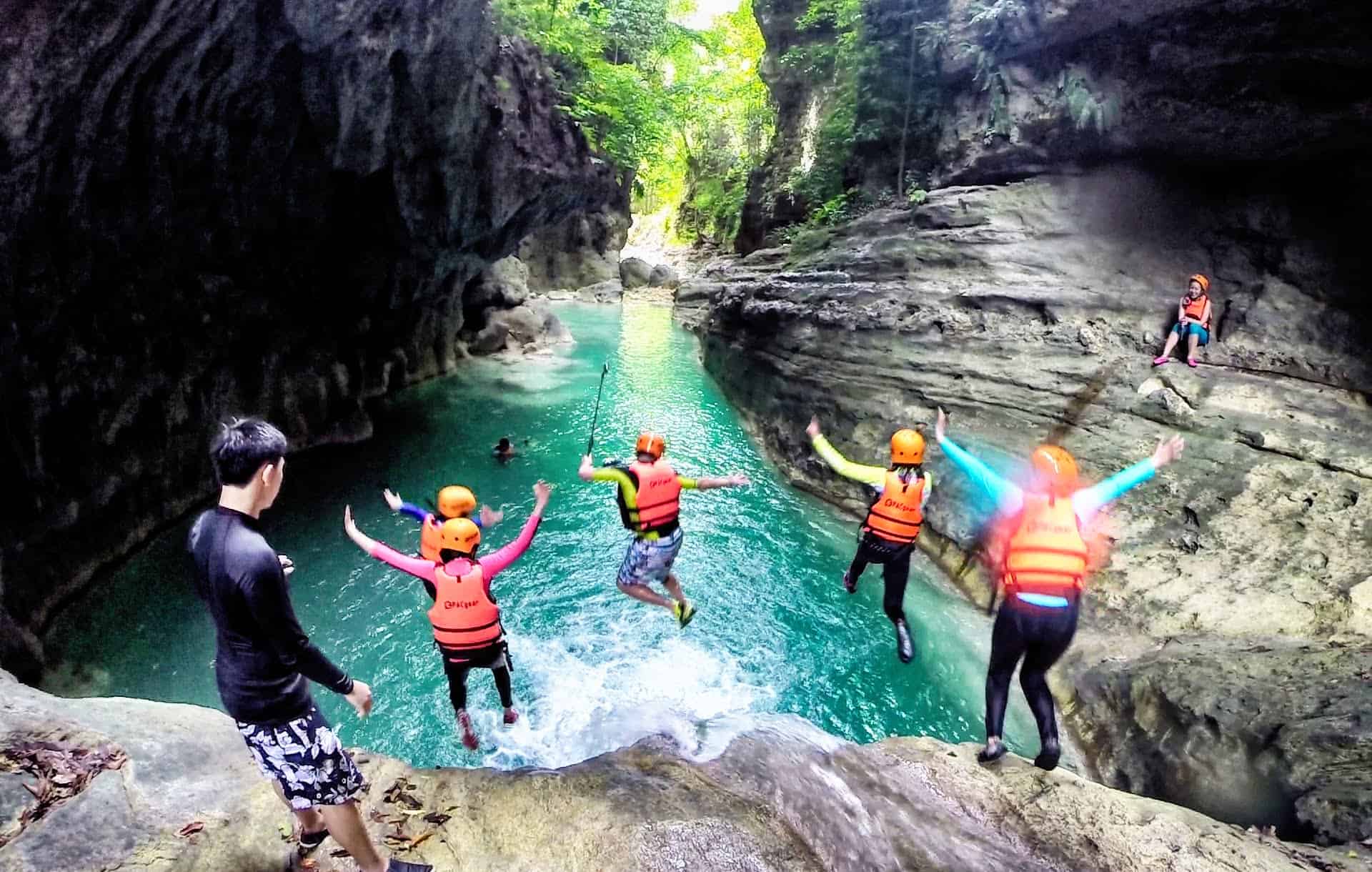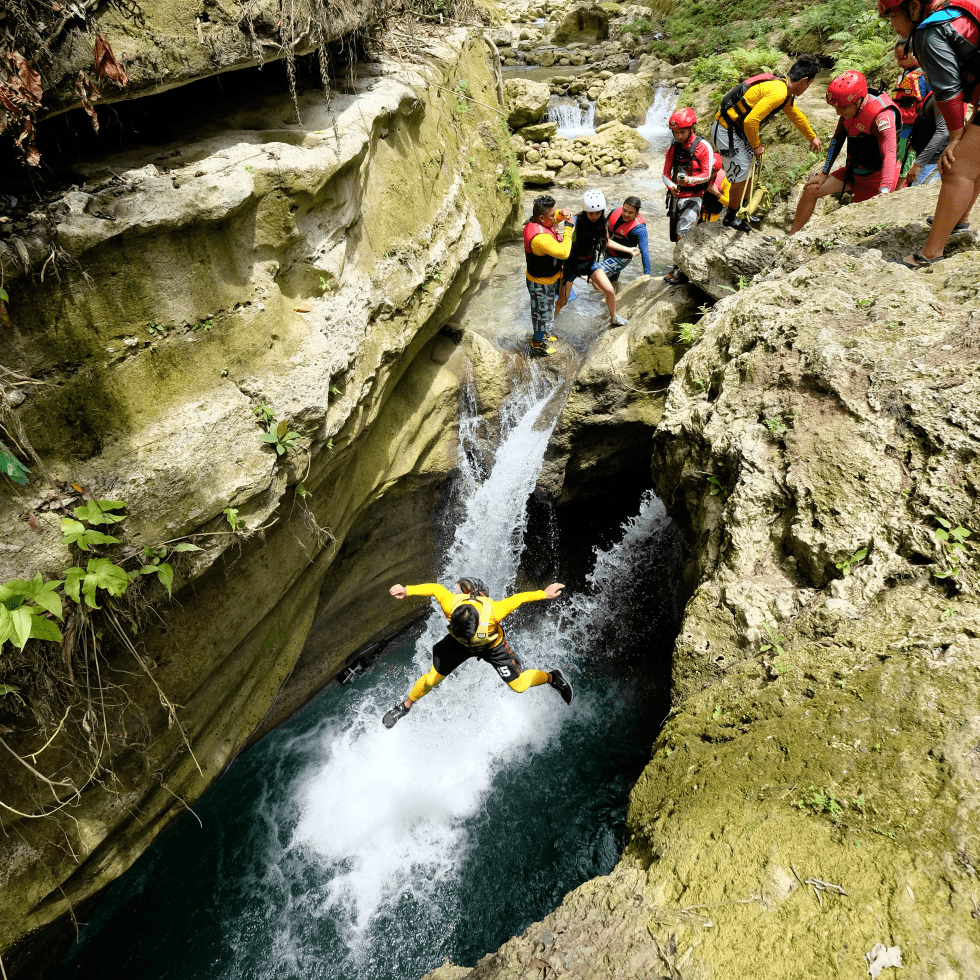 Related: https://sugbo.ph/2018/canyoneering-in-kawasan-falls/
STATUS: N/A
Exact Location:
Canyoneering: Canyoneering packages are offered by various travel agencies and vary in price.
13. Pescador Island
Pescador Island got its name from the Philippines' Spanish Colonial Heritage and the abundance of fish thriving in the surrounding coral reefs. "Pescador" is a Spanish term that means "fisherman" as a reference to the fishermen that catch the fishes in the area. The rich aquatic life near the island is also one of the biggest attractions, bringing in various recreational divers from different places. As divers explore the marine ecosystem, they are greeted with an irresistible and enchanting view filled with corals and other marine life. It's just hard to resist when a world with such beauty as that beckons you to the deep blue.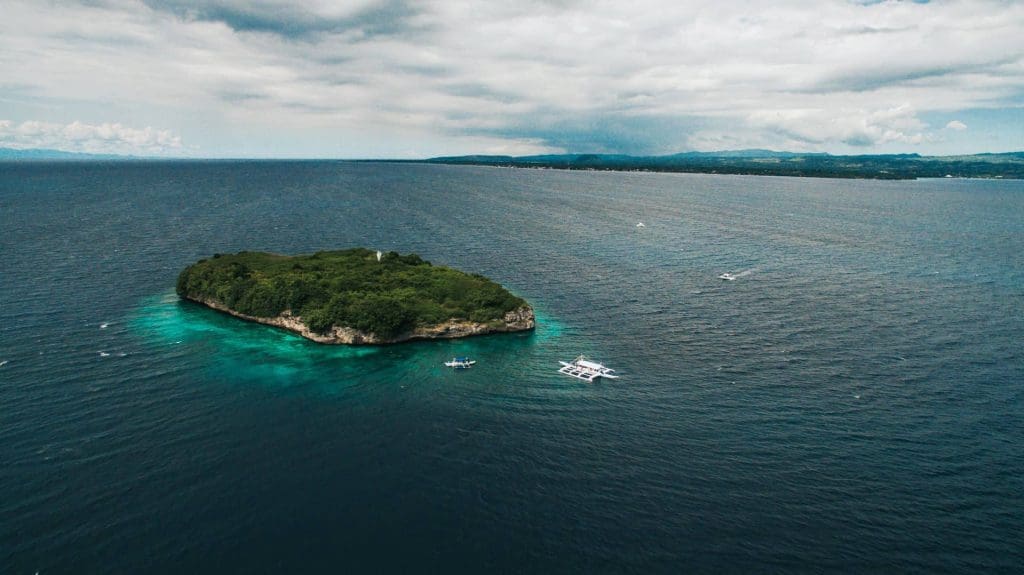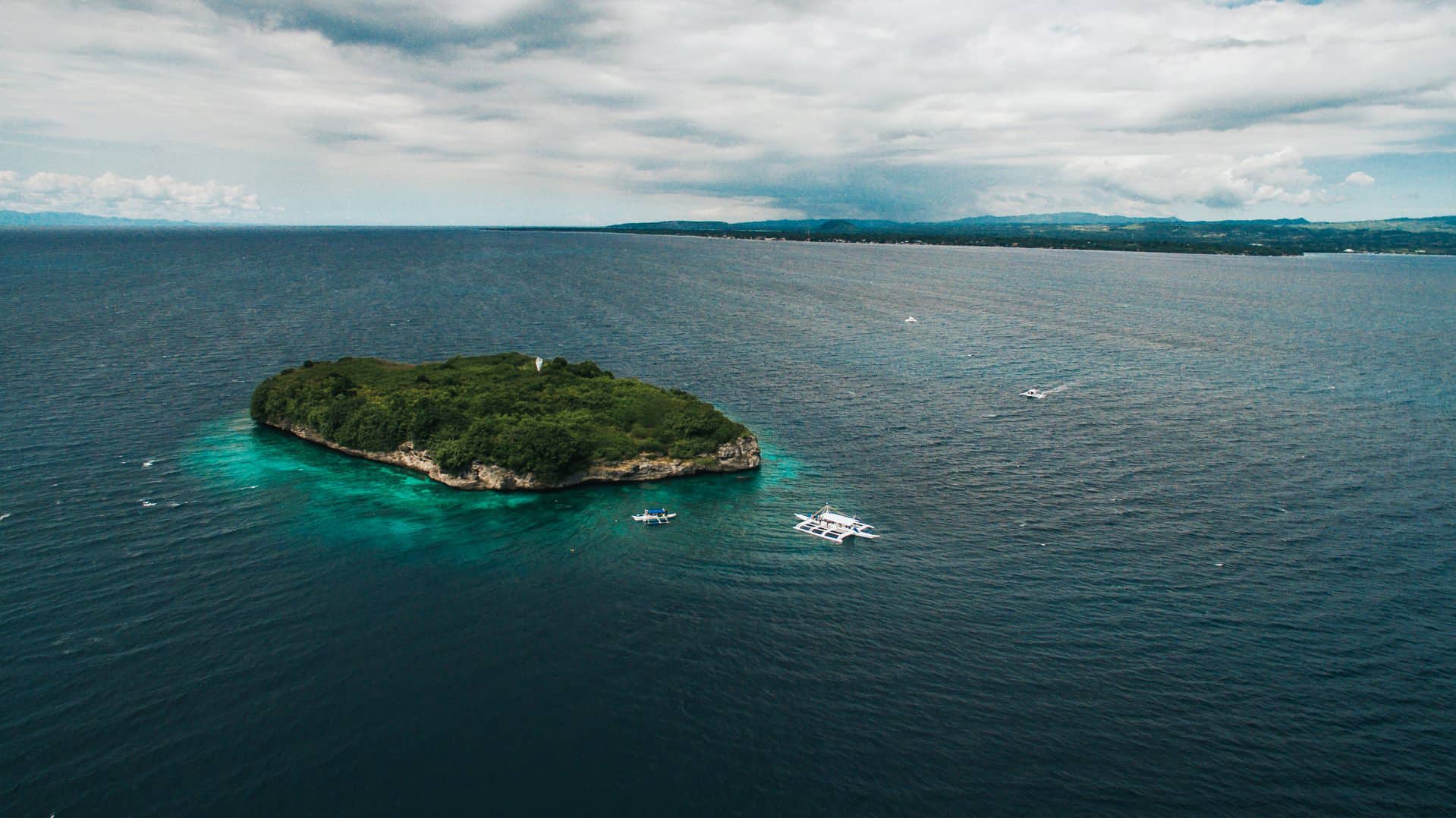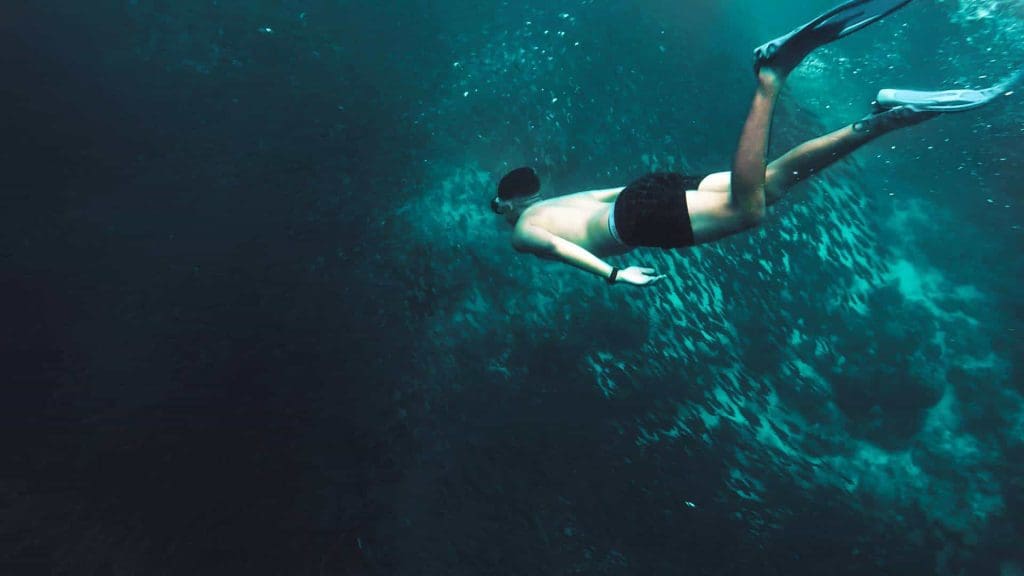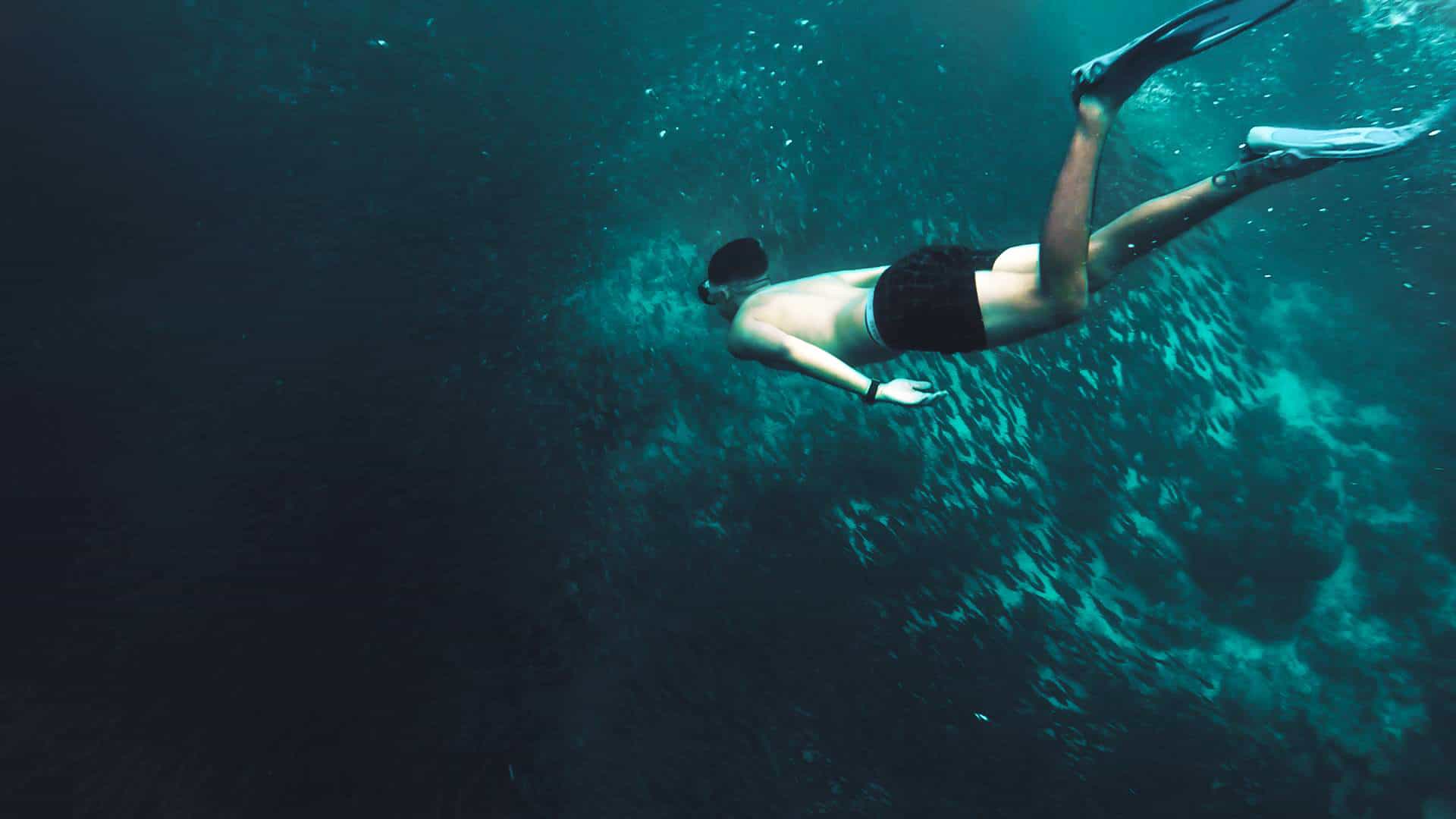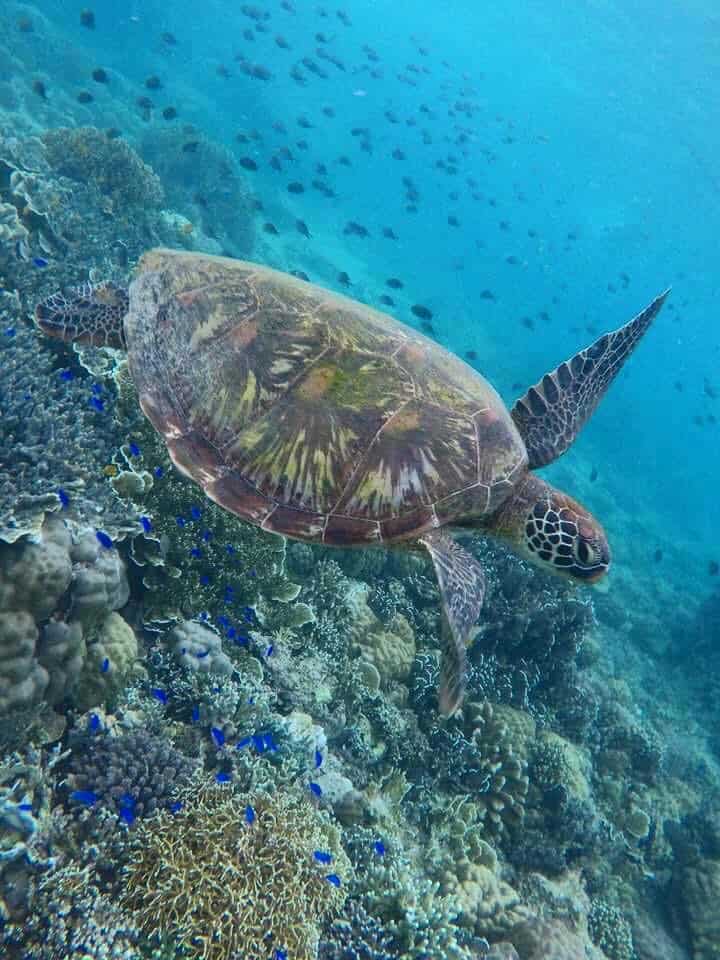 Related: https://sugbo.ph/2018/moalboal-getaway/
STATUS: N/A
FEES
Entrance fee: ₱5 per person
Bus fare: ₱120 per person (one-way)
Boat fare: ~₱500 per person for "joiners" (roundtrip, estimated only) / Private boat costs at ₱2,500-5,000 (depends on how many you are)
Tent: ₱100 per tent (bring your own tent)
14. Bantayan Island
Bantayan Island is a peaceful and quiet town that is considered as an island paradise by those who were able to experience its wonders. Its enchanting beauty has even attracted the movie industry which featured the place in the movie "Camp Sawi". The appearance of the island in the film was a catalyst in attracting more tourists to the island but unbeknownst to other people, the island has already been enticing international guests for a variety of reasons.
The beach and the laid-back lifestyle in Bantayan makes you forget the stresses of the city and allows you to enjoy the perfect vacation. Another reason is the scrumptious yet affordable fresh seafoods that come in big servings despite their price. There are so many activities on the island to choose from that visitors won't be able to explore all of them during their stay.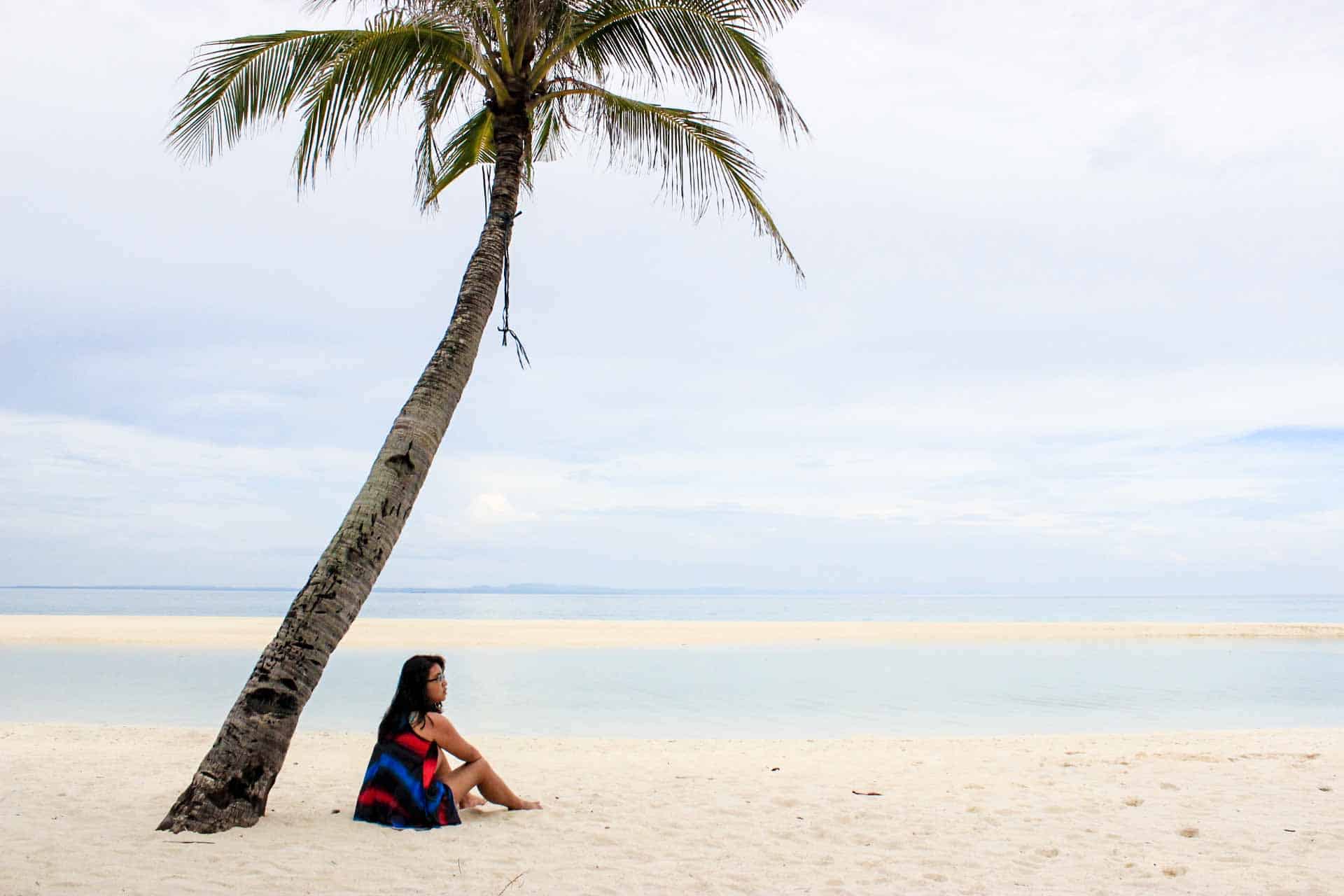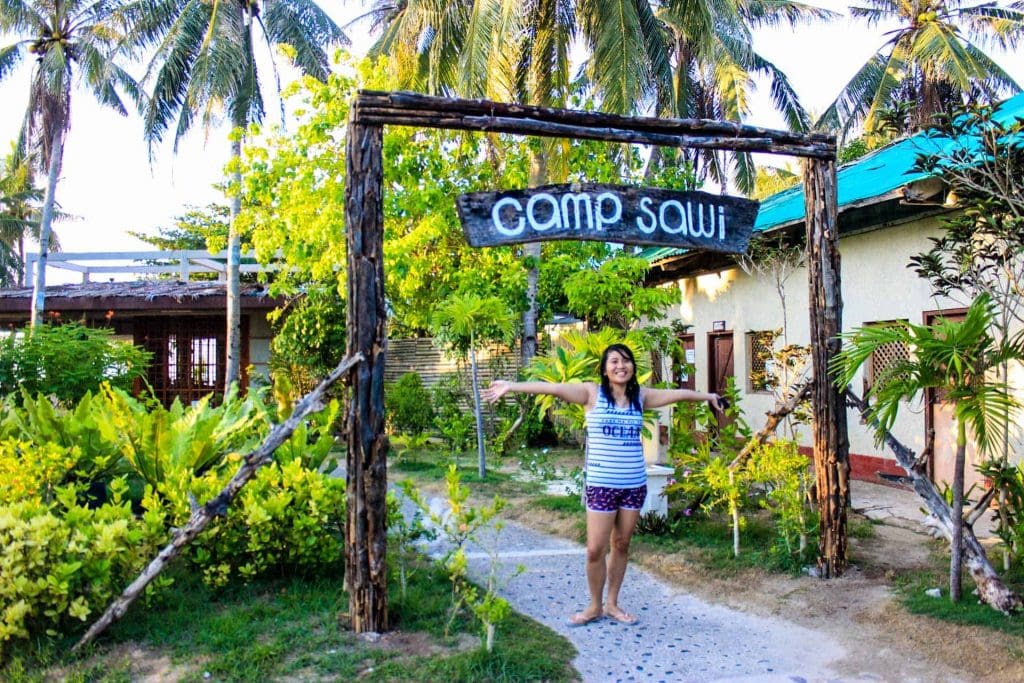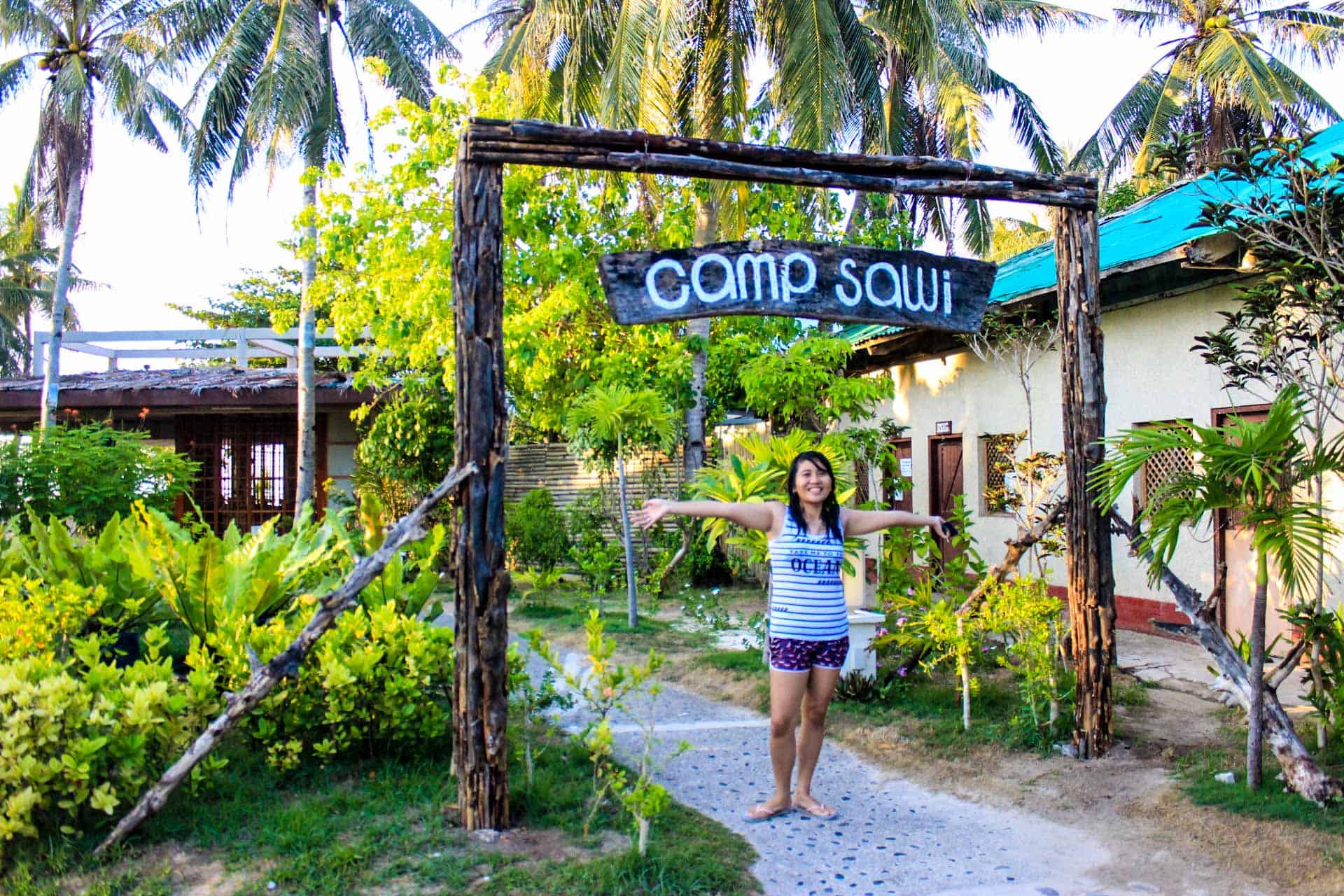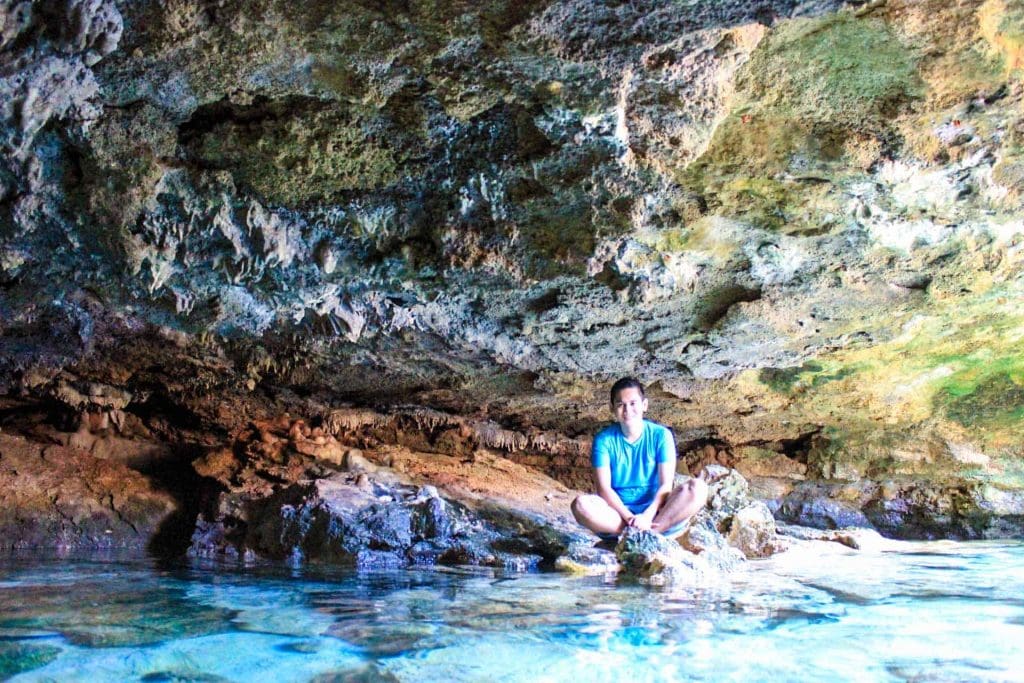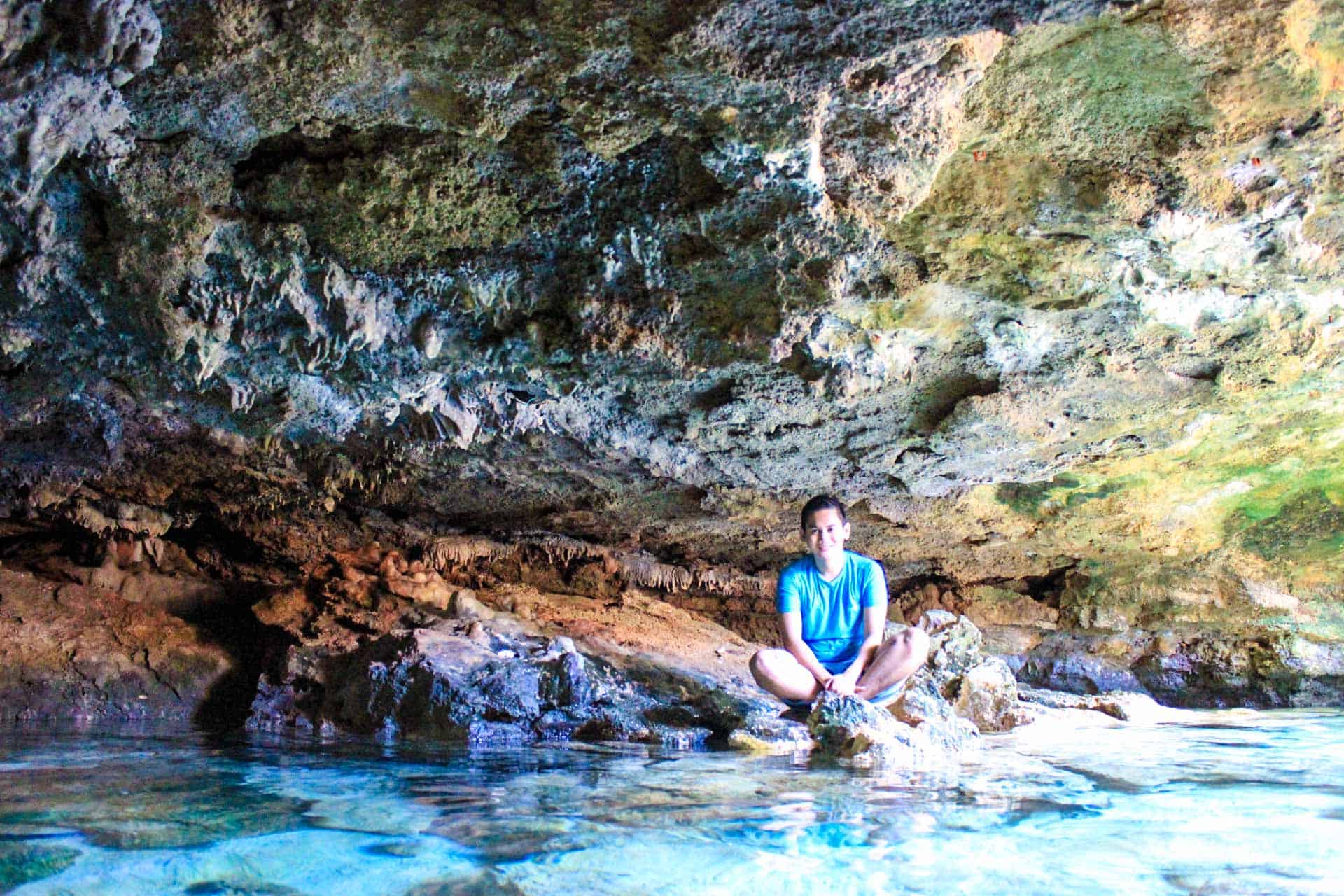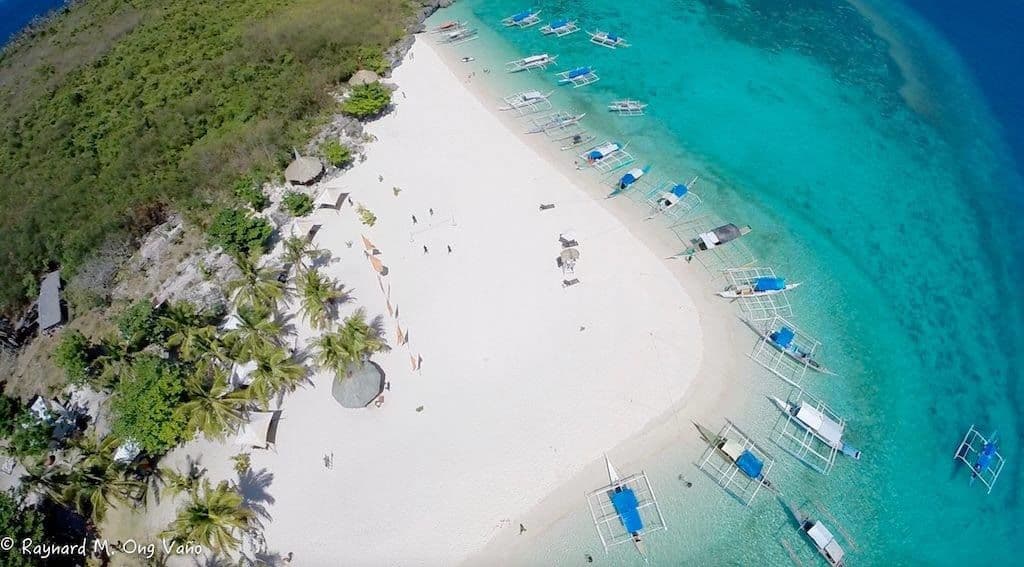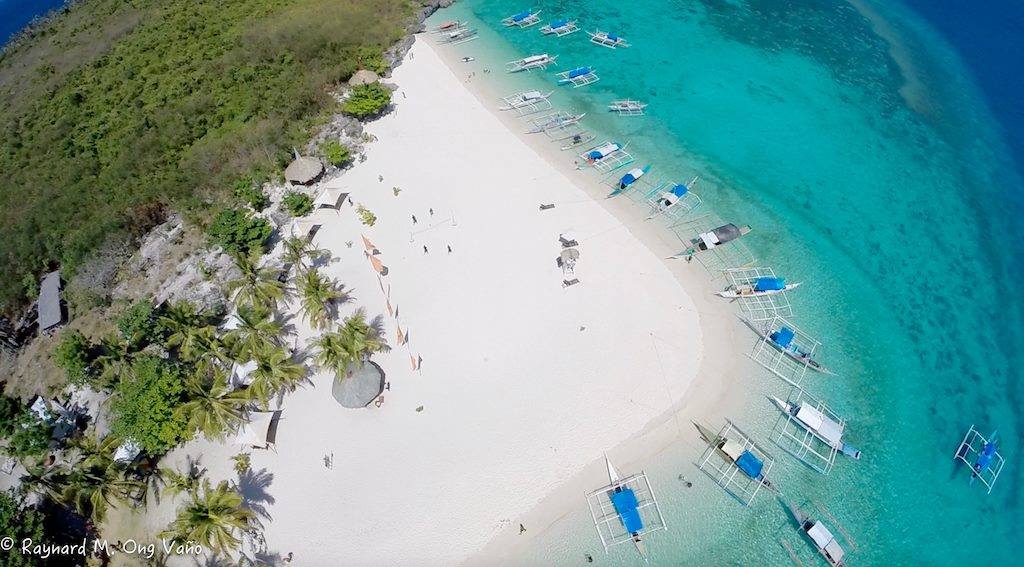 STATUS: N/A
FEES
Motorbike: P300 for 24 hours
Note: Motorbikes are a necessity to be able to roam the island freely
15. Osmeña Peak
Easily having one of the most stunning views in Cebu Island, Osmeña Peak is a famous mountain destination frequented by hikers. It is dubbed as the "Chocolate Hills" of Cebu due to the similarities of the overlooking mountains to the Bohol wonder.
It stands 1,013 meters above sea level, making Pescador Island and Moalboal clearly visible from its peak. The cool rock formations and beautifully capped hills in the distance are a few of the reasons why people visit the place. Aside from that, on cold and cloudy weathers, a thick fog covers the surroundings that creates a chilly atmosphere.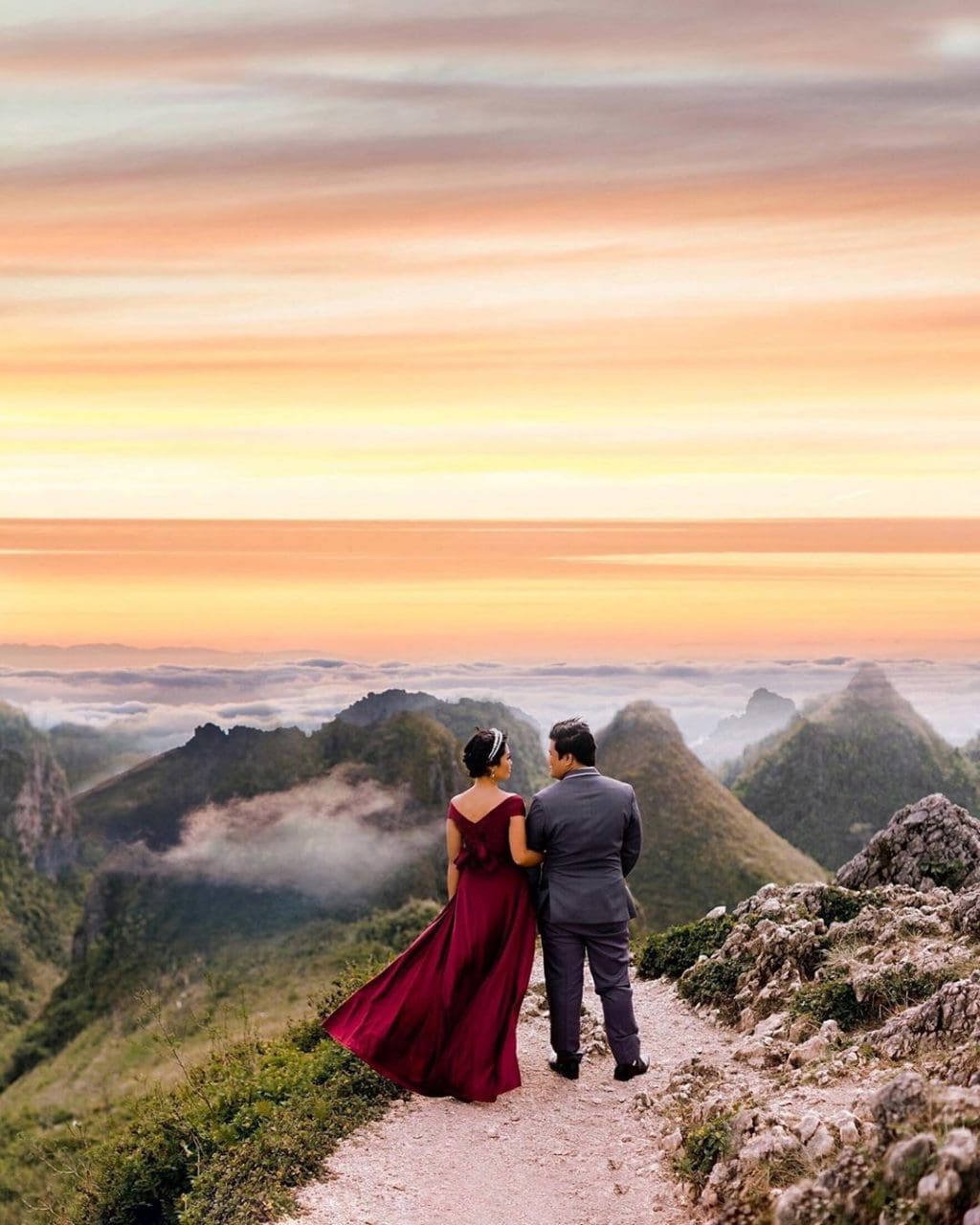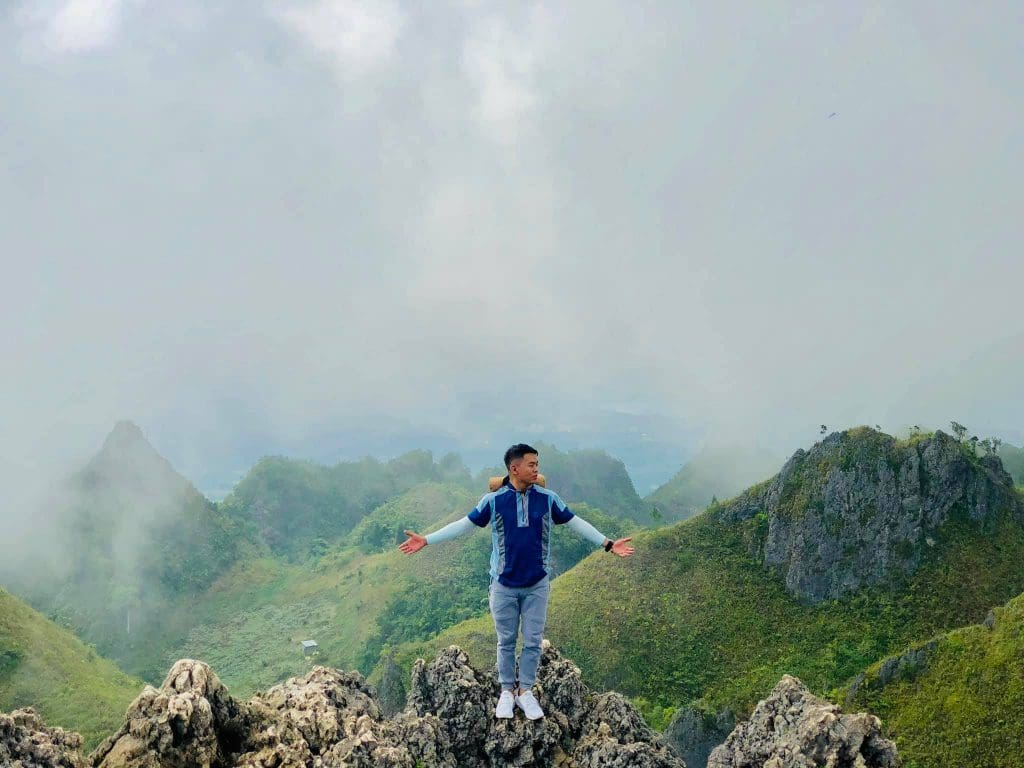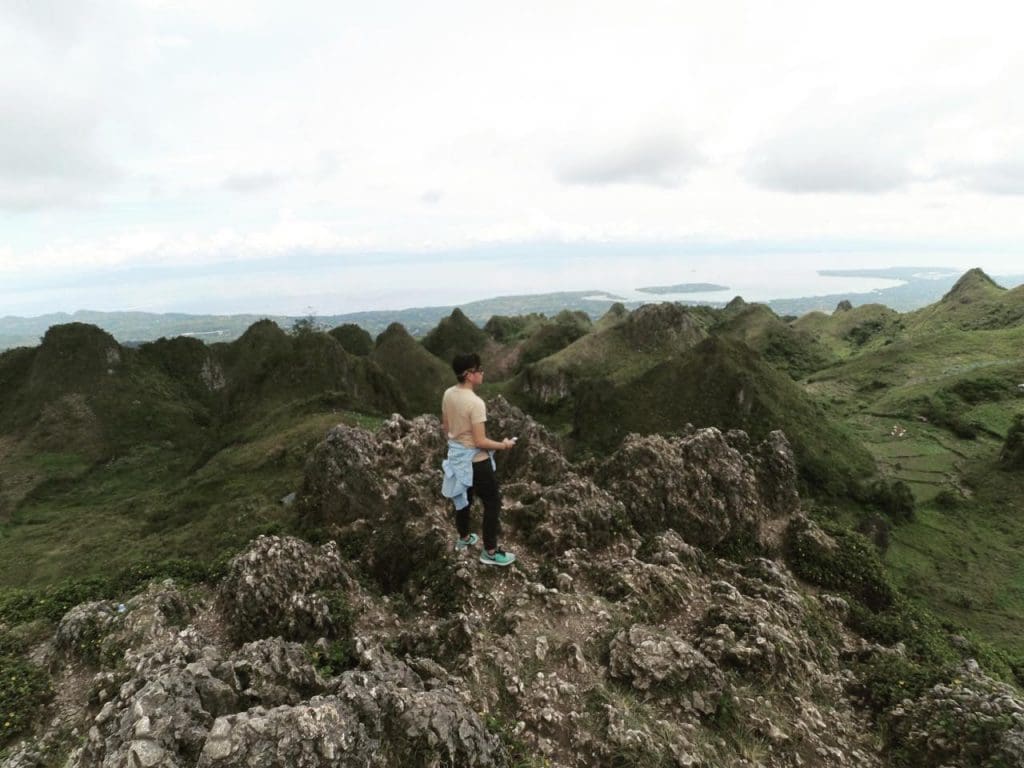 STATUS: N/A
Exact Location: Brgy. Mantalungon, Dalaguete, Southern Cebu — 2.5-3 hours away from Cebu City.
FEES
Entrance Fee: P30 per head
Camping Fee: P50 per head, bring your own tent
Guide Fee: P200 – P300 (optional)
16. SM Seaside
SM Seaside was one of the most-awaited projects of Cebu even during its construction phase. The megamall had the promise of providing exciting surprises to the people of Cebu and giving tourists more reasons to visit the Queen City. Currently, it holds the title as the biggest mall in Visayas and Mindanao and also the 4th spot in the largest malls in the country.
SM Seaside has become an iconic landmark in the South Road Properties with its imposing cube facing the Cebu Channel. Just like any regular SM mall, it has a supermarket, food court, and a department store. The newest entertainment that this mall had that made everybody thrilled was the Ice Skating Rink which was the first of its kind in Cebu. Aside from that, they have the Director's Club and state-of-the-art cinemas that can accommodate over 800 audiences. There is also the Sky Park, Playground, Sky Hall, and the SM Seaside Tower. So far, SM Seaside has been delivering on its promises since its opening.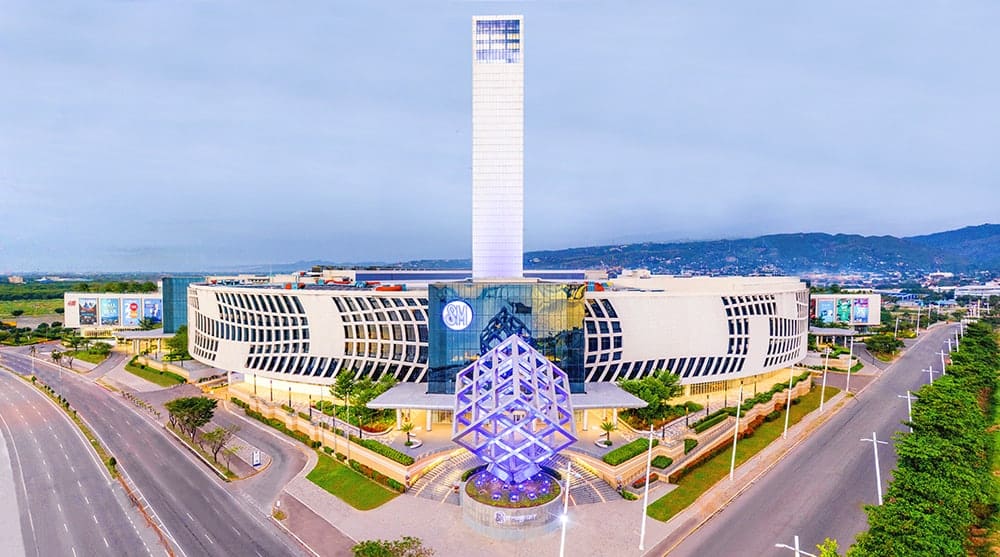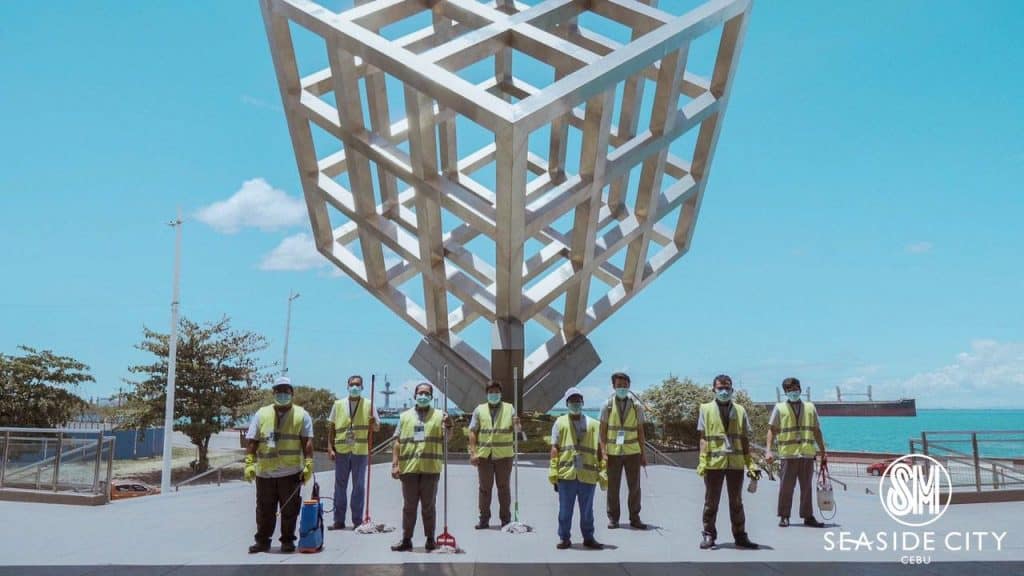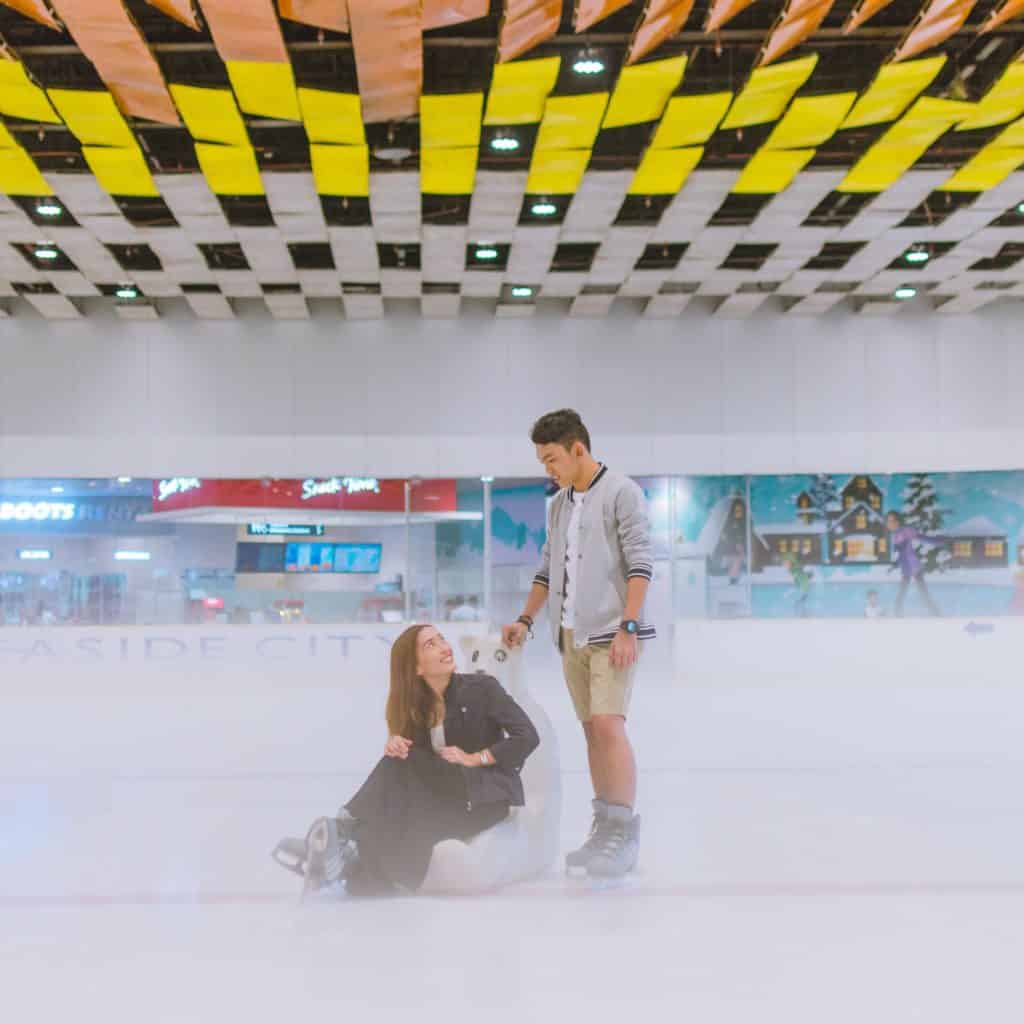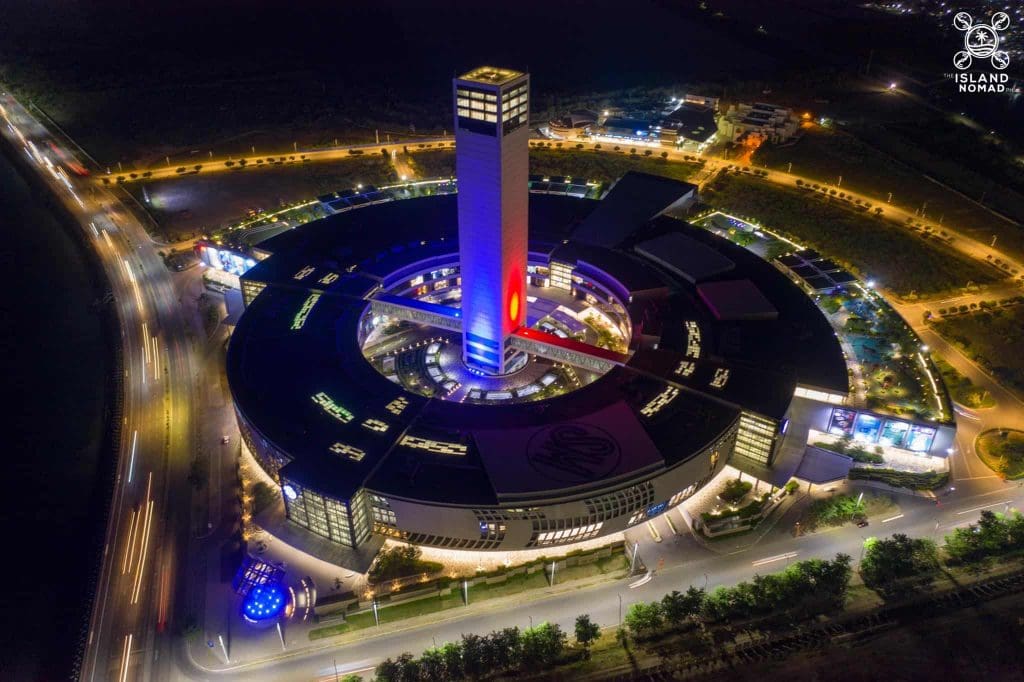 STATUS: Open with "new normal" guidelines
Exact Location: SM Seaside Complex, South Road Properties (SRP), Cebu City.
Contact Information: